Mort Subite Oude Kriek
| Brouwerij Mort Subite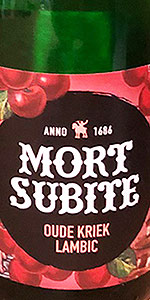 BEER INFO
Brewed by:
Brouwerij Mort Subite
Belgium
mort-subite.be
Style:
Lambic - Fruit
Alcohol by volume (ABV):
6.50%
Availability:
Fall
Notes / Commercial Description:
No notes at this time.
Added by UncleJimbo on 12-08-2006
Reviews: 15 | Ratings: 41
2.75
/5
rDev
-27.8%
look: 3.5 | smell: 3.5 | taste: 2 | feel: 3 | overall: 3
Bright cherry scent similar to 3F Oude Kriek but a little on the artificial side. Ruby color with no head. Quick lactic sourness with a very dry finish that leads into a small bit of cherry flavor. Pretty one dimensional for a kriek. Very different from the oude gueuze.
270 characters
3.08
/5
rDev
-19.2%
look: 3.5 | smell: 3 | taste: 3 | feel: 3.5 | overall: 3
Thank you, Nathan.
Clear cherry red with a thin, off-white head that falls off to a ring, this looks decent. The nose is rather yeasty and fruity with a chunky cherry character, mildly cherry pie-like without any real spice. Not much funk, if any, really, the lambic base isn't particularly strong here. The palate is fruity, chewy, mildly leathery, mildly salty with no real funk. Decent, this beer is moderately carbonated and quite drinkable.
446 characters

3.3
/5
rDev
-13.4%
look: 4.25 | smell: 3.5 | taste: 3.25 | feel: 3 | overall: 3
A-Pours a dark, sticky-looking crimson. Head doesn't last long but while it was around it was pink in color.
S-The aroma has some high points but I can also tell it's going to be pretty sweet as well. A hint of tartness and even some cellary funk. Lots of cherry; both natural and artificial smelling.
T-Starts off a bit tart which is nice. Also has some funk. It's going well until the sweetness comes into play. It devolves into an artificially sweet, cherry cough syrup finish.
M-Feels sugary. Flavor lingers. No alcohol. Cloying. Would not want a whole bottle of this.
O-The nose was okay and the flavor started off nicely but it quickly changes into something too sweet and artificial.
694 characters

3.5
/5
rDev
-8.1%
look: 3.5 | smell: 3.5 | taste: 3.5 | feel: 3.5 | overall: 3.5
A: Light ruby red body. Thinish pink head. Just a few wisps of lacing left behind.
S: Bright, sweet cherries. A touch of tartness. A tad artificial, but not exactly over the top medicinal.
T: Artificially sweet cherries are pretty much the only flavor going on here. Nothing in terms of farmhouse or musty notes. Again, its not too medicinal despite the artificial sweetness.
M: Smooth with a light tingly carbonation. The artificial sweetness is just a tad cloying but does not significantly impair the feel.
D: Not the worst lambic, but I just can't see myself seeking out krieks in this style. That said, I'm sure its suitable for some palates and it is a better alternative to the Boon Kriek.
700 characters

3.65
/5
rDev
-4.2%
look: 3.75 | smell: 3.75 | taste: 3.5 | feel: 3.75 | overall: 3.75
Dark pink color with pink head. Aroma has lambic funk up-front with just a bit of fruit character. Taste starts sour and fruity with a sulfuric or metallic taste. Body is medium, carbonation too. Definitely a different, more tradtional, approach than the regular Mort Subite Kriek but it has some flaws that keep it back from entering the upper tier of fruit lambics.
367 characters

3.7
/5
rDev
-2.9%
look: 4 | smell: 4 | taste: 3.5 | feel: 4 | overall: 3.5
Thanks to Brad for sharing this bottle. Served in a Dark Lord mini snifter.
Pours a nice deep red color with a thin white head and some light lacing. The nose carries a good dosing of cherries and some light funk. Mild lactic character there as well. Flavor is cherries and lactic acid. Good combination, but lacking in real depth. Crisp carbonation and a nice fruity finish. Dry. Pretty good, but not in the top echelon.
422 characters

3.9
/5
rDev
+2.4%
look: 4 | smell: 4 | taste: 4 | feel: 4 | overall: 3.5
2006 dated Neck Label; Best By May 2012; Sampled January 2009
The beer pours into my 25cl tulip glass with a pink tinged, pale colored head. The beer is a deep red color that shows a brilliantly clear, bright red stained, gold color when held up to the light. The aroma has a nice, musty, moldy, wild mushroom and farmhouse cheese funkiness to it up front that is noticeable even as I pour this. A deeper inspection of the nose yields more of the same as well as a tart back note of cherries and aspirin. Brettanomyces definitely have left there signature in the aroma; there are also musky notes of dried sweat soaked blankets and some phenolic, almost plastic like notes here too.
Nicely sour with a big lactic acid presence. The finish has hints of tart cherry skin notes to it, a bit of tannic bite and a hint of cherry-flavored aspirin. In the middle the Brettanomyces kicks in at a level that is subtle compared to the nose, but still contributes a musty, earthy note that impinges on the oral-nasal cavity more than on the flavor. The cherry notes become a bit more noticeable as my palate gets used to the sourness, but it is never nearly as noticeable as its effect on the color of this beer. There is a nice backdrop though of fruity, cherry skin flavors that serve as a framework for most of the other flavors here. The fruitiness can at times provide a suggestion of sweetness that belies the dry, tart finish that grips this beer. The beer has a bit of tannic heft to it that keeps it from being thin, but the dry tart character keeps this pretty darn quaffable.
My second pour of this beer sees the cherry flavors becoming a bit more noticeable, in fact the cherry is coming into its own here. This is a nice example of a Kriek, it could use a bit more funkiness and some more fat cherry notes and then a bit more tartness, but then it would be a different beer. I am definitely enjoying this.
1,909 characters

3.92
/5
rDev
+2.9%
look: 3.5 | smell: 4 | taste: 4 | feel: 3.5 | overall: 4
Bottle from the free table at Woodshop 5.0. Pours the color of guava juice, with a smattering of ecru carbonation. Aroma is acetic and lightly chlorinic with the expected sharp cherry character. Flavor is more ascorbic acidic with sour citrus than cherry, although there is a pitty cherry note. Dry woody finish with some astringency.
334 characters

4
/5
rDev
+5%
look: 4 | smell: 4 | taste: 4 | feel: 4 | overall: 4
Bottle received as an extra in a trade with a generous RB guy.
Appearnace: Pours a fairly clear medicinal ludens cough drop red with a small pinkish crown that displays moderate retention and medium lace.
Smell: Very nice medley of cherries, lemon from the brett, horseblanket, potting soil, and cobwebs.
Taste: Same as the nose but the lemon from the brett takes center stage overshadowing the supporting actors.
Mouthfeel: Very crisp without seeming over carbonated.
Overall: Better than I expected but I can tell this bottle came from a cellar and has some age on it which is heightening the brett / lemon character.
626 characters

4.02
/5
rDev
+5.5%
look: 4.25 | smell: 4 | taste: 4 | feel: 4 | overall: 4
2006 limited edition vintage.
Sour and tart. Nice raspberry red color.
Vinegar and some acidic flavors. Nice light funk. Very easy drinking. Nice sour beer.
160 characters

4.06
/5
rDev
+6.6%
look: 4.5 | smell: 3.5 | taste: 4 | feel: 4.5 | overall: 4.5
375 mL green glass bottle, corked. This is the less sweet, more tart/sour version of their Kriek.
This kriek poured a clear, deep ruby red color with pink foam that settled. There was good carbonation in the glass. The smell was tart/sour cherries, though not an overpowering aroma. The taste was very tart cherry with a light sourness in the finish. There was a mild maltiness beneath. The mouthfeel was dry and tart, almost sour, with crisp, dry cherry fruitiness throughout. The body was medium with strong carbonation; the carbonation was sharp on the tongue initially during the sip. This was a very nice, dry Kriek lambic; more sour than sweet but not overpowering. Quite addictive, and I wish I had brought some home with me from Antwerp.
748 characters
4.13
/5
rDev
+8.4%
look: 4.5 | smell: 4 | taste: 4 | feel: 4 | overall: 4.5
Had this last night. Thanks to Brad for the chance to try this obscurity. 375mL bottle shared with my homie Nick. From notes, I believe this to be a 2005 bottle.
Pours a stunning cherry red hue with some light peeking through at the edges. Big bubbly whitish pink head fades to big bubbles and a foam ring throughout the session.
At cooler temps (40s), the funk was very restrained - cat piss mostly. Some month old cheese that you left in the back of the fridge by accident starting to stink up as it warmed. Nice cherry juiciness and gentle oak impact. Some earth as well.
Really nice authentic cherry in the taste, none of that manufactured shit. Moderate tartness and tannin presence leading to a drying finish. Funkiness described in the aroma was present throughout but made itself most known as it warmed in the aroma and mid-palate.
Low to medium bodied with a subdued carbonation despite the initially vibrant appearance. A little bit of a slippery mouthfeel helps some more of the mustiness come through. Very drinkable and a very pleasant lambic. Thanks for the chance, Brad! I definitely wouldn't have tracked this one down otherwise.
1,154 characters
4.2
/5
rDev
+10.2%
look: 4 | smell: 4 | taste: 4.5 | feel: 4 | overall: 4
2006 bottle
A: Cloudy pink/ruby with a decent head when poured that leaves a nice lingering ring around the top of the brew. Some sediment
S: Nice fruity/tart cherry notes. Wood tannins and plenty of barnyard funk to go around. A little bit of mustiness too
T: Very very tasty. The cherries provide a very nice balanced sweetness and tartness making me pucker a little bit. Nice wood notes that in addition to the brett funk bring out very nice earth tones
M: Slightly vineagary but very flavorful with each sip. A fare amount of dryness is present as well
D:Split the 375 and I think that I could have enjoyed the whole thing myself
638 characters

4.2
/5
rDev
+10.2%
look: 4 | smell: 4 | taste: 4.5 | feel: 4 | overall: 4
From 01/14/12 notes. Shared by ygtbsm94; thanks Brad! 2007 vintage.
a - Pours a deep ruby red color with one finger of off white head and moderate to high carbonation evident.
s - Smells of sour cherries, vinegar, funk, oak, spices, yeast, and fruity malts. Nice and sour, and a ton of cherries.
t - Tastes of very sour cherries and tart dark fruits, more funk than the nose, vinegar, earthy notes, spices, Belgian yeast, fruity malts, and oak. Awesome taste.
m - Light to medium body and moderate to high carbonation. Crisp, and easy to drink.
o - Overall I thought this was an awesome kriek. We drank this right before the Drie Fonteinen Schaerbeekse kriek and I thought this went toe to toe with it. Tons of tart cherries, especially in the taste, I'd love to have this one again.
788 characters
4.37
/5
rDev
+14.7%
look: 4 | smell: 4.5 | taste: 4.5 | feel: 4.5 | overall: 4
Bottle: Poured a dark reddish color lambic with a rather large pink foamy head with good retention and some lacing. Aroma of sour cherries is dominant but with more acidic notes then anticipated. Taste is a closer to actual lambic then I would have expected and a lot more closer tot he real thing then their regular brand. Oak, sour cherries with no syrup and tart and acidic notes makes a refreshing drink. Well done but unfortunately not available oversea.
459 characters
Mort Subite Oude Kriek from Brouwerij Mort Subite
3.81
out of
5
based on
41
ratings.