Mort Subite Xtreme Kriek
| Brouwerij Mort Subite
BA SCORE
77
okay
10
Reviews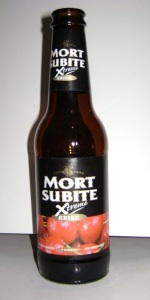 BEER INFO
Brewed by:
Brouwerij Mort Subite
Belgium
|
website
Style:
Lambic - Fruit
Alcohol by volume (ABV):
4.30%
Availability:
Year-round
Notes / Commercial Description:
No notes at this time.
Added by biegaman on 09-04-2007
Reviews: 10 | Ratings: 22
3.23
/5
rDev
+9.1%
look: 4 | smell: 3.5 | taste: 3 | feel: 3.5 | overall: 3
The bottle bubbleth over. I lost about a fifth before I can pour it into a glass. Large, thick head. Leaves decent chunky lace. The color is dark red, but short of garnet. Clear
This lambic screams cherry, like a lollipop or a hard candy. Very sweet aroma.
Imagine dissolving a thousand hard cherry candies into water and then you'll have a sense of this beer. There is only passing glance to the sour, the rest is sugary and candy-like. Easy to drink like a soda pop, although the body is thicker. The aftertaste is short and full of sweetness.
Could you use this one for a dessert? Perhaps it would be best with a cheese course. It needs balance from some source to make it a palatable drink.
★
697 characters

2.29
/5
rDev
-22.6%
look: 4 | smell: 2.5 | taste: 2 | feel: 2.5 | overall: 2
Poured into a Lindeman's flute. Beer is pink and heavily carbonated, pink head, small and medium bubbles, mostly clear. Looks good.
Has a sweet almost cough syrup aroma to it.
Beer is really sweet with a dryness at the end with a cough syrup like flavor on the late and midpalate. The fake cherry flavor lingers making this a very difficult beer to drink. Avoid avoid avoid.
★
377 characters

3.7
/5
rDev
+25%
look: 4 | smell: 4 | taste: 4 | feel: 3 | overall: 3
Sampled on tap in Brussels. Alken-Maes claims to add "the most juicy and ripened cherries..." which is what "...gives this traditional beer an extremely fruity taste." While really just a marketing gimmick I did try both the regular Mort Subite Kriek and this "Xtreme Kriek" and there is far more difference between the two than simply the 0.2% alcohol.
A very good head: finger above finger high of pinkish hued froth. A dark red colour with more slightly more shine than clarity. A lovely, healthy looking appearance. The aroma is of ripe, dark cherries. The character is distinctly of dark cherries. The mouthfeel is quite well done as well, it manages to be very sweet without being overly syrupy. Far from cloying. There is no likeness to a cough drop, as found in many other commercial offerings. Although on that note, this is clearly just that - a commercial offering. It doesn't bear the tartness or character of traditional (unpasteurized) lambics and wouldn't pertain to the aficionados.
It does, however, pertain the masses because - rightfully so - it is darn tasty and pleasantly drinkable. The Xtreme Kriek carries far more flavour than their regular with a much higher/juicier concentrate of fruit (whether artificial tasting or not may be up for interpretation).
Myself personally - forgive me Jean Van Roy - I enjoyed it. What can I say? It's a guilty pleasure!
★
1,384 characters

3.1
/5
rDev
+4.7%
look: 3 | smell: 3 | taste: 3 | feel: 3 | overall: 3.5
Ordered off the menu at the Bier Museum in Köln. Perhaps we should have known better than to order a beer with no brewery name next to it...12 oz. bottle.
Screw my regular format. This beer tasted, looked, and smelled like cherry Kool-Aid. Zero bite, minimal carbonation, too thick for the style, this very much reminded me of a poor - make that pennilessly destitute - version of Wisconsin Belgian Red.
That said, I like Kool-Aid, just not when I am expecting beer. Decent enough, but you'd need binoculars to see the style from this brew.
★
544 characters

3.03
/5
rDev
+2.4%
look: 3.5 | smell: 3 | taste: 3 | feel: 3 | overall: 3
Beer bottle (25cl.), tasted in 2008.
Appearance : red color, with a huge pink foamy head (lacing).
Smell : cherries aroma (10% of cherries and elderberries).
Taste and mouthfeel : sweet flavour and dominated by cherries, notes of acidity, and tart finish.
Drinkability : a average beer, in the style Fruit lambic. Not so bad as I expected !
★
343 characters

3.97
/5
rDev
+34.1%
look: 3.5 | smell: 4 | taste: 4 | feel: 4 | overall: 4
First of style. No BB.
Pours a cherry red, clear, with a one finger head that fiizzes 'n' dies.
Aromas of cherry cough syrup, marzipan, rhubarb and apple crumble. interesting.
Taste is sweeter than aromas but still balanced - leans toward more sour cherry. Sweet 'n' sour syrup elements in the mix. Strong taste given ABV
Moutthfeel spritzy 'n' light - suits well.
Good idea - well made beer. Interesting I am against the majority here, but it was very refreshing at the end of the evening. Summer would be even better given light ABV.
★
540 characters

1.95
/5
rDev
-34.1%
look: 4 | smell: 1.5 | taste: 2 | feel: 1.5 | overall: 2
250ml bottle poured in a chalice.
Too syrupy. Artificial.
A: The red color and the rose head gives a nice aspect to it. Reasonable retention and many lacings left around
S: Too sweet. Strong smell of cherry. Like a candy. The problem is: no sign of Lambic yeast
T: Tastes like cherry juice. Too sweet for a beer. No malt or Lambic yeasts. No sourness. Disappointing
M: Very light body and reasonable carbonation. Refreshing but too sweet
D: Well, I suggest you a good Cantillon instead
★
487 characters
3.74
/5
rDev
+26.4%
look: 4.25 | smell: 4 | taste: 3.5 | feel: 3.75 | overall: 3.75
From the small 250 ml bottle, it pours a cherry red, clear, with a small head. The nose detects some cherry. The mouth detects a sweetish cherry with some sour evident. This is my wife's favorite. Yum!
★
205 characters
1.79
/5
rDev
-39.5%
look: 3.5 | smell: 2 | taste: 1.5 | feel: 3 | overall: 1
A - Pours with a fizzier pure white, half-finger head; clear raspberry red color that almost doesn't look natural
S - Smells like raspberry candy, really sweet and definitely missing a tartness that I would associate with the style.
T - Bleh, raspberry soda pop comes to mind (not that I've ever come across such a thing); candied sweetness; not a hint of sourness or tart flavors. Like drinking light raspberry syrup.
M - Thinner but syrupy; very fizzy carbonation
D - I hardly ever do this, but this is a complete drain pour. I only got through half the bottle to complete this review.
IMHO, there are no real redeeming qualities of this brew that is apparently trying to pose as legitimate in the style (or perhaps that's not what they are going for). In any case, I would rather not ever drink this again.
★
818 characters
2
/5
rDev
-32.4%
look: 4 | smell: 1.5 | taste: 2 | feel: 1 | overall: 2.5
Nose very strong cherry juice and the mouth is also saturated with the same juice artificial and, therefore, the taste of lambic is virtually undetectable. The body is very syrupy with unbitterness. The only thing Xtreme in the beer itself, its rate is highly elevated, added sugars, which was made very quickly disgusting. Well, another tasteless product marketing for the younger.
★
382 characters
Mort Subite Xtreme Kriek from Brouwerij Mort Subite
2.96
out of
5
based on
22
ratings.