Eylenbosch Faro Extra
| Brouwerij Mort Subite
BA SCORE
79
okay
14
Reviews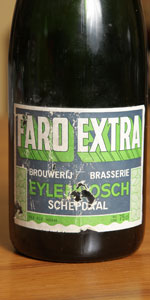 BEER INFO
Brewed by:
Brouwerij Mort Subite
Belgium
mort-subite.be
Style:
Faro
Alcohol by volume (ABV):
5.00%
Availability:
Rotating
Notes / Commercial Description:
No notes at this time.
Added by Floydster on 06-18-2009
This beer is retired; no longer brewed.
Reviews: 14 | Ratings: 21
3.82
/5
rDev
+17.5%
look: 4 | smell: 3.25 | taste: 4 | feel: 4 | overall: 4
Bottle at Grote Dorst, 1988 vintage. Clear light copper liquid with small to medium light brown head. Aroma of dust, raw/brown sugar, barnyard, mushrooms, bread and light lemon. Taste is light sweet and light sour with notes of brown sugar, bread and lemon. Medium bodied with low carbonation. Nice, but the aroma is quite weird. Has aged well.
344 characters

3.37
/5
rDev
+3.7%
look: 3.75 | smell: 3.5 | taste: 3.25 | feel: 3.5 | overall: 3.25
750 ml bottle at Grote Dorst, 1988 vintage although the label is essentially destroyed, poured into a gueuze glass.
A- Pours a clear golden amber color, topped with a white head, nice retention and lacing.
S- Some light funkiness, caramel, carboard oxidation.
T- Similar to the aroma, very mild funkiness, some caramel sugary sweetness, which isn't as big as I was expecting, along with lots of oxidation.
M- Light to medium-bodied, low carbonation, smooth feel.
O- Not my favorite style, but wasn't as sweet as I expected. I had this alongside a '87 Eylenbosch Kriek. It's cool to taste a beer this old, and it's still reasonably drinkable at this point. It's definitely past its prime though, I wouldn't personally drop much money on one of these except as a novelty.
774 characters

3.81
/5
rDev
+17.2%
look: 4.5 | smell: 3.5 | taste: 4 | feel: 3 | overall: 4
750ml bottle of the '88 vintage. Purchased at In de Verzekering tegen de Grote Dorst and shared at a ridiculous Lambic tasting.
A: Lightly hazed copper-amber body under a superfine white head that forms a ring and leaves great lace. Nice looking Faro.
S: Funk (moss, oak, earthiness), oldness (must, cork, cardboard), and some mild acidity. Interesting.
T: Fruity, cidery acidity up front, with sweeter and funkier notes filling in behind. Lots of earthiness, lots of citrus. Quite tasty, especially for the style.
M: Light, slick, and prickly. Meh.
O: Expectations were low for this oddity, but it was pretty enjoyable.
Cheers!
634 characters

2.68
/5
rDev
-17.5%
look: 3 | smell: 2.5 | taste: 2.5 | feel: 3 | overall: 3
Murky brownish amber color with no head. Smells of cork, sugar, cardboard, and a bit of butter. Somewhat watery, as well. There's a mild wood note, maybe a bit of vinegar, too. The flavor is watery, musty, and oxidized to hell. Lots of cardboard, stale sugar, and cork. Light tartness, vinegar, and a bit of butter. Safe to say this bottle was past its prime.
359 characters

3.97
/5
rDev
+22.2%
look: 3.5 | smell: 4 | taste: 4 | feel: 4 | overall: 4
1988 bottle, big thanks to beddachedda.
Mostly clear reddish amber in color with a fading one finger off-white head.
Funky and mushroom aroma with a little cheesiness.
The flavor is fairly sweet with light fruits, fennel, mushroom, and barnyard horseblanket. A touch of port wine and sherry.
Medium-bodied with decent carbonation actually.
Overall a reasonably good faro. Has handled the age well.
402 characters

3.5
/5
rDev
+7.7%
look: 3.5 | smell: 3.5 | taste: 3.5 | feel: 3.5 | overall: 3.5
8/12/2011
Thanks, Evan. 1988 vintage.
A: Dark orange with a small white cap.
S: Lots of plastic with a little chlorine. Notes of sugary cherry and raspberry. Earthy funk, as well as some leather.
T: Sugary cherry with light plastic notes. Light tartness.  Finish displays nice raspberry notes with drying oak.
M: Lower medium body with high carbonation.
Overall: This is beyond its prime, but it was still enjoyable and nice to try.
440 characters

1.9
/5
rDev
-41.5%
look: 3.5 | smell: 1 | taste: 2 | feel: 2.5 | overall: 2
Thanks to Nate for dropping this 25 year old beer on us at a tasting.
A - Orangish colored beer with a small foam head that didn't stick around for long and left some spots on the side.
S - Smells kind of like horse urine, seriously. In my younger days I worked at with horses and this is very close to what that smells like. Some wood, pet-out-in-rain, grain, and all around garbage are in this one. Age has not helped here.
T - The taste is somewhat better, in that it was only mildly revolting and not completely. A bit oxidized and somewhat sweet, not the best combination, but if you try not to breath through your nose while you are drinking you can get it down.
M - Lower carbonation, I don't know if it's my imagination due to the horrible smell but it just feels kind of gross, like I squished a bug and can't get the residue off my hands.
O - This beer is old. That is all it has going for it.
909 characters

4.25
/5
rDev
+30.8%
look: 4 | smell: 4 | taste: 4.5 | feel: 4.5 | overall: 4
1988 bottle thanks to Alan in Ireland. Held onto this for sometime waiting for the right moment not knowing if it would be good, great or horrible. One of those awesome deteriorating Belgian labels that just scream history. Pours a cloudy brown orange color with a large white head. The aroma is sweet brown sugar, oak and sourness. The flavor is a very mellow mix of brown sugar, a light tannin quality, sour lambic, with a rich energetic palate after 23 years! Very good, a high quality Faro- who says these can't be cellared. Too bad this one is no longer made.
564 characters
2.06
/5
rDev
-36.6%
look: 2.5 | smell: 1.5 | taste: 2 | feel: 3.5 | overall: 2
1985 bottle provided by Nate at a tasting...Pours a bright and clear gold light copper with decent carbonation for a beer this old...The aroma is really bad, its nostril burning aroma of rubber, acidic urine, and wet dog are not a good start...The taste is just as bad and it makes it impossible to drink.
A rare treat to have such an old beer but its not worth giving up a lot for as its past its prime.
405 characters

3.55
/5
rDev
+9.2%
look: 3.5 | smell: 3.5 | taste: 3.5 | feel: 4 | overall: 3.5
Green and Blue label. 1988 vintage.
Color is a hazed golden orange. Has some white head that leaves a bit of lace.
Aroma: Very sweet. Brown sugar, oak, vanilla, spice. It has some tart cherries, but it is rounded out by the sweetness.
Taste: Very sweet again. More brown sugar, caramel, vanilla. The fruit that it is here isn't tart at all. It is very unique. Has some oak flavors as well to it, but more hidden.
Mouthfeel: Sweet, creamy, and smooth. Lighter bodied with a low to medium amount of carbonation. Ends a bit dry.
Overall, it is actually somewhat drinkable for how sweet it is. I wasn't expecting to like this too much, but it turned out alright. I always enjoy drinking beer that is 20+ years old.
715 characters

2
/5
rDev
-38.5%
look: 4 | smell: 1.5 | taste: 2 | feel: 3 | overall: 1.5
Thanks(?) to nkersten for providing the 1985(?) vintage of this fine(?) brew. Served in a Lost Abbey rastal teku.
A - Pours with a quick-dissolving white foam that settles to a thin ring and some filmy haze, leaving behind spots of lace. Transparent orange-brown body.
S - Candi sugar, hamster cage, wet wood, mineral, a touch of rubber, light cheese rind, and grain character. Very earthy and very weird.
T - Taste is more smoothed out due to some oxidation. This has gained some savory notes like the De Dolle Brouwsel 20 I had recently. Strange juxtaposition of wood and candi sugar, with some sour and acetic notes in the finish and aftertaste. Doesn't taste significantly worse than some fresh Faros I've had.
M - Low carbonation, and an oddly slimy medium body. Not awful, but not good either.
D - I slugged through more of this than anyone else at the tasting, but even I couldn't finish more than a few ounces before pouring the rest down the drain. Yikes.
969 characters

4.15
/5
rDev
+27.7%
look: 4.5 | smell: 4.5 | taste: 4 | feel: 4 | overall: 4
1988 Vintage bottle, at In de Verzekering tegen de Grote Dorst; July 2010
When poured vigorously this beer produces a three-finger thick, pale amber tinged head. The beer looks brilliantly clear and has a dark, caramelized color (as opposed to the bright, pale gold color of the Gueuze I just had). The aroma smells of a mix of caramel, sherry aromatics, a definite nuttiness, as well as some still distinct candi-sugar notes. The nose also smells lightly tart and there is sort of an earthy quality to the sugar here, a big woody earthy mushroom like aromatic is here as well as something more basely fungus like. The oxidized sugar character is noticeable, but it is not sweet smelling. This has a very nice aroma compared to other Faros that I have had; the oxidation sort of super boosts the complexity, but not so much that it hurts the beer. As the beer warms up more mushroom like notes become apparent.
The beer tastes only lightly sweet, most likely due to the oxidation, and it is quite nutty with a nicely Madeira-like quality. As with other Faros, this reminds me of tea, though this is not nearly as sweet as a fresh example. I really like how much the sweetness has been tempered by age. This has a very light tartness that is certainly soft for a Lambic. The texture is medium'ish; there is not enough body to keep this from being drinkable, but it is a bit more hefty than your standard Lambic.
This is absolutely the best Faro I have had up to this point; I actually wasn't expecting much from this beer and have been pleasantly surprised. It is most definitely oxidized, but this has helped temper the sweetness and boost the complexity. The tea character works quite well in the end with the nutty, sherry-like and complex caramelized sugar flavors.
1,770 characters
2.14
/5
rDev
-34.2%
look: 3.5 | smell: 2 | taste: 2 | feel: 2.5 | overall: 2
1988 vintage...I guess.
Clear with an amber appearance. Smells like rotting wood and molasses. Dark fruit hiding behind a syrupy aroma. Taste follows through with the smell. Reminds me of Malta. Lots of caramel, woody, malty aftertaste. Sweet and every so slightly tart. This seemed more like a novelty. I didn't really "enjoy" my glass of this. Theres some repulsive wood-like flavor that I can't get my taste buds to like, no matter what.
441 characters
4.13
/5
rDev
+27.1%
look: 4.5 | smell: 4 | taste: 4 | feel: 4 | overall: 4.5
750 ml bottle thanks to Yves, split one of my bottles with friends on Saturday, split a different vintage tonight with Chris and a few others at Blue Palms tonight, poured into tulip glasses
A-Golden orange color with some yellow highlights, 1/4 inch white bubbly head that did not last long, minimal lacing too
S-Plums, prunes, stale cherries, candied sugar, sweetness, faint tartiness, honey, fruit syrup, and lactose
T-Lots of dark fruits including prunes and various berries up front, sweet in the middle with more of the same and a bit of molasses jumping out, finish is mostly plums and a bit of syrupy sweetness, candied sugar comes out more as it warms but there is still a bit of tart to offeset its sweetness that might get overpowering otherwise, like the dark fruit component in here a lot
M-Sweet, slightly syrupy, fruity, and lighter overall mouthfeel, low to moderate carbonation, medium bodied, taste lingers
D-Could drink this whole big bottle, goes down easy and keeps you coming back for more with its complex fruit flavor, hard to decipher what exactly it was but there is a lot of plum in the aftertaste, alcohol is hidden well, not overly sweet, easy drinking for a Faro
Probably the best Faro I have had to date, have not had many and there is not many out there either, still this was the least sweet and closest to a gueuze, still had some syrupy accents but did not overpower everything else that was going on, would drink again, recommended
1,470 characters
Eylenbosch Faro Extra from Brouwerij Mort Subite
3.25
out of
5
based on
21
ratings.