Independence Tap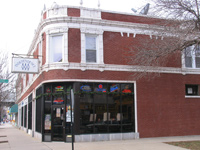 PLACE INFO
Type:
Bar
3932 W Irving Park Rd
Chicago
,
Illinois
, 60618-3123
United States
(773) 588-2385 |
map
Notes:
No notes at this time.
Added by jackndan
Ratings: 6 | Reviews: 5
Reviews by TMoney2591:

3.01
/5
rDev
-2%
vibe: 2.5 | quality: 3 | service: 3.25 | selection: 3
So I missed my train at the nearby Metra station, and, since I had an hour before the next one showed up, I sought out the nearest local watering hole and found this place. It's your usual bar, kinda darkish, flat screens, a few of the usual bar video games and such, and an attached party room of sorts. During this visit, said party room was filled with rowdy, occasionally singing sops. Fair enough. I sat at the bar and perused the chalkboard list. The selection is mostly macro nonsense, though a couple Revolution, New Belgium, and Sierra Nevada taps had apparently sprung up amongst the weeds. There's also a small and sorta/kinda decent bottle selection, the quality of which stands nice relative to its humble surroundings. I ordered an Amstel Wheat (it had just come out, and I'm a ticker, dammit!) and a can of Tennant's for the sake of it and learned that the place is cash-only (never a fan of this, but hey, we give Map Room a pass, don't we?). The bartender was amiable enough, though clearly somewhat annoyed by the raucous party. He didn't seem to know all that much about his selection, but, then again, I didn't press him for any information, anyway. I think they serve some of the usual pub grub, but I couldn't tell you for absolutely sure (though I can say I didn't order anything). Overall, this is clearly not a destination place, but for the surprisingly dry immediate vicinity, it could be worse. It's a place to drop in, grab a relatively cheap beer (prices are on par with other similar options), and not worry about anything in particular.
1,568 characters
More User Reviews:
3
/5
rDev
-2.3%
vibe: 3 | quality: 3 | service: 3 | selection: 3
3.16
/5
rDev
+2.9%
vibe: 3 | quality: 3.5 | service: 3.5 | selection: 2.5
Stopped into the Independence Tap on a Saturday night to see a band I know. The bar was busy, but not packed. You generally had to wait to get served. There are two rooms: the main bar area that includes a pool table and boxing game towards the back, and a side party/event room. The only place the bar was crowed was near the back of the side room where the band played. Most likely because it's where it meets the main room. The main room feels somewhat cavernous with a high ceiling. Lots of beer and liquor posters, mirrors and pennants strung up. Food was popcorn and frozen pizza.
Notable taps: O'Fallon Hemp Hop Rye ($3), Founders Dirty Bastard ($5), Goose Island Green Line ($4), Tighthead Scarlet Fire ($4), Boulevard Irish Ale, Firestone Walker Union Jack IPA, Great Lakes Edmund Fitzgerald porter, Half Acre Over Ale, Hofbräu Maibock
No bottle list, but I spied Half Acre cans, Three Floyds, Dogfish Head 90 Minute ($6), Great Lakes, Goose Island. There were definitely more, though I don't recall them now. Noticed a poster for Belgian Fridays, when Chimay bottles are on special.
My Hemp Hop Rye was served in a Bell's pint glass and my Founders Dirty Bastard in a Newcastle schooner. Bartenders were friendly and answered my questions, but were too busy to chat with. Noticed the GI Green Line tap handle was removed during my 3 hours here so here's hoping there's good turnover.
There are two women's restrooms. Be warned the men's room is single occupancy and doesn't have a lock on the door.
There are about 20 parking spots out back.
Nice to see a spot in this area with some good taps and bottles.
1,638 characters
1.9
/5
rDev
-38.1%
vibe: 1 | quality: 2.5 | service: 1 | selection: 2.5
I walked in and noticed the taps right away: Goose Island Harvest, PBR, Sam Adams Oktoberfest, Bells Oberon, Leinenkugel's Classic Amber, Rogue Dead Guy, New Belgium Ranger IPA, and a few macros including Negra Modelo and a few others.
The second thing I noticed was that it smelled like a disgusting bathroom (old piss) and it was dark as hell. I was the only one in the place besides the bartender, who seemed bored.
The bartender attempted to pour the beer I selected, New Holland's Mad Hatter, into a frozen glass. The beer foamed up on him like crazy and he went for another glass. This time I asked for a room temp. glass. He said he didn't have any but said he could run one under some water. I agreed to this.
He did this, and then attempted the pour again, in the freshly watered glass. He managed to get a little more beer this time, but it still foamed up on him. He then poured the beer from the second glass into the first (which was still ice cold) and managed to get foam all over the outside of the glass. He somehow managed to get an okay pint from doing this, and then hands me the glass without offering to wipe it off or anything.
The beer was fine, which is surprising considering my neighborhood (not a lot of craft turn over).
I was about 1/4 of the way through my beer when two Negra Modelo promo. women walked in the bar. They promptly began to unpack their supplies and got me a plastic sample of Negra, a key-chain bottle opener, and a packet of beads.
I knew it was my time to leave. I quickly finished the beer I ordered, drained the sample, and made my way out the door. This place has some potential, I just wish they would live up to the smallest percentage of it.
1,704 characters
4.04
/5
rDev
+31.6%
vibe: 3.75 | quality: 4 | service: 4 | selection: 4.25
2017: Still making strides, much improved from years past. Haven't had a bad beer here lately. Nice taps, stuff like Café Deth, Parabola, Temperance MMR Vanilla, Goose BA Scotch Ale, Hopewell, and Grand Central. KBS at an affordable price. Jeff the bartender is a nice guy, chatting beer & music and playing nice tunes. Not a bad neighborhood option, also check out Old Irving Brewing and Lake Effect to the north on Montrose.
End of 2014: 3.86
You've come a long way baby. Drastic improvements including the draft selection and some much needed remodeling. Dare I say the place is comfortable now. Much needed in the area, though they still need to clean their tap lines more often. Sgt. Slaughter the sausage guy made an appearance and that makes for a magical evening.
9-2012: 2.81
Gave Independence Tap another chance recently, and there are still pros and cons, but some improvements too. Better than average selection for the area, though that's not saying much (Brisku's and Lizard's are better, even Bread & Wine has a few Perennial bottles). Two Rev taps were on (Anti-Hero was fresh, Bottom Up Wit), FW Union Jack (not so fresh), Two Hearted (please read on), SA Oktoberfest, and GLBC Edmund Fitzgerald were the draft highlights. The bad: two taps clearly had dirty lines, and tasted terrible. Two Hearted tasted like straight up Brett. Stick to bottles and current seasonals to be safe. Weekend crowd was laid back and friendly, good music on the juke. Bartender passed out free popcorn, and told a few stories. Next time i'll mention the dirty lines if it's still a problem. This bar is the definition of "no frills" and not worth going out of your way for.
12-01-2008 Score: 2.55/5
This is probably the most soulless bar listed in beerfly for Chicago. It's located on a bleak stretch of Irving Park Rd. across from a bible bookstore near the expressway, on the northwest corner of Irving and Harding. Macro neons line the windows, and a vinyl sign in the window says "Last "P" stop before..." as if this was your last chance to drink and whiz before getting on the expressway...eh.
Sunday night and I was the only one in the place, bartender was at the end of the bar with a laptop, said hello when I came in. Eighteen taps here are macro dominated, save for SNPA, Goose Harvest, Long Hammer IPA, Spaten Oktoberfest, and Pilsner Urquell. Someone stopped caring about the beer here years ago, or never did. Bar mats advertised the new "old" Schlitz, which was also on tap, and I saw the glasses there too. I got GI Harvest in a Bud Light pint glass. The rest of the taps were every variation of BMC you could imagine, I wouldn't be surprised if they were all chosen by a Bud distributor. There's a pool table and digital jukebox. BMC used car lot pennants and mirrors all around the place. Airy, yet cold feeling. Dim lights and a high ceiling, with a second seating area with the lights shut off. Just an awkward feeling place, one that you probably wouldn't mind if you were pounding shots, but certainly the last place you might go to relax with a craft beer.
3,080 characters

3.34
/5
rDev
+8.8%
vibe: 3.5 | quality: 3 | service: 4 | selection: 3
A nice little corner tap in Chicago, not far from the Kennedy on West Irving Park. The barkeep tells me that there has been a bar on this corner since the end of prohibition. The place is nice looking, with modern amenities added to the old building. The beer selection was quite good, with 16 taps several that rotate with the seasons, and numerous beers in bottles, including several imports from such exotic countries like Turkey and Albania. The selection is light on Belgians, and micro's, however. I'm not sure if they have food, but its not really an eating place. A pool table and a jukebox round out the entertainment. Worth a stop if you in the neighborhood.
670 characters
Independence Tap in Chicago, IL
3.07
out of
5
based on
6
ratings.