Einbecker Brauherren Non-Alcoholic
| Einbecker Brauhaus AG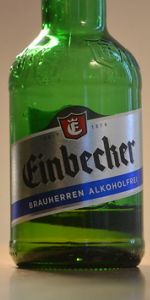 BEER INFO
Brewed by:
Einbecker Brauhaus AG
Germany
einbecker-brauhaus.de
Style:
Low Alcohol Beer
Alcohol by volume (ABV):
0.50%
Availability:
Year-round
Notes / Commercial Description:
No notes at this time.
Added by KarlHungus on 11-03-2007
Reviews: 7 | Ratings: 17
5
/5
rDev
+71.2%
look: 5 | smell: 5 | taste: 5 | feel: 5 | overall: 5
smell 5
taste 5
look 5
feel 5
oh my gosh, ive discovered the perfect pils and it doesnt have alcohol.
The best non-alc beer you can have, period.
word.
153 characters
3.32
/5
rDev
+13.7%
look: 3.5 | smell: 3.25 | taste: 3.25 | feel: 3.75 | overall: 3.25
you have to take this in context of other NA beers, and in that context this is certainly one of the better ones going. authentically german, with a malt character similar to a becks or something like that, and beautifully carbonated and dry. if you told me this was a normal german lager, i might not know, at least after several ipas or something where my palate was a little cloudy, its pretty close. real pale in color, with a decent head and crystal clear. its got hop character in the finish, quite german as well, and the whole thing is real refreshing. my only critique of it is that it has in both nose and taste that classic import green bottle skunky thing going on, not a staleness, but a light or oxidation issue that distracts. its not subtle, so it gets in the way of me appreciating this all the way, but even with it, its one of the better NA beers going right now.
882 characters
2.6
/5
rDev
-11%
look: 4 | smell: 2 | taste: 2.75 | feel: 2.25 | overall: 2.75
I've always enjoyed Einbecker Maibock in the the past, so when I saw this, I thought "shit, why not".
Poured into a pint glass, it's a pale straw color with a two finger head of white foam that settles to a skim after a few minutes. Pretty long lasting surface coverage, trails of visible carb present. Lots of lacing in the glass, looks nice.
Smells like skunky ditch weed unfortunately. Gee, green bottles, hmm.
Flavors of puffed wheat or rice, flaccid watery feel, minor hop bitterness. Finishes dry, could be more crisp and less watery.
Give this to the N/A drinker that typically drinks Heineken... I have taken to chugging one after a bike ride to rid myself of the sixer.
684 characters
2.59
/5
rDev
-11.3%
look: 2.75 | smell: 2.5 | taste: 2.5 | feel: 3.25 | overall: 2.5
A: The beer is clear yellow in color and has a light to moderate amount of visible carbonation. It poured with a quarter finger high white head that faded away very quickly, leaving a thin layer of bubbles covering the surface.
S: Light aromas of sweet, bready malts are present in the nose. No skunk is noticeable despite the green bottle.
T: The taste has flavors of bready malts and bits of sweetness along with light hints of bitterness.
M: It feels light- to medium-bodied on the palate and has a moderate amount of carbonation.
O: This beer is easy to drink but has the unmistakable flavor of a non-alcoholic beer that isn't very appetizing. Its best quality is its fuller mouthfeel compared to other beers in the style.
726 characters
2.41
/5
rDev
-17.5%
look: 3.5 | smell: 2.5 | taste: 2 | feel: 3 | overall: 2.5
The colour is very pale straw yellow (4 EBC), the finger thick head is firm, white and compact. No lacing occurs.
The smell is very sweet, reminding of lemonade rather than beer. Lemons and dough.
The taste is light. Two flavours stands out: Clean sweet motes with hints of lemonade. A crispy bitterness with a tart edge of lemon acid. Low body. The aftertaste is soursweet, again like lemonade. The finish got a hint of dough.
The carbonation is medium, the fresh bubbles small. The liquid is quite sticky.
I'm not that impressed. Still, it is not as horrible as many other low alcohol brews
601 characters
1.39
/5
rDev
-52.4%
look: 2.5 | smell: 1 | taste: 1.5 | feel: 2 | overall: 1
330ml nice stubby w/long neck green bottle adorned with foil labels. Drank this from the bottle at the store but did pour out a little into a taster for somebody else which showed this was pale yellow with a little white foam head.
Smells of yucky rubber and corn. Drinks like watery corn flakes tea. Only the lightest hint of maltiness or bitterness in there. A little fizzy which was probably the nicest aspect other than the nice packaging.
Pretty bad. So far, it's 0 for 2 on the NA beers! Having gone into trying these with no preconceptions, the one word that comes to mind so far is: awful.
599 characters

3.55
/5
rDev
+21.6%
look: 4 | smell: 4 | taste: 3.5 | feel: 2.5 | overall: 3.5
This beer pours a clear pale straw color. The head is two inches in height, and recedes slowly into nice lacing. The aroma is very hoppy for a non-alcoholic beer. Spicy noble hops, grass, and minerals are all present. The isn't as bold as the aroma, but hops still drive the flavor. There more minerals in the flavor than in the aroma, and a bit less of the spiciness. The mouthfeel is very thin, and carbonation is a little too high. Overall, this is the best non-alcoholic beer I have had. However, if for some reason I couldn't drink alcohol I think I would simply forget about beer altogether rather than drink and NA beer. I probably wouldn't have tried this if a distributor hadn't given it to me.
703 characters
Einbecker Brauherren Non-Alcoholic from Einbecker Brauhaus AG
2.92
out of
5
based on
17
ratings.