Einbecker Pilsener
| Einbecker Brauhaus AG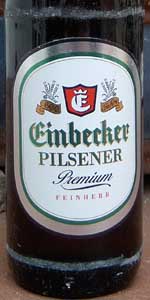 BEER INFO
Brewed by:
Einbecker Brauhaus AG
Germany
einbecker-brauhaus.de
Style:
German Pilsener
Alcohol by volume (ABV):
4.80%
Availability:
Year-round
Notes / Commercial Description:
No notes at this time.
Added by thierrynantes on 04-13-2008
Reviews: 8 | Ratings: 29
3.79
/5
rDev
+2.2%
look: 4 | smell: 3.75 | taste: 3.75 | feel: 4 | overall: 3.75
Poured from a 12 OZ bottle into a pint glass. The appearance is a clear pale gold with a small white head. The aroma is corn and grass, reminds me of a German version of Busch beer. The taste is a mellow malt and grass flavor.
229 characters

3.73
/5
rDev
+0.5%
look: 3.5 | smell: 3 | taste: 4 | feel: 4 | overall: 4
Einbecker Pilsner -
Poured from a growler on 9/17 with the Thomasville Beer Club.
Very light in appearance. Pale yellow, pours clear. Free of sediment. Small head that dissipates to nothing.
Smells of soda crackers, very biscuity, lemony. Noble hops...
Tastes of crisp lemon, hops, fresh hay, slightly bitter finish. 
Mouthfeel has the lightest of bodies, crispy carbonation that ends just slightly bitter. 
Overall it's a great session beer. Very reminiscent of an american light beer with hops piled on top. Not really my style but a great example of a pilsner.
571 characters
4.1
/5
rDev
+10.5%
look: 4 | smell: 4 | taste: 4 | feel: 4 | overall: 4.5
I had out of a 12 ounce bottle.
A. Completely clear light yellow color with some bubbles and a limited head and no lacing.
s. Very mild malty scent.
t. Has a bit of a tart taste at first followed by malt and wheat taste. Crisp but there is a rye undertone.
M. Very light and carbonated.
D. Again, it's a light beer, so very easy to drink. Kinda like bitburger.
362 characters

3.63
/5
rDev
-2.2%
look: 4 | smell: 3.5 | taste: 3.5 | feel: 3.5 | overall: 4
Drank this beer today after a sunny afternoon. Poured in my Dutch beerglass the Einbecker shows it good side. A very nice head with a golden to lightyellow colour of the fluid. The beer gives away a nice carbonation during the whole time.
A bit better than normal smell, light sweetness in the mouth. The beer is smooth and not dry like my last reviewed German pilsener.
On the better German pilseners with a good drinkability.
429 characters

3.84
/5
rDev
+3.5%
look: 3.5 | smell: 4.5 | taste: 3.5 | feel: 3.5 | overall: 4
Single bottle purchased from Gary's in Madison...
Appearance: Light, straw-colored, slightly hazy hue...
Smell: About as real as it gets, sawdust, lemons, true-to-the-style pilsener aroma, peppery, acidic...
Taste: Taste was good but not great... the aroma certainly suggested more...
light-to-medium-bodied mouthfeel...
Easily drinkable...
Good stuff...
354 characters
3.67
/5
rDev
-1.1%
look: 3.5 | smell: 4 | taste: 3.5 | feel: 4 | overall: 3.5
Great floral aroma, good golden/straw color. Nice rich feel and taste initially. It has a nice, citrus flavor in the beginning and follows with a strong, bitter aftertaste which made it a little less drinkable than I'm use to with Pils. If you like a hoppy beer this is a good one, but the bitterness at the end wasn't for me. It does not have the spiciness that I have found present in some Pils, which was to my liking. Overall definitely worth trying!
454 characters

3.12
/5
rDev
-15.9%
look: 3 | smell: 3.5 | taste: 3 | feel: 3 | overall: 3
A: Poured a very clear pale gold with a one finger, foamy, macro-bubbly white head that left a streaky web-like rim lacing.
S: faint fresh corn , dry hay with some herbal hopping.
T: starts out with some hints of malt sweetness which is soon followed and balanced by a dry herbal hopping. There was some faint lemon herbal notes, and some grassy notes on the finish.
M: light, watery with some dried herbal lemon hopping gracing the tongue.
D: Decent enough drinkability but a tad disappointing considering it was german. Wouldn't find it particularly refreshing on a hot summer day and the malting was not particularly up to the usual clean german brewing standards.
675 characters

3.92
/5
rDev
+5.7%
look: 3.5 | smell: 4 | taste: 4 | feel: 3.5 | overall: 4
Beer bottle (50cl), tasted in 2004.
Appearance : golden color, with white foam head (lacing).
Smell : Malty, and hoppy herbal aromas.
Taste and mouthfeel : sweet malty flavor, moderate bitter finish.
Drinkability : a good beer in the German pilsener style.
262 characters
Einbecker Pilsener from Einbecker Brauhaus AG
3.71
out of
5
based on
29
ratings.