Santa Bee

Huisbrouwerij Boelens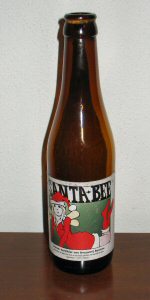 Rate It
Beer Geek Stats
| Print Shelf Talker
From:

Style:

ABV:

8.5%

Score:

Avg:

2.86

| pDev:

30.07%

Reviews:

8

Ratings:

Status:

Active

Rated:

Feb 08, 2022

Added:

Feb 15, 2009

Wants:

Gots: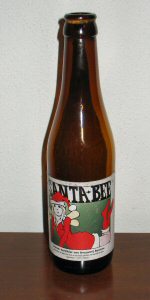 Recent ratings and reviews.
| Log in to view more ratings + sorting options.
Reviewed by Absumaster from Netherlands
3.04
/5
rDev
+6.3%
look: 3 | smell: 3.25 | taste: 2.75 | feel: 3.25 | overall: 3.25
The beer pours a dark brown color with a setting head. There are big chunks of yeast floating in the beer.

The smell is spicy like rosebuds and maybe some cumin? The alcohol is pretty much present in the smell, together with some faint oxidation cardboard smells. The malts are dominated by the yeast character and spices, but they offer a candisugar smell.

The taste is alocholic with the spices giving the beer a herbal and medicinal taste. There is a sharp edge to the beer and I suspect the spices. The malt offers a dark bready taste with some candisugar tastes. The mouthfeel is a bit sticky yet thin and drinkability is ok.
Nov 22, 2013
Reviewed by mrfrancis from Kentucky
3.3
/5
rDev
+15.4%
look: 3.5 | smell: 3.5 | taste: 3 | feel: 3.5 | overall: 3.5
A: Pours a hazy, lively reddish amber with a creamy white mousse that sticks around far longer than I would have ever expected.

S: Gentle aromas of honeysuckle, wildflower honey, ripe raspberries, sweet cherries, lemon balm, and chamomile take some time to show themselves. Already, this beer smells sweet and flowery, though in a pleasant, inviting way.

T: Mild, delicate notes of sweet cherry, red raspberry, elderberry, wildflower honey, honeysuckle, dark bread, chamomile, lemon balm, and lavender express themselves in the mouth. The finish is short and unobtrusive with fleeting floral and honey notes.

M: Light to medium in body and dry, but also quite smooth. Carbonation is crisp, yet somewhat delicate. Alcohol presence is tremendously restrained. I could definitely have more than one of these at a time.

O: As I reflect on this beer, I can say that I enjoyed trying it, but would likely not go out of my way to find it again. It is tremendously drinkable, refreshing, and likable, but it is also not all that memorable. Still, it was a nice experience on-tap, and for some reason, I just can't force myself to give it a bad review. Might be worth a second look after all...
Dec 21, 2011
Reviewed by BEERchitect from Kentucky
3.75
/5
rDev
+31.1%
look: 4 | smell: 4 | taste: 3.5 | feel: 3.5 | overall: 4
Exploring the lighter side of Belgian Strong Dark Ales, Santa Beer displays honey sweetness, fruity/floral complexities that layer upon a somewhat dark lager-ish base.

Medium brown with reddish highlights, the beer starts with creamy head formation, mild retention, and light lace.

Very floral with honeysuckle, lavender, and a boquet of flowery scents. Slight fruitiness plays on the nose with impressions of ripe berries, apples, and dates. All the floral/fruity notes translate to sweet and fresh honeyish taste along with a candied, thiner malt base. Modest hop bitterness and light mint give a slight bite to the finish and aftertaste.

Lighter in body, the beer is as delicate on the palate as the flavor and aroma is to the nose and taste buds. Light, sweet, and modestly creamy to start, the beer finishes with a fleeting powdered sugar and hop bite in the finish, with the minty alcohols giving a mild drying/evaporative effect. Chamolime-like slickness keeps the beer from being as dry as perfered.

A nice and mild beer that really defies style descriptions. Light in flavor with the more hearty aspects of strong Belgian ales subdued in favor of high floral and subtle fruity notes for a Christmasy, whimsical aura.
Dec 18, 2010

Reviewed by jampics2 from Ohio
3.16
/5
rDev
+10.5%
look: 4 | smell: 3 | taste: 3 | feel: 3 | overall: 3.5
Must be a different batch than others reviewed. On tap at the Winking Lizard. I think the beermeister said he snagged all the kegs in the states at a pretty penny. Graciously presented by the man himself - thanks, John.

The beer looks nice in the tulip. Amber in color with just enough white head to cover the beer well.

Smell is slightly sour with honey notes and some oak. The booze is present but not overwhelming like many have noted.

Taste follows the smell. Mostly oak and slight sourness. Some raspberry and honey. Slightly bland and hot, but not undrinkable.

Mouthfeel is medium, especially considering the ABV. Some lingering raspberry and oak, and a bit too boozy but, again, not undrinkable. A strange bee, err, beer. But certainly better than the reviews below would indicate.
Dec 02, 2010

Reviewed by mdfb79 from New York
1.63
/5
rDev
-43%
look: 4 | smell: 1 | taste: 1.5 | feel: 3.5 | overall: 1
From 11/17/10 notes. Had on tap at Churchkey in DC.

a - Pours a deep amber-mahogany color with one inch of off white head and light carbonation. Leaves some light lacing on the glass. Looks pretty good.

s - Smells of sour raspberries and dark fruits, if infused with grain alcohol. Very pungent alcohol in the nose that stings the nostrils. Also some oak, reminds me of pine sol. Not very enjoyable.

t - Tastes of alcohol and sour raspberries and dark fruits again. While a slight step up from the nose, it is not well balanced and the alcohol masks some of the sour fruit.

m - Medium body and very low carbonation.

d - Unfortunately everything went down hill from the look of this beer. Lots of alcohol burning through in the smell and definitely hot in the taste. Would not want to have this one again.
Nov 26, 2010

Reviewed by drabmuh from Maryland
1.18
/5
rDev
-58.7%
look: 4 | smell: 1 | taste: 1 | feel: 1 | overall: 1
I split this with Mike, neither of us could stomach it. It looked fine but smelled and tasted like varnish.

Beer is caramel / dark amber in color with a nice thin head and some lacing, low carbonation and mostly clear.

Beer smells harsh and oaky with a solvent note, it burns.

Whoa. What the fuck is this? I guess the lead off is the alcohol, the beer is thin and dry but before it dries you out, it slams you with this horrid oaky / bitter late mid palate notes. Its so harsh its a definite drain pour. I would never have this again. The sourness from the ale is only evident for a moment before the dark hand of all that is unholy draws around your neck robbing you of breath and the sense of taste.
Nov 24, 2010

Reviewed by Thorpe429 from Illinois
1.38
/5
rDev
-51.7%
look: 4 | smell: 1 | taste: 1.5 | feel: 1 | overall: 1
On tap at Churchkey. Served in a snifter.

The pour brings a beer that is dark brownish-red with a very slight head. There is a pretty good lace presence throughout. While the appearance was nice, it went straight to hell from there. After one sniff of the nose, I really didn't know if I'd ever be able to ingest any of this, though I powered on. The nose is a really strange piney smell--almost like a chemical cleaner. There is a bit of detergent in there and also strong bleach. Pine Sol and solvent. It's really, really bad.

Finally, I take the plunge and go for a sip. All of the disgusting-ness of the nose is present, though the notes aren't quite as pungent. Inexplicably, there is a light bit of raspberry flavor along with the pine and solvent. The feel is really bitter and a bit sour. Light body and low carbonation. This is bad, bad, bad. To sum up: "it smells like burning."
Nov 18, 2010
Reviewed by stcules from Italy
3.18
/5
rDev
+11.2%
look: 3.5 | smell: 3 | taste: 3 | feel: 3.5 | overall: 3.5
Dark color, almost black. Two fingers of a decent head, quite light in color. Not bad.
The smell is a good malt, red fruit notes (cherry, sour cherry). Sweet, even a bit sugary, but not cloying. Even relatively fresh, for the strongness.
The taste starts malty, then fruitiness (cherry). Not bad, alcohol well hidden, honey notes, but after all quite well balanced.
Average body, again honey in the aftertaste. In the end, pleasant, winter beer, quite good.
Feb 15, 2009
Santa Bee from Huisbrouwerij Boelens
Beer rating:
76
out of
100
with
13
ratings