Waase Wolfbier
| Huisbrouwerij Boelens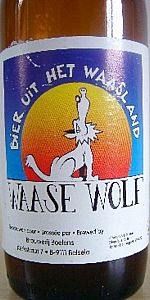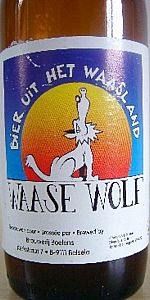 BEER INFO
Brewed by:
Huisbrouwerij Boelens
Belgium
proximedia.com
Style:
Belgian Dark Ale
Alcohol by volume (ABV):
6.00%
Availability:
Year-round
Notes / Commercial Description:
No notes at this time.
Added by stcules on 11-16-2002
HISTOGRAM
Ratings: 14 | Reviews: 7
Reviews by Vladimiriuz:

3.65
/5
rDev
+2.8%
look: 3.75 | smell: 3.75 | taste: 3.5 | feel: 3.75 | overall: 3.75
a Very good an full headed glass of this nice light brown cloudy Boelens Waase Wolf beer.
Good thick foam and good nice view.
The nose brings me some fine fresh fragrances like fruits and lightly spices.
Also some roasted barley and malts.
For the taste it is wonderful. Drink this great beer in a good temperature and your palate gives you a good fresh and as the same to some soft creamy aftertaste with it. It brings you a mouthfeel of lighty fruity and a touch of sweet bitterness in it.
Overall a great beer to drink.
525 characters
More User Reviews:

3.74
/5
rDev
+5.4%
look: 3.5 | smell: 3.75 | taste: 3.75 | feel: 3.75 | overall: 3.75
A 330ml bottle with a BB of Nov 2013. Purchased ages ago from a Belgian webshop and stored in my garage. Named after a mysterious wolf that apparently terrorised the Waasland in 2000.
Poured into a Delirium chalice. Bottle conditioned. A hazy brownish-amber with chunky floating sediment and good carbonation. Yields a large head of creamy off-white foam that lasts for a few minutes before reducing to a patchy surface layer. Aroma of nutty caramel malt with hints of raisins, dried fruit, faint roasted grain, fruity yeast esters, a touch of spice and a whiff of warming booze in the background. Slightly sweet and nicely rounded.
Tastes of sweet, grainy malt and fruity yeast with a dry finish. Notes of caramel, grain, raisins, dried fruit, brown sugar, faint roasted malt, fruity yeast esters, subtle spice and earthiness. Slightly sweet, with a twinge of alcohol in the background. A mild, dry yeastiness upon swallowing. Mouthfeel is smooth and tingly, with pleasant carbonation and good body. Aftertaste of sweet caramel malt and earthy, fruity yeast.
Pretty good, if a tad on the sweet side. Looks alright, with an aroma/flavour of fruity caramel malt, faint spice and yeast esters. Nice body. Would probably be too cloying to have more than one in a sitting, but worth trying if you come across it.
1,311 characters


3.37
/5
rDev
-5.1%
look: 3.25 | smell: 4.25 | taste: 3.25 | feel: 2.5 | overall: 3
1.76
/5
rDev
-50.4%
look: 2.5 | smell: 2 | taste: 1.5 | feel: 1.75 | overall: 1.75
3.65
/5
rDev
+2.8%
look: 4 | smell: 4 | taste: 3.5 | feel: 3.5 | overall: 3.5
330 ml bottle, thanks to oh6gdx and chris_o. ABV is 6.5%. The beer starts pouring out as soon as the cap is removed. Cloudy golden brown colour, huge to moderate head. Yeasty aroma with notes of oranges, apricots and coriander. Rich mouthfeel, high level of carbonation. The flavour is sweet, spicy, yeasty and fruity, with lots of residual sugars. Hints of honey too. Moderate hops in the slightly peppery finish. Maybe a tad too sweet, but still an interesting beer.
468 characters
3.45
/5
rDev
-2.8%
look: 3.5 | smell: 3.5 | taste: 3.5 | feel: 3 | overall: 3.5
Yeast chunks speckle a peachy orange coloured beer with lots of visible carbonation. Sweeter and quite fruity smelling, some citrus and even some hops noticeable. Very sweet, but not overly. Tastes of abricot and peaches are pronounced, some hops can be detected. Decent beer, quite easy to put away, not particularly strong in taste but agreeable.
348 characters
3.32
/5
rDev
-6.5%
look: 3 | smell: 3.5 | taste: 3 | feel: 4 | overall: 3.5
Appearance: orangey straw color, hazy, some specks of yeast, thick layer of white foam that slowly compacts
Aroma: initially sharp, musty, slightly sour, some biscuit malt-like breadiness, a touch of hops, appley fruitiness
Flavor: tangy up front, slightly malty, cider-vinegar-like sourness (though not like a geuze), apples, biscuit malt, finish is tart and dry with a fruity lingering sourness
Mouthfeel: light body, spritzy champagne-like carbonation
Overall Impression: Was a little afraid of this one at first. Bottle looked like it's been through a lot. Black crust around the mouth of the bottle, the seal in the crown-cap had gotten moldy, the bottle was filled to the top, worn label, etc. Despite the intimidating appearance, it wasn't too bad. I'm not sure if it's supposed to be tart or not, though.
824 characters

4.36
/5
rDev
+22.8%
look: 3 | smell: 4.5 | taste: 4.5 | feel: 4 | overall: 4.5
The colour is brown-reddish, with copper reflexes.
There is an abundant bottom of yeast.
The smell is sweet, fruity (orange, pear), and a little sourish.
The taste is full, malted, complex, with notes of fruit (figs, dried prunes), and alcoholic.
The body is round.
Very good.
282 characters
3.77
/5
rDev
+6.2%
look: 3.5 | smell: 4 | taste: 3.5 | feel: 4 | overall: 4
Purchased at a quality offie in Brighton (Trafalgar Wines). This bottle is at 6.5%abv, with unknown freshiness info. apart from the Dutch words: "Houdbaar tot eind 2006"; served lightly chilled in a large bulb wine glass.
A: light muddy brown in colour, topped with a cottony-white fluffy head dissipating fast; carbonation is moderate,
S: semi-sharp exotic fruit-esters dominate the aroma, featuring Saaz hops and sweet limey fruitiness typical of a Belgian pale ale; a mildly spicy edge and a rather light wheatish sour-sweetness buttress the caramely (w/ bready hints) malty backbone underneath the fruity gloss. Pleasant, albeit the alc. edge is more apparent than desirable.
T: the yeastiness prevails from the start - rather piney+bitter herbal - while the caramely malts catch up fast along with a light touch of brown bread; sour fruitiness (a little lime, a little lemon-grass) seems muted as compared with the nose, while flavours like nutmeg, pine-sprigs, and lemon grass all interact and quietly develop in the slightly chewy and lingering dryish-bitter aftertaste.
M&D: refreshingly light, softly-spritzy, and medium-bodied; this dark pale ale benefits from a rather complex profile from yeast-esters. Overall, it's a quite drinkable and pleasant ale to me, though the yeast sediments somehow give me a little headache...
1,341 characters

Waase Wolfbier from Huisbrouwerij Boelens
Beer rating:
3.55
out of
5
with
14
ratings