Muskoka FIX Hellas Beer
| Muskoka Brewery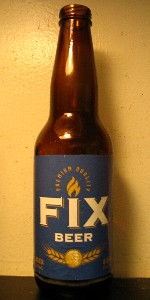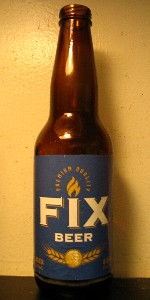 BEER INFO
Brewed by:
Muskoka Brewery
Ontario
,
Canada
muskokabrewery.com
Style:
American Adjunct Lager
Alcohol by volume (ABV):
5.00%
Availability:
Year-round
Notes / Commercial Description:
No notes at this time.
Added by pootz on 04-06-2006
This beer is retired; no longer brewed.
HISTOGRAM
Ratings: 7 | Reviews: 7
Reviews by Bestuurder:
1.13
/5
rDev
-48.4%
look: 1.5 | smell: 1 | taste: 1 | feel: 1 | overall: 1.5
Not the worst beer I have ever drank, but damn it, it's pretty close to it. Poured a classic macro yellow, with little head, and very poor lacing.
The overall appearance of the packaging has something to be desired, since as I am walking out of the Beer Store, the damn box broke. Who the hell tapes the bottom of their boxes?! Interesting to say the least. The bottle is standard, and label is certainly not appealing.
The aroma, I mean, stench of the beer was of copper and steel. The taste was horrendous. I most definitely not be able to drink more than one of these in a single day. I had to wash that horrible taste out of my mouth with a good ol'fashioned Guinness from tap.
All-in-all, not impressed.
After being messaged by the brewmaster of FIX Hellas asking me to try their beer again (and wasting my money) I can say: I previously reviewed this brew on 16/07/2007; Afterwards, I can honestly say that this is the worst beer, other than a truly skunked homebrew.
This is easily the worst macro-brewed beer I have EVER drank! Shame to you Lakes of Muskoka, I will NEVER purchase another brand of your beer again! You should be offering me free beer! The beer was exactly the same as described above! I will not waste another $26.40 again!
1,252 characters
More User Reviews:
3
/5
rDev
+37%
look: 3 | smell: 3 | taste: 3 | feel: 3 | overall: 3
Bottle form Lubière: Poured a deep golden color ale with a medium foamy head with good retention and good lacing. Aroma of sweet and floral malt is quite interesting. Taste is also sweet but the floral and grassy feel is what rally kept me interested in this beer. Body is light and it does lack complexity but let's just say that I have seen worse pale lager then this one.
376 characters
3.22
/5
rDev
+47%
look: 3 | smell: 3.5 | taste: 3 | feel: 3 | overall: 3.5
Picked up some of this, mainly because of the price point, and partly out of curiousity. This poured a typical macro yellow with some slight head, smell was fresh, very light hop aroma, some malt, nothing too off there. Taste was very light and delicate, there's not too much to this beer. It is adequately carbonated and exceptionally easy to drink.
This beer isn't awful, in fact it isn't even bad. It's easy to drink and makes for a decent summer beer and a very good macro lager, keeping in mind that is what it is. However, if you're looking for bold and complex flavors you are most certainly not going to find them here.
628 characters

2.3
/5
rDev
+5%
look: 3 | smell: 3 | taste: 2 | feel: 2 | overall: 2
A: Light golden yellow color with a large head of artificial white foam. Decent head retention. Medium level of carbonation. Some notes of lace.
S: Smells like hay and grain thrown in a blender. No note of malt or hops. Very macro-ish aroma.
T: Bland, watery mix of light malts and cheap adjuncts. No depth. No flavor. Blah.
M: Another failure. Weak, flat and watery. Dull.
D: Naw, i'll pass next time. I've been far more impressed with other offerings from Muskoka.
Notes: Special thanks to biegaman for the sample.
532 characters
1.84
/5
rDev
-16%
look: 3 | smell: 1.5 | taste: 1.5 | feel: 3 | overall: 2
Thanks biegaman for the brew!
Pours a clear yellow, fizzy white head, settles down to a thin layer, some lace spots. Smell is sweet, almost pineapple fruitiness, apples, overpowering corn, nasty. Taste is weird corn again, adjunct and nothing else, weak and watery, citrusy finish, very unpleasant. Mouthfeel is light bodied with medium carbonation, do they use malt?
370 characters

2.28
/5
rDev
+4.1%
look: 2.5 | smell: 2 | taste: 2 | feel: 2.5 | overall: 3
Bottled: Poured a bright yellow-gold color with a small rocky white cap that reduces quickly to a small ring. Almost no lace on the glass. Heavily carbonated (large bubbles cling to the sides of the glass). Weak nose to this one....light sweet dextrin smells, some husk and some vegetal notes...nothing there to indicate an all malt Dortmunder helles.
Light body, fluid mouth feel.
Up front the body is characterized by spritzy carbonation, insufficent malt spine and over bearing grassy hops ( where's the herbal/lemony Halertaus we expect in a helles?)...the weak malting a makes the adjuct cereals obvious and easily detected in the fast, dry finish and sweet dextrose after taste (corn/rice?). Some semblence of cold lagering is evident as this brew tastes slightly better and smoother as it warms and imparts more malt aroma.
I believe the Muskoka Brewer either got brewing franchise or bought the rights to the FIX label which was once a Dortmunder helles and was the national mega brew of Greece. This beer is neither...just typical fizzy yellow adjunct lager like the 300 brands that diluge the macro lager market...indistinct, slightly vegetal and watery. I'm a helles lager junkie but I won't be back for more of this.
1,242 characters

1.54
/5
rDev
-29.7%
look: 3.5 | smell: 2 | taste: 1 | feel: 1.5 | overall: 1.5
'Fix'. A cheap fix furthermore.
"Alcohol: the cause of, and solution to, all of life's problems" to quote one of the great philosophers of our time, Homer Simpson.
Pours with an abundance of head not normally seen in discount brand lagers. Most fades out rather soon but leaves behind clouds of lacing. A bright clear body. Plenty of bubbles. Aroma not too promising, mostly an unfinished malt. Hints of macro-esque production. Flavour doesn't help its case. So little malt!! Mouthfeel full of corn starch, finishing on a sweet, fizzy note. How is it so terribly sweet? At least the aftertaste is fairly neutral. But still, very little appeal to flavour. I fail to see how this could even be refreshing. Rather, quite horrible actually.
I wish they would 'fix' this beer. It's HELLA awful.
798 characters
Muskoka FIX Hellas Beer from Muskoka Brewery
Beer rating:
2.19
out of
5
with
7
ratings