Muskoka Kristallweizen
| Muskoka Brewery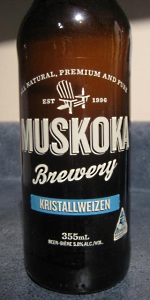 BEER INFO
Brewed by:
Muskoka Brewery
Ontario
,
Canada
muskokabrewery.com
Style:
Kristalweizen
Alcohol by volume (ABV):
5.00%
Availability:
Limited (brewed once)
Notes / Commercial Description:
No notes at this time.
Added by joemcgrath27 on 08-12-2012
This beer is retired; no longer brewed.
Reviews: 5 | Ratings: 16

3.37
/5
rDev
-5.6%
look: 2.5 | smell: 3.5 | taste: 3.5 | feel: 3.25 | overall: 3.25
Passing good just for being a little off the beaten track. Not in the same league as European stuff, though.
Ho-hum looking. Short white head disappears nearly instantly so whats left could pass as a tall glass of apple juice. Interesting nose, spice, banana, clove, so it represents as tasty. Same flavours present, but a lot of bite from the carbonation distracts quite a bit, emphasizes a touch of sourness in the brew.
Not bad as an intro to the style for the timid.
472 characters

3.37
/5
rDev
-5.6%
look: 3.5 | smell: 4 | taste: 3 | feel: 3 | overall: 3.5
355ml bottle poured into pint glass 20/9/12
A straw yellow with a very slight haze and just a few little chunks floating around, lots of bubbles feeding a short lived finger of foam that falls quickly and leaves just a few little patches of lace. A few thick streams of bubbles manage to create a thin film and keep it after the head falls
S a little unripe banana peel and spice mix well with lemon, cereals and just a little faint chewing gum
T a big step back from the nose, its a little sour and much of the nose has just vanished, just sour lemon and soggy cereals, almost odd how different the flavor is compared to the nose
M a little thin and its a little foamy, slight tingle and sour grains on the finish
O the smell carries this one but not far enough, OK beer but with the flavor being average I'm not all that excited
meh, I preferred the unfiltered version by a long shot, drinkable but the sour notes don't make me want to go looking for it
963 characters
3.85
/5
rDev
+7.8%
look: 3.5 | smell: 3.5 | taste: 4 | feel: 4 | overall: 4
Appearance - Pours a clear pale straw gold with a half finger width of bubbly white head.
Smell - Yeast, cloves, bananas (faint), spices, citrus.
Taste - Yeast, cloves and spices are most predominant, followed by light banana and citrus.
Mouthfeel - Light to medium bodied with moderate carbonation.
Overall - For my first Kristalweizen, Muskoka does an excellent job on portraying the key flavours. This being a filtered version of their Summer Weiss, there are excellent spice and clove flavours. Could definitely be sessionable. Glad I picked up their Survival Pack.
574 characters
3.52
/5
rDev
-1.4%
look: 3 | smell: 3.5 | taste: 3.5 | feel: 3 | overall: 4
355ml bottle, from The Muskoka Survival Pack mixed case for summer '12, filling in the 'Rough Cut Series' slot.
This beer pours a slightly hazy, medium yellow straw colour, with one skinny finger of fizzy off-white head, which leaves little in the way of lace around the glass as it quickly bleeds away.
It smells of semi-sweet, wheaty grain, some mild ripe banana, and a bit of sugary alcohol amongst very placid, understated earthy hops. The taste is strong, fairly sweet wheat malt, more banana chip fruitiness, a subtle drying yeasty edge, and mildly leafy, earthy hops.
The carbonation is moderate, and well supportive, the body a hefty medium weight, and mostly smooth, a soft clinginess rustling my palate. It finishes quite off-dry, the fruit and wheat sweetness flirting with saccharine overtones.
They're not kidding when they describe this as a brightened version of a their Summer Weiss offering. I haven't tried that one yet, but if this is the filtered, somewhat dumbed-down version, well, that bodes well for all of it. In short, this is what Grasshopper should aspire towards, even if it does seem a fair bit short of 'crystal' clear, and could use a little more crispness, in order to take the edge off of that session-threatening sweetness.
1,262 characters
3.82
/5
rDev
+7%
look: 3 | smell: 3.5 | taste: 4 | feel: 4 | overall: 4
From a mixer dozen i was surprised to see on Alberta shelves, states this is part of Muskoka's "Rough Cut Series"
A - clear shiny golden, thumb of white head fizzled to a thin covering
S - mellow but present banana and phenols, grainy and light metallic
T - much like the nose, the banana yeasty flavour is more mellow than a hefe, grainy malt and leafy hops provide the back up, tasty for sure
M - light a well carbonated, crisp and clean with just a touch of dry on a refreshing finish
O - this has the yeast flavours of a hefe that I am always a fan of, but a little more balanced and very clean and easy drinking, I would session the crap out of this if it were available in 6 or 12's, well done and worth buying the mixer pack for
740 characters
Muskoka Kristallweizen from Muskoka Brewery
3.57
out of
5
based on
16
ratings.