Pfungstädter St. Nikolaus
| Pfungstädter Brauerei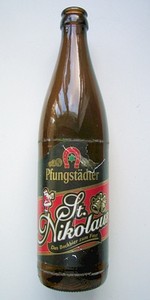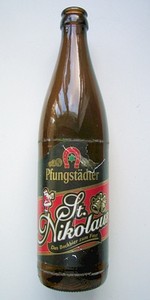 BEER INFO
Brewed by:
Pfungstädter Brauerei
Germany
pfungstaedter.de
Style:
Bock
Alcohol by volume (ABV):
6.90%
Availability:
Winter
Notes / Commercial Description:
No notes at this time.
Added by Jason on 12-04-2004
Ratings: 12 | Reviews: 7
4.2
/5
rDev
+5.5%
look: 4 | smell: 4 | taste: 4.5 | feel: 4 | overall: 4
Presentation: .5 L green bottle with a freshness date on the back label. Not sure how I ended up with this one … I guess Santa was looking out for me early this year.
Appearance: Thin tan lace, good clarity off of the reddish brown hue.
Smell: Pungent and aromatic Euro-hops with a thick lining of sweet malt that has a toasty end.
Taste & Mouth Feel: Weighted medium body with a rich malty palate. Hops brim with a balancing earthy and herbal flavor. The warmth of the alcohol grows with each sip but with out warning. Toasted malt and spicy hop swirl together to form a complex flavor middle to end. Finishes a tad dry.
Drinkability & Notes: Such a beautiful beer, shame that I probably will never taste it again. If you are near this brewery seek the beer out.
776 characters
More User Reviews:
4.07
/5
rDev
+2.3%
look: 4 | smell: 3.75 | taste: 4.25 | feel: 3.75 | overall: 4.25
Dark burnt copper color. This head that disappears quickly. Smells a bit hoppy like a pils. Taste is like a roasted Shiner Bock; very malty and tasty. This is a nice go-to bock. There is nothing artisan about it but it is a flavorful bock. Worth a try.
254 characters
4.17
/5
rDev
+4.8%
look: 5 | smell: 3 | taste: 4.5 | feel: 4.5 | overall: 4.5
Merry Early Christmas 2009! Let's see how this Bock stands up...
Great pour, makes for about three fingers of off white head, and has a clear dark copper colored body.
Aroma is metallic in nature, with a hint of sweet bread backbone.
The taste is an explosion of complexity. It starts off sweet and an almost colon like, and then goes into a strong root beer flavor, and finishes husky and herbal.
This is wet and prickly upfront and then is finished well with an invitingly warm feeling.
This is about the best bock I've had. This is definitely great for the cooler seasons.
581 characters



4.25
/5
rDev
+6.8%
look: 4 | smell: 4 | taste: 4.25 | feel: 5 | overall: 4.25
From Cervezasespeciales. In Bavaria glass. Reading JHTP11 Ch23. Very nice moreish caramel taste that makes it very moreish and refreshing, with enough bitterness to not be cloying. Not much wintery though
204 characters


4.2
/5
rDev
+5.5%
look: 4 | smell: 4 | taste: 4 | feel: 4 | overall: 5
Beer bottle (33cl), tasted in 2004.
Appearance : dark brown color, with tan foamy head (lacing).
Smell : deep malt and caramel aromas.
Taste and mouthfeel : malty palate and fruity flavours, bitter finish
Drinkability : a very good beer in the German bock style.
263 characters
3.31
/5
rDev
-16.8%
look: 3 | smell: 3.25 | taste: 3.5 | feel: 3 | overall: 3.25
Dark and strong, nice rich roast grain flavor. Dark brown in color with fast disappearing head. Good all-around, but lacking that something extra to put it over the top.
169 characters
3.85
/5
rDev
-3.3%
look: 3.5 | smell: 3.5 | taste: 4 | feel: 4 | overall: 4
Purchased at the OnlyFineBeer shop, Chelmsford. BB 05/09/06, served cool in a straight imperial-pint glass.
A: enticing dark copperish hue, coming with a fluffy beer head with little retention and quite lively carbonation. It could've looked more pretty if served slightly colder?
S: a slightly candyish-sweet and toasty malty note comes with jammy, preserved dark-fruits underneath, laced with restrained herbal hops. But the aroma is slightly clouded by the sugary body and rendered slightly simplistic. Or perhaps it's due to the serving temp.?
T: just like the nose, herbal hops-laced maltiness is the main theme--chewy bready and slightly toasty as well as candyish, with dried longan-fruit like preserved dark fruits but not overly sweet... gradually enhanced with subtle touches of nutmeg/clove like spices which are well mixed in the middle--but since I know there's no such evil thing added in the brewing according to Heinheitsgebot, it's quite a success in making a spice-hinted beer with purely magic from hops and yeasts! And that's quite a welcomed addition to the malty theme. Rather clean finish, with residual sugary maltiness lingering in the remote ends of the palate.
M&D: a warming, med-bodied beer, with a smooth mouthfeel and not much intrusive fizziness; the soft palate is enhanced by the slightly sweet-candyish texture, thus more lubricating. All in all, not a stunning Bock , but an enjoyable one in all seasons. But I might have served it slightly warmer than ideal, otherwise the balance on the palate could be more vividly felt.
1,565 characters

Pfungstädter St. Nikolaus from Pfungstädter Brauerei
Beer rating:
75%
out of
100
with
12
ratings