Pfungstädter 1831 Schwarzbier
| Pfungstädter Brauerei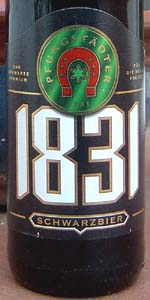 BEER INFO
Brewed by:
Pfungstädter Brauerei
Germany
pfungstaedter.de
Style:
Schwarzbier
Alcohol by volume (ABV):
5.30%
Availability:
Year-round
Notes / Commercial Description:
No notes at this time.
Added by Jason on 03-01-2005
Reviews: 6 | Ratings: 14
Reviews by boddhitree:

4.6
/5
rDev
+21.4%
look: 4.5 | smell: 4.5 | taste: 4.75 | feel: 4.5 | overall: 4.5
Appearance: Despite the pic, there was a decent amount of foam, dirty white which dissipated eventually. It sits under a dark beer, not a black beer. It's very very dark amber, blackish orange, but not "black as night" as reported above. It's not "Guinness"or stout-like black, for light still can pass through it. Still, a nice dark amber beer color.
Aroma: Very malty: Pils, München, Roasted malts all jump out of the glass. It reminds of a Dunkeles and doesn't disappoint. There's a hint of hops in the back, but I know it only because the malts are balanced out somewhat in the nose and don't overpower, so though almost absent in the aroma, they're there if you know what to smell for.
Flavor: In the front, a determined Noble hop bitterness, not overpowering, light on the front of the tongue, but still demanding attention, mixed with a roasted flavor and the burntness of a blackened cajun chicken....yum.
In the middle, more bitterness, roasted malts and some lingering hints of burntness, it mixed with the sides, which get sweet roasted malts and Münchner malts, licorice and surgery. In the back there's intense malt sweetness, bready, toasted, a licorice or molasses, and a umami of black malt burntness again, all mixed, yet the sweetness becomes the focus. The aftertaste is another adventure in bitter-sweetness of roasted malts. Lovely beer.
Mouthfeel: think and wonderfully inviting.
Overall, I remembered really liking this beer, and in the can, this beer seems really fresh today. I love the bitter-sweetness, the intensity of flavors... problem is... I can't decide if it's wow beer or not. I really really like it, but, ah what the hell, it's a WOW beer, and here's why: many f the Festbier and Märzen from Franken and Bayern were so sweet that it was a challenge finishing the bottle, yet this gem, though it lays on the München malt sweetness, uses roasted and black malts and bitter hops to nail an umami feeling that really calls you to drink more and more on a cold, dark winter day, or relax on the lawn in summer. It's that bittersweetness I keep coming back to that gives me a warm gemütlich and a süffig feeling that makes you want more.
2,179 characters
More User Reviews:
3.63
/5
rDev
-4.2%
look: 3.5 | smell: 3.5 | taste: 3.75 | feel: 3.75 | overall: 3.5
500ml can, just called the 'Premium Schwarzbier' now. Und mit 'Cool Star' Technologie!
This beer pours a clear, dark orange-brick brown colour, with three fat fingers of puffy, finely foamy, and somewhat creamy ecru head, which leaves some sparse sudsy island group lace around the glass as things quickly abate.
It smells of lightly roasted bready and crackery caramel malt, muddled dark orchard fruit (red grapes do pop up most often, however), ethereal bittersweet cocoa, and a further bit of wet ash. The taste is more bready, mildly toasted, and doughy caramel malt, a mixed white and red grape fruitiness, still hard to pin down wan chocolate notes, and quite tame earthy, grassy, and leafy noble hops.
The carbonation is fairly low-key and unobtrusive in its plainly-rendered frothiness, the body a decent medium weight, and mostly smooth, neither the char nor the hops capable of causing any trouble here. It finishes off-dry, the singed caramel and chocolate essences predominating.
Overall, a simple, and kind of underwhelming, if still more or less full-flavoured version of the style. Not something I would seek out, but if freely given, or in the company of those with a stronger predilection to this sort of thing, then, sure, no gun to the head required.
1,277 characters
3.77
/5
rDev
-0.5%
look: 4.5 | smell: 3.75 | taste: 3.75 | feel: 3 | overall: 4
Poured from a 0.5 liter bottle into an American style pint glass. Body is ruby brown to deep brown and hardly any light gets through when holding at eye level in this type of glass, tan colored head. Small head persisted the entire length of the beer, little lacing. Aroma is nice and malty, maybe a bit of yeast. Taste is dry, good bitterness, not overly carbonated. Sits well in my mouth, not too heavy, not too light. Nice maltyness aftertaste with the bitterness lingering. I would call it thinly roasted.
My first time trying this Schwarzbier from Pfungstädter and I like it. You do get more of that roasted feel/taste than the other Schwarzbier that I drink on occasion.
682 characters

3.75
/5
rDev
-1.1%
look: 3.75 | smell: 3.75 | taste: 3.75 | feel: 3.75 | overall: 3.75

3.78
/5
rDev
-0.3%
look: 3.5 | smell: 3.5 | taste: 4 | feel: 3.75 | overall: 3.75

3.74
/5
rDev
-1.3%
look: 3.5 | smell: 3.75 | taste: 3.75 | feel: 3.75 | overall: 3.75
500ml can poured into tulip 28/8/15
A cola looking liquid with a ruby glow when held to the light, two fingers of foam is gone in a flash leaving no lace
S molasses, brown sugar, sugar coated raisins, faint noble notes shine through the somewhat dark malt, maybe a little plum and dark bread
T slightly more hops then the nose, still lots of molasses, the dark malt strangely fades in the mouth giving way to a more "pilsner" taste then schwarz, kinda weird actually
M light bodied, bubbles stop short of foam, a little slick, dark malt comes back after the fact, molasses yet aging lingering
O a simply dark lager that's around par for the style, drinkable with enough going on to please but fairly basic
The malt base might be a little weak if the noble notes can shine through it this easily, but then again I know this stuffs fairly fresh, a decent example of a lame style?
891 characters

4
/5
rDev
+5.5%
look: 4 | smell: 4 | taste: 4 | feel: 4 | overall: 4

3.47
/5
rDev
-8.4%
look: 3 | smell: 3.5 | taste: 3.5 | feel: 3.5 | overall: 3.5

3.41
/5
rDev
-10%
look: 4 | smell: 3 | taste: 3.5 | feel: 3.5 | overall: 3.5
Beer bottle (50cl.), tasted in 2004.
Appearence : Black beer (lager style with a very beautifull brown colour).
Smell : Chocolate box
Taste : Bitter chocolate
Mouthfeel : Coffee, final note of liquorice
Drinkability : A good beer in the style schwarzbier.
My first review in B.A (12/10/2007)
293 characters

3.75
/5
rDev
-1.1%
look: 3.75 | smell: 3.75 | taste: 3.75 | feel: 3.75 | overall: 3.75

3.78
/5
rDev
-0.3%
look: 3.75 | smell: 3.75 | taste: 3.75 | feel: 4 | overall: 3.75
3.6
/5
rDev
-5%
look: 3.5 | smell: 3.5 | taste: 3.75 | feel: 3.5 | overall: 3.5
Picked up at my local CoOp because I had not seen it before. This brew is definitely on the sweeter side of things, with plenty of similarities to cola. Overall, I would not seek this out again. It certainly has flavour, but if Drummond brews a better Schwarz than a German brewery, well... I'm at a bit of a loss.
314 characters

3.98
/5
rDev
+5%
look: 3.5 | smell: 3.5 | taste: 4.25 | feel: 4.25 | overall: 4
Pfungstädter 1831 Schwarzbier from Pfungstädter Brauerei
3.79
out of
5
based on
14
ratings.