Wells Bombardier Satanic Mills
| Wells & Young's Ltd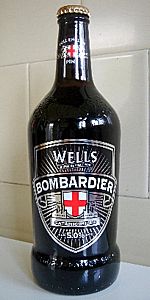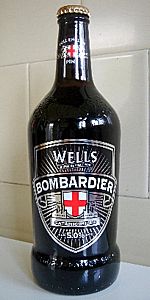 BEER INFO
Brewed by:
Wells & Young's Ltd
England
,
United Kingdom
wellsandyoungs.co.uk
Style:
English Porter
Alcohol by volume (ABV):
5.00%
Availability:
Rotating
Notes / Commercial Description:
No notes at this time.
Added by GreenCard on 05-20-2007
This beer is retired; no longer brewed.
HISTOGRAM
Ratings: 14 | Reviews: 12
Reviews by Baileyuk:
4.35
/5
rDev
+7.9%
look: 4.5 | smell: 4.5 | taste: 4.5 | feel: 4 | overall: 4
Good head, that kept throughout, Lacing also above average. Very dark pour.
Very malty,Roasted smell. Almost a smoked smell but not overly so. Smoked taste not present in the taste but roasted qualities are. Very nice and malty. Little hop but its English style so thats expected.
Heavy full bodied pour. Not something I would drink lots of due to how filling it is. Very nice aftertaste though that continues after drinking.
Depspite not being my favorite style this is an excellent beer and I would love to revisit.
520 characters
More User Reviews:
3.39
/5
rDev
-15.9%
look: 3 | smell: 4 | taste: 3.5 | feel: 2.5 | overall: 3
Dark brown 568ml (full English Pint) bottle. Best before 30th June 2008, drank a month earlier.
Poured into a Westmalle Chalice.
Jet black in colour, deep dark tan head, which sadly dispersed far to quickly for me.
Chocolate and liquorice aroma, both very strong.
The taste was also all about chocolate and liquorice.
Watery for such a dark beer, very little substance or body. It looks like a Porter/Stout but doesn't have the robustness to carry it off. The label claimed it was a Premium Bitter, it wasn't one of those either in my eyes.
An inbetween sort of beer, the brewer has produced an interesting product but failed to deliver something that really excited me.
676 characters
4.7
/5
rDev
+16.6%
look: 4.5 | smell: 4.5 | taste: 5 | feel: 4.5 | overall: 4.5
This is a colossal beer! It's nearly perfect. From the first pour into a pint glass with a perfect and rich head all the way to the end it ticks all the boxes for brewy goodness. Chocolate colour with swirls of tan and mighty treacle esters blasting off the top. Flavour is sublime. Rich chocolate, slight mocha, some caramel and toffee and all this without cloying. Perfectly balanced with the hops. I gave a taste to a girl who is inexperienced in beer and her only words were "holy shit, that's awesome". Yes it is, Amanda, yes it is.
537 characters
3.76
/5
rDev
-6.7%
look: 4 | smell: 3 | taste: 4 | feel: 4 | overall: 4
Appearance: dark, dark brown; opaque; thick layer of tan spongey foam that slowly flattens to a thin cap; lacey
Aroma: molasses, dark chocolate, roast, hint of smoke
Flavor: nice balance between malt sweetness and roasty/chocolatey bitterness; mild herbally hop flavor; hints of smoky beef jerky and Billington's molasses sugar; finishes semisweet with a lingering aftertaste of cocoa and malt
Mouthfeel: medium body; soft, silky texture; gentle carbonation
Other comments: I didn't know anything about this beer and hadn't read the label, so when I poured it, I was surprised that it was so dark. Now, of course, I know it's a damn fine porter.
657 characters
4.58
/5
rDev
+13.6%
look: 5 | smell: 4.5 | taste: 4.5 | feel: 4 | overall: 5
The colour is pitch-black; the high cratered head is brown. Lots of lacing occurs.
The scent of coffee dominates the smell. Some sour-bitter hints, and a touch of dark chocolate. Luxurious!
The taste is fresh with some mild sweet notes. Lots of coffee, some lightly metallic bitter flavours, oatmeal porridge. The aftertaste is mellow and rounded with bitter notes, roasted malt, coffee and a light sourish hint.
The carbonation is medium strong, the small bubbles are soft. The liquid is very smooth.
An astonishing porter: Full-flavoured yet very drinkable. World class!
578 characters


4.1
/5
rDev
+1.7%
look: 4.5 | smell: 4.5 | taste: 4 | feel: 3.5 | overall: 4
500ml bottle 5%abv
Appearance: Black in colour (dark red when backlight). It has a large, thick, brown head and leaves reasonable lace.
Smell: Very good aroma, dark chocolate, roasted malt, vanilla, blackberries and a hint of roasted coffee beans. Very very appetizing.
Taste: I was expecting a tad more flavour, but it is still very good. Roasted malt, high quality dark chocolate, vanilla and coffee and a slightly smokey finish.
Mouthfeel: Smooth carbonation, great feel, but too lighter body for the style.
Overall: Good Englsih porter, but not the best.
565 characters

4.2
/5
rDev
+4.2%
look: 4 | smell: 4 | taste: 4.5 | feel: 4 | overall: 4
Beer bottle (50 cl.), tasted in 2010.
Appearance : dark colour, with tan foamy head (not persistent).
Smell : roasted malt aroma.
Taste and mouthfeel : notes of roasted malt with a bitter coffee and chocolate finish.
Drinkability : a good beer in the style English Porter.
273 characters
4.12
/5
rDev
+2.2%
look: 3.5 | smell: 4 | taste: 4 | feel: 4.5 | overall: 4.5
Very dark oil-brown, reddish with maraschino highlights and a thin beige head. Lush, deep aroma led by s'mores, rounded out with coffee, cocoa, whiskey, molasses, and peanuts. Tangy and dry, like a cola without any sweetener spiked with espresso and chocolate syrup, finished with a hint of smoky malt. Almost like a Schwarzbier, with a quick, clean, seltzery finish, it's actually sort of refreshing even though the flavors are dark and rich. As porters go, I think this one is a textbook example - basic but very nice.
520 characters
3.41
/5
rDev
-15.4%
look: 4 | smell: 3 | taste: 3.5 | feel: 3.5 | overall: 3.5
Bottle lists the following ingredients: water; pale ale malt; chocolate malt; oats; sugar; hops; yeast.
The beer is a standard very dark brown peaty colour with a rather brown head which leaves a little lacing on my glass. It smells of roasted malt, but not really of coffee, more like ovaltine in fact! Chocolate is definitely apparent.
Tastes wood smoky and a little of cherry initially with two distinct flavours, coffee and cream, becoming apparent later. The coffee is not overpowering which is good for someone like me who has a rabid fear of coffee!
This is a pleasant porter, but certainly doesn't pack the sort of wallop that the name suggests!
656 characters
3.73
/5
rDev
-7.4%
look: 4 | smell: 3.5 | taste: 4 | feel: 3.5 | overall: 3.5
BB 31/05/2008, served cool in a straight imperial pint glass.
A: nearly black in colour, coming with a huge grey-ish tan frothy head with rather good retention, on top of a moderate carbonation.
S: very rich & deep aroma consisting of black sugar, black dates, caramelised walnuts, soft smokiness as of sweet coffee and bitter chocolates - typical for a balanced English Porter, but a rather robust and full-bodied one, at least judging from the nose.
T: smokey and roasty upfront, backed by plentiful sour-sweet black fruits, mildly winey/fermented black dates; then taken over by a flow of delicious smoked-nut bitter-sweetness, slightly powdery chocolate-ness and Fuggle's earthy&herbal bitter edge, added with a rather refreshing, acidic kickback of stone fruits in the end.
M&D: the texture is pretty light, albeit slightly too fizzy for my palate; this med-bodied porter/stout is quite balanced, showing a good fruity backbone against the assertively malty facade, and it should make a very quaffable cask-conditioned ale if it were ever produced, IMO.
1,059 characters
4.85
/5
rDev
+20.3%
look: 4.5 | smell: 4.5 | taste: 5 | feel: 5 | overall: 5
Amazing. World class. and an Imperial pint on top of it. So far this may be my best beer experience in Europe, outside of Belgium
Roast chocolate dominates aroma. Tasting, the Goldings hops really come through the wall of roastness. Lightly carbonated, leaves lots of lace. Lingering slightly sour chocolate aftertaste.
Would love to have on cask.
350 characters
3.43
/5
rDev
-14.9%
look: 4.5 | smell: 4 | taste: 3.5 | feel: 2 | overall: 3
A - Dark as a coal pit with decent bubbly head.
S - Kind of weird I found it smokey and sweet. Pleasant though.
T - Malty, coffee taste with some fruitiness that I was struggling to identify. Possibly served too cold.
M - I found it very thin and watery, very surprising for a porter. Really expect something rich and thick. Are they trying for a lagery porter?
D - Not really hooked me with this one. Started strongly but faded.
Definitely not a classic porter though worth at least one visit. Almost seemed like a "lite" porter. The name suggests something rugged and strong. The drink itself is a little let down in body. Hmm.
634 characters
Wells Bombardier Satanic Mills from Wells & Young's Ltd
Beer rating:
4.03
out of
5
with
14
ratings