Hatboro Beverages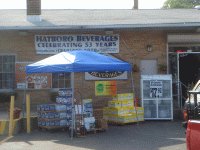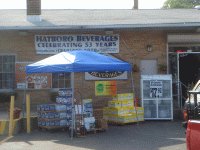 PLACE INFO
Type:
Store
201 Jacksonville Rd
Hatboro
,
Pennsylvania
, 19040-2700
United States
(215) 675-1078 |
map
hatbev.com
Notes:
None provided.
PLACE STATS
Reviews:

12

Ratings:

pDev:

11.42%
HISTOGRAM
View: Place Reviews
Ratings: 12 | Reviews: 12
Reviews by zoso1967:
4.3
/5
rDev
-1.8%
Before a couple bottle shops opened up within reasonable distance to my house this used to be the only place I purchased my beer. I recently went back to buy a variety case and realized how great it is, even if it is stuck dealing with PA's archaic liquor laws.
Quality is pretty darn good here. It is not temperature controlled, but that is not as big a deal as some make it out to be. You definitely need to watch out for the occasional old case, but they seem to turn stuff over fairly quickly so, especially compared to other distributors in the general area, their stuff is quite fresh.
Service is great and they definitely try to help take care of the craft drinkers. One time I was there and some guy was being an ass about the price of my case of Two Hearted and the guy behind the counter had my back about paying more money for better beer. The only problem I have here is that occasionally they will not realize just what a huge beer geek I am and try to be too helpful. I do not fault them for this though because I know they are just nice guys who are excited about beer just like I am.
The selection here is always excellent, and the only problem I have with it is that I see so many things I want but have to choose wisely since I will be buying a entire case. They definitely are slanted towards more local and regional brands, but they have all sorts of good american stuff and a decent selection of high quality imports as well. They also always have some gift boxes up front, in case that is one of your preferred methods of collecting glassware.
After this last visit I will definitely be back to support this great business. I just wish that PA would let distributors sell singles and sixers, then this would be the only place I would ever go.
1,768 characters
More User Reviews:
5
/5
rDev
+14.2%
vibe: 5 | quality: 5 | service: 5 | selection: 5
Every time I go in I get amazing service. All the employees are knowledge and helpful in leading you to your next case. They're always friendly and polite, and will give you space if you want it. Prices aren't highway robbery, but are definitely competitive to the area distributors. Even if I wind up not liking the beer I walk out with (most recently Flying Fish Exit 4), I always head back for the next one.
410 characters
5
/5
rDev
+14.2%
vibe: 5 | quality: 5 | service: 5 | selection: 5
This is a great place with a supreme selection of craft and import brews. These good folks really know what they're doing. All that aside, the service really stood out to me. They always greet you upon entrance and it was quickly determined that I was a fellow German and we even spoke in German(it's been years for me). It really made my day to feel like I was in Germany, amoungst friends again. They have my continued business for sure!
Great staff, great selection, and high quality, a must visit for any beer lover.
521 characters
4.65
/5
rDev
+6.2%
Like the place a lot! Before Wegman's showed up giving one around here a fine selection of different beers this was the only place in town! Big difference is that here you can get a whoel case of the stuff you like instead of buying individual bottles or six packs which you are limited to at Wegmans.
Also they offer end of season specials, and make up their own case mixes whereas they will take similar beers from different makers and put them together - giving you a nice variety to try. Highly recommend stopping in!
522 characters
4.5
/5
rDev
+2.7%
I feel VERY fortunate to live less than a mile from this distributor. When I first started going I was pleasantly surprised to find a diverse craft beer selection in addition to the usual BMC dreck. Recently that craft beer selection has just been getting better and better with Founder's, Bell's, Avery, Nogne O, and many, many more represented.
Apart from the selection the service is top notch. They will order in anything (provided they can find it) and will exchange a case you're unhappy with.
There are some other distributors with a potentially better selection but these guys have earned my business.
610 characters

4
/5
rDev
-8.7%
This is a good quality beer store about 5 minutes from my office. I stop by every couple of weeks or so.
The selection is fairly extensive, especially the Belgians. The US craft brew selection is very good too. Heavy representation of PA brewers, always lots of North Coast, Bell's (watch the dating though) and Founders too. And some up and comers like Boulder, Rock Art and Hoppin' Frog too.
Because of its out of the way location and low profile, you can make the occasional great find. Like the case of Damnation we got last fall that was on the shelf with the labelled side out of view. Or the case of Old Viscosity that has been there for a couple of months that I may yet pick up.
The staff is very pleasant and helpful. Whenever I walk out empty handed (I can only store so much beer in the basement at once), they always ask if there was something I was looking for that they didn't have.
Others have mentioned the lack of temperature control but I have never found it to impact anything I have bought.
1,017 characters
4.5
/5
rDev
+2.7%
Pennsylvania liquor laws are tough, and even harder to deal with once you've lived in California for a while. But this beer distributor did an excellent job at making me forget about the case laws and just got me wishing I had enough money to buy a case of everything. The owner (I think the owner) talked with me quite a bit, said he loves BAs. He seemed to have some singles, esp. bombers, for sale illegally, but was not concerned with the risk. A true beer lover, he really made it a fun experience to shop here. The selection was amazing, and each stack, or row, or pile, or box contained something new to my over-eager eyes. It seemed like there was every varietal from every east coast and mid west brewery I could think of, and I only regretted not having a computer to look up which beers to get. I was only able to afford a couple cases, but if I lived in the area I would be buying a couple cases a week until I'd tasted everything!
943 characters

3.05
/5
rDev
-30.4%
This used to be my go-to place for beer, until another store stole my business away, see my first review.
This place has a great selection of beers, local micros, hard to find mid-west and west coast beers, and a decent selection of Belgians.
Prices are reasonable, very few times did I see something over priced, but it was usually a single case of something rare, like Three Floyds.
Just don't buy beer there in the summer time, they don't air condition their building, one July day I walked in and it was over 90 degrees in the store, everyone knows thats just horrible conditions for beer, especially good beer.
Good place to start buying beer if your in the area, but there are better stores with better service, IMO.
734 characters
4.35
/5
rDev
-0.7%
I went here for the 1st time last Friday. I was prompted to go by the fact that the Victory Rep was going to be there for a tasting. It was well worth the trip. Craft beer slection is very good. Prices seem to be on par with the other area distributors. Picked up a case of Victory Hop Devil and got some pint glasses and bumper stickers from Tracy (Victory rep).
The folks are very helpful. I will need to return to further evaluate staff knowledge as I did not discuss the beers with them on this visit.
This place is off my normal trail, but I will certainly be going back for the selection.
601 characters
4.65
/5
rDev
+6.2%
Been going here so long that just like one of my session beers, it just never comes to me to think of rating it! As soon as I became legal, I drove the few lovely blocks it was from my dad's house to become one of the regular's of Bert and Michael's. -Been harassing the crap out of them ever since. -You may see me running around causing trouble with one of their pink lollypop's they save for the kid's, with my wormclamp ring on- made on one of my many trip's there!
Yep, there is every kind of swill you can imagine, but if you just walk in and back to the deep left, you will be able to find such a lovely place that you can spend a good amount of time finding goodies in! There is a ton of great micro's represented all over the place, I am always finding ones that I have never ever heard of, for all of the beergeeks I know, and all the festing I do. Belgians and imports out the wazoo! You just really have to have time to spend to look at each and every case there, sometimes you can find a diamond! I found the case of Uni-10 during the year of the Uni-12, and wow was that a lovely treat! The boys know how to treat their customers right, and if they aren't, give a yell, and they will! ;)~
There is usually a bunch of guys working the desk to dollyup your goods, Guy, or even Bert and Mike will throw you stuff up for you and carry it out. Not too much time waiting ever- most people will walk in to "Hey, how are ya? You want one or two? Cold? Ice?" I mean, being a regular is always nice. -They know better than to ask me that question, they know I am moving in for a while to shop! Prices are competitive, selection is very nice, and if you don't see it, ask. If it is not there, and they can get it, they will call right away for you. Plus, there is usually a few bottles of yumminess up in the front, some bottle conditioned singles, 750's, maybe a glass/bottle set or so. There used to be a bit more of a cigar selection before, don't know what is up with that, do not care enough to ask! But hey, there is a reason that no matter where I live, I still come back to my boys.
2,098 characters

4.5
/5
rDev
+2.7%
Hatboro Beverage is located next to a lumber yard. When you enter, you will see a stack of scrod beer, but there is more to left of the place than meets the eye.
Our main beer dude Mike is quite the beer guy. He organises a lot of the local beer events. An exceptional array of import brews awaits. Wander around the good section all you'd like. He will even offer a bottle sample while you peruse. The staff knows beers!!!
A back room area that has the good stuff is neatly organized with European, local, and Belgian. The only joint within a 30 minute drive that surpasses Hatboro is Beeryard in Wayne, PA. Hatboroa's prices are reasonable too. If only PA would ace this dumb case law.
For my birthday he let me make a 6 way case split sampler.
Worth a drive within 30 minutes.
793 characters

4
/5
rDev
-8.7%
My local beer distributor. They guys there are great. If you ask right, you might get get a single bottle of a certian "timed ale" for $13 that you would normally pay for by case, or a single 3 bock bottle that fits under the same catagory in PA, for $6. It doesn't happen every day. They have a solid PA selection, DFH, Stone, Rouge, Smuttynose, as well as peroni and a wide variety of other imports. They even got He-Brew, and my friend who is in the semianry gets such a kick out of that.Sounds generic, I know, but there is no way in hell I am going to go through the list, becuase it is large enough for most. Prices are good for what I can tell, so if your in central montco/lower bucks country, and you need some beer for the time being (by the case of course), go here.
777 characters
Hatboro Beverages in Hatboro, PA
Place rating:
4.38
out of
5
with
12
ratings