Southern Clam
| The Emerson Brewing Company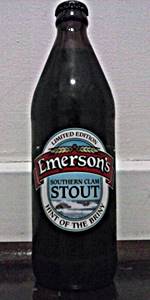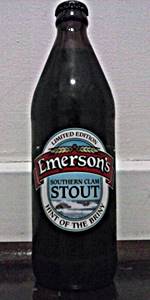 BEER INFO
Brewed by:
The Emerson Brewing Company
New Zealand (Aotearoa)
emersons.co.nz
Style:
English Stout
Alcohol by volume (ABV):
6.00%
Availability:
Winter
Notes / Commercial Description:
A celebration of Southern flavours brewed in conjunction with Southern Clams Ltd. The beer has a dark tawny brown head and a subtle creamy roasty aroma with a hint of vanilla and ocean briny characters. Complex dark roasted characters prevail with more briny notes developing as you delve further into the pint glass.
Added by lacqueredmouse on 12-09-2012
HISTOGRAM
Ratings: 6 | Reviews: 4
Reviews by eric5bellies:
3.97
/5
rDev
+1.5%
look: 3.75 | smell: 4.25 | taste: 4 | feel: 3.75 | overall: 3.75
Drank from my Ciney sniffer.
A - Thick Ebony colour with a tanned head that reduces fast but laces.
S - Can smell the brine here, salty and malty ! with some background notes of coffee and sweet vanilla.
T - Up front some ice malty flavours then the saltiness comes though. The finish is slightly sweet and salty. There are hints of coffee.
M - Medium to full body with low carbonation
O - This is a very well crafted stout that should please most people.
460 characters
More User Reviews:


4.1
/5
rDev
+4.9%
look: 4 | smell: 4 | taste: 4 | feel: 4 | overall: 4.5
500ml bottle purchased from Slowbeer in Melbourne. Marked with "Hint of the briny" and "Warning: Product contains shellfish", you're left in little doubt that this does indeed contain its eponymous clams.
Uncaps with a weird pop, not the standard hiss of released CO2. The beer looks great, however, a deep solid dark brown, with a fine, creamy and relatively dark mocha head. Light, fluid body holds fine carbonation, suggesting a little more depth. Some fine, sheeting carbonation. Looks good.
Nose is pleasantly smooth and roasted, but sharpened with a little spice and a lick of salt. There's something fresh and organic about it, almost a pine-forest aroma. The smooth, dark and slightly sweet malt character gives it a solid basis, however, meaning it stays true to its roots as a stout, while having some interesting curves along the way.
Taste is, on the surface, a pleasant roasty stout, but again there are kinks in the façade.
Slightly spicy, bitter aniseed overtones come through, as does more of that slick pine, or green organic character. I guess it's easy to put that down to the clams once you see the label, but it's not necessarily that flavour in itself. Some sweet apricot or stonefruit characters appear a little when it's warmer. Smooth finish, lengthened by some of those slightly organic, perhaps salty tones, which give the fading flavours a little kick to keep them awake.
Feel is rather light, but smooth, and with a perfect amount of weight to match the flavours of the beer.
Overall, this is impressive stuff. Really solidly made and beautifully, balanced, within style and yet with some interesting quirks to make you sit up and take notice. Great beer from a great brewery.
1,723 characters
3.4
/5
rDev
-13%
look: 3.5 | smell: 3.5 | taste: 3.25 | feel: 3.5 | overall: 3.5
I've had stouts with oysters, but not clams, so... same thing, right? Poured from 500mL bottle into a glass cleaned with meth head intensity.
A: Well, it's fucking dark. Too dark to accurately comment on the clarity/cloudiness, but I can still tell you there's a nice, ruby tint amidst the areas of the glass where light is permeable. The head is a nice tan color, but it doesn't seem to want to hang out. Long and short of it: it looks as it should with no bells or whistles. UPDATE: Lacing is not too impressive.
S: Smells of fine chocolates. Fine chocolates, Christmas cookies, licorice, and a little twang of one of those salt licks you put out for deerses. The aroma carries the same comforting warmth as a cozy log cabin with a quaint wood stove and a deer carcass strewn about an oak table, ready to be butchered. It's nice. However, there seems to be a sweetness of malty flavors lacking in the nose. And I'd like a little more of a piney hop aroma. No complaints, though.
T: A nice, familiar roast malt taste. A pleasant spiciness on the back of the tongue, while the sweetness, absent in the aroma, finally makes an appearance on the tip. Concerning, in my opinion, the gimmicky 'clam' part of this stout; it's just not there. Normally, with meat (bacon, oyster) stouts, there's an underlying sense of increased umami or savory flavors. Although there's a bit of a salty aftertaste, calling this a clam stout seems about as gimmicky as anything Shock Top does.
M: In combination with the heavy flavors; it works. The carbonation level is a little high but, in my opinion, it helps push the spicy flavors. Medium to heavy body, indeed, but I'd lile to see a bit more weight to it.
O: If I could get a case of this on the cheap, in the middle of the winter, and I had nothing to do all day but sit in a log cabin and eat gamey meats and watch the original Star Wars trilogy, I'd do it. It's easy drinking enough, so I imagine right about the time the Battle for Hoth comes around in 'Empire', it would be an absolutely sublime brew for the moment. But that's way too specific.
2,090 characters

4
/5
rDev
+2.3%
look: 4 | smell: 4 | taste: 4 | feel: 4 | overall: 4
Pours dark black with nice, moderately tanned head.
Smell is solid roast, some gingerbread. Slight brine perhaps. Bit of funky smoke and some nice, resinous hops.
Taste is more roast and gingerbread. Again get some nice resinous hops.
Mouthfeel is thick and nice.
Very solid beer. Would drink again.
303 characters
Southern Clam from The Emerson Brewing Company
Beer rating:
3.91
out of
5
with
6
ratings