Blueberry Ale
| Back Road Brewery
BA SCORE
83
good
14
Reviews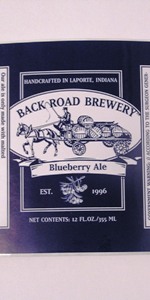 BEER INFO
Brewed by:
Back Road Brewery
Indiana
,
United States
backroadbrewery.com
Style:
Fruit / Vegetable Beer
Alcohol by volume (ABV):
5.00%
Availability:
Spring
Notes / Commercial Description:
No notes at this time.
Added by aracauna on 06-07-2004
Reviews: 14 | Ratings: 29

4.2
/5
rDev
+16.7%
look: 4 | smell: 4 | taste: 4.5 | feel: 4 | overall: 4
Poured into GI Tulip glass.
A - A golden pale ale with a small dirty, white frothy head that sits at one finger. There are hues of tangerine, honey and gold within it.
S - smells just like Blueberry pancakes to me. I get a hint of malt but mostly blueberries coming up. Definitely smells like some batter my most used to whip up on a Saturday morning. Almost feel like the girl from Willy Wonka who declares warm blueberry pie after chewing the meal gum. The nose is good but suffers a bit from complexity as blueberry is really the only fragrance that stands up.
T - At first, I get a hint of caramel malt sweetness. There is a tartness from the blueberries that come in the middle. Also from the malt get a slight bread taste as well. The finish has a slight hoppy grapefruit and orange to it. It also finishes a bit dry with which gives the beer a nice crispness that reminds me of eating fresh blueberries. Have to say I was rather impressed with this beer especially for a fruit beer. It manages to capture the blueberry aspect of the beer beautifully while still managing to be a beer. Not overly syrupy or fruity but just enough.
MF - Lightly carbonated and has a light syrupness to it. The finish leaves a tingle on the tongue since it finishes dry. Crisp and refreshing in the mouth.
D - Overall, I was rather impressed with this beer. I have only one other beer from them that I found to be average and I have to say that most fruit beers I have tired were not my favorite. This is one of the better fruit beers that I have had as it manages to be complex and capture the fruit's attributes in addition to the beers. They manage to use the blueberries in a way that adds to the beer instead of using beer to add to blueberries. The one thing hurting its drinkability in my book is that it has such a unique taste profile. It is rare to really desire another blueberry beer, even on a hot summer day. Additionally, I don't know what I would pair this with other than maybe some vanilla cream. Could be an idea for a float.
2,037 characters

4.09
/5
rDev
+13.6%
look: 3.5 | smell: 4.5 | taste: 4 | feel: 4 | overall: 4
Appearance: Rich amber color, reddish tint, good carbonation, slight but creamy head
Smell: smells sweet and of blueberries, slight maltiness
Taste: sweet and of bluberries, almost as if from a syrup, not indicative of puree, delicious flavor. Leaves a blueberry muffin like after taste.
Mouthfeel: smooth with slight carbonation, crisp
Drinkability: very drinkable, good flavor and mouthfeel
I'd recommend this to anyone traveling through northern Indiana. It goes excellently with Young's Double Chocolate, split 50/50, to make an "original black and blue".
564 characters

4.09
/5
rDev
+13.6%
look: 3.5 | smell: 4.5 | taste: 4 | feel: 4 | overall: 4
served into a pint glass
A.
A nice amber color. almost like maple syrup. Not much head at all.
S.
amazing. blueberries right off the bat. also very similar to a wheat ale smell.
T.
blueberry not a powerful as I thought it would be, but good of course. a bit tart. taste again is similar to a wheat ale.
M.
a very crisp clean beer. a good amount of carbonation. a tart dry aftertaste.
D.
again, very crisp. not a heavy beer. Could definitely drink a few in one night. I probably wouldn't go out of my way to buy a 6 pack, but i wouldn't pass it down if offered.
573 characters
4.07
/5
rDev
+13.1%
look: 3.5 | smell: 4 | taste: 4 | feel: 4 | overall: 4.5
Big thanks to aasher for this one as an extra in an in-person trade! Served from bottle into a Samuel Smith imperial pint. Poured a clear red-orange with a one finger off-white head that subsides to minimal. Also had a few floaties present in the bottom as well. Maintained decent lacing throughout. The aroma was comprised of malt, wheat, and blueberry muffin!? Hell yes! The flavor was of malt, blueberry, bread, with a wheat followthrough. The blueberry muffin flavor was an aftertaste after swallowing. Definitely liked this aftertaste. It was light on the palate with medium carbonation. Overall this was a very nice extra to get ahold of. The blueberry muffin aroma and aftertaste knocked this one up a notch for me. However, the flavors present were kind of light, but the ones that were there were quite nice however.
825 characters
3.95
/5
rDev
+9.7%
look: 4 | smell: 4 | taste: 4 | feel: 3.5 | overall: 4
i approached this beer with some trepidation because the only other blueberry beer ive had got poured down the sink it was so bad. the pour was pretty encouraging though. clear, orangey red beer with some carbonation and no head. nice looking beer. very nice understated blueberry odor along with the malt smell. taste has some bitter maltiness, some fresh hoppiness and then mild blueberries on the finish. so nice to have just the hint of blueberries and not an all out assault. thin mouthfeel. a good drink, would be really great in the late summer or early fall. im impressed with my first beer from back road.
614 characters

3.77
/5
rDev
+4.7%
look: 3.5 | smell: 4 | taste: 3.75 | feel: 3.5 | overall: 3.75
Served in a shaker pint glass at Chumley's.
Part of my Beers Around the World quest here. It pours a deep sunset amber topped by a half-finger of off-white foam. The nose comprises blueberry and lightly-buttered biscuit, not unlike blueberry muffins or waffles or some sort of blueberry-infused breakfast bread product. The taste brings in more of the same, with the biscuit (now less buttery) taking the lead, relegating the blueberry to a slightly more supportive role, though its sweetness is still more than present. The body is a light medium, with a light moderate carbonation and a drying finish. Overall, a pretty nice blueberry beer, one of the few examples of such a unicorn-like beer I can point to. It's not amazing, but it's a tasty, fruity treat for those times you want one.
790 characters
3.72
/5
rDev
+3.3%
look: 3.5 | smell: 4 | taste: 4 | feel: 2.5 | overall: 3.5
Warmed this up to 60F before drinking. Nice amber color and 1cm off-white head. Beautiful lacing on the glass.
Smell is of dried blueberries and sour yeast. Taste begins as a sour maltiness followed by hop bitterness and ending with a truly interesting blueberry muffin aftertaste way up in the back of the throat.
Mouthfeel is the weakest element. Carbonation seems inadequate and so feel is a bit watery.
408 characters
3.71
/5
rDev
+3.1%
look: 4.5 | smell: 3.5 | taste: 4 | feel: 3 | overall: 3.5
Poured from 22oz bottle. Part of the past tasting.
A- Pours a nice clear looking orange color. Nice 1 finger off white head that stayed for a short second before becoming just wisps on the top of the beer. Nice light spotty lacing on the glass that begins to skirt as you drink it.
S- Well I would say that 99 percent of everything I smell is blueberry. It is more true to the actually smell of blueberries and not too artifical. Kind of a one trick pony in the smell department. I can pick up a light biscuty malt in the deep realms of the aroma.
T- Well just like the smell the taste is a lot of blueberry. The biscuty malts do make a short appearance but not enough to balance out the blueberry taste. So like the aroma the taste is around 99 percent blueberry. Taste is a little like a one trick pony as well....lucky me though loves blueberries!
M- Lighter mouthfeel. Carbonation was a little too much for my liking with the style. Blueberry was all that was left on the palate and all over the aftertaste. A little too fizzy in the mouth.
D- I really enjoyed this beer a lot. I need to pick up some more of this when I get a chance. Almost too sweet by the end of the bottle but a nice drinker and this is a beer even the non beer drinking ladies would enjoy.
1,272 characters

3.62
/5
rDev
+0.6%
look: 3.5 | smell: 4 | taste: 3.5 | feel: 3.5 | overall: 3.5
12oz bottle thanks to aasher.
Righty-O, going into this expecting a Blabaer clone, more or less. Let's see if it meets or exceeds these expectations.
The beer pours a slightly cloudy medium amber color, and maybe it's just my eyes playing tricks on me, but I'm seeing bluish/purplish hues in there. One-finger off-white head sits atop it, and the lacing is not shabby.
The aroma is interesting. Lots of blueberries, like blueberry pancakes, with a peppery/spicy note and some caramel malt evident.
The flavor is all right. You can't miss the blueberries here, but they're not overdone. There's a spiced note to it - ginger maybe - along with black pepper and a muffin-like malt character. This is actually not bad.
Medium-light bodied with average carbonation.
An above average fruit beer overall. Can't do too much hating on this one.
841 characters
3.6
/5
rDev 0%
look: 3.5 | smell: 3.5 | taste: 3.5 | feel: 3.5 | overall: 4
Presentation: Poured from a 12 oz brown bottle into a standard pint glass. The label is a standard Back Road label, blue this time, with Blueberry ale written in the banner. No freshness date.
Appearance: Pours with just over one finger of tan head. This settles into a thin coating, leaving behind some lacing. All in all, pretty decent. The beer itself is honey colored and clear, with a fair amount of activity. I was careful to not pour the last bit fo the bottle in the glass, as it appears to have a decent amount of deposits.
Smell: Smell very strongly of blueberries, as I suppose it should. A little bit of hop bitterness against a biscuity malt backdrop.
Taste: A healthy burst of carbonation helps to deliver a fairly strong blueberry flavor upfront, without being sickeningly sweet. Finishes with a mild biterness. Ever so slightly sweet malt holds it all together.
Mouthfeel: Average carbonation level, maybe a little high, but good for this beer. Body is good.
Drinkability: My second back Road brew and another solid offering. A refreshing and easy drinking fruit beer that doesn't come off like Kool-Aid.
1,125 characters
3.38
/5
rDev
-6.1%
look: 4 | smell: 3.5 | taste: 3 | feel: 4 | overall: 3.5
Poured from a 12 oz. bottle into a pint glass.
Appearance is a clear golden orange color with a one inch slightly off-white head. Leaves some pretty good lacing.
Aroma is straight up blueberry. It smells like the real deal too, perhaps slightly artificial.
Taste is pretty tame, there's a bit of graininess at the start and a light flavor of blueberry. I thought it would be more intense considering the aroma. The finish is slightly tart and dry.
Mouthfeel is medium-light bodied, it's pretty crisp and refreshing. Might be better suited to a summer day.
Not bad for a fruit beer, but I'm glad I bought a single 12 ounce bottle instead of the bomber.
657 characters
3.33
/5
rDev
-7.5%
look: 4.5 | smell: 4 | taste: 3 | feel: 3 | overall: 3
A large psfft of escaping CO2 burst out when I cracked this one open. Loads of carbonation with a large, sturdy, lasting head and walls of cascading bubbles. Very hazy brown body takes on a pretty, deep red hue in the light. Blueberry pie filling and something sharp (lemon zest?) top the nose, reminding me of the blueberry cake with cream cheese icing my mom makes. A bit of lingering bitterness in the finish, slightly metallic. Flavor is a bit weak after the aroma.
469 characters
3.16
/5
rDev
-12.2%
look: 4 | smell: 3 | taste: 3 | feel: 3 | overall: 3.5
got this from Clarkvv back in Nov. 04 so as I was clean out the refrig. I thought I would open this to see how it held up. poured a nice rich honey with a small off white head. aroma just a hint of blueberries, with honey and the smell of pancakes, orange and a small amount of hops. flavor honey with blueberries the hops are a little more prevalent. would have like to compare this to a fresh one
398 characters

2.53
/5
rDev
-29.7%
look: 3 | smell: 2.5 | taste: 2.5 | feel: 2.5 | overall: 2.5
Appearance: Hazy amber with an off-white head. Pretty poor head retention, as tends to be the case with fruit beers.
Smell: Blueberry pancakes with syrup. Sweet and cloying, very one-dimensional.
Taste & mouthfeel: Up-front blueberry syrup. The biscuity malt foundation tries to work with or balance the syrupy blueberry flavor but misses the mark. No noticeable hops here, just a big blueberry finish.
404 characters
Blueberry Ale from Back Road Brewery
3.6
out of
5
based on
29
ratings.