Malheur Cuvee Royale
| Brouwerij De Landtsheer NV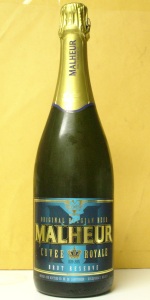 BEER INFO
Brewed by:
Brouwerij De Landtsheer NV
Belgium
malheur.be
Style:
Bière de Champagne / Bière Brut
Alcohol by volume (ABV):
9.00%
Availability:
Year-round
Notes / Commercial Description:
No notes at this time.
Added by paterlodie on 08-10-2005
Reviews: 12 | Ratings: 21
4.03
/5
rDev 0%
look: 4.5 | smell: 4 | taste: 4 | feel: 4 | overall: 4
A: The beer is hazy yellow in color and has a high amount of visible carbonation. It poured with a two finger high white head that has good retention properties and consistently left a thin head covering the surface.
S: There are earthy aromas of yeast in the nose along with notes of lemony citrus and cracker malt.
T: The taste is very similar to the smell and also has notes of fruit in the flavors.
M: It feels light-bodied and relatively smooth on the palate with a moderate to high amount of carbonation.
O: The beer is quite easy to drink for the style because the alcohol is well hidden from the taste.
610 characters
4.08
/5
rDev
+1.2%
look: 4.25 | smell: 4.25 | taste: 4 | feel: 4 | overall: 4
Poured from the bottle into a champagne flute. Best before (I think?) August 1st 2015? Uh oh.. We shall see! With a bit of nudging, cork comes out with a very loud pop and nice gaseous smoke.
Classic brut appearance. Unfiltered looking a bit, buttery fourteen karat cold color, with huge amounts of carbonation just like champagne. Reaches to an easy three finger bright white, thick and rocky retention head. This thing is not even budging or going anywhere. Clumpy lacing, thick topped and just a great looking brut, if slightly hazy.
Nice simple nose. Mineral soft a bit hinting, but with nice Belgian candy sugar that hints toward honey suckle, and a mild bakery sweet tone. Has a remarkable fresh honey aroma all over but not overly syrupy either. Very nice.
Palate gives towards the basics. Soften Belgian pale ale quality, and a simple malt backbone that dares to tred wet. Excellent sweetness in the middle, but also very subdued carbonation in feel a bit on the tongue. There's a bit of flat mineral water aftertaste on this just a hair to pick up, but takes a bit of a down turn with more simpler pale ale flattened quality coming. A little bit of hop bitterness just on the end, which gives a nice touch, but is relatively indistinct, and a little bit of stomach warmth.
Kind of a bit of a less vibrant brut it seems, but there is plenty of good here. I always seem to enjoy these Malheur brut brews
1,429 characters
3.75
/5
rDev
-6.9%
look: 4 | smell: 4 | taste: 3.5 | feel: 3.5 | overall: 4
Thanks to biegaman for sharing this at the Biergotter club brewday/tasting.
This beer poured a hazy straw yellow colour with a white cap of fine foam. Fair head retention with some spotty lacing. Mellow aroma overall, with notes of straw, light alcohol, grain, and lemon. Same in the flavour, along with very light bitterness, some fruit, and spicy alcohol in the finish. The body was just on the light side and carbonation was quite high, decent texture. Nicely balanced and quite refined, surprisingly light and refreshing (considering the abv). Thanks Jan!
559 characters
3.87
/5
rDev
-4%
look: 3.5 | smell: 4 | taste: 4 | feel: 4 | overall: 3.5
Biergotter Brewclub brewday tasting extravaganza, biegaman brought this one!
Pours a slightly hazed yellow, big head forms, quickly settles to a thin layer, leaves some lace spots behind. Smell is sweet, some hay, veggies, honey, wheat, some citrus, spice, neat. Taste is honey, citrus, grass, light floral, sweet middle, dry spicy finish. Mouthfeel is light bodied with high carbonation, little bit prickly. Not sure what to think of this one, but I did enjoy it. Thanks Jan!
477 characters

3.79
/5
rDev
-6%
look: 4.5 | smell: 3 | taste: 4 | feel: 4 | overall: 4
My wife picked this beer up for me from the local beer store. Poured from a 750 ml bottle, this brew has the typical brut appearance: light golden with a towering head. The head was far more stable than I expected, and the beer wasn't quite as clear as it could be, but it's still very attractive. (Protein haze?) The aroma is a little fruity and yeasty, with a touch of alcohol. It's not really remarkable in any way. The taste, however, is spot on. It's very fruity, semi-dry, has a touch of pale malt flavor, and a characteristic Belgian ester quality. Nice. The finish is well balanced, with a nice bitterness. Light in body, and very spritzy. The head is truly remarkable on this beer. It lasts long after draining the glass.
730 characters
4.26
/5
rDev
+5.7%
look: 5 | smell: 4 | taste: 4 | feel: 4 | overall: 5
Straw-color yellow, white and longstanding head.
In the smell yeast, breadcrust, backbone malt.
Very fresh, and champagne-like.
Malty taste, a bit more sweet, hint of honey. Again breadcrust.
Pleasant and fresh, white flowers, almond, white grapes.
Average to light in body, right. High carbonation.
Orange flowers in the aftertaste, again yeast and breadcrust, some camomile.
Great aperitif.
392 characters

3.66
/5
rDev
-9.2%
look: 4.5 | smell: 3.5 | taste: 3.5 | feel: 3.5 | overall: 4
biergotter club brew/tasting 2007. biegaman threw this one into the mix. thanks jan!
750ml bottle, corked and caged. best before 01/01/08.
pours hazy dark yellow with a huge fluffy white head. the head drops very slowly and leaves tons of clumpy lace behind.
aroma is nice. light alcohol. bit of lemon. crackers and grain. bit of bready malt.
taste is nice. bit of alcohol. grain and cracker malts. light yeasty spice. hint of grapefruit. low bitterness level.
mouhtfeel is good. light body and a nice dry finish. medium-high carbonation level.
drinkability is good. balanced, light, and very refreshing. good stuff.
622 characters
3.11
/5
rDev
-22.8%
look: 4 | smell: 3 | taste: 3 | feel: 3.5 | overall: 3
White peach colored ale with a small, cramy head of white foam. Smells like an old Belgian Pale, but does have some nice elements of peach, nectarine, pineapple. Has some nice elements, but smells like a De Proef brew or an old Belgian. Flavor is heavily phenolic, spicy and very citrusy, almost sour. Lemon, tropical fruits, with hints of vanilla.
348 characters
4.3
/5
rDev
+6.7%
look: 4.5 | smell: 4.5 | taste: 4 | feel: 4.5 | overall: 4.5
BB 15-01-08. Great appearance, after starting to poor in carefully the brew went in the glas with hardly any foam. That's when I decided to go a litle wilder on it and the brew just exploded. Overwelming head, lasting, snowwhite and underneath a litle( in volume) quiet clear golden beer.
Nose takes long to develop. In the beginning just a litle hops but after a couple of minutes the whole palete startes to devellop giving fine hops, clean alcohol, best palemalts and a pilsnerlike yeastarome.
Taste is also good but IMO litle sweet. Next to that maltyness, alcohol and very clean( bottom fermented like) yeastpalate. Bitter aftertaste makes this one just a pleasure to drink. Maximum carbonisation and the full palete makes this one to something extraordinary in mouthfeel and well worth revieuwing it as my 500th.
821 characters
4.68
/5
rDev
+16.1%
look: 5 | smell: 4.5 | taste: 4.5 | feel: 5 | overall: 5
750 ml corked bottle. It pours a yellow opaque cloudy colour, with an enormous head that leaves a very nice lace. Aroma of fruits, flowers, citrus, cloves, peaches, sherry wine. Silky, delicate palate. Very dense body, you can almost chew it. Mouth of fruits, champagne, apricot, wood (cask conditioned), some bitterness at first, but there's a sweet counter point, ginger, apples...
This is just another Malheur work of art.
425 characters
4.21
/5
rDev
+4.5%
look: 5 | smell: 4 | taste: 4 | feel: 4.5 | overall: 4.5
Poured from a 750ml into a Malheur glass.
Appearance is absolutely beautiful! A perfect match for the Malheur glass. A clear golden color with a lot of carbonation rising. Big, thick white head that lasts forever. Looks like champagne with a head.
Aroma of green apples and grass.
Taste is rather light. Woody. Like champagne with less alchohol and more depth. Sweet. A little hard to get a grasp on this one.
Very lively mouthfeel. Cleansing. Dry.
Overall, a very drinkable beer. Quite "classy" for a beer. Glad I have another bottle. Definitely a "save for special occasion" type of beer.
606 characters
4.62
/5
rDev
+14.6%
look: 4.5 | smell: 5 | taste: 4.5 | feel: 4.5 | overall: 4.5
I was lucky enough to receive this from a friend who is in Michael Jackson's Rare Beer Club. You would never know this was beer based on the appearance of the bottle. Foil wrapped champagne bottle....very classy.
A-I popped the cork, which was under high pressure, and a light over flow of white foam overflowed a bit. The body poured out an amazing and brilliant shade of gold. Tons of carbonation running all through the glass. The head was insane!!! The light airy fluff that filled my glass settled down to a densly packed layer of head that was in no hurry to leave. The foam retention was remarkable and the lacing covered the entire glass. It was a little hazier than I expected for this style, otherwise it was perfect!
S-The smell on this beer summarizes what I look for in a cellar, funky, aged Belgian. The raw mustiness comes through and you can almost smell the cool damp cellar that housed these bottles. Following that tight punch of sweet fruits and yeast spice. Green apple shines the most here. You can just smell the powerhouse of flavor that the beer contains. Very enjoyable.
T/M-This is a very unique brew with tons of flavor. Right from the start a rush of carbonation opens up to a tart, but sweet taste. The raw, grainy yeast leaves a very dry finish. The sour apple taste comes through as well as an oaky characteristic. Whether or not they used any type of wild strain, there is definately a barrel aged funk that lingers. The 9% abv is well hidden in taste, but not in impact. A quarter of the way through and I can feel it hitting big. Unique and wonderful from start to finish.
D-First of all, the price tag alone (I assume about $30/bottle) would downsize this to an "occasion" or "gathering" beer, but man is it a nice treat. The beer is superbly crafted and truly artisinal.
For anyone fortunate enough to have this, consider yourself lucky. Keep this one tucked away for a special occasion (I did ;) )
1,951 characters
Malheur Cuvee Royale from Brouwerij De Landtsheer NV
4.03
out of
5
based on
21
ratings.