Malheur Brut Reserve - Michael Jackson Commemorative Selection 2006
| Brouwerij De Landtsheer NV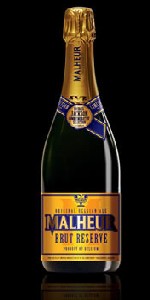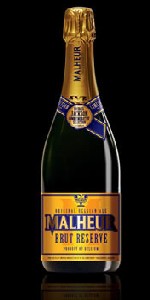 BEER INFO
Brewed by:
Brouwerij De Landtsheer NV
Belgium
malheur.be
Style:
Bière de Champagne / Bière Brut
Alcohol by volume (ABV):
11.00%
Availability:
Limited (brewed once)
Notes / Commercial Description:
No notes at this time.
Added by BeerAdvocate on 01-03-2007
This beer is retired; no longer brewed.
HISTOGRAM
Ratings: 14 | Reviews: 9
None found.
More User Reviews:
4.68
/5
rDev
+5.9%
look: 5 | smell: 4.5 | taste: 4.5 | feel: 5 | overall: 5
$45 dollars at Toronado. Shared with Brewbacca. Best before 2008. Green Bottle, cork and caged under gold foil and a Michael Jackson Rare Beers Collection seal. Worth every penny.
Appearance: Pours an exceptionally effervescent champagne color with a steady, bubbly white head. This is the type of beverage that requires patience and thought to pour without wasting half the bottle through a foam disaster. Lacing is surprisingly clingy to the glass and the head never really goes away as it is constantly agitated by the ridiculously high, and most champagne like carbonation.
Aroma: Green Apple, sugar. Saaz or similar hops provide a floral perfume. Wild rose, freshly crushed rocks, white peach.
Taste: Once again green apple dominates, not in a heavy way mind you, just in a way that is more forthright then the other flavors. Light vanilla, lemon, and peach flavors along with a floral oiliness take part as well.
Body: Exceptionally dry. Truly flawless and close to some of the fine brut champagnes I was fortunate enough to try in France when my friend was a bottler for several wineries. Perfectly crisp and refreshing with a healthy yet subdued bitterness.
Drinkability: Unbeatable.
A grape champagne of this caliber is not available in the US for anything short of a king's ransom making the Malheur a steal in my book. Worth the jingle. Give it a try.
1,383 characters
4.48
/5
rDev
+1.4%
look: 4.5 | smell: 4 | taste: 5 | feel: 4.5 | overall: 4
Ok now this one was special. I traded for this a while ago and have had it sitting in my fridge just waiting for a special occasion. Well last night when the wife and I found out we were expecting another child, well heck there ya go, now that's a special occasion! So we went over ot the in laws to let them know, and I brought this baby with me. I really did not know what to think going into this one, but this looked like a fun brew to celebrate with. It took a good bit of convincing on my part to explain to everyone that it was not champagne, I still do not think grandma believed me, but it worked really well to celebrate with. Anyhow, here is what I thought of it while tasting…
A – Poured a huge fizzy champagne like mess would be the best way to describe it. Light golden in color and full of huge amounts of carbonation. I really had to let it calm down to get any kind of pour out of it. It really was like champagne. Lots of fizzy bubbles streaming up from the bottom pretty much the whole time. Loooked like it and even had the little bit of fizzy's coming off over the top. Very light and the head never faded. It never did calm down, and even until the last drop maintained that huge white head. It was different then champagne in that this was a sticky foamy head that lasted rather then faded, but still it looked the part, you get the point by now I am sure.
S – Aroma was great, very light, not in quantity as it had a great breath. Lots of grapes in the aroma, very nice white sour grapes. Great floral aroma here with a very lively smell. Some hops were defiantly present here, though not in overwhelming fassion, but still very very present. Great mixture of sensations on the nose, quite different from anything I had ever tried before. Very nice to see. Had a very wine or champagne like aroma to it, though mixed in with some hops, very light.
T – Wow, now this was good. This is gonna be a bit difficult to describe but I will do my best. Started off very champagne like, with a big hit of grapes and a lot of fizz. This never really did go away, however, as you started to examine it more there were just a ton of other flavors that started to come out. First notice was the great use of Belgian yeast. This was very present and in fact was a very big contributing factor in the overall flavor. Lots of different tones floating through in there, so like peach and apple too, lots of grapes. The finish was decidedly hoppy and dry and that's really where the kicker came in. Such a unique balance between all these flavors, but yet such a light note to everything. Really something different that I had not had before. Really unique and quite nice. I really enjoyed the flavors here. A touch of the ABV was present as you had a little more, this was definatly big and not something to fool with.
M – Super light and fluffy would be the best way to describe it. Had the exact feel of a fine champagne. Lots of carbonation, light on the tongue and then just exploded with flavor. So easy to drink, and just like silk going down. Very very smooth and crisp, ultra clean finish left the mouth dry and wanting another sip. This was just a very odd drink, something again I hadn't tasted before.
D – Now this is hard to determine. You cannot really sit down and have a glass of this, do not think it would actually serve it justice. It seems to be meant much more for tulip glasses and a celebration, which when done righ was perfect. I could have a couple glasses of this with ease, but that would be about it. It was very big and very different and definatly needed to be shared to be truly appreciated.
Overall this was fantastic. I wanted something big to be able to share with the family and celebrate and this was perfect for it. It's a shame stuff like this is so pricey, this being exceptionally true with this limited bottle. But I see even the normal running close to thirty dollars, but when taken in context of fine champagne, it is cheap. So again for a purpose it is great, not for sitting around and watching TV or anything like that. So if you are gonna celebrate and can get a bottle go for, it was really nice and definatly worth it.
4,192 characters
4.12
/5
rDev
-6.8%
look: 3.5 | smell: 4 | taste: 4 | feel: 4.5 | overall: 4.5
Source: 750 ml corked and caged bottle. Foil around the cork just like… a champagne bottle. Best before 1/1/08.
Appearance: Poured very carefully into a flute, but a massive four finger (fist?) head quickly overwhelms it. (I poured the second one into a Chimay goblet, which resulted in a two finger head.) The rocky head dissipates very slowly. Pale cloudy gold in color, with discrete streams of fine bubbles rising from the bottom.
Smell: Crisp spicy hops in the nose, and also a champagne sweetness.
Taste: Wow… this is really interesting. There is an initial moment of sweetness, but then the hops take over. It's not a brutal hop attack like some aggressive APA's, though; it's balanced, with spices, and perhaps some apples.
Mouthfeel: Excellent; very crisp finish due to the high carbonation, but it also stays with you and lures you into your next sip.
Drinkability: Very. You don't even notice the 11% ABV (!!!), and in fact I wouldn't have pegged this as a big beer at all if I didn't already know. Be careful – it's not a toy.
1,063 characters

4.55
/5
rDev
+2.9%
look: 4.5 | smell: 4.5 | taste: 4.5 | feel: 4 | overall: 5
Drank from a 1 pt. 9.45 fl. oz. corked and caged bottle acquired as a selection from Michael Jackson's Rare Beer Club
Best before 01/01/2008
Thanks to my friend James for treating me to this one.
The beer came in a magnificent looking, dark green champagne bottle complete with gold foil top and shiny gold writing. I knew that I was about to drink something special here. The cork came off with a loud "pop" and was soon followed by a mass of bubbly white mousse protruding up over the lip of the bottle.
As for the beer, it poured a slightly hazed, pale straw yellow with an enormous, rocky, bubbly, bright white head that stood up over the edge of the glass. Large chunks of thick, frothy lacing remained long after the beer was finished.
The aroma was beautifully fragrant and sweet, and somewhat barnyard-y. A Belgian yeastiness immediately smacked me in the face, along with potent yet soft notes of saaz hops. Some slightly musty, country-ish notes lingered in the background.
The taste was very flavorful and well-balanced. Creamy, yeasty notes came through up front with pillowy saaz hops following. (I was amused at the label noting that this beer was brewed with "extra Saaz hops.") Orange zest and spices (coriander) were also noticeable and came out more as the beer warmed. Some lemony, slightly acidic, citrusy notes were detectable as well. The finish was slightly hoppy, yeasty and spicy with a touch of candi sweetness and alcohol warmth.
The mouthfeel was lighter bodied with a fine, spritzy, champagne-like carbonation. Surprisingly, it was not until the end of the bottle that the carbonation became somewhat excessive (this was apparently due to the liquid warming).
At 11% ABV, I was amazed at how easily I finished the bottle.
All in all, this offering was outstanding. It reminded me of a softer, more well-rounded version of a saison. I would recommend buying a bottle and saving it for a special occasion. The appearance (both the bottle and the liquid), the flavor and the price ($28) all dictate this.
2,038 characters

4.88
/5
rDev
+10.4%
look: 5 | smell: 4.5 | taste: 5 | feel: 5 | overall: 5
A: Opens with a forceful champagne bottle "pop." Poured into a tall champagne flute, it is a honey gold color, almost transparent. Lots of bubbles are produced, creating a champagne-like head but one that is creamier than a "regular" champagne. It leaves a typical Belgian lacing on the glass. Bubbles are very fine. Recorked, subsequent openings also produced a powerful pop.
S: Ginger candy, ripe pineapple, pear, honey, yeast. The smells are very refined. Michael Jackson describes the Malheur Brut Reserve as "perfume" and that is even more apt to this version.
T: All to the good, it tastes more like a Belgian beer than Champagne or Prosecco. It has the taste of a very refined Belgian white ale, with notes of ginger, honey, butterscotch, a little ripe pineapple, prominent Bosc pear, ripe banana, yeast, and hops. All these come through at first sip, with a luscious fruit sweetness that resolves into a ginger bite on the tongue along with a caramel toffee sweetness and then green grassy hops (green tea).
M: This is very much like champagne, but "thicker" or one might say firmer. It has a very tight, refreshing carbonation. It is sweet at first but finishes dry.
D: Superlative: there is such a complexity here that is lacking in "regular" champagne. Reminds me more of Prosecco, but better. It is as drinkable as champagne, even moreso. Each taste cleanses the last, while the complex flavors continue to emerge with greater strength, inviting the next taste. A very impressive combination of Belgian beer and champagne styles. This would be so good with an apple or pear tart.
1,599 characters


4.48
/5
rDev
+1.4%
look: 4.5 | smell: 4.5 | taste: 4.5 | feel: 4.25 | overall: 4.5
brew pours gorgeous! Nice Golden Blonde body with a tight bubbly white head. The aroma should tell me more. Very strong! It's almost farmhouse. There's wet hay with a tinge of almost overly ripe pears. Lemon pith and hints of puffed sugar. I like where this is going! No alcohol. The taste is just as insane! It's ripe pears with some candied sugar. Spicy yeast with hints of funk. Cookie dough and some leafy hop flavors lingers in the aftertaste. Finishes light, sweet, dry and very low bitterness. The feel is light bodied and carbonation is on point!
Overall: Bam! I'm glad I went back to my Belgian Strong Golden Ales for this one. This beer is what I've been missing, with all the American IPAs and DIPAs I've been indulging in for the past few months. De Landtsheer is one of my personal favorite Belgian Breweries. They have truly learned the art of hiding booze in their brews. This brew registers at 11% ABV. If you like Belgian anything, do not pass at this! This brew is Recommended!
997 characters

4.25
/5
rDev
-3.8%
look: 4.5 | smell: 4.5 | taste: 4 | feel: 4 | overall: 4.5
Opened this at midnight to ring in 2010. Poured from 750mL bottle into a Malheur chalice. Beer was a clear yellow, with a huge, pillowy, three-finger, white head. Tons of carbonation and heavy lacing around the glass.
Aroma was flowers, pine, white grapes, pears, apples, grass and light hops.
Taste was apple, pear, lemon and yeast. Very, very tasty and balanced.
High drinkability. Clean, refreshing and fairly complex. An excellent beer.
445 characters
3.98
/5
rDev
-10%
look: 4.5 | smell: 4 | taste: 4 | feel: 4.5 | overall: 3.5
A friend and fellow beer club member found this one on the internet, so we all went in on a case. I have had this bottle in the cooler for about 3 months now, and since this is mine and my wife's anniversary...it seemed like as good of a time as any to review it.
Appearance: Poured very slowly into my Duvel glass, and looks a good bit like Duvel. The beer is a very clear slightly orangish golden with a very thick mousy white head that seems to want to stick around forever powered by boat loads of bubbles rising from the bottom of the glass.
Aroma: The aroma has a bold hop presence as compared to a strong golden ale. The spicy notes from Saaz (I believe) are a dominating part of the aroma profile. Beyond the hops, there is a dry bready malt contribution that has a defined citrusy Lemon quality that reminds me a bit of lemon cookies.
Taste: The flavor is dry and fizzy from all of the carbonation with a defined hop presence to go along with the aroma. The beer is medium bodied, and is definitely perceived to be lighter since it has such assertive carbonation. There is a clean Lemon flavor in here that mixes well with the bready malt flavors to give a pretty refreshing beer to drink. All this obscures the alcoholic burn that sets in late in the finish and resides with the bittering hops on the back of the throat to linger for a long while.
Opinion: This is a pretty good beer. This beer is a bit like Deus in my opinion in that it is a strong light colored well carbonated Belgian beer with strong citrusy impressions. It is also like Deus in that it is pretty expensive for what you get. I believe that with the case price, I paid around $18 a bottle for this when it was going for $25 at the Whip-In in South Austin. It is a bit pricey for what you get, but would be a good one to try with a beer club so that you can all absorb the cost. I would drink it again (and will since I have another bottle), but this isn't one that I will be seeking out because of the value.
2,001 characters

4.48
/5
rDev
+1.4%
look: 4.5 | smell: 4 | taste: 5 | feel: 4.5 | overall: 4
Excellent example of the style and a fine tribute to a great man. This version seemed a fair bit different than the normal Malheur Brut, but that could have been the extra age on the bottle. The beer pours a very large, effervescent head with lots and lots of tiny bubbles. It's thicker and richer in appearance than champagne but just as bubbly and joyful. The aroma is a mixture of citric and Belgian flavors. It's a tad weaker than I was hoping, but that seems to be a recurring problem with the style. This seems odd given the great carbonation and head, but what do I know... Anyway, the aroma is lemony with sweetly fruity/earthy, to give a more descriptive err... description. The flavor has an enjoyable green apple note. The hops have faded a bit but still impart some floral lemon character. The malt comes forward nicely with the Belgian yeast. There is a lot of subtle and sweet fruitiness; grapes and peaches mix with apples and the spicy earthiness of Belgian yeast. You can taste the underlying tripel, and the champagne mixes with it to form something very special. The abv really fades into the background and is barely felt. I imagine that age has not hurt this beer in the least, but it was probably always excellent. I'm not the biggest fan of champagne, so I have trouble giving a higher drinkability score. Still, it's a great beer and I'm thankful for the opportunity of a glass.
1,402 characters
Malheur Brut Reserve - Michael Jackson Commemorative Selection 2006 from Brouwerij De Landtsheer NV
Beer rating:
4.42
out of
5
with
14
ratings