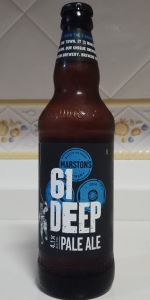 Write a Review
Beer Geek Stats:
| Print Shelf Talker
Style:

ABV:

3.8%

Score:

Avg:

3.26

| pDev:

15.03%

Reviews:

10

Ratings:

From:

Avail:

Year-round

Wants

Gots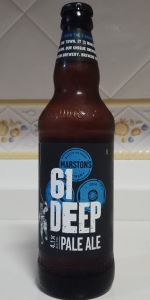 Notes:
Reviews by BigGruntyThirst:

3.21
/5
rDev
-1.5%
look: 3.25 | smell: 3.5 | taste: 3 | feel: 3.25 | overall: 3.25
More User Reviews:
3.34
/5
rDev
+2.5%
look: 3.75 | smell: 3.5 | taste: 3.25 | feel: 3.25 | overall: 3.25
on cask, via hand pump. imperial pint glass
clear, pale golden color, thick white foamy head. aroma is a mix of pale malt, mild fruitiness, grassy hops. taste is mild, not very bitter. thin bodied.
202 characters
2.75
/5
rDev
-15.6%
look: 3.5 | smell: 2.75 | taste: 2.5 | feel: 3.25 | overall: 2.75
500ml bottle from Spanish supermarket for 1.60 Euro.
A: Golden colour. 2 fingers of head which quickly dissipated. Single stream of carbonation.
S: Grain & biscuit with a light fruit scent. Uninspiring.
T: Earthy bitter start then a bit of caramel / sweetness but the finish leaves an unappealing soap/grass flavour.
M: Carbonation is light but nice...a pleasure to leave on the tongue to savour the better mid-sip flavours.
O: If each sip could finish as it starts I'd enjoy it but the soapy grassy flavour left lingering on my tongue after each sip makes me eagerly drink more to try and wash away the finish. If you want to drink fast perhaps this is a good thing but I would certainly never buy this beer to savour mindfully as the grassy soapy bitterness is too harsh to be considered pleasurable.
I don't expect this beer will end up in my fridge again anytime soon.
878 characters
2.5
/5
rDev
-23.3%
look: 2.5 | smell: 2.5 | taste: 2.5 | feel: 2.5 | overall: 2.5
Con cuerpo y carbonatación media, esta cerveza tiene una cabeza espumosa de retención media. Aromas herbáceos y citricos. Sabor cítrico con un final levemente amargo.
170 characters
3.75
/5
rDev
+15%
look: 3.75 | smell: 3.75 | taste: 3.75 | feel: 3.75 | overall: 3.75
Cask drawn. Straw coloured. Tight frothy head.
Hoppy aroma of freshly cut grass, hay and citrus fruit.
The hops continue into the taste. A mild bitter finish.
Smooth and refreshing after circuit training but this feels like a Marston rebranding of their New World IPA.
Still it's much better served from the cask.
313 characters

3.72
/5
rDev
+14.1%
look: 3.75 | smell: 3.5 | taste: 3.75 | feel: 3.5 | overall: 4
500 mL can from the LCBO; best before Aug 31 2019 and served slightly chilled. Listed at 4.1%. Haven't seen any new Marston-labelled products around here in a long time.
Pours bright and clear, with a pale golden-yellow body topped off with one finger of frothy, soapy white head that fizzles off over the next 90 seconds or so. A modest-sized collar lasts on, with several swaths of lace also having been scattered about. The aroma is mostly leafy, grassy and floral, with slight hints of honey sweetness, lemon rind, tropical fruit and grainy, doughy pale malts. Pretty typical so far.
Decent stuff; light and refreshing, with approachable flavours that put their own spin on this sessionable English style. Doughy pale malts and light honeyed sweetness start things off, with hints of apricot and tropical (passion?) fruit coming through shortly thereafter. Citrus zest and grassy, floral hops round things out nicely towards the finish, with hints of leafy bitterness and pale malt briefly persisting into the aftertaste. Light in body, with moderate carbonation levels that provide a gently crisp bite to the mouthfeel. A true thirst-quencher.
Final Grade: 3.72, a B grade. Marston's 61 Deep is sort of like the EPA equivalent of a North American session pale ale - it has that same 'hop tea' vibe going on, making for a very refreshing, drinkable tipple. Seems like a variation upon their old 'Marston's EPA', with the Australian/American hops being the main differentiating factor (and I'd bet a decent sum that one of them is Galaxy). No this is not an intense or exciting beer, but I think it's perfectly fine for what it is, and if I'm ever in the mood for an English-style pale ale then I'd definitely have to consider returning to this one.
1,756 characters

3.29
/5
rDev
+0.9%
look: 3.5 | smell: 3.25 | taste: 3.25 | feel: 3.5 | overall: 3.25
A 500ml bottle with a BB of April 2019. Acquired a little while back from Waitrose. Named after the depth of the well at Marston's; the label mentions that this is brewed with five hop varieties from America and Australia.
A: Poured into a straight pint glass. A rich amber colour with faint floating sediment and moderate carbonation. Forms a large head of creamy white foam that lasts for a minute or two before subsiding to a patchy surface layer. Slight lacing.
S: Aroma of mild caramel malt with hints of grain, subtle fruity hops, faint tropical fruit, hay and ale yeast. OK but uninspired.
T: Tastes of pale malt with notes of grain, mild caramel, fruity aromatic hops, faint citrus peel, a twinge of tropical fruit, hay, ale yeast and faint earthiness. Fairly dry, followed by a modest bitterness upon swallowing.
M: Mouthfeel is smooth, tingly and dry, with soft carbonation and decent body for the style. Aftertaste of bitter hops, mild aromatic fruit, pale malt and ale yeast.
O: OK but not very exciting. Looks alright, while the aroma and flavour are a dull blend of mild aroma hops, pale malt and ale yeast. Body is pleasant enough. Drinkable but forgettable - no need to hunt it down.
1,204 characters

3.24
/5
rDev
-0.6%
look: 3.75 | smell: 3.5 | taste: 3 | feel: 3.25 | overall: 3.25
Bottled and possibly bottle conditioned
Pours a golden crystal clear golden body with big foaming white head
Citrus vitamin supplement aroma
Veering towards us pale dull enough to be held in the Marson's UK pale area
218 characters

3.34
/5
rDev
+2.5%
look: 3.75 | smell: 3.5 | taste: 3.25 | feel: 3.25 | overall: 3.25
Look is quite nice, clear gold with a nice fluffy head. On break there is some nice lacing.
Smell is what I'd expect for an English Pale, biscuity malts, a bit grainy, then some lighter floral hops.
Taste is soapy bitter up front, followed by the aforementioned malts.
Feel is lightweight, good carbonation. Finish is soapy and a bit off-putting.
An okay beer, it seems a bit hoppier than most English Pale Ales. The soapy aspect has me saying I would not revisit this beer.
480 characters

3.35
/5
rDev
+2.8%
look: 3.5 | smell: 3.5 | taste: 3.25 | feel: 3.5 | overall: 3.25
LCBo purchase of this 500ml can set me back about $3 CDN. Served cold into a pint glass. Review from notes. listed at 4.1% ABV.
Appearance - Pale golden color, a finger plus of dense white head. Lacking in visible carbonation.
Smell - Slightly fruity with pear and plum, earthy British hops and a dash of lemon.
Taste - Earthy bitterness up front yields to a subtle fruity sweetness and then reverts back to form with a leafy and bitter finish and aftertaste. Distinctly British.
Mouthfeel - Crisp, light bodied with medium carbonation on the tongue and a dry, palate cleansing finish.
Overall - Unremarkable British Pale Ale that could do with just a hint more sweetness to make this something I'd enjoy more regularly.
725 characters

2.95
/5
rDev
-9.5%
look: 3.75 | smell: 3 | taste: 2.75 | feel: 3 | overall: 3
4.51
/5
rDev
+38.3%
look: 3.75 | smell: 4.5 | taste: 4.5 | feel: 5 | overall: 4.5
From Alcampo. In Ikea's pint glass. Playing Bloo Kid 2. Surprisingly good, full of fresh and refreshing citrusy hops that please mouth and nose for equal and with a great zesty and moreish feel
193 characters

2.88
/5
rDev
-11.7%
look: 4 | smell: 2.25 | taste: 3 | feel: 3 | overall: 3
61 Deep from Marston's PLC
Beer rating:
78
out of
100
with
13
ratings