Banks's Mild
| Marston's PLC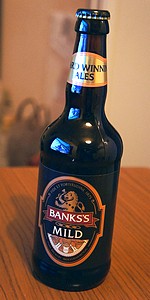 BEER INFO
Brewed by:
Marston's PLC
England
,
United Kingdom
marstons.co.uk
Style:
English Dark Mild Ale
Alcohol by volume (ABV):
3.50%
Availability:
Year-round
Notes / Commercial Description:
No notes at this time.
Added by dgilks on 08-09-2011
Ratings: 11 | Reviews: 8
Reviews by EmperorBevis:

3.95
/5
rDev
+17.2%
look: 4 | smell: 4 | taste: 4 | feel: 3.5 | overall: 4
Poured into a curvy tulip glass giving a rather rosy rich chestnut brown with reddish hues.
The nose is the main attraction scents of brown sugar and walking past the bakery when treats are being cooked a real biscuity malt and red fruit aroma.
A small but quite substantial creamy head with the odd big bubble.
Sweet barley swirls around the mouth departing with a crisp hoppy bitterness hold onto the better than average mouthfeel supported by good carbonation that helps summon a head with a swish of the glass.
But the real treat a very traditional mild pound a pint price
580 characters
More User Reviews:

3.25
/5
rDev
-3.6%
look: 3.25 | smell: 3.25 | taste: 3.25 | feel: 3.25 | overall: 3.25
A 500ml bottle with a BB of Nov 2013, so it's a little out of date. Acquired from a supermarket some time back and stashed in my garage.
Poured into a straight pint glass. A clear chestnut-brown colour with medium carbonation. Forms a decent head of frothy off-white foam that lasts for a minute or two before dissipating. Aroma of grainy caramel malt with hints of husk, faint roasted malt, fruity ale yeast and stewed leaves. Unexciting.
Tastes of mild roasted malt with a dry finish. Notes of caramel, grain, slight nuttiness, a hint of dried fruit, ale yeast, stewed leaves and cardboard. Very faintly sour. Well-attenuated, followed by a subtle bitterness upon swallowing. Mouthfeel is smooth, dry and tingly, with decent carbonation but a thin, watery body. Somewhat astringent, accompanied by an aftertaste of caramel malt, stewed leaves and cardboard.
Meh - nothing special. No technical flaws as such, but this aims for mediocrity and hits the target. Looks OKish, while the aroma and flavour are a blend of dull caramel malt, weak roasted grain and ale yeast. Body is lacklustre, even for 3.5%. Drinkable but decidedly average. No need to seek it out.
1,164 characters

4.1
/5
rDev
+21.7%
look: 4.25 | smell: 3.5 | taste: 4.25 | feel: 4.5 | overall: 4.25
3.41
/5
rDev
+1.2%
look: 4 | smell: 3 | taste: 3.5 | feel: 3.5 | overall: 3.5
A: poured from a 500 ml can into a dimpled mug, ruby brown with a large off white head that lingers leaving wispy lacing, clear
S: nutty, grain
T: walnut, bread, slightly sweet
M: thin, low carbinarion
O: Serve warm with pork pie.
234 characters
3.23
/5
rDev
-4.2%
look: 3.5 | smell: 3 | taste: 3.5 | feel: 3 | overall: 3
Oxblood with pock-marked off white foam that clings well. Mild mulch and red currant nose - faint.
Caramel crisps and raisin then spicy (Fuggles, if I had to guess) end.
Stem ginger biscuit end and lightly bitter linger. Watery, crisp, slight cling.
Mild in name only. I can see how this sells so much, it's dull and drinkable. Barely a good session bitter, and a disaster as a mild.
386 characters
3.67
/5
rDev
+8.9%
look: 3.75 | smell: 3.5 | taste: 3.5 | feel: 4 | overall: 4
Lovely paler mild ale - it's got that fresh flavour, in quite a sweet malty profile, fruity hops toward the finish, and quite a hefty beer for the low abv, making it immensely quaffable and satisfying.
201 characters

3.64
/5
rDev
+8%
look: 3.75 | smell: 3.5 | taste: 3.75 | feel: 3.75 | overall: 3.5
Poured into pint.
Pours dark copper/chestnut beer with 2-finger creamy beige head, low retention.
Smell - nutty, toasted malts.
Taste - toasted malts.
Light body, moderate carbonation.
Decent and relatively pale mild ale.
223 characters
3.5
/5
rDev
+3.9%
look: 3.5 | smell: 3.5 | taste: 3.5 | feel: 3.5 | overall: 3.5
This is the first lighter-coloured Mild and one of the very few examples indeed that I have tried during my short years of beer adventure, but it was consumed in a historical pub in Manchester City on cask. I remember it being a creamy (poured using a sparkler-fixed swan neck), malty brew with a sound acidity and mild hop resins to boot. Surprisingly refreshing it was. Today I found it in its bottle version available at the local Lidl supermarket, and thought it's time to revisit it in a fresh light~ Coming in a 500ml brown glass bottle, BB 31/01/2014, served cool in a straight imperial pint glass.
A: pours a dark tawny to chestnut-copper hue with very good clarity and fine carbonation, topped with a slowly dissipating beige frothy head. The colour seems to suggest that it stands in b/w one's traditional Dark Mild and Pale Mild – a "Tawny" Mild??
S: the aroma is almost like a German Altbier! For, the lightly floral hoppy and lemony notes typical of a lagered German beer using Hallertau-like varieties come in abundance, lifting the body of otherwise aromatic burned malts and deliciously nutty gristy malts… So fragrant that I don't actually remember having it in this manner… Acidity from hops and yeastiness balance off the malt sweetness just nicely.
T: now it tastes like an Altbier with much less acidity on the palate… the foretaste consists of mainly light-bodied nutty malts, which are surrounded by sweetened roast-tea-ish aroma, finishing on mildly liquid-caramel, liquorice, and boiled yum-like notes (quite likely from pasteurisation). In the finish the burned malt aroma lingers pretty well, while a dry-ish touch also manifests on the rear of the palate.
M&O: overall moderately carbonated but sometimes it does taste a bit spritzy, this medium-bodied, low-gravity Mild (Dark or Pale, or Brown!) is simple, fairly drinkable and in many ways drinks a bit like a German Alt, albeit with much less complexity and lower acidity. Likeable, a bit watery to be honest, but not exactly my type of session beer as more bitterness is in order~ Nevertheless, for what it's worth, it serves to prove that there's no need to categorise beers/ales in grea…t details. This is neither one's Dark nor Pale Mild. This is a Mild in its own right as far as the brewers and drinkers are concerned!
2,332 characters
2.78
/5
rDev
-17.5%
look: 3.5 | smell: 3 | taste: 2.5 | feel: 3.5 | overall: 2.5
Clear copper colour with a small, smooth tan head. Fair head retention.
Slightly nutty and sweet malt with a slightly unpleasant metallic note.
Slightly astringent caramelised malts with some mettalic character and a hint of vegetable. Not the best.
Medium light body with moderate carbonation. Okay.
This is not a great mild by any stretch of the imagination. The malt is a bit metallic and the overall flavour profile is a bit industrial.
452 characters
Banks's Mild from Marston's PLC
3.37
out of
5
based on
11
ratings.