Riverside Brewing Company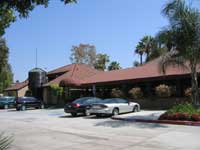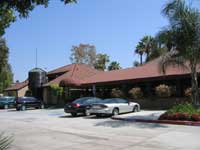 PLACE INFO
Type:
Brewery, Eatery
3397 Mission Inn Ave
Riverside
,
California
, 92501
United States
(951) 784-2739
// CLOSED //
Notes:
No notes at this time.
Added by BeerAdvocate
HISTOGRAM
View: Beers | Place Reviews
Ratings: 7 | Reviews: 7
Reviews by PuckLSHS:
3.63
/5
rDev
+6.8%
vibe: 4 | quality: 3.5 | service: 4 | selection: 3.5 | food: 3
Hit up the Riverside Brewing Co on a date one night. It was a nice place to go to because of the great outdoor areas (one with picnic tables and one with metal chairs and tables in the back). The place is also great because of the service. The servers were really cool and were on top of their game. By the time our glasses got down to the bottom, we already had another one coming to us. I tend to order the seasonal or the nut brown when I go.
I like the place on Monday nights because they have a karaoke night. Nothing like sipping a few beers and then getting up the nerve to sing once you have had enough liquid courage build-up.
Food was okay. Got one of the pizzas and a caesar salad. Not too bad, but nothing to rave about.
They offer about 4 taps of their own beer. I usually see a Hef, a lager and a Pale with a Nut Brown or another one of their seasonal selections. There is also standard fare in the back, so you aren't stuck to one of their brews.
I would hit this up again if I were in the area.
1,022 characters
More User Reviews:
3.3
/5
rDev
-2.9%
vibe: 2.5 | quality: 3 | service: 3.5 | selection: 3.5 | food: 4
2006 Review: Well, I had given up on this place, and had stopped going here. It is so close to home, and yes, it was that bad. But they recently changed the name to "RAXX BBQ and Riverside Brewing Company". I like BBQ, so my wife and I had dinner.
Atmosphere- an old "Citrus Exchange" building from the early 1900's- cool to see repurposing. The decor is decent, but the acoustics in the bar area are still terrible. LOUD! The restaurant area looks nicer (only open certain hours) and I recommend going there.
Quality: Much improved, but sad in some ways. The beer list is better (see below) and was of good quality. But the focus of this place is "restaurant and bar", not "brewery and beer".
Service- our server was quite nice, prompt and helpful. Much improved.
Selection: 4 taps of locally brewed beer: Orange Blossom Blonde, Pale Ale, Amber, Stout, and Hefe. A couple of bottled Green Flash from San Diego, and that's the craft beer choice. Lots of BMC/Heiny/Guinness types too. We had the pale and the stout, and they were actually pretty good.
Food: HUGE improvement. Southern style BBQ with both sweetness and serious tang going on. The only problem is that they were out fo catfish for my southern wife (how is that possible?).
Overall, much improved, and I am happy to want to go back, but it still isn't up to what I hope it could be. Keep going RBC!!!
2004 REVIEW: Well, they finally went and did it. As I suggested in a previous review, they finally went and spent $200,000 to spruce the place up and give it a new look and feel (not that I am saying that they took my advice- they figured it oout for themselves!). And all I've got to say is that I am mightily disappointed. The way I saw it, the new owners were trying to change the place over from a college brewpub to a Boomer estabishment- it didn't work.
Atmosphere- the new coat of paint did a bit to spruce the place up, and the new design looks ok. But the acoustics are horrible. The place wasn't busy, but it was really loud. And the money didn't go far- it didn't do much, and they didn't even spruce up the (old, dirty, worn out) bathrooms much...
Quality- Overall quality is ok, but not much to say about it (see other topics).
Service- I thought it was ok, but I've talked to 2 other people who complained about how poor the service was, even when it wasn't busy...
Selection- They were pouring 5 brewed beers when we were there: Belgian wit, German Hefeweissen, Black Lager, IPA, and Amber Ale- the last 2 are the only remaining brews from before the re-do. I wondered why they had 2 similar (but different) styles pouring at the same time when they only have 5 beers. Doesn't make sense to me. I tried all 5, and all were ok, but nothing to get excited about. The IPA was the best of the bunch, but I've had better of that too. But how do you know what beer they have? Nothing on the menu, no beer lists, no chalkboard on the wall anymore- you have to find a server and ask... you might not even know it's a brewery of it didn't have tanks behind the glass wall....
Food- A good friend of mine said it: "mediocre at best". I can't and won't argue.
Summary: I am really saddened by this place. It has the chance to really be something, to be a focal point of brews in the newly growing downtown Riverside area, and it just doesn't come through. I can only hope it gets better. At this point, I have no motivation to go back and try to find out if it does.
2003 REVIEW: I've been visiting RBC ever since it opened (has it been 10 years now?) and I have seen it from its glory days to bad times and somewhat back again. 5 years ago I would have given it a much better review. They had a standard 5 brews plus a monthly special that were always serviceable and tasty, if not overly complex. But it was the best place in the area for a long time.
My (and most everyone else's) favorite in the old days was a monthly special every April- the Orange Blossom Blond Ale- I was never into fruity beers, but this one had a very nice mix of flavors and drinkability to make it really fun to down a pitcher or three with friends.
More recently, the new owners/brewers are trying to provide a variety of beers- they list a different set of beers every time I go in. For example, a few months ago they had a Saison, a Red, and a Porter to go along with a couple of standards. But the problem is that they seem to always be out of more beers than they have on hand. Not a sign of good planning.
Right now, the facility is in need of some TLC. The building is an old historic building in Riverside (the Citrus Fruit Exchange from the early 1900's) that looked great when they originally remodelled it, but it now has a lot of wear and tear that requires a bit more than a coat of paint.
Staff are friendly and helpful; the food is standard pub fare (and in pubs, I always stay away from the salads). The wood fired pizzas and most of the appetizers are pretty good.
4,982 characters
3.5
/5
rDev
+2.9%
vibe: 4 | quality: 4 | service: 3.5 | selection: 2.5 | food: 4
Had to make a run all the way up to Fontana, checked the beerfy for any spots before I left. The Riverside Brewing Co. was right on my way.
Located on the corner right as you exit the 91 on Mission Inn Rd. Nice area.
The place was empty.The establishment was split into two dinning areas. The rooms arer very spacious. I sat at the bar and ordered the sampler platter of their house beers, they all they had that day where the pale, red, and amber ales. The samplers cam in a 4-6 oz. glass and where $1.00 each. They were all actually pretty good for a house beer. I liked the pale and amber.
The food was good, I ordered the buffalo burger it was very good.
The service was ok, my waitress seemed have a bit of an additude.
Place was nice, beer was good, and was food good. I'd stop by again if in the area.
Cheers!
836 characters
3.45
/5
rDev
+1.5%
vibe: 4 | quality: 3 | service: 3 | selection: 4 | food: 4
RBC has long been a favorite stopping point for me since it is one of only a few microbreweries around within close driving distance. Besides an occaisonal good seasonal beer (Firecracker Red rocks!) the brews are usually watered down and lack any strong characteristics. As luck would have it, a new brew master has just taken over and is now starting to introduce some good products. Myself and a friend stopped by last week and were pleasantly surprised to taste a great Amber Ale (very similar to the old amber that RBC was so famous for). They also has a Pale, Hefe, and Porter on tap. We tried a sampler of each and all were decent. We were also sad to hear that an IPA was brewed but ran out in the first week of release. What??? Must have been pretty good and hopefully we'll see another batch real soon!!!
814 characters
3.3
/5
rDev
-2.9%
vibe: 4 | quality: 2.5 | service: 4 | selection: 3 | food: 4
This is the first microbrewery and brew pub I ever visited, going back to the early 90's. Back then the beers all seemed great. But over the past 6 years this place has been troubled by turnover in ownership, and the beer has suffered dramatically. The pale ale and amber ale I used to enjoy I can no longer drink. Now occasionally they have a seasonal beer (they call it their "119" brew), such as an orange blossom ale. These can be tasty, so I do check in with them from time to time. But the glory days are gone unless another new owner (and they do have another new one) can turn this place around.
603 characters

2.88
/5
rDev
-15.3%
vibe: 3 | quality: 3 | service: 2.5 | selection: 3 | food: 3
been here many time as it was only a few miles away from where i used to live. beer is moderate , i like the amber ale probably the best .they did have a maibock that was interesting once, they always brew something new ,119 brewmasters special it's called. service is okay when it's not busy , on friday and saturday nights it can be a little hard to get to the bartender sometimes as with any place. nice outdoor patio in front lots of greeneery for being down town. covered heated patio in the back with a large projector screen t.v. and a couple 27 inchers. the pub is seperate from the restaurant. the food at the restaurant is mediocre , how ever they do have wood fire pizza , my fave is the hot wing pizza , i think thats the name. it's a pizza with hot wings on it (without the bones) and it's served with a side of ranch dressing, pretty tastey i think.
every year during the orange blossim festival the brew up an orange blossim blond ale made from the local orange blossims. not a bad brew , it's a little heavier then your normal blond and has slight overtones of orange. if you find your self in riverside this is the only place that serves real beer, nothing ever on cask unfortunately.
1,202 characters
4
/5
rDev
+17.6%
vibe: 4 | quality: 4 | service: 4 | selection: 4 | food: 4
Well, I can honestly say that after 3 years of living out of Riverside one thing I don't miss is the beer. But, since this used to be my old stomping grounds I always find my way back here.
The service is decent. I've always been well attended. If you're in the patio sometimes the service is a bit rocky at the star during the slow timest. But once the waitiress sees you then you're good to go.
The place seems to have its character. It's got a restaurant area, a bar area (it still feels like a restaurant), an outside patio which looks like one of those patios you'd see at an Oktoberfest celebration, and another outside patio that faces southwest at an intersection of 2 busy downtown streets. I've seen many sunsets from the southwest patio (I recommend it).
The food is nothing too stellar, but it does fare better than many other brewpubs I've been to. The serving portions are generious. You can even get free popcorn while you wait for your food.
The beer is decent. I don't find it remarkable as other beers I like that come from up North. I would put RBC (locals know it as its acronym, as well) somewhere in the middle of the beer spectrum. It's not bad, but it's not stellar.
Overall, I would recommend this place to anyone living in the Inland Empire. However, I would not recommend making a special trip out to Riverside just to taste the beer. On the plus side, Riverside has an Orange Blossom Festival each spring that has a microbrew section...a great time to go check out RBC while you're in town. Recommended only to nearby residents.
1,571 characters
Riverside Brewing Company in Riverside, CA
Brewery rating:
0
out of
5
with
0
ratings