Mac's Cafe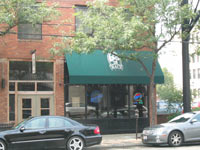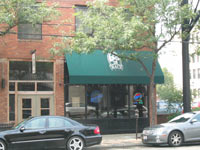 Bar, Eatery
693 N High St
Columbus
,
Ohio
, 43215-1550
United States
(614) 221-6227 |
map
macscafe.com
Notes:
Reviews: 7 | Ratings: 9

3.43
/5
rDev
-3.1%
vibe: 4 | quality: 3.5 | service: 4 | selection: 2.5 | food: 3.5
My co-workers love this place for happy hours on Fridays. We go in pretty frequently, and the only thing that has let me down is the beer selection. They have some decent stuff on tap, but the overall variety is very lacking.
I've never had a problem with the service, and the overall atmosphere of place is a relaxing, hole-in-the-wall bar that is very enjoyable for me. Not big, but enough seating to find room for a group of 10 of us.
The food is pretty good, I haven't had issues with any of it, but don't expect to be blown away. Pretty much just your standard bar food, nothing fancy.
Really the only downside to the bar is the selection. The last time I was in, the server knew what he was talking about, and it seemed like he was in-charge of procuring the beer or at least had an input. Every once and a while they'll have something impressive, but otherwise the selection isn't even average.
904 characters
3.45
/5
rDev
-2.5%
vibe: 4 | quality: 4 | service: 4 | selection: 2
This was stop numero quatro on the ole Short North tour. I actually liked this place. The beer selection was horrible, but the vibe and the overall feel of this place wasnt bad.
They had several micros on draft but for some reason, all were empty. This wasnt the first bar that was out of beer. Still, it kind of sucks. The only beer worth digesting was Guiness. That was on sale for $3 per pint so I couldnt complain.
I doubt I would come back here. Too many awesome places on the Short North to waste my time here.
519 characters
3.3
/5
rDev
-6.8%
vibe: 4 | quality: 3 | service: 4 | selection: 3 | food: 2.5
I've been to Mac's twice, so please consider that.
And it's not my preferred place to go.
Parking is tough, but that's how this area is, it's the city.
The atmosphere is good. Very woody.
The brews are not much beyond the usual fair, but acceptable, Guinness, Bass, Tetley's. The Tetley's I remember buying was around $4.50 which is unacceptable to me.
The food selection is sports bar fare, nothing exceptional. I dont eat meat, so I got a fish and chips dish, and I wasnt impressed with it, either, especially considering the cost.
Compared to the variety of dishes other venues offer in that area, Mac's was disappointing.
633 characters

4.18
/5
rDev
+18.1%
vibe: 4.5 | quality: 4 | service: 4.5 | selection: 4 | food: 4
My wife and I always favored Mac's when we lived in the Short North, and we still do. We've liked it even more since Columbus passed the smoking ban.
Service is great, just what you'd expect from a friendly neighborhood bar. Very comfortable atmosphere, with exposed brick walls and wood accents - very much like a British pub. To go along with that, they feature a number of British and Scottish beers, both on tap and in the bottle.
Food is good, too. Lots of your typical pub food - nachos, fish and chips, burgers, meat pies. Very nice selection of beers that complement the eats.
Overall, we usually take out-of-town visitors here, because it's inexpensive, cozy, and a very welcoming place.
705 characters
3.38
/5
rDev
-4.5%
vibe: 4 | quality: 3.5 | service: 4 | selection: 2.5 | food: 3
This place is very popular and the usual spot my friends want to go to when they visit my area of town. I usually go here for food, but less so since the menu is not as health oriented as some other places have become. The help is great and they treat regulars like me like family. But for beer, it is Guiness/Harp/Bass trio with a few English beers like Tetley's, Boddingtons and such to round it out. Pricing of the beers, especially the taps, has gone up and hurt their standing in the neighborhood.
502 characters

3.7
/5
rDev
+4.5%
vibe: 3.5 | quality: 4 | service: 4 | selection: 3 | food: 4
Located in the Short North, this bar is located in a stretch of like-minded drinking spots (Brian Boru's etc). Parking is pretty negligible, both in their small side lot and on the street, especially on nights where there is a concert or hockey game downtown.
Inside the atmosphere is warm and somewhat dark. Everything is wood, the floor, the tables and chairs etc. The bar is pretty big and rises above the riffraff who are eating at the tables. Lots of antique-looking brewerania adorns the walls as well.
Mac's doesn't have a huge beer selection, but they really tout their "hand-pulled" Guinness draught. It is served at cellar temperature which is definitely a plus. Guinness-lovers swear by this "Cellar" version. Beyond that it is the typical Irish/English pub beers in bottles and on draught (Bass, Boddington's, Tennent's etc.). They do have a feature beer which is a saving grace.
The service here is pretty good, even on busy nights. The wait staff aren't really too knowledgeable about the beers, but that is to be expected. The bartenders are where to go with questions.
The food here is an interesting mix of straightforward American food (burgers, chicken sandwhiches) and off-the wall Scottish fare (Steak Pie, Scotch Eggs, etc). I like their burgers.
1,280 characters
3.4
/5
rDev
-4%
vibe: 4 | quality: 3 | service: 4 | selection: 3
I like the atmosphere of this spot on North High. The exposed brick walls, wood floors, heavy bar, and open space are very comfortable. I also like the tap selections, though limited, and the Scottish feel of this place. Parking is very limited on-street, but it's worth it to stop in here to be treated nicely by the servers and publican. A bigger and better selection of brews would help, but having Tetley's, Double Diamond, and Tennents, isn't all that bad. All of their beers, except the monthly, are listed on the Website menu.
If you're not happy with this place, there's plenty else to choose from within a half block in any direction - Betty's across the street, the Burgundy Room just south, the Press Grille just north, and I'm sure there's something to the west that I haven't found. And then there's Barley's a couple of blocks south on High. Can't miss in this area - find a place to park and pull up a stool.
926 characters
Mac's Cafe in Columbus, OH
Place rating:
3.54
out of
5
with
9
ratings