Organic Ginger Beer
| Nelson Brewing Company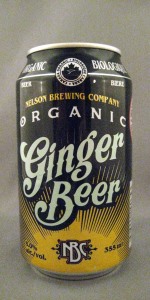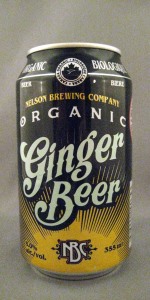 BEER INFO
Brewed by:
Nelson Brewing Company
British Columbia
,
Canada
nelsonbrewing.com
Style:
Herbed / Spiced Beer
Alcohol by volume (ABV):
5.00%
Availability:
Summer
Notes / Commercial Description:
Nelson's latest summer seasonal will surely satisfy your thirst all summer long on the beach. Upfront ginger snap that's not over powering with subtle hints of organic honey and lemongrass, the light malted bodied allows the sweet and spicy ginger notes to shine through. This new legendary ale lends itself to be consumed straight up in a icey cold pint or blend with a small amount of ice, freshly squeezed lime and a jigger or two of dark rum…sounds like the best boat drink ever?
Added by biboergosum on 05-18-2014
HISTOGRAM
Ratings: 11 | Reviews: 3
None found.
More User Reviews:
3.58
/5
rDev
-5.3%
look: 3.75 | smell: 3.75 | taste: 3.5 | feel: 3.5 | overall: 3.5
355ml can, from the six-pack it is sold as here in Alberta.
This beer pours a clear, medium golden amber hue, with two fingers of tightly foamy, and kind of caked ecru head, which leaves some random portraits of landmass lace around the glass as it quickly subsides.
It smells of sharp, somewhat spicy ginger root, bready pale malt, a bit of lemon oil, and subtly harangued earthy, leafy hops. The taste is musty gingerbread, stale (ok, 'organic') lemon, earthy yeast, and still overridden leafy, weedy hops.
The carbonation is softly rendered, just a playfully dull frothiness throughout, the body an adequate medium weight, and actually quite smooth, smoother that it has any right to be with all this natural ginger mucking about. It finishes off-dry, the sweetness of the mixed pale and caramel malt contending with the navel-gazing hipster version of the titular root, as opposed to the Caribbean 'fuck ya, mon' variety.
Not an overly impressive ginger beer, but at least there's ginger, and at least there's beer, organic certification aside. The heat just ain't here, but that's ok, my expectations as such may be a little skewed - I like my ginger straight up and in my face, whether it be beer, sushi, or my vaunted Kung Pao.
1,239 characters

3.65
/5
rDev
-3.4%
look: 4 | smell: 4 | taste: 3.5 | feel: 3.5 | overall: 3.5
I've got to admit, I'm kind of a snob about cans. Sure, they're light and convenient, but they're not reusable and I'd like to say no thanks to the BPA. That said, I've enjoyed what I've tried from Nelson, and I'd like to find a ginger beer that's better than Phillips, which is just okay. (I've yet to try Granville Island's Ginja Ninja, but, well, it's Granville Island.)
$11.50 plus deposit for six cans, widely available at BC Liquor Stores.
A: Crystal clear amber with visible carbonation.
S: I detect the ginger right away! It smells more like fresh (or pickled) ginger than gingerbread.
T: Not as spicy as I'd expected. I smell the ginger far more than I taste it. Maybe I should give Granville Island a go?
F: Creamy. Not super carbonated.
752 characters

3.6
/5
rDev
-4.8%
look: 3.75 | smell: 3.75 | taste: 3.5 | feel: 3.75 | overall: 3.5

3.72
/5
rDev
-1.6%
look: 3.25 | smell: 3.75 | taste: 3.75 | feel: 3.75 | overall: 3.75
355 ml can, as pictured, brought back a group of singles from a recent trip to BC.
This beer is a clear, medium golden color, with short pile of foam. Quickly subsides to a thin film, some little pieces of lace.
Definitely smells of ginger, a bit sharp and spicy, some pale malt, a bit of earthy hops.
Same for the taste, lots of ginger, fresh with a good tang. Good mix of spice, sweet malt, and bitterness.
The carbonation is low and smooth, the body is medium, slightly crisp finish.
An easy to drink beer.
513 characters

3.58
/5
rDev
-5.3%
look: 3.75 | smell: 3.75 | taste: 3.5 | feel: 3.5 | overall: 3.5
3.79
/5
rDev
+0.3%
look: 3.75 | smell: 4 | taste: 3.75 | feel: 3.5 | overall: 3.75
3.5
/5
rDev
-7.4%
look: 3.5 | smell: 3.5 | taste: 3.5 | feel: 3.5 | overall: 3.5
3.63
/5
rDev
-4%
look: 3.75 | smell: 3.75 | taste: 3.5 | feel: 3.5 | overall: 3.75

4.43
/5
rDev
+17.2%
look: 4.75 | smell: 4.25 | taste: 4.5 | feel: 4.25 | overall: 4.5
3.62
/5
rDev
-4.2%
look: 3.75 | smell: 3.5 | taste: 3.75 | feel: 3.5 | overall: 3.5
Organic Ginger Beer from Nelson Brewing Company
Beer rating:
3.78
out of
5
with
11
ratings