Old Brewery Pale Ale
| Nelson Brewing Company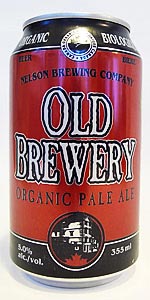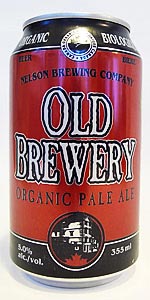 BEER INFO
Brewed by:
Nelson Brewing Company
British Columbia
,
Canada
nelsonbrewing.com
Style:
American Pale Ale (APA)
Alcohol by volume (ABV):
5.00%
Availability:
Year-round
Notes / Commercial Description:
The Nelson Brewing Company's original pale ale is Back in the Bottle!!! A Nelson tradition since 1991, this Northwest style pale ale is bold and bodacious, deep amber in hue with no shortage of fresh organic hops. A classic pale ale that is a perfect pair with spicy foods or fresh cut salsa.
Added by Cwrw on 05-04-2004
HISTOGRAM
Ratings: 11 | Reviews: 8
None found.
More User Reviews:

3.97
/5
rDev
+4.7%
look: 3.5 | smell: 4 | taste: 3.5 | feel: 4 | overall: 5
I received this from my buddy Rico (elricorico) from his trip to B.C. Thanks again.
Appearance –Pours golden with a small amount of white head which goes away fast. Not much is left on top of the beer but there is some lacing on the glass.
Smell –Strong aromas of bread malts, citrus, and floral hops make for a nice combination in this category.
Taste – A bittersweet flavor to start. I can feel the hops off the go. There is more sweetness to follow hints of bread. Not bad.
Mouthfeel – Good body on this one and the carbonation is kept right where it should be.
Drinkability – Easy to drink brew. My glass emptied in no time. This one would be very nice for a summertime patio session.
712 characters
4.04
/5
rDev
+6.6%
look: 3.5 | smell: 4.5 | taste: 4 | feel: 3.5 | overall: 4
Yesterday I picked up my first Nelson beers from my hometown liquor store. Unfortunately, the only ones left were past their best before date. Thought it was still worth a try though. This one was about a month and a half past the marked date.
Pours a copper colour with an offwhite head that started about a centimeter thick and faded to a thin cap. The beer itself has just a bit of a haze to it.
The smell is pretty big. Citrus and floral hops, toffee and biscuits. Worth smelling over and over.
The taste surprisingly leans more towards the sweet than the bitter. A semi-sweet toffee and breadiness dominates the mouth. There is a hint of hops in the finish, but only a light bitterness. All told, I like it a fair bit, but it may be that the hops have mellowed out as the beer has aged.
The mouthfeel is good, it has a bit of body to it. Carbonation is a little on the light side, but I don't mind much.
This bottle is surely not lasting long, as it is going down very smoothly. I certainly will pick up more of this one when I next see a fresh case.
1,070 characters

3.49
/5
rDev
-7.9%
look: 3 | smell: 4 | taste: 3.5 | feel: 2.5 | overall: 3.5
nice dark copper colour
head pours off white large bubbles, a little inconsistent, quiets down quite quickly
nice strong hoppy aroma, citrusy, cascades, but aroma vanishes with the head
hops are dominant with slight metallic bitterness at the end
thin, watery mouthfeel
i was surprised that this was so mediocre. i've had it before and enjoyed it quite a bit, strong hoppy aroma immediately got me going. i'm hoping it was a bad bottle and i can edit this review. there's still a few more in the fridge.
510 characters
3.8
/5
rDev
+0.3%
look: 3.5 | smell: 3.5 | taste: 4 | feel: 3.5 | overall: 4
Picked up a few bottles of this based on the store worker's recommendation.
Poured a translucent, rust color with brown hues throughout and a nice pillow-like head that dissipated quickly. Aromas of nuts, roasted malt, sea air, and damp earth was rather interesting; no hops at all. The taste followed the nose with a bright and brisk malt sweetness that seemed more like an English Brown Ale than an APA. Good texture and good bitterness underneath the dominant malt that was layered and evolving. A drinkable beer that can be enjoyed without much thought or effort; refreshing and flavorful.
596 characters

4.17
/5
rDev
+10%
look: 4 | smell: 4.5 | taste: 4 | feel: 3.5 | overall: 4.5
I cannot believe that Old Brewery Pale Ale has not even been LISTED by now, especially since the Nelson Brewing Company website calls this their "flagship brand." Although I have yet to try(FIND, more like) any others from this Nelson, BC brewery, I can see why they would call it flagship. This is yet another sensational, somewhat obscure BC micro beer very difficult to find in Alberta, or anywhere except, surprise, BC.
It has a pleasing, typical pale ale appearance. Light ambers and browns mix with fleeting light reds in different lights. The clear translucent beer is topped by a delightfully rich and viscous cream-coloured head. Lovely, patchwork lace, with ample longevity. The aromatic hops are delightfully English in character, and the smell reminded me instantly of two of my favourites: Fuller's London Pride and ESB. After the initial hit of the hops comes an appetising, almost slightly tart, lightly roasted malt note; a premium balance of the two. I smell wild grasses, musk, toffee, roasted bread, buttery caramel, and dark fruits. The aroma is a perfect introduction to the taste: sweet malt, caramel and smooth, very light coffee-tea notes, with a dry, oily, earthy and bitter finish. Again, balance is the distinction here. Mouthfeel is satisfactory: grainy, medium-bodied, but, to me personally, would improve with a little more fullness. The extraordinary balance would have me drinking these with contented ease all day(IF I had more than 2, that is!)
Prodigious drinkability.
I dearly hope that this, and other Nelson Brewery beers become available here, and very soon.
1,602 characters
4
/5
rDev
+5.5%
look: 4 | smell: 4 | taste: 4 | feel: 4 | overall: 4
I absolutely could not stop drinking this while I was in Nelson. All of the pubs had it, most at an unbeatable price (something like $2.50 CDN). It's possessed of a peculiar, wonderful taste that I can only describe as "Sam Smith-like." While the best beer available in eastern BC is definitely Tree HopHead, Nelson OBPA is an ideal session beer that compliments your dinner extremely well.
390 characters

4.07
/5
rDev
+7.4%
look: 3.5 | smell: 4 | taste: 4 | feel: 4 | overall: 4.5
Another improved Nelson product. Very hoppy much like Tree's offering, this is very balanced and well finished. The nose is pure hops offset with an English twist. This is really a great drinking beer that is also food friendly. Unlike GI and Ok Springs this has real hop bite.
277 characters
3.68
/5
rDev
-2.9%
look: 4 | smell: 3.5 | taste: 3.5 | feel: 4 | overall: 4
Two finger bubbly white head on a clear dark amber. The head sticks around to the end. Bubbly lacing
Smells of resiny hops and sweet malts. A nice balanced flavour. Fruity. A very mild hop finish.
Medium body and carbonation. Drinkability is good. Not crazily special but a good solid ale.
291 characters

Old Brewery Pale Ale from Nelson Brewing Company
Beer rating:
3.79
out of
5
with
11
ratings