Especial
| Melo Abreu / Fabrica de Cervejas e Refrigerantes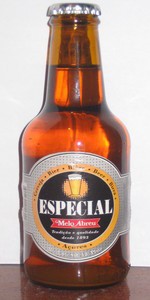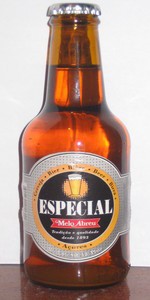 BEER INFO
Brewed by:
Melo Abreu / Fabrica de Cervejas e Refrigerantes
Portugal
Style:
American Adjunct Lager
Alcohol by volume (ABV):
5.30%
Availability:
Year-round
Notes / Commercial Description:
No notes at this time.
Added by Jason on 09-18-2003
HISTOGRAM
Ratings: 11 | Reviews: 6
Reviews by thierrynantes:

3.03
/5
rDev
-9%
look: 3.5 | smell: 3 | taste: 3 | feel: 3 | overall: 3
Beer bottle (33 cl.) tasted in 2012 (Açores).
Appearance : golden color with white foamy head.
Smell : light hoppy aromas.
Taste & mouthfeel : sweet malty flavors with a touch of bitterness.
Drinkability : an average beer in the style lager (brewed in Punta delgada Açores).
277 characters
More User Reviews:
3.38
/5
rDev
+1.5%
look: 3.5 | smell: 3 | taste: 3.5 | feel: 3.5 | overall: 3.5
Light bodied and in colour as well. The lacing is good and the clarity to. Thin on the malt but at least it is there, hops are mild but balance well. Hints of sweet pale malt and lemony hops, the hops throw a bit of spiciness into the mix in the finish. Perfect with a link of spicy chouricos in a hoogie roll, standing alone it is just an other Euro Lager making its way though my fridge. Nothing special, just good drinking.
426 characters
3.1
/5
rDev
-6.9%
look: 2.75 | smell: 2.75 | taste: 3.25 | feel: 3.25 | overall: 3.25
3.5
/5
rDev
+5.1%
look: 3.5 | smell: 3.5 | taste: 3.5 | feel: 3.5 | overall: 3.5
5
/5
rDev
+50.2%
look: 5 | smell: 5 | taste: 5 | feel: 5 | overall: 5

3.41
/5
rDev
+2.4%
look: 4 | smell: 3 | taste: 3.5 | feel: 3.5 | overall: 3.5
Had this on vacation while on San Miguel. It was pretty much Especial and Sagres that were the local choices. Served in a tulip. Poured a translucent golden yellow with a dense, creamy, bright white three-quarter inch head. Lots of tiny bubbles effervesced in solution. Nose was pretty much corn - your typical adjunct smell, but not as sweet. Taste consistent with nose, but a little cleaner finishing and less residual cloying quality than your typical American Adjunct; just a little residual cereal grain sweetness. Mouth feel is light-bodied, with a pleasant carbonation and a fairly clean finish. There weren't that many offerings on the Island. Every establishment pretty much had Sagres or Especial on-tap. However, given the climate, I found the beer light, pleasant and refreshing.
791 characters
3.25
/5
rDev
-2.4%
look: 3 | smell: 3 | taste: 3 | feel: 3.5 | overall: 4
This "Especial" Lager from Ponta Degada, Portugal pours a light golden with a smallish snow-white head.
It has an initial hoppy aroma that fades rather quickly. An herbal grassy smell takes over and remains for a short while.
The light to medium bodied biscuity malt has a candy sweetness and light herbal taste.
The hops are lightly citrusy and a bit metallic.
The 5.3 % ABV is not very noticeable. This is an easy-drinking brew!
434 characters
3.35
/5
rDev
+0.6%
look: 3 | smell: 3 | taste: 3.5 | feel: 3.5 | overall: 3.5
Appearance- golden in color.
Smell- rather "normal," hence the average score.
Taste- was pleasantly surprised with the overall taste; had portuguese beer before and this one is quite good; don't understand the "american adjunct lager" label.
Mouthfeel- this beer was rather smooth; no real "alcohol" taste or mouthfeel; misleading 5.3
Overall- a pretty good basic portuguese beer; definitely will have again.
409 characters

2.4
/5
rDev
-27.9%
look: 2.5 | smell: 2.5 | taste: 2.5 | feel: 2.5 | overall: 2
Poured into Pokal. Served cold.
Appearance: Pours a yellow golden brew with no head formation, light perceived effervescence, minimal head retention and no lacing. Well, atleast it's clear, i guess.
Smell: Faint aroma of sweet corn and grain. Not much else.
Taste: Taste is very bland with sweet corn and dirty water. Very unremarkable.
Mouthfeel: Light bodied. Low carbonation. Low Bitterness. Dirty water / sweet corn aftertaste.
Drinkability: Unremarkable and bland. There isn't much going on at any level. I try to be fair to Macro-lagers because i feel they have their place and can be of great quality. However this lager would be something i'd expect from a novice homebrewer. I will try some other Especial again just to make sure it's as bad as this one i had.
784 characters
Especial from Melo Abreu / Fabrica de Cervejas e Refrigerantes
Beer rating:
3.33
out of
5
with
11
ratings