Cold-Press Coffee Porter

Flying Dog Brewery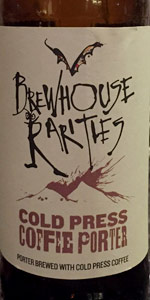 Rate It
Beer Geek Stats
| Print Shelf Talker
Style:

ABV:

6%

Score:

88

Avg:

3.96

| pDev:

6.82%

Reviews:

14

Ratings:

From:

Avail:

Retired (no longer brewed)

Wants

Gots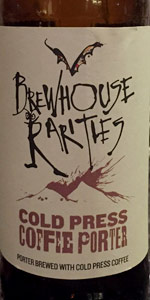 Notes:

RyanK252 from California
3.9
/5
rDev
-1.5%
look: 3.75 | smell: 3.75 | taste: 4 | feel: 3.75 | overall: 4
Bottle poured into a BarrelHouse Brewing Co pint glass
A: Pours dark brown with a frothy cocoa brown head that settles to a thin layer and leaves a little spotty lacing.
S: Roasted malt, dark chocolate, coffee, earthy, a hint of burnt toast, faint dark fruit, and toffee sweetness
T: Quality coffee, roasted malt, dark chocolate, earthy, a hint of burnt toast and smoke, dark fruit, and some caramel/toffee sweetness.
M: Medium body, moderate carbonation.
O: Grabbed a single bottle, didn't notice the date, but it's held up well. Still a very tasty porter. Gotta wonder how much beter it would have been fresher.
Feb 19, 2017

beerthulhu from New Jersey
3.86
/5
rDev
-2.5%
look: 4 | smell: 4.25 | taste: 3.75 | feel: 3.5 | overall: 3.75
-stout/porter glass.
A: Bubbly, scant hazelnut colored head is thin and quick to dissipate. The pour was inky black with a fine micro-effervesce rising along the vessel walls.
S: Aroma was very nice, fresh cold coffee with a grounded chocolate and coffee roastiness that was sweet with some walnut, roasted peanut and cocoa. Some chocolate milk, roasty chocolate and freshly grounded coffee roast makes for a nice lingering finish.
T: Fresh roasty cold coffee flavor, with rich dark chocolate. Increasing dark roasty nature builds into the drink with some sweetness of dark fruit, plums balanced with a some smooth, silty campfire minerality.
M: The body feels a bit light here, perhaps going for a more casual cold coffee like body with some oily malt.
O: Had a nice initial blast of cold coffee, was fresh and roasty, rich, with dark chocolate, but feel like it was missing something substance wise. A bit light in support malt wise, but very flavorful. I am a big fan of cold coffee, this would be a nice substitute.
Aug 13, 2016

pacino77 from Maryland
4.62
/5
rDev
+16.7%
look: 5 | smell: 4.25 | taste: 4.75 | feel: 4.5 | overall: 4.75
i've never been married before. that will change next month. in preparation, the officiant gave my fiancee and i a couple questionnaire, wherein respond to 26 prompts to make her job of talking about us at the ceremony easier, and more personal. some of the questions are cheesy, but as i sit here answering them and taking occasional sips of my cold-press coffee porter, i find myself tempted to answer some of the questions not about my fiancee but about my flying dog. for example:
when did you first fall in love? well, i can't remember exactly, but it was somewhere about at the moment when i tilted the neck of the bottle, clinked it on the side of the glass, and first spotted that beautiful nearly black brew begin to fill up my pint.
when did you decide that you wanted to be together forever? now this one i'm certain of: the first sniff wasn't enough to rope me in, but when i brought the glass to my lips tasted that cold coffee-chocolate-rye bread-malt-molasses porter, i knew this was a beer i could spend the rest of my life with.
would you like any part of the ceremony to be bilingual? i hadn't thought so, but spanish is the loving tongue, afterall, so maybe i should reconsider. te amo, mi cerveza...bésame...bésame mucho...
what are your hopes for the future? i would like to return to the beer store this weekend and procure several more bottles of this fine porter.
hats off, flying dog, for another job well done.
Apr 15, 2016

Smakawhat from Maryland
3.92
/5
rDev
-1%
look: 4 | smell: 4.5 | taste: 3.75 | feel: 3.5 | overall: 3.75
Poured from the bottle into a Flying Dog goblet glass. Enjoy by July 17th 2017.
Deep dark walnut nearly black body color, and barely a half finger of cocoa to tan colored head. Dissolves to a pretty good sized collar and a thin topped puck. Nice looking and straight forward.
What a great simple coffee aroma on this. Excellent roasted and ripping bean, and accenting charing roast to go with it. To make things even more fun, hints of peanut butter sweetness that come along for the coffee and roast ride, leaving bitter chocolate in its wake. Very nicely done.
Palate washes a bit wet even at first for a simple basic porter. Rich coffee aromas though however in flavor but goes for more of a better than average dripped flavor in the end. An interesting peppery aftertaste almost chili sensing which makes for a bit of fun. Fleeting mid palate though of roast and coffee qualities.
Not a bad straightforward simple coffee porter. Kind of keeps it simple, but lacks some flavor impressions.
Apr 06, 2016

barczar from Kentucky
3.92
/5
rDev
-1%
look: 4 | smell: 3.75 | taste: 4 | feel: 3.75 | overall: 4
Aroma is very coffee forward, with notes of dark chocolate, roast malt, and acidic notes adding complexity.
Flavor is very roasty, coffee laden, lightly acidic, with a lightly sweet chocolate finish that was fairly unexpected, but decidedly pleasant.
Apr 01, 2016

Zorro from California
3.83
/5
rDev
-3.3%
look: 4 | smell: 3.5 | taste: 4 | feel: 3.5 | overall: 4
Black colored beer with a small brown colored head.
Smells strongly of coffee as you would hope and expect. Scents of wine and a slight sour edge. Smells slightly sweet with some caramel in the scent. Smells slightly woody.
Starts out mildly sweet with a strong coffee taste. Taste of lightly roasted coffee lots of wine notes in this. Smoky taste and some mineral water flavors. Very lightly bitter. This is coffee pretty much sums this one up.
Mouthfeel is good.
Overall tasty coffee beer and very smooth.
Mar 20, 2016
justintcoons from Pennsylvania
3.7
/5
rDev
-6.6%
look: 4.5 | smell: 3.75 | taste: 3.5 | feel: 3.75 | overall: 3.75
12 oz bottle poured into a shaker pint.
Appearance
Black with 1+ fingers of creamy deep brown head. No light penetration.
Nose
Medium roast coffee and cream, black licorice, caramel, and milk chocolate.
Taste
Smooth medium roast coffee, extra cream and sugar. Caramel, roasted barley, and black licorice. Touches of milk chocolate and earth.
Mouthfeel
Medium bodied, smooth, sticky, and sweet with light carbonation.
Overall
Super smooth and well blended coffee flavors. Hardly any bitterness.
Mar 04, 2016
JMS1512 from New Jersey
4.15
/5
rDev
+4.8%
look: 3.5 | smell: 4 | taste: 4.25 | feel: 4.25 | overall: 4.25
On the docket: 12 oz. Flying Dog Brewing Co.'s Cold Pressed Coffee Porter, drink by: 7/7/16
Poured into: 6 oz. wine glass
Aroma: Baker's chocolate melds with the roasted coffee to form an intoxicating partnership. I'd be hard-pressed not to smell this for hours. One might also detect the faintest whisper of pine fro, the hops. It's coffee pretty much all the way down.
Sight: Bodacious black body with subtle garnet highlights. The head builds to a mocha colored cap, sticks around momentarily, the collapses to a tight ring and a large sub-continent of bubbles in the center of the glass. Carbonation activity not determined due to opacity of the body. Lacing is thin and leggy, ALMOST resembling FD's batty logo.
Taste: Dark roasted malt and the cold-pressed coffee dominate the flavor, providing boldness, richness, and a bit of bitterness. The hops come in on the end and bolster the bitter, roasted malt. One can also detect a bit of chocolate, but dark and bittersweet, not creamy.
Feel: About what one expects from a porter, light to medium-light weight, fine carbonation, and a bit of astringency from the coffee and the treatment of the malt. A touch oily. but not like a Double IPA or American Barleywine-just a slight film. The finish falls off relatively soon after this coffee-drinker's beer reaches your throat.
Overall: A pleasant, cocktail-style beer (enjoyable on its own) that sings one note, but sings it well and on pitch. For those that enjoy iced-coffee (like myself), this is a nice melding of two of our favorite things- coffee and beer.
A: 4.0 S: 3.5 T: 4.25 F: 4.25 O: 4.25
Food pairing: Nutty or creamy cheese, low-and-slow barbecue ribs/pork, flour-less chocolate cake, tiramisu, vanilla ice cream, or, on its own
Mar 01, 2016

2dogbrew from Virginia
4.04
/5
rDev
+2%
look: 4 | smell: 4.25 | taste: 4 | feel: 3.75 | overall: 4
Purchased a single at local bottle shop. Pours a dark brown/black with a tan head. Great coffee aroma on this. Taste largely follows, with the coffee dominating as expected. Overall well done for a porter, but more like some beer in my coffee than a coffee beer.
Feb 26, 2016

Dirtyhands from Maryland
4.16
/5
rDev
+5.1%
look: 4 | smell: 4.25 | taste: 4.25 | feel: 4 | overall: 4
I am pleasantly surprised by the strong coffee aroma and flavor. Finishes slightly dry with a great malt and coffee expression. Residual caramel flavor is delicious. This shines.
Feb 26, 2016
Jeffwise from Pennsylvania
3.9
/5
rDev
-1.5%
look: 3.75 | smell: 4.25 | taste: 3.75 | feel: 3.5 | overall: 4
Aroma rules... Pure fresh coffee. After that... You have an extremely thin coffee porter. Not as much coffee as I was hoping for and sorta just let down overall on this brew haha. On the plus side... It's a very easy drinking coffee beer.
Feb 24, 2016

Wom847 from Maryland
4.02
/5
rDev
+1.5%
look: 3.5 | smell: 4.5 | taste: 4 | feel: 2.75 | overall: 4.25
Tasted at the Flying Dog Brewery in Frederick, brought a six pack home for rating. From the bottle, poured into a DFH pint glass.
A- Pitch black with a tan head that recedes to a thin layer of foam; minimal lacing.
S- This is where the beer really shines. Loads of coffee on the nose, albeit a bit less roasty than other coffee porters; this may be due to the cold press style of coffee brewing.
T- Coffee up front, but with less of an acidic taste than with other coffee beers. Notes of caramel and chocolate in the finish. Not overly sweet; the coffee flavor is front and center here. Zero alcohol burn.
M- A bit thin. Not much carbonation.
O- From the Brewhouse Rarity series at Flying Dog. It's innovative in the sense that it's brewed with cold press coffee, rather than other methods employed in brewing this style of beer. I would very much like to see this brew make it into Flying Dog's rotation.
Feb 20, 2016

Cook82 from Maryland
4.04
/5
rDev
+2%
look: 4 | smell: 4.25 | taste: 4 | feel: 3.75 | overall: 4
Aroma is excellent on this porter intense coffee but a lil too thin bodied for me. Pretty much like drinking some iced coffee. Very decent brew good edition to their brewhouse rarity series just not as good as gonzo which is my favorite from Flying Dog.
Feb 18, 2016
MrWonka from Maryland
3.57
/5
rDev
-9.8%
look: 3.5 | smell: 4 | taste: 3.5 | feel: 3 | overall: 3.5
Just got this in today at the liquor store. Seeing as it is one of Flying Dog's Brewhouse Rarities, it was hard not to (on impulse) purchase a 6-pack. After all, curiosity consumed the cat. Holding it up to the light, this beer appears a pitch black, with no light shining through. The smell, in my opinion, is where this beer stands out. Talk about straight-up coffee bean-roast. It truly is a fabulous smell. The taste, unfortunately, is where I was a bit let down. It came off a bit bland, and I did not receive as much coffee flavor as I was expecting; especially after the amazing aroma. The feel is nice and light, with mild carbonation. I can now see why this is a 6% alc/vol. Would have at most 2 in one sitting of these. All this being said (and long story short), I would recommend this interesting brew, especially if you're into the whole "coffee-beer stout/porter" thing (which I myself am; I also enjoy tripels, witbiers, a few IPAs, and my personal favorite: pumpkin beers). Good job Flying Dog.
Feb 12, 2016
Cold-Press Coffee Porter from Flying Dog Brewery
Beer rating:
88
out of
100
with
56
ratings