Secret Stash Harvest Ale
| Flying Dog Brewery
BA SCORE
82
good
22
Reviews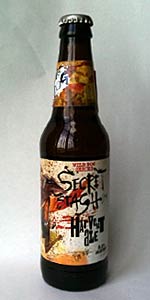 BEER INFO
Brewed by:
Flying Dog Brewery
Maryland
,
United States
flyingdogbrewery.com
Style:
Saison / Farmhouse Ale
Alcohol by volume (ABV):
5.50%
Availability:
Fall
Notes / Commercial Description:
No notes at this time.
Added by taylor714914 on 09-25-2011
Reviews: 22 | Ratings: 92

3.18
/5
rDev
-9.9%
look: 4 | smell: 3.5 | taste: 3 | feel: 3 | overall: 3
Ba Review #78
Served On: 10/14/2011
Glassware: Wheat Glass
Labeled ABV: 5.5%
Date/ Code: 0 26A12
Scored this one when I stopped into my beer store for The Fear Imperial Pumpkin I just reviewed yesterday.
Look: Crazy carbonation bubbles jetting to the top. A fluffy white 1 ½" finger head. The beer is a clear golden color – typical of the style.
Smell: Aroma has a strong funky Belgian yeast smell. Other notes I had were clean hops, light citrus and wet grass.
Taste: First on the palate were floral hops with some clove and that Belgian funk again. Middle was dry with biscuit and some fruity notes. Finish was actually rather clean given the high level of complexity going on with this beer.
Overall – it's a nice Saison. Aside for the higher complexity, it's really not too exciting. I know Flying Dog claims they used all local ingredients for this brew, so I guess that warrants a slightly higher grade.
929 characters
2.62
/5
rDev
-25.8%
look: 4 | smell: 2 | taste: 2.5 | feel: 4 | overall: 2.5
Appearance: Arrives with an amber color capped by a finger or so of foam; some strands of lacing are left behind
Smell: A most unusual, vegetal odor that reminded me of dirty laundry
Taste: The unusual aroma was reflected in the malt character, with a vegetal element joining the biscuity malt; corn was clearly discernable, though I could not detect the rest of the garden; by mid-palate and through the finish, the hops added a citrusy flavor to the profile
Mouthfeel: Medium body with moderate carbonation
Overall: I didn't particularly care for the vegetal element here, not being a fan of corn flavor in my beer; never in a million years would I thought of this as a saison as it is much more like an IPA with a malt profile that has some subtle differences
766 characters

4
/5
rDev
+13.3%
look: 4 | smell: 4 | taste: 4 | feel: 4 | overall: 4
Poured a hazy dark gold with a half finger white head that faded slowly into a thin cap with moderate lacing.
Aroma of sweet yeasty malt, spice anf hops.
Taste of yeast, bready malt, with some herbs, spice and a nice hop finish.
Mouth Feel was medium towards light body moderate carbonation, crisp with a slight bitter after taste and dry.
Overall this was a very good Saison, easy drinking an very enjoyable.
413 characters
3.44
/5
rDev
-2.5%
look: 3 | smell: 4 | taste: 3 | feel: 4 | overall: 3.5
On tap at Churchkey. This was interesting. I guess.
Clear light amber color with a quickly dissipating, under carbonated white head. Pleasant sweet and earthy nose; light wheat and spice. Flavor was sweet and hoppy to start and extremely vegatative and wheaty in the dry finish. Medium bodied with average carbonation. This was weird, but not in an unpleasant way. Seemed like more of a confused IPA than a saison, but would probably try again.
445 characters

3.5
/5
rDev
-0.8%
look: 3.5 | smell: 3.5 | taste: 3.5 | feel: 3.5 | overall: 3.5
Such a weird beer, sweet corn, potatoes, and a bunch of other crap? I try to drink as much stuff from local (Maryland) brewers hoping that something blows me away but Flying Dog consistently lets me down, here I am again. Although this wasn't the worst beer I've had from them.
Beer is light amber / yellow, clear with a nice head of small bubbles, some lacing, low carbonation.
Aroma is sweet, hoppy, pine, earth.
Beer is medium in body and vegetal on the palate, especially the last palate, the midpalate is disrupted by a bunch of piny hops, so much so for a moment i think I'm drinking an IPA. I don't think I'll have it again but it is interesting, getting warmer flying dog, keep making new beers, you'll get there.
724 characters
4
/5
rDev
+13.3%
look: 4 | smell: 4 | taste: 4 | feel: 4 | overall: 4
Poured from the bottle into a tulip glass. Wild Dog series, lets get WILD!
A huge head off the pour off of white very foamy. Body though is a super crystal clear golden orange body, with some nice rising hard to see carbonation. Head falls pretty slowly with some retention giving to clumpy character, but also leaves some occasional good lacing so I'll raise it's score.
Mild sour vinous green grape, with a little bit of almost wheat sense. Sweet smell of slight honey. Real interesting and of course mild funkiness.
Taste is a quick dissipation of funky brett, with a nice malt take over. Finish has a little bit of pine hop which mixes well with a chewy malt density. Digging that chewy wheat texture which makes the body just bold and big enough. Sweetness doesn't seem to come through from the mild hint on the nose.
Overall this is a tasty example of a saison that is real easy drinking. They did good here I am enjoying this one.
941 characters

3.82
/5
rDev
+8.2%
look: 3.5 | smell: 4 | taste: 4 | feel: 3.5 | overall: 3.5
A - pours a some what see through gold. Almost no traces of head.
S - very strong smell of wheat up front. It smells a lot like a hefeweizen.
T - tastes like a saison only way more bitter. Which isn't a bad thing. Just different for me. You can taste the hops well and I feel like some corn.
M - light bodied and heavy carbonation.
O - very different but I like that about it. It is good for fall time for sure.
417 characters

3.92
/5
rDev
+11%
look: 3.5 | smell: 4 | taste: 4 | feel: 3.5 | overall: 4
Love trying "harvest" beers and picked this one up for something new. Pours a nice golden color into the glass with a slight bit of haze present. Frothy white head is present and it lingered throughout the glass. Nice bubble action throughout as well. Smell is solid with a bit of green apple tartness and some slight saison spiciness. Hop profile is present with a grassy light hay smell being prevalent. Taste is really unique for one of these fresh harvest beers. The saison style is really working for me here as something different than the normal IPAs that you get with fresh hopped beers. Lots of good spice from the yeast with a good clean hop bite. There is a slight malty sweetness that really balances the crispness of the hops. Mouthfeel is pretty good with a semi-dry finish. Pretty good beer from Flying Dog. I can see myself picking up another sixer while this is fresh.
885 characters
4
/5
rDev
+13.3%
look: 4 | smell: 4 | taste: 4 | feel: 4 | overall: 4
Nice take on an Americanized saisonesque harvest ale. Hop profile shines nicely over the earthy underflow.
Presentation: 12 oz brown capped bottle. Compulsory Ralph Steadman illustrated label, with the image of a dog carrying a bag on his back full of harvest-brewing goods, and bags with bottled beer on each side. Notes overall intent, main characteristic, and a bottling code 026A12. Shows 5.5% Alc. by Vol. Served in a tulip glass.
A - Lightly hazy deep gold pour with a finger of frothy foam, moderate retention, fair surface memory and good lacing.
S - Nice nose, lightly citric and yeasty, hint of funk and sweet spice...
T - Palate expands with a complex range, bitter salute, complex and nice that lingers… Saison sense from that yeast actually permeates the brew with an earthy range coated by the fresh C hops, hint of spiced grass, and a sweet, honey memory close to the final flow. There is no evident sense of the red wheat, sweet corn or potatoes used in the recipe, although the overall sense of the backbone of the brew is rather well rounded and pleasing.
M - Medium-light body, generous carbonation early on with a slight fading sense, which is nicely rescued by the hint of smooth honey after the bitterness, and sealed with a semi-dry touch.
O - Nice flow, nicely accented by the hops and with that Saisonesque yeast strain… A lot of the supposed complexity is not so obvious and comes together with a general sense that works pretty well.
Notes: Nice surprise from Flying Dog, nothing for the history books but rather enjoyable… Reminds me a bit of a common angle with their Raging Bitch, which actually has grown on me, and probably would rate higher now. I would not be surprised if I felt the same with this one in the future. With this quality-price ration I´m sure going to try to grab another six-pack... On top of all else it has a nice social potential.
1,899 characters

3.8
/5
rDev
+7.6%
look: 4 | smell: 4 | taste: 4 | feel: 3 | overall: 3.5
Big off-white head over a slightly hazy light amber beer. The head sticks around for a while and leaves nice lacing as it slowly dissapates. Soft bubbles slowly make their way to the top. Smells like honey and wheat malts, very pleasantly. Some bready notes make their way up, as well as well as some floral hop notes.
Smooth feel to this one, almost to smooth and not creamy enough. Nice bitter bite from some piney hops and a touch of floral as well make their mark on the palate, with some spicy and sweet notes swirling around them. A little bready, but definitely on the hoppier side of things as they seem to take a hold of this one. Honey adds a slight note in the middle of the taste and aftertaste, but its more effective in the aroma. There is a certain complexity to the spiciness that is appealling, but the mouthfeel seems to throw the balance off. It seems undercarbonated, giving it a watery quality that fortunately doesn't translate to the taste. Not a bad beer, and I'm always glad to try a new one from a local brewery.
1,040 characters

3.25
/5
rDev
-7.9%
look: 3.5 | smell: 3.5 | taste: 3 | feel: 4 | overall: 3
Bottle pours a clear golden color. Average white head that lingers and laces the glass a little bit.
Aroma is floral, sweet, herbal. Saison/Belgian type aromas. I can't really find any one smell to pick up on.
The taste has plenty of interesting flavors coming and going. The Cascade and Chinook hops are definitely present, not overwhelming but they are present throughout. The hops also add to a slightly bitter finish. Floral and piney notes from the hops go along with the sweetness of the honey. I would also say it does remind me of Saison du Buff, although with not as much spice. There's plenty flavor to savor but it all blends together a little weird. It's like a hoppy belgian style saison. Not horrible but I don't love it. It's an interesting offering from the local brewery.
Medium light body. Soft on the palate with a slight bitter finish. Cool label though too.
878 characters
3.97
/5
rDev
+12.5%
look: 3.5 | smell: 4 | taste: 4 | feel: 4 | overall: 4
Was quite excited to try this after picking up a sixer at the wooden keg.
Great looking brew with a copper color and half finger head.
Sticky hops in to nose with some sweetness and yeast.
Great crisp taste. Almost reminded me of a saison du buff without the herbs. Great crispness with a nice bit of malt j. The middle. Semi dry finish made me come back for more. Perfect mouthfeel with the smooth and slick body and tiny carb bubbles. Overall this is another solid offering from flying dog!
499 characters
Secret Stash Harvest Ale from Flying Dog Brewery
3.53
out of
5
based on
92
ratings.