Single Hop Imperial IPA (Chinook)
| Flying Dog Brewery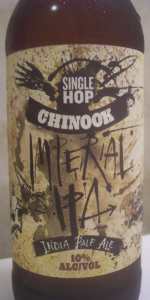 BEER INFO
Brewed by:
Flying Dog Brewery
Maryland
,
United States
flyingdogbrewery.com
Style:
American Double / Imperial IPA
Alcohol by volume (ABV):
10.00%
Availability:
Limited (brewed once)
Notes / Commercial Description:
No notes at this time.
Added by John_M on 08-04-2012
This beer is retired; no longer brewed.
Reviews: 19 | Ratings: 55
3.53
/5
rDev
-11.5%
look: 4 | smell: 3.5 | taste: 3.5 | feel: 3.5 | overall: 3.5
Cheers and thanks go out to Kegatron for gifting me with this. 12oz bottle into a standard pint glass. The brew appears with a mild haze through a light golden copper colored body. A finger of rich, creamy off-white head sits atop composed of rather large bubbles. As the cap fades, it leaves some stringy patches of lace sticking to the glass.
The aroma of this brew is mildly lemon-like with herbs and earth. A bit of catty quality is present mixing with a mild vegetative quality that is somewhat dusty at times. More smells reveal a bit of rindy pulp and zest with an increasing presence of fruity alcohol esters that blends into a bit of melon/cantaloupe.
The flavor of this brew is quite bitter with rindy fruit and pulp elements. Some bitter citrus and herbs flow into a bit of dirty melon character that is grassy and earthy. The alcohol really shows itself here with a solvent tingle and warmth down the back of the throat. Some grain makes itself known with a toasty appeal. AS the brew warms up, it has a bit of tea-like astringency and herbal flavor akin to tea when larger sips are taken.
This is a medium bodied brew with a moderate amount of carbonation. A really nice display of a single hop usage that allows for quite a bit of hop character depth to be shown. I think Flying dog did a bit of disservice here by having it be such a high octane brew, the alcohol is a leading player in this brew with just as much force as the hops. Regardless it is worth a try and I am appreciate for the chance to try it Heath!
1,532 characters
4
/5
rDev
+0.3%
look: 4 | smell: 4 | taste: 4 | feel: 4 | overall: 4
Poured into my crystal mug, the color is a clear copper gold. A nice two finger high, creamy off whit head builds and dissipates slowly. Not to much lacing.
The smell is of citrus, pineapple, and flowery hops.
Tasting this beer there is hops all over the place. More citrus, fruity flavors up front, but quickly replaced by more flowery hops in the middle. At the finish there is mor bitterness added, by some earthy bitter hops. A very faint malt presence is noticeable throughout the beer.
Very nice Imperial IPA.
515 characters

4.59
/5
rDev
+15%
look: 3.5 | smell: 4.5 | taste: 5 | feel: 4 | overall: 4.5
Poured chilled in straight-edged ale glass @buzzlitebeer's barroom
A: very clear, copper; quite bubbly; fantastic lacing
S: hops, bubblegum
T: all hops -- fresh, vibrant, piney, and resiny; medium sweetness; very complex flavor profile
This is a very interesting change from the last one I had in this series, the El Dorado, which had very little finishing hops and was more meady and bitter
393 characters

4.3
/5
rDev
+7.8%
look: 4 | smell: 4 | taste: 4.5 | feel: 4 | overall: 4.5
Served in an Olde Hickory shaped-glass.
A: Poured a solid gold color, fairly clear with ever the slightest chill haze, and about a 1/2 finger head that added a creamy element visually.
S: I got a mild, pleasant fruity aroma on this. That is unusual because usually with a brew this octane, I get a strong, uber-saturated sugary, bitter mass of liquid.
T: This is a really nice sipper. It sort of reminds me of a slightly less robust "Hopslam," but without the honey. After a few sips, the booze started to heat up, but it was of the candy-coated variety.
M: I thought with this being Chinook that this was going to be one bitter mama-jama, but this was surprisingly disciplined in its approach. Sure, it had some bitter elements, but I thought the fruit measured up to the hops quite nicely.
O: I've been impressed with some of Flying Dog's Imperial Series brews in the last year or so, and this is no exception!
917 characters

3.73
/5
rDev
-6.5%
look: 4 | smell: 3.5 | taste: 4 | feel: 3.5 | overall: 3.5
12 oz bottle into a tulip glass.
Pours a crystal clear copper, topped with a couple fingers of slight off-white head. This retains with a rich creamy dollop of froth in the middle of the glass and swirling this fires up a thick finger's worth of foam that slathers the sides of the glass with robust sudsy lacing. The aroma smells of grapefruit, pine and herbs, with is wrapped up in a fresh and flavorful feel, while malt and alcohol rise up from underneath with a warm and sweet push.
The taste is fresh juicy grapefruit bitterness and pine, which is undercut by herbal tones and balanced by a decently sized backbone of grainy sweetness. The finish is dry and resinous, with a strong pithiness that sticks to the tongue. The mouthfeel is fuller bodied, with a big oily creaminess that fills the mouth. This does lightly prickle the tongue bit, while that 10% ABV gives this a warm spiciness that hangs in the back of the throat after each sip.
Like the other entries in this Single Hop Imperial IPA series, this was decently made and certainly did a solid job of showcasing its hop varietal but also like the others, that 10% is just a little too big with the alcohol to really make this enjoyable for me. It's just interferes with the flavor and keeps the drinkability down more than I would like. It's still worth a look though. I'd interested in what the final outcome of this series will end up being.
1,422 characters

4
/5
rDev
+0.3%
look: 4 | smell: 4 | taste: 4 | feel: 4 | overall: 4
Poured into a snifter.
4.0 A: Clear medium orange color. Two fingers of creamy off-white head. Retention is decent for a beer this big and a good bit of lacing is left.
4.0 S: Hmmm. Interesting. I was expecting a ton of cat piss, but there's nearly none of that in here. I was actually kind of looking forward to it. Instead, I get a great smelling, animal-free nose. Pineapple with peach and apple fruitiness. Floral secondary. Clean with a light neutral maltiness.
4.0 T: Taste is as good as the nose. Strong pineapple with a light medley of other citrus fruits. Peach and apple again. A little bit of earthiness and spiciness and the faintest cat piss. Again, the malts are clean and offer a neutral sweetness.
4.0 M: Heavier medium body. Good moderate carbonation. Reasonably creamy and quite smooth.
4.0 D: This blew all of my expectations about what chinook can do. It's a really nice hop that I might use more of in the future.
939 characters
4.12
/5
rDev
+3.3%
look: 4 | smell: 4.5 | taste: 4 | feel: 4 | overall: 4
A: two finger head with some lacing and retention on a slightly hazy light amber and gold body.
S: as expected lots of grapefruit hops. honey, pineapple and green apple as well.
T: candy suagr, citrus but lots of resin, grass and pine bitterness, especially in the finish lingering deep into the aftertaste. decent degree of caramel malts.
M: medium body and moderate carbonation.
Overall: a little tough to drink at first. This one has a lot of flavor where as many single hopped chinock brews seem to smell better than they taste.
536 characters
3.5
/5
rDev
-12.3%
look: 3.5 | smell: 3.5 | taste: 3.5 | feel: 3.5 | overall: 3.5
333A12
A - Clear golden-yellow, 2 fingers of creamy white head, good lacing.
S - Hint of pineapple, pine-sol, bitter hops.
T - Bitter, grassy, sharp hops; lager-like maltiness; slightly mineral and metalic.
M - Medium-full bodied, moderate-high carbonation, sharp, bitter through and through.
O - Chinook is a decent bittering hop, but not great for single hopping with.
375 characters
4
/5
rDev
+0.3%
look: 4 | smell: 4 | taste: 4 | feel: 4 | overall: 4
Hmmmm.... I was under the impression (mistaken, obviously) that Flying Dog was only going to make 4 of these single hop DIPA's. This makes number 5 by my count.
The beer pours a golden amber color with good head retention and lacing. The nose is all DIPA goodness, as I get pepper, dry citrus and something of a dank earth aroma. The flavor profile replicates the nose, but there's something of a perfumy character that is impressive as well. Also, it seems like FD had dialed down the malt a bit in this one (a good thing in my book), and the alcohol seems to be better integrated into the flavor profile as well (not much heat on the finish in this one). Mouthfeel is otherwise medium bodied, with a fairly long, bitter, slightly alcoholic finish.
Not bad... probably my favorite of the series, after the simcoe.
821 characters
Single Hop Imperial IPA (Chinook) from Flying Dog Brewery
3.99
out of
5
based on
55
ratings.