Vicious Circle Amber Ale
| Fish Brewing Company / Fishbowl Brewpub
BA SCORE
83
good
11
Reviews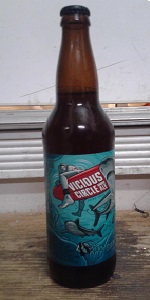 BEER INFO
Brewed by:
Fish Brewing Company / Fishbowl Brewpub
Washington
,
United States
fishbrewing.com
Style:
American Amber / Red Ale
Alcohol by volume (ABV):
5.00%
Availability:
Rotating
Notes / Commercial Description:
No notes at this time.
Added by twelveinches on 11-03-2013
Reviews: 11 | Ratings: 47

3.16
/5
rDev
-13.2%
look: 3.5 | smell: 3 | taste: 3 | feel: 3.25 | overall: 3.5
This is indeed a classic shade of amber. Decent foam in the tall Blanche de Chambly glass, and plenty of spritziness on the tongue.
Mild and beery. Modest maltiness with a bitter tinge, but not really hoppy. I'd call it a Blonde named Amber. The best feature is a warm cereal taste that reminds me of a malty Wheat Ale. No hard edges anywhere on this. LIght and frothy with caramel hints. Fortunately this is on the dry side.
This is decent enough for a quick gulp. Still, wouldn't you rather have an average Pilsner, or a light Saison, or a crisp Extra Pale ale? I don't see much future in this Amber style. From the 12 oz bottle purchased at the Fishbowl restaurant in Everett.
681 characters

3.24
/5
rDev
-11%
look: 3.5 | smell: 3.25 | taste: 3.25 | feel: 3 | overall: 3.25
This beer isn't bad, but I can't imagine I'll remember much else about it other than a "I drank this once" kind of experience. It's s nice color and smells fine, but its smooth taste is about all it has that stands out. Solid beer, not great.
242 characters
3.44
/5
rDev
-5.5%
look: 3.5 | smell: 3.25 | taste: 3.5 | feel: 3.5 | overall: 3.5
This was poured into a pint glass.
The appearance was a hazy burnt red color with a one finger white foamy head that dissipated within about a minute leaving some light lacing sticking and then sliding down.
The smell had a decent dried caramel base with a light nuttiness to it.
The taste was basically the same as the smell adding a light toffee. There was a light aftertaste of caramel and a dry finish.
The mouthfeel was slightly sharp through the carbonation and sat about a light to medium on the body. A decent rolling caramel flavoring runs over my tongue.
Overall, I say this was a pretty good Amber/Red ale.
623 characters

3.7
/5
rDev
+1.6%
look: 4 | smell: 4 | taste: 3.5 | feel: 3.5 | overall: 3.75
12 ounce bottle -> Dogfish Head snifter
A - pours up ruby red with a light tan two finger head, good retention and good lacing.
S - grains, dark fruit, earthy notes, grass
T - not overly sweet with a dry finish that has a bit of pine to it.
M - thin without much carbonation, not much of an aftertaste
O - take it or leave it, typical amber, not bad, not good.
368 characters

3.72
/5
rDev
+2.2%
look: 4.25 | smell: 3.5 | taste: 3.75 | feel: 3.75 | overall: 3.75
It tastes a little too ''coppery'' for me to rate it any higher in the taste department but it's still a beer i enjoyed. I love the color of it and it's smooth.
160 characters
3.75
/5
rDev
+3%
look: 3.25 | smell: 3.75 | taste: 3.75 | feel: 4 | overall: 3.75
Pours a hazy dark copper with a foamy khaki head that settles to wisps of film on top of the beer. Small dots of lace form around the glass on the drink down. Smell is of toasted malt, caramel, nut, and slight fruit aromas. Taste is much the same with toast, caramel, nut, fruit, and earthy hop flavors on the finish. There is a medium amount of bitterness on the palate with each sip. This beer has a good level of carbonation with a crisp and dry mouthfeel. Overall, this is a pretty good beer that is tasty and easy to drink.
Serving type: bottle.
552 characters

3.79
/5
rDev
+4.1%
look: 4 | smell: 3.75 | taste: 3.75 | feel: 4 | overall: 3.75
Another mini-horizontal, thanks to the Bottle Backlog here at Chez Woody!
The approved pic in this case does not do the label on the bottle any justice. Here, a surfer girl, tethered to her board by an ankle cord, is seated astride her surfboard with her legs hanging down as a pair of sharks and other marine life circle around her! Eeeek. The art itself is not attributed, but it is a pretty cool label.
Once again, the adventure begins with a Pop! of the cap. I followed my gentle pour with a vigorous in-glass swirl to raise a finger of foamy, fizzy, tawny head that quickly fell back to wisps. Color was Coppery-Brown (SRM = > 17, < 22) with NE-quality clarity & deep amber highlights. Nose had a pronounced caramel malt sweetness, signaling that this may be my last for the day. I am starting to jones for hops & I have a Stout on deck. Mouthfeel was medium-to-full, big for the style, but not quite creamy. The taste was more like a Twix bar with a biscuitiness to accompany the caramel that I noted on the nose. Finish was semi-sweet, which was okay for the style, but with the modern shift to more hoppy Ambers, I was left feeling kind of cold. I mean, really, the word "Vicious" in the name sets up an unrealistic expectation. Am I alone in this?
1,260 characters
3.83
/5
rDev
+5.2%
look: 4 | smell: 3.5 | taste: 4 | feel: 4 | overall: 3.75
Fish Brewing Co. "Vicious Circle Amber Ale"
12 oz. brown glass bottle, "Spawned" sometime between August and September of 2014... roughly 6 months old.
$1.99 @ Total Wine & More, Cherry Hill, NJ
It's a little odd that Fish would chose the name "Vicious Circle" and put sharks on the label because neither of those are really consistent with the beer inside. Rather than being an aggressive, maybe supper hoppy, or at least bitter amber ale, "Vicious Circle" is actually a fairly soft, gently sweet, and easily accessible ale. It's deep copper in color, and surprisingly hazy, beneath a frothy head of khaki that holds well and leaves impressive lacing in its wake. The caramel malts come through, but they're not overdone, and it's a soft, smooth ride that's only gently peppered with floral, grassy, and leafy hops. It finishes drying with some residual gold and dark caramel maltiness, a bit of yeasty fruitiness, and some leafy and lightly herbal hops. A medium body and moderate carbonation level leave it smooth and almost creamy across the palate. Well-balanced (but leaning towards the sweet side) and nicely polished it's an easily accessible amber ale.
1,162 characters

3.85
/5
rDev
+5.8%
Pours a deep amber color with lacing left behind. Little head to speak of.
Smell is malty, biscuity, not much else. Smells like an average amber.
Taste is very clean, much better than flat tire. slight bitterness, but mostly malty and light.
Mouthfeel is about average. medium carb and light feel.
Nothing to rave about, but it has its place as a local brew here in OR that can satisfy the average beer drinker, not for snobs.
430 characters

3.93
/5
rDev
+8%
look: 4 | smell: 4 | taste: 4 | feel: 3.25 | overall: 4
Pours two fingers of head on a hazy medium straw colored body.
The aroma is tropical fruit forward (mango and pineapple) with some pine and grapefruit in the background.
The taste is nicely balanced. Some pineapple sweetness, a bite of lemon bitterness in the middle and finishes on a little honey sweet note.
The texture is crisp with moderate carbonation.
It has great balance in both smell and flavor.
404 characters

4.15
/5
rDev
+14%
look: 4 | smell: 4 | taste: 4.25 | feel: 4 | overall: 4.25
Presentation: 12 oz bottle spawned in June poured into a pint glass.
Look: Beautiful deep amber color with a white one finger head that recedes rather quickly into a ring around the glass.
Smell: Clean malts with fruit esters.
Taste: A little sweet but not cloying up front followed by a solid,well balanced malt backbone. finishes with just a touch of hops.
Feel: Medium body and a tad dry.
Overall: A well balanced flavorful amber without over hopping. One of my favorites.
480 characters
Vicious Circle Amber Ale from Fish Brewing Company / Fishbowl Brewpub
3.64
out of
5
based on
47
ratings.