Over And Out Oatmeal Stout
| Fish Brewing Company / Fishbowl Brewpub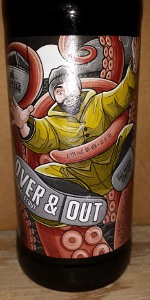 BEER INFO
Brewed by:
Fish Brewing Company / Fishbowl Brewpub
Washington
,
United States
fishbrewing.com
Style:
Oatmeal Stout
Alcohol by volume (ABV):
6.40%
Availability:
Year-round
Notes / Commercial Description:
No notes at this time.
Added by artoolemomo on 04-26-2014
Reviews: 8 | Ratings: 27
3.18
/5
rDev
-13.8%
look: 3.5 | smell: 3 | taste: 3.25 | feel: 3 | overall: 3.25
Pours a deep chocolate brown/black. Very nice, fizzy head that leaves quickly. Aroma is of coffee and some chocolate. Taste is very nice...Chewy, with great flavors of espresso and dark chocolate. Balances well, with good mouthfeel and a nice semi-bitter aftertaste...............
★
280 characters

3.57
/5
rDev
-3.3%
look: 4 | smell: 3.75 | taste: 3.5 | feel: 3.25 | overall: 3.5
Pours nearly pitch black except when held up to a light with a creamy deep beige head atop.Roast and chocolate in the nose wich is par for the course really for the style.I was hoping for much more of a creamy feel for this beer,the oats usually bring a smoother creamy feel,this is somewhat sharp and on the thinner side.Chocolate stands out most on the palate with a bit of dark fruit underneath, some earth in the finish.If the body was better this would be a really good beer,as is it's okay.
★
496 characters

3.7
/5
rDev
+0.3%
look: 4 | smell: 4 | taste: 3.5 | feel: 3.5 | overall: 3.75
A: Dark black with a somewhat small dark tan head.
S: Lovely rich chocolate aroma, followed by a hint of coffee.
T: Dark brown sugar, roasted grains, and bitter chocolate. Not quite the smoothness that I wanted, but still nice.
M: Medium in body, with a bright carbonation, a touch light in body, and lacking the smoothness I want in an oatmeal stout.
O: Overall pretty tasty. First time having anything from this brewery. It's good, but not excellent.
★
462 characters
3.73
/5
rDev
+1.1%
look: 3.75 | smell: 3.75 | taste: 3.75 | feel: 3.5 | overall: 3.75
Appearance- Pours up a good chunk of head which looks to have excellent retention. The head is a medium to dark beige while the body is an opaque, dark chocolate black. Lacing, at this point, is almost all sheeting with slight perforation.
Nose- Smooth and creamy milk chocolate that mixes with rounded notes of roasted malts from the glass. The bottle shows more bittersweet and dark chocolate notes. Some cocoa. Slight hint of cherries and other dark fruits. Nice balance and integration.
Taste- Starts off with a slight sweetness of dark fruits and cherries which quickly moves into rounded notes of slightly bittersweet chocolate and cocoa. Nice bitterness from the roasted malts on the finish. Not terribly complex but this is not a style that expresses much complexity- efficiency and balance is often more than enough for an oatmeal stout. Although the chocolate does start to express itself more deeply with more bitter and dark chocolate notes. Good balance, good integration, and good presence makes it a solid oatmeal stout in my opinion. It won't change how you think about beer but it drinks well enough and it's certainly cheap enough that that doesn't matter. Coffee and roasted malt notes start to come out more as it opens up. Slight nuttiness as well.
Mouthfeel- Medium bodied with good carbonation but a little more zing than I would like. Nice and smooth with a slight grittiness on the finish. Except for the slight zing, pretty much what you expect from an oatmeal stout.
Drinkability- Pretty easygoing and smooth- exactly what you want out of an oatmeal stout. It's also pretty cheap at around 7 or 8 bucks a six pack. I would definitely buy this again.
Overall- Solid, good beer that doesn't innovate but just keeps it simple. Worth a try. If you like solid oatmeal stouts, you'll like this beer.
★
1,830 characters

3.74
/5
rDev
+1.4%
look: 4.5 | smell: 3.5 | taste: 3.75 | feel: 3.75 | overall: 3.75
12 ounce bottle poured into tulip glass
A - obsidian black with a large frothy caramel colored head which ends up becoming a nice retention and ring and lots of foamy lacing.
S - very weak nose that is mostly chocolate
T - Caramel notes dominate up front with a molasses, milk chocolate and toffee sweetness. Mild oatmeal notes are also present. The finish is coffee and charred wood.
M - average carbonation, average thickness, bit of an aftertaste
O - okay beer, but there are better oatmeal stouts.
★
506 characters

3.79
/5
rDev
+2.7%
look: 3.75 | smell: 4 | taste: 3.75 | feel: 3.5 | overall: 3.75
Undated bottle into pint glass. Pours opaque black with a pale brown head that quickly reduces to a thin film. Nice roasted chocolate malt without much sweetness; some indication of raisins; maybe a dash of coffee; a little bit of hops in the background. Dry. Nice blend of flavors. Nothing dominates, though. Medium mouthfeel - a little thin for a stout. Not bad, but not a standout.
★
391 characters
3.8
/5
rDev
+3%
look: 3.75 | smell: 3.75 | taste: 3.75 | feel: 3.75 | overall: 4
Fish Brewing Company "Over & Out Oatmeal Stout"
12 oz. brown glass bottle, "SPAWNED ON DATE NOTCHED... MAR/APR"
The bottle 'glug-glugs' as you pour an oily brown body beneath a rising head of dark, orange-tan/brown foam. The head retention is quite good, and it leaves some very nice spotty and streaky lace about the glass as it goes.
The aroma is of dark bittersweet chocolate and dark skinned fruits, including cherry, raisin, fig and prune. Some minor black-coffee roastiness backs it.
The flavor is exactly as the aroma suggests it will be with the addition of a very firm bitterness and an edge of dark malt acidity that helps to keep it balanced. It's fruity with strawberry, sweet red raspberry, soft pear, apple, black and red cherries, raisins, figs, prunes, and something a little bit more "dark-skinned fruit" backed by a limited black-coffee roastiness. It finishes dry, and slightly astringent, lingering gently with residual fruit and some grassy, leafy, and herbal hops.
It's creamy in the mouth and velvety smooth across the palate with a moderate carbonation, or the perception of one, within a decidedly dextrinous medium-body. The only thing that really livens it, as if that were an issue - because it's not, is the pinch of acidity from the dark malts.
An enjoyable, if slightly angular, oatmeal stout.
★
1,329 characters
3.96
/5
rDev
+7.3%
look: 3.5 | smell: 3.75 | taste: 4 | feel: 4.5 | overall: 4
Picked up a single from TW Arrowhead in mid-July for $1.99. Bottled in April; received at TW on 6/24/15.
Beer poured black with a decent tan head that dissipated quickly.
Nose has hints of roastiness and chocolate.
Taste is a nice roasted chocolate that is slightly sweet but the hopping keeps things balanced nicely.
Mouthfeel is what i look for in an oatmeal stout. It is rich, full and very satisfying for a lower abv beer.
Overall a tasty satisfying stout that is worthy of a try!
★
491 characters
Over And Out Oatmeal Stout from Fish Brewing Company / Fishbowl Brewpub
3.69
out of
5
based on
27
ratings.