Gollum Precious Pils (Hobbit Series)

Fish Brewing Company / Fishbowl Brewpub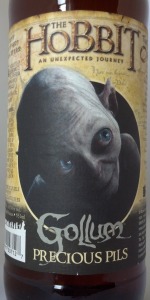 Write a Review
Beer Geek Stats:
| Print Shelf Talker
Style:

ABV:

9%

Score:

Avg:

3.57

| pDev:

12.04%

Reviews:

15

Ratings:

From:

Avail:

Rotating/Seasonal

Wants

Gots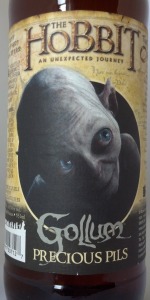 Notes: A strong Imperial Pils, with flavors as smooth and crafty as Gollum himself. Like the ring which Gollum pursued for the rest of his life, his "precious" pils, if your quest leads you to it, could extend your life too! (at least we'd like to think so) It will, at a minimum, make your journey a little more enjoyable!

Lone_Freighter from Vermont
3.75
/5
rDev
+5%
look: 3.75 | smell: 3.75 | taste: 3.75 | feel: 3.75 | overall: 3.75
This was poured into a pilsener. The appearance had a nice golden orange color with a two and a half finger white foamy head that gets a bit rocky in its look as it trailed off. Semi-thick foamy lacing roamed here and there in a nice lazy stringy way. The smell had a great deal of sweet corn malt with an ample amount of spicy and a light citrus hops. Light cracker-like breadiness runs in and out to smooth and balance nicely. The taste pretty much copies the smell but leans a bit closer to the sweet cracker side of flavoring. On the palate, this one sat about a light to medium on the body with a sweet sticky creamy running smoothness rolling over my tongue. Sessionable, mmmm...okay maybe somewhat. The ABV doesn't seem felt that much. Overall, this was a worthy Double/Imperial Pilsener that I would bang again.
Jun 28, 2017

WoodBrew from Ohio
2.18
/5
rDev
-38.9%
look: 2.5 | smell: 2 | taste: 2 | feel: 3.5 | overall: 2
I bought a bottle of this at Andersons in Reynoldsburg, OH. I don't think it made the trip from Washington very well as it was crap. The smell and taste were rancid. It poured a murky lactose yuk. Stay away from this unless you're on the west coast.
Jul 17, 2016
metter98 from New York
3.71
/5
rDev
+3.9%
look: 3.5 | smell: 3.75 | taste: 3.75 | feel: 3.5 | overall: 3.75
A: The beer is hazy yellow in color and has a light amount of visible carbonation along with some slight hues of orange color. It poured with a quarter finger high bright white head that died down, leaving thin lacing on the surface and a collar around the edge of the glass.
S: Light to moderate aromas of floral, herbal and spicy hops are present in the nose along with hints of caramel malts.
T: The taste generally follows the smell, except that the finish has flavors of spicy hops and citrus rind with a little bit of associated bitterness.
M: It feels medium-bodied and a little smooth on the palate with a moderate amount of carbonation. Notes of caramel and candied oranges become noticeable as the beer begins to warm up.
O: This beer seems to have a lot more hop aromas and flavors compared to other beers I've had in the style, except that they don't contribute much in the way of bitterness. The beer is quite complex. It also does a very good job at masking just about all of the alcohol from the taste.
Serving type: bottle
Oct 01, 2015
Greywulfken from New York
3.68
/5
rDev
+3.1%
look: 3.75 | smell: 3.75 | taste: 3.75 | feel: 3.5 | overall: 3.5
Hazy deep gold under a finger or two of head; lots of lemony sugar right up front - notes of flowers and honeyed pale malts make their way throughout. Body is medium-thick, low carbonation; Imperial pilsener is so odd a category - I guess this is a decent entry, but there is very little about this beer that makes me think of pilsener - makes me think of a DIPA more than anything - the matiness and sugars went a bit too big, but a reasonable enough drink, perhaps only for Hobbit fans to really seek out.
Aug 02, 2015

Caveworm from Ohio
4.5
/5
rDev
+26.1%
look: 4.5 | smell: 4.5 | taste: 4.5 | feel: 4.5 | overall: 4.5
Gollum Precious Pils (Hobbit Series) - Fish Brewing Company / Fishbowl Brewpub. Poured from the bottle into a pilsen glass, this beer's head is two fingers thick with web-like lacing and a deep golden transparent body.
Smells like bright and lively malts, along with other non-roasted grains. Perhaps a touch more floral type of hops.
I taste more hops in this discipline of the review, along with more of the malt complexes described above. Not TOO powerful, but this does yield a small bite at the end. At least in my own experience.
This brew's mouthfeel is clean and crisp.
Overall, I'll award Gollum Precious Pils (Hobbit Series) - Fish Brewing Company / Fishbowl Brewpub with a 4.5
Jul 06, 2015
microbrewlover from Pennsylvania
3.03
/5
rDev
-15.1%
look: 4 | smell: 2.75 | taste: 3 | feel: 3.25 | overall: 3
This brew pours a solid copper color which is mostly opaque with a two finger off white head and good lacing.
The smell is floral hop heavy. There are also grains as well as thick caramel and sweet malts in the smell. However I cannot pick out any specific hop flavors in the smell.
The taste has some orange peel with a thick malty backbone however the hops all run together and I cannot really pick out any particular hop taste. This is definitely an Imperial hop bomb but I cannot detect any distinct hop flavor. Everything just seems to run together. There is a nice, grainy feel but too much booze leaks through and makes what is a palette shredder, or close to one, just a little unpleasant.
Jul 05, 2015

scottfrie from California
3.19
/5
rDev
-10.6%
look: 4.5 | smell: 3 | taste: 3.25 | feel: 3 | overall: 3
22oz bottle into imperial pint glass. Thanks, Matt.
A: Pour s slightly cloudy dark golden with a large, dense, and greasy white head that slowly collapsed into a thick and lasting film.
S: Strong scent of bready grains and earthy, herbal hops. Slight sweetness, slight sour grain bitterness.
T: Potent and rich flavors of semi-sweet mashed grains, bread crust, honey, slight golden fruit, earthy and herbal hops, and peppery spicy yeast. Flavors a bold and a bit unbalanced and rough around the edges. Hops are oily and leaving a lingering bitterness in the finish, with a kiss of peppery honey sweetness lingering in the aftertaste.
M: Greasy, heavy, and oily mouthfeel, resinous with hop oil, with soft and thick carbonation and a full body. Alcohol is thick but not warm.
O: A bit unbalanced for me to love. Flavors were bold and not terrible, this was just a bit rough to drink.
Jun 23, 2015
pat61 from Minnesota
4.25
/5
rDev
+19%
look: 4.25 | smell: 4.25 | taste: 4.25 | feel: 4.25 | overall: 4.25
L: Pours gold with a slight haze under a 1" cream colored cap that clings to the side of the glass.
S: Big malt aromas
T: Big malt, hops and alcohol join together in the mouth and evoke malt whiskey. Everything is big but well balanced. Light caramel lurks in the background.
F: Very creamy medium full body and medium carbonation.
O: An enormous pils that works.
May 21, 2015
maputnam25 from California
4.09
/5
rDev
+14.6%
look: 3 | smell: 4 | taste: 4.25 | feel: 4.5 | overall: 4
Echoing many here when I say it was better than I expected. Has that nice notes of coriander and lemon zest, with slight astringency on the finish. More hoppy than most pilsners, which I liked, but retains the pleasant mouthfeel and warm lager flavors of a pilsner. It is... precious, to me.
Apr 07, 2015
pajeff from Pennsylvania
3
/5
rDev
-16%
look: 3 | smell: 3 | taste: 3 | feel: 3 | overall: 3
Not a pils in my mind. More like a doulbe IPA with the bitterness, heavy body and alcohol-ness. Not a crisp refreshing light beer, but a heavy, in your face wallop. Not bad, but not what I was expecting at all.
Jan 20, 2015
superspak from Michigan
3.78
/5
rDev
+5.9%
look: 4 | smell: 3.5 | taste: 4 | feel: 4 | overall: 3.5
22 ounce bottle into lager glass; no bottle dating, but is a recent release. Pours slightly hazy deep golden color with a 1-2 finger dense and rocky off white head with great retention, that reduces to a nice cap that lasts. Nice dense soapy lacing clings down the glass, with a good amount of streaming carbonation retaining the head. Aromas of grapefruit, tangerine, lemon zest, orange peel, floral, grass, light pine, cracker, bread, and floral/grassy earthiness. Nice and pleasant aromas with good complexity of bright citrus/floral hops and moderate pale malt balance; with solid strength. Taste of grapefruit, tangerine, lemon zest, orange peel, pine, floral, grass, cracker, bread, and floral/grassy earthiness. Good amount of pine/grassy bitterness on the finish; with lingering notes of grapefruit, tangerine, lemon/orange zest, pine, cracker, bread, and floral/grassy earthiness on the finish for a good bit. Very nice complexity and robustness of bright citrus/floral hops and moderate pale malt sweetness; with a great malt/bitterness balance and zero cloying flavors after the finish. Medium carbonation and body; with a smooth and fairly crisp/sticky mouthfeel that is nice. Alcohol is very well hidden with only a slight warming present after the finish. Overall this is a very good imperial pilsner style. All around good complexity and balance of bright citrus/floral hops and moderate pale malt sweetness; and very smooth and crisp to drink for the ABV. A nicely enjoyable offering.
Jan 09, 2015
UCLABrewN84 from California
3.5
/5
rDev
-2%
look: 3.5 | smell: 3.5 | taste: 3.5 | feel: 3.5 | overall: 3.5
Pours a murky dark orange with a foamy beige head that settles to a partial film on top of the beer. Foamy swaths of lace form around the glass on the drink down. Smell is of malt, grain, citrus fruit, and citrus zest aromas. Taste is much the same with citrus zest, grapefruit juice, and pine needle flavors on the finish. There is a medium amount of hop bitterness on the palate with each sip. This beer has a lower level of carbonation with a slightly crisp and medium bodied mouthfeel. Overall, this is a pretty good beer but it seems more like an Imperial IPA than a Pilsner to me.
Serving type: bottle.
Dec 19, 2014

snaotheus from Washington
3.58
/5
rDev
+0.3%
look: 3.75 | smell: 3.75 | taste: 3.5 | feel: 3.5 | overall: 3.5
22oz bottle poured into a large mug. No visible dating.
Pours slightly cloudy with a tiny head. Amber. Doesn't look much like a pilsner, but looks good. Maybe it looks like an American Double / Imperial Pilsner. Smell is lagery. Yeasty. Slightly sour. Slightly lemony.
Taste is pilsner with a nice bitter finish. I never know how to describe lager flavors. More lemon, more yeast.
Mouthfeel is thick and gritty. Overall, it's pretty good.
Oct 15, 2014
JohnGalt1 from Idaho
3.44
/5
rDev
-3.6%
look: 3.5 | smell: 3.25 | taste: 3.5 | feel: 3.5 | overall: 3.5
RB
Bottle picked up at Home Brew Stuff in GC for about $10ish... but I hear the COOP and BT will soon be having them.
Shared with DerekA and COOPMatt Saturday night... Pours a polished golden... Nice white head with good retention.
Nose shows citrus hops with a bit bigger spicy hoppiness... pale maltiness pummels the hops IMO.. could use a more aggressive hoppy aroma.
Not as bitter as one would hope for an IMPY Pils... okay hop flavor, but a nice clean malty profile is the big player here..
Good body, could use a little more bubble to cut through the malt.
3.5/3.25/3.5/3.5/3.5
Sep 23, 2014

LiquidAmber from Washington
3.74
/5
rDev
+4.8%
Poured from a bottle into a Seattle Beer Week pint glass. Pours a medium golden amber with a thin white head that dissipates to light patchy foam. Aroma of bready, mildy caramal malt and light grassy hops; does smell like a classic Saaz hopped pilsner, but milder. Flavor follows aroma closely, with bready and biscuit malt, grassy Saaz style hops ane a light fruitiness and spiciness. Finishes with moderate grassy hops and residual crackery biscuit. Medium bodied with slight creaminess. A good domestic take on a double pilsner. The flavor profile is subdued, but right on style. The lighter malt flavor does a good job of presenting the European hops, which are somewhat mellower than West Coast style hopping. The hop and malt flavors are well balanced and taste good. The alcohol is amazingly well covered, I'd guess this was half the actual ABV. Does not push the envelope, but well made a pleasure to drink. Better than expected from a movie tie-in beer.
Sep 05, 2014
Gollum Precious Pils (Hobbit Series) from Fish Brewing Company / Fishbowl Brewpub
Beer rating:
82
out of
100
with
70
ratings