Fish Tale Winterfish
| Fish Brewing Company / Fishbowl Brewpub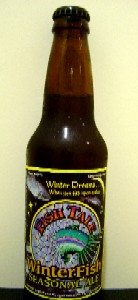 BEER INFO
Brewed by:
Fish Brewing Company / Fishbowl Brewpub
Washington
,
United States
fishbrewing.com
Style:
Winter Warmer
Alcohol by volume (ABV):
7.50%
Availability:
Winter
Notes / Commercial Description:
No notes at this time.
Added by BeerAdvocate on 05-04-2002
Reviews: 106 | Ratings: 171
3.18
/5
rDev
-16.3%
look: 4 | smell: 3.5 | taste: 3 | feel: 3 | overall: 3
Hoppy aroma has a sour citrus note that has both grapefruit and orange elements plus a woody underpinning. It pours a pretty clear amber with a thick, fine-bubbled white head that leaves some generous lacing. Flavor is hoppy and woody, a little bitter, with more than a hint of fruity sweetness and some citrus. Smooth texture has about average fizz and body. Overall, not terrific, but worthy of a try.
403 characters

3.17
/5
rDev
-16.6%
look: 3 | smell: 3.5 | taste: 3 | feel: 3.5 | overall: 3
Thanks for the tick, Bobby.
A: The pour is a slightly hazy golden orange color with a small scattering if white bubbles. Not really any head formation here.
S: The nose is candied orange peel, sweet citrus hops, and tropical fruit to start. There's a definite spiciness, seems to be ginger, along with some bread.
T: Sweet orange peel and citrus with some miscellaneous fruit notes. It's slightly bitter with a warming alcohol on the finish. A decent enough breadiness, but not really hearty.
M: The body is medium and the carbonation is low to moderate.
D: People seem to keep saying good things about this brewery, but I haven't had good luck with them thus far. This was sort of a weird, spiced, strong pale ale more than anything.
739 characters
3.15
/5
rDev
-17.1%
look: 3.5 | smell: 3.5 | taste: 3 | feel: 3 | overall: 3
12 ounce bottle. Fish Tale Winterfish pours out a hazy amber color with small head. The aroma is piney and herbal. Sweet caramel flavor balanced by piney hops. Some lemon iced tea flavor. Tropical fruit flavors too. Nice balance, but I'm not very impressed with the flavor in this beer. Mouthfeel is medium. Very low carbonation. Drinkability is ok. I didn't detect the frsh hop flavors described by other reviewers. Perhaps mine was an older bottle.
450 characters
3.1
/5
rDev
-18.4%
look: 3.5 | smell: 3.5 | taste: 3 | feel: 2.5 | overall: 3
Pour: Sunset cloudy orange, produces a thick finger of off-white, determined head, that settles slowly into patches and leaves 360 degree lace.
Nose: Sour lemon, fresh citrus, grapefruit, honey, fresh cut grass, toasted white bread. Hint of fish?
Taste: Starts hoppy. Citrusy, crisp and grassy. Then a millisecond of sweet honey malt, then a big bitter finish. The end of this beer overwhelms everything else. Quite hoppy, to the point of being a bit unpleasant and vegetably .
Mouth: Medium body, with a spritzy carbonation that comes on in the finish.
Overall: Not incredibly interesting. Not sure why this is being called a winter beer. Somewhere between a light IPA and a dry hopped pale ale.
The website says the grain bill is all Pale and Honey Malt. Hops are Chinook throughout the boil, and Chinook to dry hop. This is a dry hopped pale ale, through and through.
875 characters
2.85
/5
rDev
-25%
look: 3.5 | smell: 3.5 | taste: 2.5 | feel: 3 | overall: 2.5
This is a 6 month old sample and it's appalling. The beer has deteriorated -- the chance-y, buttery yeast flavor has breeded with the overly piney hops to create something truly grotesque. Akin to a deep fried pine-tree car freshener. The alcohol burns, badly. Atrocious. I am hoping there is something wrong with this.
Re-review 5/1 Ok this is better. It's not great but at least it's drinkable. Hops are bitter and grassy, almost like stinging nettles. The malts are a bit too smooth, lapsing into a green-apple, butterscotch yeast flavor, but on the whole the beer is not nearly as offensive. The hops are probably the highlight; the rest of the beer ho-hum. Upping the score accordingly.
696 characters
2.65
/5
rDev
-30.3%
look: 4 | smell: 4 | taste: 2 | feel: 2.5 | overall: 2
I have to say I wasn't impressed with this stuff at all. Judging by all these reviews, maybe I got a bad or infected bottle?
Beer started off well, poured a glowing orange color with a good head and a spicy-sweet and floral aroma. The taste was strange though, only lightly fruity with more bitterness than sweetness, and a thin only slightly malty body. It was definitely spiced up, but the spices seemed "off" (I don't know how else to describe it) and the dry and slightly piney finish turned the spices to ash in my mouth. Honestly I could only finish about half a glass, it seemed like it had been watered down or something. If I see one of these I'll try it again just to be sure I guess.
697 characters
Fish Tale Winterfish from Fish Brewing Company / Fishbowl Brewpub
3.8
out of
5
based on
171
ratings.