Fish Tale Winterfish
| Fish Brewing Company / Fishbowl Brewpub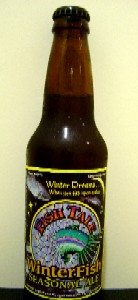 BEER INFO
Brewed by:
Fish Brewing Company / Fishbowl Brewpub
Washington
,
United States
fishbrewing.com
Style:
Winter Warmer
Alcohol by volume (ABV):
7.50%
Availability:
Winter
Notes / Commercial Description:
No notes at this time.
Added by BeerAdvocate on 05-04-2002
Reviews: 106 | Ratings: 171
4.5
/5
rDev
+18.4%
look: 4.5 | smell: 4.5 | taste: 4.5 | feel: 4.5 | overall: 4.5
Appearance – Cloudy and orange in the body with a thick, staying head that left some lacing. This one looks terrific.
Smell – The sharp piney hops jump right out of the glass. Dig a little deeper and you'll find some softer hops and a balancing malt base.
Taste – This one is something else. The malts come up a little bigger at the tongue, but it is the dept of hop flavor that makes this ale. The piney hops are there in force and seem to go on forever right through the finish.
Mouthfeel – On the heavy side of medium-bodied and very dry.
Drinkability – This has instantly become a personal fav for me. It looks and smells great, tastes exceptional, and went down beautifully.
Comments – My bros BigHuge and ZAP saved me from being the high ball here, but I just love this stuff. Too bad my wife took the rest of the bottle.
849 characters
4.52
/5
rDev
+18.9%
look: 4.5 | smell: 5 | taste: 4.5 | feel: 4.5 | overall: 4
Grapefruit on the nose....grapefruit on the buds....grapefruit everywhere and I love it....This is a tasty little beverage...pours a hazy deep orange....smells like a glass of grapefruit juice....a full mouthfeel with a very nice malt sweetness that balances this bad boy off nicely....the juicy, grapefruit hop flavors take center stage but the unsung hero is the nice malt sweetness...This is very,very good bordering on outstanding...
437 characters

4.57
/5
rDev
+20.3%
look: 4 | smell: 4.5 | taste: 4.5 | feel: 4.5 | overall: 5
Glowing orangish gold color with a slight smear to it. Thin, off-white cap. Finely placed, closely scattered, spotty sheets of lacing sticks across the glass.
Toasty with a big orange oil aroma starts from the pour. Very pungent, rich, oily, and deep with a well-rounded citrusy realm with notes to cannibus, the sister of hops, and some doughy fresh malts.
Taste is well oiled in citrusy hops, oily, flavor heavy with oranges, a flint of lime, lemon and tangerine, yet calmly bitter with rinds and resins, somewhat smokey with herbal nuances. Quite a nice taster. Nice malt backing thats lightly toasty and bready/doughy. The bitterness closing in the finish is delicate and nurtured to perfection with a nice amount of citrus rinds, oils, and smokeyness.
Smooth and oily textured feel from front to back. Quite silky for an IPA, even its bite tends to be smoothed out in oils and resins. Body is moderate in mediumness with a rich, soothing, quaffable, drenchable, lower carbonation that is utterly beyond average in drinkability. Damn good stuff. Winterfish would be one to bring to the frozen lakes while fishing through the ice if it were here in MN.
A "brake the chill" thanks to cvschaller for the many samples!
1,231 characters
4.68
/5
rDev
+23.2%
look: 4.5 | smell: 4 | taste: 5 | feel: 4.5 | overall: 5
Pours a burnt orange gold with a very sticky head that fades fairly quickly but sticks to the glass with a vengence. The aroma is filled with hop oils and the ripeness that comes from the dry hopping. The taste is sweet up front, and the hop bitterness follows with power. The flavoring hops are very nicely done and make a huge presence, but don't outstay their welcome. The pine-like bitterness that comes through is absolutely great. The roughness of the hops are so fresh and pure that it actually feels as though it is scratching your mouth (which is surprisingly awesome) but it completely smooths out in the finish. This stuff goes down incredibly smooth and I could handle this all night. They definately used some huge NW hops in this brew and it all paid off. One of the best IPAs I have had in a while.
813 characters
4.72
/5
rDev
+24.2%
look: 4.5 | smell: 5 | taste: 4.5 | feel: 4.5 | overall: 5
Pours a gently fogged orange-gold gourd color stacked with a modest cap of soiled white.
Pungent nose full of wafting reefer tendrils and dripping tropical fruit, mostly pineapple and assorted citrus rinds. To say the nose is bright is an epic understatment.
It gallops into the mouth with a workmanlike malt backing of shortbread and caramelized marshmallows, and grows slightly fuller and breadier by midway. The hops are obviously huge, but moreso in flavors than bitters....though there is a fair amount of later here too. Explosive with its pithy tropical fruits, more pineapple, mango, fried plantain, and orange- and lime rinds. Resinous gan-J tackifies the close with its piquant smoky herbalisms.
Medium in the mouth, sturdy in build, moderately low in carbonation.
This is a tremendous Holiday quaffer and likely the best "winter" IPA I've had. This makes Celebration look a lot less festive.
It should, however, be noted that it doesn't age worth a shit. Even after 4-5 months, it's notably degraded. So if it ain't absolutely fresh, throw it back.
1,070 characters
4.8
/5
rDev
+26.3%
look: 4.5 | smell: 4.5 | taste: 5 | feel: 4.5 | overall: 5
Hazy orange tinted copper color with particulates in suspension. A small head becomes a bubbly film in a few seconds. Lacing is very nice. Huge pine syrup, pungent medicinal aroma. I love it. The taste reminds me of cannabis. Its very resiny. Man I love some of these West Coast brews. What they do with hops out there is similar to what Brett Favre does with a football. Pure magic. This is a bitter beer. In a great way. I liken it to the Bastard a little bit. The oily, resiny, pungent hop contributions are just magnificent. There appears to be some decent malt backing as well. Body is about medium-full. This beer is not for the weak of heart. Gotta thank Matt Maples for recommending this one to me on the horn a few weeks ago.
756 characters
Fish Tale Winterfish from Fish Brewing Company / Fishbowl Brewpub
3.8
out of
5
based on
171
ratings.