Leavenworth Navigator Doppelbock
| Fish Brewing Company / Fishbowl Brewpub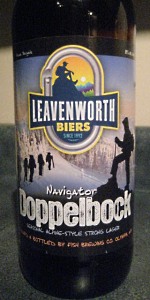 BEER INFO
Brewed by:
Fish Brewing Company / Fishbowl Brewpub
Washington
,
United States
fishbrewing.com
Style:
Doppelbock
Alcohol by volume (ABV):
8.00%
Availability:
Winter
Notes / Commercial Description:
No notes at this time.
Added by BerkeleyBeerMan on 03-27-2012
Reviews: 9 | Ratings: 21

3.35
/5
rDev
-16.5%
look: 3.5 | smell: 3.5 | taste: 3 | feel: 4 | overall: 3.5
Dark brown color with a modest head in the big chalice, but plenty of lacing along the glass. Quite spritzy on the tongue. Aroma makes me think of chrysanthemum leaves with wintergreen and taffy. This hints at a smoky taste, like some kind of Scottish Ale.
Big malty taste with some sugars, but the smoky tang and hoppy bite make this a different sort of Doppelbock. Sugary and soupy with a leafy vegetable taste. There are hints of hot dogs and hard candy. Hops are are the German-style Tradition plus Palisade, and brewed with Bock lager yeast.
This is just the strangest stuff. I keep tasting to try to figure out the flavors. Overall it's kind of murky and the bitterness gets tiresome with the sweet malt. From the 22 oz bottle purchased at the Fish Tale brewpub in Everett.
782 characters
4.18
/5
rDev
+4.2%
look: 4.75 | smell: 3.5 | taste: 4.25 | feel: 5 | overall: 4.25
A - Dark, brown with a bit of ruby red. Poured one finger of head.
S - Earthy at first, then the malt kicks in. Scent isn't all that alluring.
T - Lots of malt up front, caramel and coffee flavour kicks in after a second or two.
M - Smooth, nice, light carbonation.
O - Don't have a ton of experience with doppelbocks but this is a tasty beer.
347 characters
4.85
/5
rDev
+20.9%
look: 4.5 | smell: 4.5 | taste: 5 | feel: 5 | overall: 5
A-Dark brown colored...light tan head..
S-Very malty...bready and caramel but also a real nice dark fruit dimension that really comes to the forefront on the taste.
T-This is how I like my doppels to taste. Very rich in the malt...caramel bread....plums....black cherries...red grapes...just fantastic. One of the best tasting doppels I have had....love it..
M-Spot on...higher side of medium bodied...lighter carbonation...smooth, velvety like texture...
O-Top notch doppel I would put in my top tier....maybe the best American made version I have had. Not sure if this is new or not as it is not on their website and has limited reviews here..
649 characters
4
/5
rDev
-0.2%
look: 4 | smell: 4 | taste: 4 | feel: 4 | overall: 4
22 oz bottle purchased at The Beer Shoppe, Yakima, Wa. enjoyed Fathers Day 2012 with beer homey.
Dark brown clear body, hard to pick up any effervescence due to dark hue, 1/2 finger medium brown head, quick dissipation with minimal lacing. Malt bomb in the nose, some roast, digestive biscuits and floor malt, very little hop aromas. The malt attack comes full force on the pallet, fairly roasty, balanced a wee bit by citrus and floral hop notes. Mouthfeel is well on the full side of medium, good effervescence. Not an everyday beer, but after several days of hop bombs this was a nice palate adjustment brew.
612 characters
3.94
/5
rDev
-1.7%
look: 3 | smell: 4 | taste: 4 | feel: 4 | overall: 4
Appearance is a dark ruby brown, having a thin dissipating head, no lace. Aroma is very malty, dark fruits. Taste of sweet malt, bready with a tinge of yeast and hops following. Palate is medium with just enough carbonation to make it go down easily. Overall an enjoyable strong lager.
285 characters

3.97
/5
rDev
-1%
look: 3.5 | smell: 4 | taste: 4 | feel: 4 | overall: 4
22 oz bottle from Fred Meyer,S.Salem. $4.99 Dark amber/chestnut brown beer with a small yet persistent light tan bubbly head..good lace. Nice malty/raisin/fig aromas..fruity plus dark chocolaty..nice really Taste is similar to the aroma plus slightly bitter..very well balanced. Nice smooth palate..no flaws LIked this one..nice balanced dopplebock
348 characters
4.2
/5
rDev
+4.7%
look: 4 | smell: 4 | taste: 4.5 | feel: 4 | overall: 4
22 ounce bottle into tulip glass, no bottle dating. Pours crystal clear red copper color with a nice 2 finger dense khaki head with great retention, that reduces to a nice cap that lasts. Some nice spotty lacing on the glass. Aromas of caramel, biscuit, molasses, toasted grain, raisin, fig, floral, light smoked wood, and herbal. Very pleasant and well balanced aromas with good complexity. Taste of caramel, molasses, biscuit, toffee, raisin, fig, toasted malt, pepper, wood, light chocolate, herbal spiciness, and slight smoke. Lingering notes of caramel, toasted biscuit, molasses, raisin, fig, herbal spiciness, and earth on the finish for a good bit. Fantastic malty flavor balance and complexity; with no cloying sweetness at all. Medium carbonation and medium-full bodied; with a very nice creamy and slightly slick mouthfeel. Alcohol is extremely well hidden, with hardly any warming on the finish present. Overall this is a great doppelbock! A lot of nice complex malty flavors, and very smooth to sip on. Highly enjoyable.
1,033 characters
3.81
/5
rDev
-5%
look: 4.5 | smell: 3.5 | taste: 4 | feel: 4 | overall: 3.5
650ml bottle. A nice bridge-season offering to come across, even though winter doesn't seem to want to release its snowy grip on we northern Albertans. Sigh, to the beer it is, then. Personal note: this is the end, for now.
This beer pours a dark, clear, shiny red-brick hue, with two fingers of tight, densely foamy tan head, which leaves some bleeding arch lace around the glass as it evenly subsides. Quite purdy, if I do say so myself.
It smells of dark, raisiny fruit, a slight sugary, candied character, lightly toasted caramel malt, a bit of rum butter, and earthy, floral hops. The taste is big toffee/caramel malt, brown sugar, some mild mocha, moderate black fruit, more floral candy notes, a subtle, soft booziness, and indistinct drying hops.
The carbonation is quite sedate, no real perceptible edges here, the body actually a bit on the light side, with medium weight just out of reach, but generally quite smooth, as the big ABV has the decency to not really interfere. It finishes semi-sweet, the malt holding strong in its various guises, amongst a chalky, pithy, and earthy upstart dryness.
An enjoyable enough Doppelbock, especially for the value consideration. It does lag somewhat in the heftiness department, but that just makes it all the easier to put back. Oh, right, about that alcohol, so cleverly hidden - ya got me. Personal note: this is now the beginning - so fucking get going already!
1,421 characters
4.2
/5
rDev
+4.7%
look: 4 | smell: 4 | taste: 4.5 | feel: 4 | overall: 4
Appearance: Deep reddish brown. Medium carbonation and opaque body. Thin creamy tan head leaving light lacing.
Smell: Lightly smoked. Roasted bready malts cooked with caramel. Dark fruits, dates and apricots.
Taste: Bubblegum. Smokey and meaty. Malts are caringly roasted. The middle is strong and bitter with a noble flare. The finish is dry and based around warming flavors of cocoa and caramel. Not as sweet as well known doppelbock's. Optimator and Salvator. I like the balance in this one. It is unique in that it blends characteristics of rauch, doppelbock, german pilsner and even belgian strong dark ales.
Mouthfeel: Very tasty and well balanced strong malt forward beer. If you are looking for a break from hop nirvana take a trip to the heights of alpine maltiness. Creamy and chewy with a clean finish. The alcohol is blended but you can taste its creep as it warms the tongue. This is a good alternative to the winter warmer.
Overall: A unique surprise. I didn't know what to expect but I got a quality product for a good price. I especially like the wordplay in the name. Navigator pays tribute to both the bocks of yore and the pacific northwest outdoorsy spirit. A must try beer.
1,207 characters
Leavenworth Navigator Doppelbock from Fish Brewing Company / Fishbowl Brewpub
4.01
out of
5
based on
21
ratings.