Detroit Special Export
| Detroit Beer Co.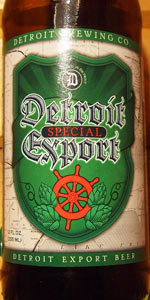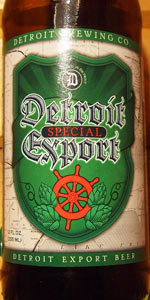 BEER INFO
Brewed by:
Detroit Beer Co.
Michigan
,
United States
detroitbeerco.com
Style:
American Pale Ale (APA)
Alcohol by volume (ABV):
not listed
Availability:
Year-round
Notes / Commercial Description:
No notes at this time.
Added by mactrail on 09-19-2011
HISTOGRAM
Ratings: 8 | Reviews: 5


3.13
/5
rDev
+2.6%
look: 4 | smell: 3.5 | taste: 3 | feel: 3.5 | overall: 2.5
Strange biscuits and gravy taste. Somewhat malty, but skewed with a creamy, toasted flavor that seems like something besides barley. However, the color is quite lovely, an amber with decent lacing and enough carbonation on the tongue. Quite hoppy, but with a candy bar taste. Bitterness melts away leaving a cereal taste like Wheat Chex. I don't think much of this at all, and the rest of the bottle is going down the sink.
The pedigree of this beer is like a corporate shell game. The label says "Brewed and bottled for Detroit Brewing Co. by Detroit Rivertown Brewing Company." And the address is the same as Atwater Block Brewery, your favorite producer of peculiar beers with big marketing ambitions.
707 characters
1.99
/5
rDev
-34.8%
look: 3.5 | smell: 2 | taste: 1.5 | feel: 3 | overall: 2
Export? Exported to where? Chicago?
Ick. I was hoping the super sweet and malty nose was not going to be indicative of the ride. Unfortunately. It is. Pretty bad. Sickly sweet with malts. Just obliterates you and in no good ways. Avoid. And if you're living in the drain of my sink, you might want to move over for a minute.
325 characters

2.46
/5
rDev
-19.3%
look: 3.5 | smell: 2.5 | taste: 2 | feel: 3.5 | overall: 2.5
I picked up a bottle of Detroit Beer Co's Detroit Special Export today for $1.59 at The Lager Mill. The last two beers from this brewery were pretty solid so I decided to give this one a try, so lets see how it goes. No visible bottling date, but I know it's fresh. Poured from a brown 12oz bottle into a imperial pint glass.
A- The label on this beer looks ok and it has a little vintage feel to it. It poured a hazy brown/ amber color with two fingers worth of fluffy white head that died down to a thin layer that stayed till the end and left some nice lacing. It's darker then most Pale Ales but it doesn't look bad.
S- The aroma about this beer is all about the malts. It starts off with tons of pale malts that impart a sweet mixture of bready and biscuit smelling malts with a little bit of graininess but the sweetness is the most apparent. At the end I get some light hop aromas with some earthy and slight spicy hops sticking out the most. The aroma is not that memorable and is way tto malt forward, where is the floral hops to go along with all the malts.
T- The flavor of this beer is pretty damn close to the aroma. It starts off with loads of malts that pretty much dominate the flavor of this beer and imparts lots of bread, biscuit, pale malts, and grainy flavors and it isn't as sweet as the aroma but it still has a medium amount of sweetness. Next comes some light hop flavors that are mainly earthy and grassy with a little bit of hoppy spiciness. The malt profile isn't too bad, but there isn't nearly enough hops to bring balance to this beer, I'm not impressed.
M- Smooth, slightly crisp, on the light side of being medium bodied and it had a medium amount of carbonation. The mouthfeel wasn't too bad and true for an American Pale Ale.
Overall I wasn't too impressed with this beer and I thought it was a slightly below average beer that wasn't true to the style and didn't have nearly enough hops to balance out all those malts. This beer had ok drinkability but it didn't have enough flavor to hold my attention so one is enough for me. What I liked most about this beer was the mouthfeel, it was very American Pale Ale like, but that was pretty much the only thing that was. What I liked least about this beer was the taste and aroma, they both had an ok malt base but it really fell apart when it came to the hops, there just wasn't enough hops and that let the malts dominate the flavor and that shouldn't happen with a American Pale Ale. I won't be buying this beer again, it isn't true to the style and didn't hold my attention. I don't recommend this beer, it just doesn't do the style justice. I was unimpressed with this beer, it didn't have enough balance and hops to be considered a good American Pale Ale, the other two beers I have had from this brewery have been solid, but this one wasn't.
2,835 characters

3
/5
rDev
-1.6%
look: 3 | smell: 3 | taste: 3 | feel: 3 | overall: 3

3.45
/5
rDev
+13.1%
look: 3.5 | smell: 3.5 | taste: 3.5 | feel: 3 | overall: 3.5
Pours from the bottle in to a tumbler, nice head, slowly drops to a dusting across the surface of the beer.
the aroma is malty with biscuits and fresh baked bread followed by a subtile hop aroma.
the flavor starts malty with a quick bitter snap, followed by a bit of citrus, lemon, then some crystal malt, mineraliness, raisins, lingering citrus tingle on my tongue.
This beer has a very full mouthfeel but is not heavy.
Overall I enjoyed this beer, it not the best APA in the world but it is good and affordable and my friend Travis brew's it.
**To the reviewer before me.
Technically this beers is a "contract brew" but it is a true craft beer. Detroit Beer Co has a brewpub in Detroit but according to Michigan state law brewpubs cannot distribute. So the Rochester Mills, DBC, and Royal Oak BC all severed there ties a few years back and Travis the brewer for the pub started brewing his brew's at other breweries so they could bottle the beer since the DBC site is small for a bottling line.
The beer has been produced in a few different places including at Michigan Brewing Co for a little while, but I think Trav wanted to brew his beers in the D.
The brewer made the recipes, brewed the beer, monitored the fermentation, and supervises the bottling. What Trav does is no different than any other brewer. The only difference is he does not own the equipment, he rents it, I know he has plans to open a site of his own. Heck he may have just down that by now? I have not seen him a year or two.
1,506 characters

3.61
/5
rDev
+18.4%
look: 4 | smell: 3 | taste: 4 | feel: 3.5 | overall: 3.5
A smallish, creamy head tops this brew, but sticks around till the end as a soft layer of foam. Bubbles of all sizes leave a modicum of lacing over the hazy caramel-colored libation. The scent of fruity hops hints at the contents.
The flavor does not disappoint, as the bready grain bill compliments the well-hopped bitterness. Caramel notes around the edge frame a defined toasted malt character. Nicely balanced overall, the carbonation is about right for a good mouth feel.
For my palate, this is another Export from Detroit that is a good value.
551 characters
Detroit Special Export from Detroit Beer Co.
Beer rating:
3.05
out of
5
with
8
ratings