Newport Storm '13
| Coastal Extreme Brewing Co.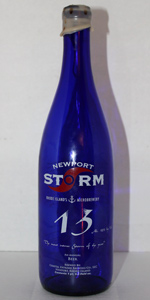 BEER INFO
Brewed by:
Coastal Extreme Brewing Co.
Rhode Island
,
United States
newportstorm.com
Style:
American Double / Imperial Stout
Alcohol by volume (ABV):
12.00%
Availability:
Limited (brewed once)
Notes / Commercial Description:
No notes at this time.
Added by TheManiacalOne on 11-21-2013
This beer is retired; no longer brewed.
Reviews: 7 | Ratings: 22
4.91
/5
rDev
+24.9%
look: 4.5 | smell: 4.75 | taste: 5 | feel: 5 | overall: 5
This beer is so good! I had it on tap 2/8/15 at the brewery In Newport I thought it tasted like breakfast stout! Tastes like coffee grinds in beer! I loved it!
159 characters
4.13
/5
rDev
+5.1%
look: 3.5 | smell: 4.25 | taste: 4.25 | feel: 4 | overall: 4
Pouring a cellar temp bottle into a snifter. The beer pours a dark cola brown with frothy tan head of about 1 cm that fades to the thinnest edge layer pretty quickly after the pour.
Aroma is very roasty with some hint of brown sugar, but then lots of coffee grounds and roast malt are dominant.
First sip reveals a fairly thick and robust body with very mild carbonation that rolls across my palate. Texture is a little sticky and and leaves a film on my lips and palate after each swallow.
Flavor is what I anticipate from the nose, roasted malt and coffee grounds. A little bit of vanilla and brown sugar but dominated by coffee notes. I dot get any booze and this one starts to sneak up on me a little towards the end of the sampling.
A heavy roasty stout that is very enjoyable and hides the booze throughout the sampling.
This is a big malty beer with no hops anywhere that I can detect. Glad to have sampled this beer and would gladly accept another or purchase one if I found it.
986 characters
4.1
/5
rDev
+4.3%
look: 3.75 | smell: 4.25 | taste: 4 | feel: 4 | overall: 4.25
Shared a bottle of this with some friends. The head on the beer was subdued, presumably due to the typically lower carbonation of these beers. At first whiff, there is tons of roasted and coffee notes. With the first sip you get a little bit of prune and then a bunch more coffee and roast. Clearly hops are not part of the focus on this beer. The finish is long and lingering and perhaps the oak aging helps soften it to avoid some of the astringency that you get with some really "roasty" beers. At 12% abv, the alcohol is completely hidden. Of course, this beer is so bold, I doubt anyone is going to be drinking so much that the 12% will sneak up on them. Great beer for those who are looking for an over the top bold flavor.
729 characters
3.95
/5
rDev
+0.5%
look: 4 | smell: 4 | taste: 4 | feel: 3.5 | overall: 4
On-tap 11/20/2013 at Doherty's Ale House, in Warwick, RI served in a snifter glass.
A: The beer is a deep black color, with a thin beige head that fades quickly and leaves a thin lace on the glass.
S: The aroma contains a very strong coffee aroma, roasted malts and some chocolate.
T: The taste starts out with a huge burst of black coffee flavor. Then a very hearty roasted malt character comes in. The hops presence is mild but complementary and brings some balance but this is definitely as hardcore as a coffee beer gets. The after-taste is slightly sweet.
M: Smooth and a little crisp, medium-to-heavy body, medium carbonation, finish is dry and slightly sticky.
O: Tasty, goes down dangerously easy, slightly filling, very strong kick, good high-gravity representation of style, this is a good high-powered coffee beer to sip on for a long time.
858 characters

3.9
/5
rDev
-0.8%
look: 4 | smell: 4 | taste: 3.75 | feel: 4 | overall: 4
On-tap at Shannon View Inn. 12 oz pour into a tulip.
A: pours a jet black with two fingers of khaki head that remains as a nice chunky brownish lace.
S: tons of coffee, alcohol, roasted malt and some chocolate. Huge beer but the coffee and malt balance the alcohol on the nose.
T: strong black coffee, chocolate and sweet malt dominate with the alcohol noticeable. Surprisingly smooth for its size but more than 12 oz would be too much.
M: full bodied and creamy with a subtle but noticeable alcohol burn. A quite enjoyable sipper.
O: extremely complex beer but well done. Worthy to drink now and I will surely get a bottle to share with friends. Would like to age some but I'm sure the coffee will fade. Seek it out if you can!
733 characters

3.46
/5
rDev
-12%
look: 3.75 | smell: 3.25 | taste: 3.5 | feel: 3.5 | overall: 3.5
From a bottle, pours a jet black color with lots of dark brown head sitting on top.
The coffee is heavy roasted malts, earthy coffee, a little brown sugar, licorice, some dark chocolate. The flavor is a tad sweeter than the nose lets on. More coffee, dark chocolate, but mostly just sweet malt dominating the flavors. This is a basic imperial stout that is just a bit too sweet for me to truly enjoy it. The finish is a bit sticky.
Not bad, but in such a competitive style, this is pretty standard and basic.
516 characters
3.24
/5
rDev
-17.6%
look: 4 | smell: 3 | taste: 3.25 | feel: 3.25 | overall: 3.25
Pours deep black with a nice thick mocha colored head - about two finger's worth. The head fades to a kakhi tan as it dissipates. Sticky streaks of lace. Decent retention. No visible carbonation
Smells intensely of coffee - not surprising since this was basically dry-hopped with coffee beans. Dark chocolate. Very roasty. Lots of wood on the nose here and the vanilla comes out nicely. There is an odd, slightly off-putting note of plasticity throughout
Taste follows the nose. Bitter roasted coffee and baker's chocolate. Big oaky notes which lend vanilla subtleties. I was told that this was aged in their Thomas Tew rum barrels, but I'm not buying that. Rum chips maybe. Boozy, nonetheless, but drinkable. Plasticity finds its way into the taste along with a very faint smokiness
Feels thin for the style. Warming. Coats the palate
Overall a decent offering but I'm looking at what's left in the bottle and wishing I had someone to share with. A bit much for one sitting, but that's my own damn fault. The flavor could use a bit of mellowing as I feel like I'm basically drinking a pot of black coffee. Would be curious to see how this ages. Not sure how much this would cost (it was a gift) but without some age I wouldn't pay more than $8 or $9 for this...although I'm sure it probably retails in the $12-$15 range. Try it out but there are better coffee stouts out there
1,381 characters
Newport Storm '13 from Coastal Extreme Brewing Co.
3.93
out of
5
based on
22
ratings.