Newport Storm - Frank (Cyclone Series)
| Coastal Extreme Brewing Co.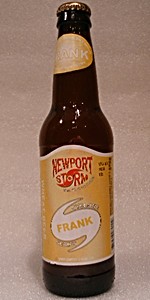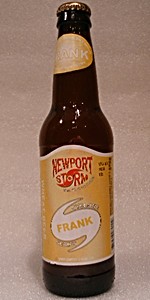 BEER INFO
Brewed by:
Coastal Extreme Brewing Co.
Rhode Island
,
United States
newportstorm.com
Style:
Witbier
Alcohol by volume (ABV):
6.80%
Availability:
Limited (brewed once)
Notes / Commercial Description:
This Cyclone was a new lesson in microbiology as it required us to 'prop up' a new Belgian Wit yeast strain for it. 'Propping up' is the process of making one small batch (4 gallons) of beer, and then taking advantage of the yeast cell's exponential growth characteristics, using the organism again in larger and larger batches. The time frame from the first tiny batch until the 2500 gallon batch was almost 1.5 months—under very close monitoring and sterile conditions. Using a high percentage of wheat malt this beer arrives full on the front of the palate. When "Frank" was boiling in our kettle we tossed in pounds and pounds of lemon peel, sweet orange peel, kaffir lime leaves, and freshly ground coriander. Further, he was unfiltered and partially bottle-conditioned. A certain treat for Belgian Wit lovers!
7 IBU
Added by TheManiacalOne on 07-09-2007
This beer is retired; no longer brewed.
HISTOGRAM
Ratings: 14 | Reviews: 10
Reviews by BiereBlanche:
3.62
/5
rDev
+3.1%
look: 3 | smell: 3.5 | taste: 3.5 | feel: 4 | overall: 4
I let this bottle sit too long, but finally opened it up.
Dark golden orange with typical wheat haze. Barely a whiff of white head before it disappears, I'm not sure how that happens to a wheat beer...
Quite a bit of oxidation at first (completely my fault for letting it sit). After that clears - sweet honey over toast. Some spicy alcohol notes. No hops. Sweet and grainy flavor, with lots of citrus, tart lime. The zest flavors come through quite strong. Notable alcohol. Light bitterness. Slightly dry finish, not as refreshing as most wits, heavier, too. But then again, I knew what I was expecting for this. Pretty tasty for a not-so-delicate wit.
655 characters
More User Reviews:
4.3
/5
rDev
+22.5%
look: 4 | smell: 4 | taste: 4.5 | feel: 4 | overall: 4.5
appearance - Nice amber color with a small head that left some lace on the glass.
smell - Sweet malt, and citrus smell.
taste - Nice sweet citrus taste to it with a little bit of hop taste to it.
Some wheat taste in there too.
mouthfeel - Nice clean crisp taste.
drinkability - Very nice easy drinking beer. Nice summer beer I would think.
348 characters
4
/5
rDev
+14%
look: 3.5 | smell: 3.5 | taste: 4 | feel: 4.5 | overall: 4.5
Poured from a 12oz. bottle into a US tumbler pint glass.
A: The beer is a light amber color with a thin white head that fades quickly and leaves a thin lace on the glass.
S: The aroma is of Belgian yeast, light malts, orange & lemon and a lot of coriander spice.
T: The taste is very fruity and spicy with flavors of coriander, lemon & orange dominating. Flavors of Belgian yeast and wheat are in the background along with a thin malt character and a very mild hops presence. The after-taste is slightly sweet.
M: Crisp and very smooth, light-to-medium body, medium carbonation, clean finish.
D: Tasty, goes down easily, not very filling, nice kick, very good representation of style, I could stick with this beer for whole evening, this is yet another good Cyclone Series beer from Newport Storm.
812 characters
3.2
/5
rDev
-8.8%
look: 3 | smell: 3 | taste: 3.5 | feel: 3 | overall: 3
12ozer bought as a single from Table & Vine, West Springfield, MA.
Poured into a Samuel Adam Boston Lager glass, formed a 1/4" off-white head that is almost gone before it started, over the clear golden amber brew. Remaining film of a head falls victim to quick-falling lace. Aroma is spices and citrus, with some underlying sweetness. Taste is very upfront, hitting quick with the spicing, mellowing with the malt sweetness, and the tart marking a token appearance amongst the lingering malty close. Mouthfeel is abrupt and somewhat harsh, and drinkability is pretty limited for me. But take with a grain of salt, never been the biggest witbier fan, I keep trying though.
674 characters
3.68
/5
rDev
+4.8%
look: 4 | smell: 3.5 | taste: 3.5 | feel: 4 | overall: 4
Poured a deep amber color with massiv white puffy head.
Smell is notable for spices, but these seem to push any lemon or orange notes too far in the background.
Taste initially has a very strong bite, which really improves greatly as the beer warms.the spices and citrus begin to blend nicely in perfect proportions.
Finishes sweet and fruity.
What started out as a dissapointing beer turned into a good one. Usually I like his style cold, but warming improved it.
464 characters

3.85
/5
rDev
+9.7%
look: 3.5 | smell: 3.5 | taste: 4 | feel: 4 | overall: 4
Thanks goes out to TheManiacalOne for this brew.
Pours a nice golden yellow color, nice carbonation, fizzy off-white head, very little sticky lacing follows. The nose is malt, slightly yeasty, very lite spicyness, some caramel. The taste is malty/yeasty, but in a totaly different way, there's some citrus going on here, flowery as well, and caramel. Medium body. Drinkable, to me this is not a Witbier at all, too much other things going on. Tasty though, recommended.
470 characters

2.85
/5
rDev
-18.8%
look: 2 | smell: 4.5 | taste: 2.5 | feel: 2.5 | overall: 2
Hazy light gold with a small white head that doesn't last or lace, but ooooh the smell is wonderful. Orange peel mixes with smooth esters and spicy phenolics and a pinch of alcohol. I get the great yeast presence that exists in some of my favorite Belgians, but would a "wheat beer" really have used my favorite Westmalle yeast? Probably not. Heavy and sweet in the mouth with not much flavor. Light honey is just about it. Pretty bland, really. I am guessing the sweetness is covering up all the potential complexity that was hinted at by the aroma.
That is the problem with one-off beers: they often-times taste like they were the first attempt at a recipe. If this one were brewed again, the aroma should be kept the same, but the attenuation needs to be increased. 9 IBUs don't get you very far when you are trying to balance a beer.
Overall interesting and enjoyable, but I am all set with one.
902 characters
3.94
/5
rDev
+12.3%
look: 3 | smell: 4 | taste: 4 | feel: 4 | overall: 4
Pours a slightly cloudy orange with a thin, quickly dissolving head. Little to no lacing.
The smell is of bold rich citrus smell, mainly orange peel I believe. You can also pickup some small malt undertones in here. I was immediately reminded of Middle Ages' Swallow Wit, which is one of my favorites.
The taste is packed citrusy orange goodness. There is a hint of fizziness that grabs the tongue, while the malt gives it a wonderful balance and helps make this one go down smooth.
There is a mild aftertaste, and a bitterness that is not too overpowering, making this a very drinkable beer and a top notch wit!
615 characters
4.38
/5
rDev
+24.8%
look: 4.5 | smell: 4 | taste: 4.5 | feel: 4.5 | overall: 4.5
A very light cooper/yellow colored beer. Has a small white head with a nice creamy lace. The aroma stars with a mouth watering one two punch of coriander and orange peel. Nice and smooth on the tongue. The taste starts with a light sweet orange/citrus note followed by the spicy coriander that is traditional with this style. Tasty and satisfying. A great american version of this style.
387 characters
3.02
/5
rDev
-14%
look: 3 | smell: 3.5 | taste: 3 | feel: 3 | overall: 2.5
Appearance: Pours a clear, honey-hued body with a very sparse ring of white bubbles on top.
Smell: Aroma of toasted spices, including clove and ginger with a backdrop of banana and lime fruitiness.
Taste: Toasty, tangy wheat maltiness ushers in tastes of bananas, cloves, ginger and lime. Light, spicy bitterness. Remains toasty for the sweet finish.
Mouthfeel: Medium-bodied. Medium-low carbonation. A bit of a chewy, tongue-coating mouthfeel.
Drinkability: I find the mouthfeel a bit heavy for me and find the lack of refreshing character to be a slight turn off.
569 characters
Newport Storm - Frank (Cyclone Series) from Coastal Extreme Brewing Co.
Beer rating:
3.51
out of
5
with
14
ratings