Newport Storm - Ryan (Cyclone Series)
| Coastal Extreme Brewing Co.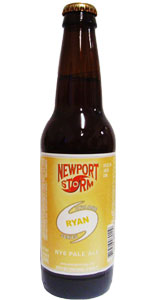 BEER INFO
Brewed by:
Coastal Extreme Brewing Co.
Rhode Island
,
United States
newportstorm.com
Style:
Rye Beer
Alcohol by volume (ABV):
8.00%
Availability:
Limited (brewed once)
Notes / Commercial Description:
Cyclone Series Ryan is an unique "Rye Pale Ale" that shares its name with one of Newport Storm's founders. The Rye Malt used is an unique brewing ingredient and lends an earthy, spicy flavor that cannot be achieved another way. Amarillo hops give this beer its American Pale Ale kick.
48 IBU
Added by mostpoetsdo on 08-26-2011
This beer is retired; no longer brewed.
Reviews: 10 | Ratings: 16
4.27
/5
rDev
+12.1%
look: 4 | smell: 4.5 | taste: 4 | feel: 4.5 | overall: 4.5
Poured from a 12oz. bottle into a US tumbler pint glass.
A: The beer is a deep reddish brown color, with a short off-white head that fades slowly and leaves a thick lace on the glass.
S: The aroma contains fruity citrus, caramelized malts and a lot of hops.
T: The taste starts out with a strong burst of floral hops bitterness and then some sweet flavors of citrus and caramel come in. The malt character is hearty but not too heavy and provides a good balance. The after-taste is slightly hoppy and slightly sweet.
M: Smooth and very crisp, medium body, medium carbonation, finish is clean.
D: Very tasty, goes down very easily, not too filling, good kick, good representation of style, this is a very nice beer worth drinking for a long time.
750 characters
4.23
/5
rDev
+11%
look: 4.5 | smell: 4 | taste: 4.5 | feel: 4 | overall: 4
May the beer be with you...
Deep orange amber with full foamy light white orange head that lasted and lasted.
Smells like fresh flowery hops and rye. Some citrus hoppiness.
Has a nice sweet malt blending with a tasty fresh flowery piney hop into a bitter finish. Always has a nice spice, i think from the rye? Really good and drinkable too. Light medium body.
Overall better than expected and something I could get again.
426 characters

4.15
/5
rDev
+8.9%
look: 4 | smell: 4 | taste: 4 | feel: 4.5 | overall: 4.5
12oz. bottle served in a tumbler. Freshest before December notched on the label. Pours a translucent burnt orange with a loose, one inch, cream-colored head embedded with craters and ringlets. Head eventually settles into a solid quarter inch cap with some swaths and spots of lacing present during the tasting. Nose expresses a subdued citrus quality as well as light floral aromas and a distinct earthy rye presence. Taste follows nose with the addition of rind as well as light malts. A pleasant bitterness comes out at the finish but really doesn't linger too much between quaffs. Mouthfeel is light-medium with a bit of acidity and a pleasant, even carbonation that culminates in a slightly crisp finish. I can't say that I've had too many Rye beers; however, I found this really quite drinkable and it's hard to believe it comes in at 8% abv. Definitely one of my favorites form the Cyclone Series. This would make a great regular addition to their summer line-up.
970 characters
4.05
/5
rDev
+6.3%
look: 4 | smell: 4 | taste: 4 | feel: 4.5 | overall: 4
Pours a dark brown into a newport storm crystal tasting glass, with a very minimal head. Smell of camarlized hops and malt.
Tastes a little nutty and light, maybe even a little biscuit. Faint hints of the rye which fades as it warms. Very drinkable beer. This is a beer that gets better as you drink it. Very smooth and no hint of alchohol.
341 characters
3.88
/5
rDev
+1.8%
look: 4.5 | smell: 4 | taste: 4 | feel: 3.5 | overall: 3.5
Pours deep clear amber with two finger head that leaves a heavy lacing. Malty dark fruit and grassy/citrus pine cone hops on the nose. Dark fruit and citrus hop flavors along with herbal bready notes. Nice medium body with a slightly sweet linger on this easy drinking ale.
273 characters

3.85
/5
rDev
+1%
look: 3.5 | smell: 3.5 | taste: 4 | feel: 4 | overall: 4
Thanks goes out to portia99 for this brew.
Pours a nice golden amber color, nice carbonation, nice little fizzy off-white head, with some nice sticky lacing left behind. The nose is mostly malty, with a slight touch of hops, and caramel. The taste is malty, slightly bitter/hoppy. Medium body, nice dry/bitter finish. This is a very tasty brew, would recommend.
362 characters

3.76
/5
rDev
-1.3%
look: 4 | smell: 3 | taste: 4 | feel: 4 | overall: 4
Best before December. Packaging includes a full paragraph about the Cyclone series, but nothing specific about this beer.
Poured into a mug this looks almost red, there is a slight haze and no head to speak of. Both aroma and taste are hoppy but not overly complex. The flavor is stronger than the smell, and the spicy rye notes are most obvious in the finish.
I would never guess 8%; this is very drinkable. There is nothing ground-breaking here but it's a very nice take on the style.
488 characters
3.6
/5
rDev
-5.5%
look: 3.5 | smell: 3.5 | taste: 3.5 | feel: 3.5 | overall: 4
A: Pours a copper-gold, springy off-white head, decent lacing.
S: Smells really fresh. grassy hop notes, loads of grain and yeast, bread.
T: A solid hop presence, going with earthy and almost floral? The malt backbone is really nice here, almost like a freshly baked bread.
M: Medium body, not much of an alcohol burn for the ABV, nicely carbonated.
O/D: This is a solid beer all the way around. Glad I got it fresh! Bigger ABV than I expected.
449 characters
3.4
/5
rDev
-10.8%
look: 3.5 | smell: 3.5 | taste: 3.5 | feel: 3.5 | overall: 3
Appearance: 1/4 inch head, high carbonation, orange-brown in color, hazy
Smell: caramel, rye, and citrus hops
Taste: caramel in the forefront, slight citrus hops mid drink, with rye providing a tingling at the end and in the aftertaste.
Mouthfeel: slightly sweet with a small bitter jump in the middle, dry aftertaste, high carbonation, medium-light bodied
Overall: Most of this beer is very average, but the end with the rye spike is enjoyable. I wish the rye was more forceful in this beer. Not a bad beer, but not one I will likely pick up again.
553 characters
3.36
/5
rDev
-11.8%
look: 4 | smell: 3 | taste: 3.5 | feel: 3 | overall: 3.5
Purchased in late December, six pack, no bottling date. There is a "best by date notched" on the right side of the label, however none of the months were notched. Poured into a pint glass, the beer is a deep golden brown, with a hint of orange. The pour resulted in a one inch head that faded after about 4 minutes, leaving relatively thick lacing. The smell is not very strong. What I do smell is Rye, hops and maybe a caramel odor. The taste is hoppy, but not very citrusy. It's more of a dry bitter taste. Based on the other reviews, I am afraid this one may be a tad past its prime. The mouth feel is nice, not overly carbonated.
This is a very tasty brew. I did enjoy it and would purchase again, however it was nothing spectacular. Just a solid beer.
758 characters
Newport Storm - Ryan (Cyclone Series) from Coastal Extreme Brewing Co.
3.81
out of
5
based on
16
ratings.