Newport Storm - Sabrina (Cyclone Series)
| Coastal Extreme Brewing Co.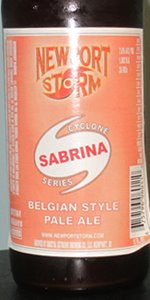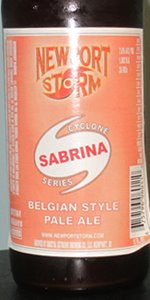 BEER INFO
Brewed by:
Coastal Extreme Brewing Co.
Rhode Island
,
United States
newportstorm.com
Style:
Belgian Pale Ale
Alcohol by volume (ABV):
7.10%
Availability:
Limited (brewed once)
Notes / Commercial Description:
A limited release "Belgian Pale Ale," Cyclone Sabrina is the delightful offspring of two brewing worlds – Belgian and American. She was brewed in October on the second birthday of her namesake, Sabrina Ryan, daughter of one of Newport Storm's founders. Cyclone Sabrina (the beer) is quite simple up front (only pale malt was used) and relatively straight-forward without complicated hopping schedules. We chose to let the authentic Belgian yeast's attributes shine—with all its yummy carried phenols, bubble gum esters, and clove smells. A Cascade citrus background ties this beer to American Pale Ales without overshadowing the yeast's dominant profile. Lastly, this is our first unfiltered brew released at the New Newport Storm Brewery and is, like 'Cyclone Sabrina Ryan' – beautifully unique.
38 IBU
Added by ShogoKawada on 12-05-2011
This beer is retired; no longer brewed.
HISTOGRAM
Ratings: 14 | Reviews: 7
Reviews by ShogoKawada:

3.68
/5
rDev
-0.3%
look: 4 | smell: 3.5 | taste: 3.5 | feel: 4 | overall: 4
12oz into duvel tulip. ~$9 for the 6er @ Nikki's in Providence.
A- Hazy orange, glows in the light but looks a bit duller in the glass. Big rising head settles out to a 1-cm floating mass. Eggshell white.
S- Lots of clove and Belgian yeast. Strong nose on this.
T- Lots of phenols from the yeast, this one is very sweet and spicy at first. Must be decently hopped though, sharp herbal bitterness in the finish. The sweetness fades into the background.
M- bitter in the finish, not really dry but the bitterness binds to the tongue. I like it; some may not.
O- I like it. Good finish to a long day of work. I think I'll have another.
651 characters
More User Reviews:
3.6
/5
rDev
-2.4%
look: 4.5 | smell: 4.5 | taste: 3.5 | feel: 2.5 | overall: 3
A - Hazy orange/light brown. Big white head that lasts a long time and laces very well.
S - Amazing smell. Extremely bready and spicy. Cinnamon, nutmeg, coriander.
T - This is bready and pleasant but its actually so overly spiced that it somewhat wears its welcome by the end of the swallow. It's still tasty.
M - Decent mouthfeel, but the sip falls apart on the swallow. One beer becomes the aftermath of a spicy storm and it gets overly light from the middle of the swallow to the end of it. What is a medium-bodied brew with a good taste, separates into a somewhat empty, almost seltzerish back-half swallow.
D - Drinkable, but I would find this to be somewhat repetitively reminding of the mediocrity of the mouthfeel. This beer shouldn't come apart like it does and it's disappointing, because if it were crafted with wholesomeness in the unitary sip then it would be a very solid offering. It's definitely interesting, though - it's actually somewhat of a statement. And it's from a brewery I haven't tried before, so I can certainly say that I am interested and intrigued by the uniqueness of this beer, for its boons and its flaws alike, and I look forward to investigating Coastal Extreme Brewing some more.
1,222 characters

2.75
/5
rDev
-25.5%
look: 2.75 | smell: 2.75 | taste: 2.75 | feel: 2.75 | overall: 2.75
Bottle to tulip, the appearance was a golden bronze color with a finger's worth of white foamy head that fell off at a decent pace. Not much lace, somewhat sliding. The aroma had some grassy sweet to vinous sweet and slightly sour semi-citrusy to dried floral components. The flavor was vinously sweet and grassy with citrusy pulpiness. Aftertaste was vinous. Finish was spritzy and vinous. The palate was almost medium bodied with a decent semi-sipping quality about it. Carbonation was somewhat heavy but not burdensome, almost. ABV felt appropriate. Overall, interesting sort of Belgian ale, wondering if wine fans would like this. Me, I can't really see myself coming back to this.
689 characters
4.15
/5
rDev
+12.5%
look: 4 | smell: 4 | taste: 4.5 | feel: 3.5 | overall: 4
As a somewhat latecomer to reviewing this ale, I'm happy to report that it held up pretty well.
Tons of fluffy white head as I poured into my tulip glass. The body is a deep burnished gold, honey-like, and more or less opaque. No lacing to speak of, possibly due to age.
The smell is heavy on the Belgian yeast, followed by orange rind, spicy clove, and subtle banana.
Startlingly spicy, start to finish. Bitterness comes in the form of clove and orange rind. Due to age, the hops are subdued, but still come through as citrus. Yeasty, and did I mention the orange rind?
Nice, medium mouthfeel, with a good prickliness to compliment the spice. The finish isn't as dry as it could have been.
I'm glad I randomly picked this up during a February trip to Boston. Not the most complex thing ever, but I enjoyed the flavors quite a bit.
836 characters
3.65
/5
rDev
-1.1%
look: 4 | smell: 4 | taste: 3.5 | feel: 3.5 | overall: 3.5
Poured from a 12oz bottle into a US tumbler pint glass.
A: The beer is a deep gold color, with a large off-white head that fades slowly and leaves a thick lace on the glass.
S: The aroma contains Belgian yeast, bananas, spices, caramelized malts and a touch of hops.
T: The taste starts out with a burst of spices up front (clove & pepper maybe?). Then some breadiness comes in from the Belgian yeast and a hearty but not too heavy malt character. The hops presence is mild but complementary and brings some balance. The after-taste is spicy and slightly sweet.
M: Crisp and a little smooth, medium body, medium carbonation, finish is slightly sticky.
O: A little tasty, goes down ok, not too filling, good kick, decent representation of style, it's a solid beer but there are better choices within the style.
816 characters

4
/5
rDev
+8.4%
look: 4 | smell: 4 | taste: 4 | feel: 4 | overall: 4
Thanks goes out to portia99 for this brew.
Pours a very nice cloudy dark orange color, very nice carbonation, very nice two plus finger creamy head, with lots of sticky lacing left behind. The nose is malty, with some yeast notes, bready, with some banannas. The taste is very nice malty/yeasty, nice bananna note, slightly spicy. Medium body, slightly chewy. I like this one, pretty tasty.
391 characters



3.87
/5
rDev
+4.9%
look: 3.5 | smell: 4 | taste: 4 | feel: 4 | overall: 3.5
Sabrina won't make the cover of Elle magazine but she's got nothing to be ashamed of (except the lack of head production, which is disappointing for a "Belgian-style ale"). Leaving it unfiltered has neither helped nor hindered the orange-amber complexion, which is clear and glossy but far from transparent.
This bottle is a bit long in the tooth, but it's not over the hill just yet. That much is apparent from the aroma, which has retained strong white peach and bubble gum esters and a clove-like musk - this yeast is a good conversation-starter. The fruity/floral touch of Cascade hops continues to be appreciated as does a warm bread quality.
Pale malts offer nothing to get excited about, but fortunately the yeast is a real character; notes of elderflower, passionfruit, green grape and apple skins are bold on the palate, with a chamomile- or lavender-like herbal element lingering on the finish. That sweet core of fruit and flowers displays some complexity, all of it thanks to the yeast.
The mouthfeel is nicely proportioned, gaining weight from a bready maltiness and shreds of candied fruit peel bitterness from the Cascades, and is considerably lengthy as well. It likely has evolved in the last year but appears to be in the twilight of its prime. Anyone hanging on to a bottle shouldn't let it go any longer (unless for collectors' purposes).
Sabrina is a pleasant beer that would be well worth brewing again. For those who still have bottles kicking around it is worth repeating that, as approachable as it still is at this stage, it doesn't have the structure for continued evolution - enjoy this beer before it's too late. I'm certainly glad I had the chance to...
1,691 characters


Newport Storm - Sabrina (Cyclone Series) from Coastal Extreme Brewing Co.
Beer rating:
3.69
out of
5
with
14
ratings