Newport Storm '12
| Coastal Extreme Brewing Co.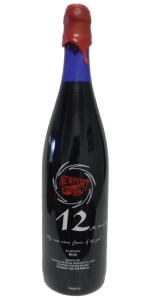 BEER INFO
Brewed by:
Coastal Extreme Brewing Co.
Rhode Island
,
United States
|
website
Style:
Chile Beer
Alcohol by volume (ABV):
11.10%
Availability:
Limited (brewed once)
Notes / Commercial Description:
Brewed as an 'ode to the Mayan gods' the Annual Release '12 will hopefully prolong the end of the world, giving us plenty of time to enjoy it all! The ingredient list speak towards native Mayan ingredients including Flaked Corn, Cocoa nibs, Blue Agave and a special blend of Habanero and Chipotle peppers that will excite the taste buds! This bottle-conditioned beer was aged for close to 10 months and released just in time for fans to grab it up before December 21....
Added by TheManiacalOne on 11-25-2012
This beer is retired; no longer brewed.
Reviews: 9 | Ratings: 28
3.35
/5
rDev
-13.9%
look: 4 | smell: 4 | taste: 3 | feel: 3.5 | overall: 3
On-tap 11/16/2012 at Doherty's East Ave Irish Pub in Pawtucket, RI, served in a tulip pint glass.
A: The beer is a deep dark brown color, with a short off-white head that fades slowly and leaves a thick lace on the glass.
S: The aroma contains spices, maple, nuts, caramelized malts and a touch of hops.
T: The taste starts out with a hearty malt character. Then a strong spicy pepper flavor comes in and completely dominates. There are background flavors of maple, caramel and chocolate. The hops presence is mild and there really isn't much of anything to balance out the heat from the hot pepper.
M: Smooth and a little crisp, medium body, medium carbonation, finish is slightly sticky.
O: Flavorful, goes down ok, not too filling, strong kick, good representation of style, it's good beer that simply gets over-powered by the intense spicy heat.
★
860 characters
3.65
/5
rDev
-6.2%
look: 3.25 | smell: 4.5 | taste: 3.5 | feel: 3.25 | overall: 3.25
Poured into an oxbow snifter
A. Deep deep brown, with a decent khaki colored head that fades rapidly and leaves no head and no lace. I was happy with any foam for the abv
S. Really where this beer shines. Big time chocolate, dark malts, a little raisins and a dark rum like booze quality. The chocolate makes me excited ots so aromatic.
T. Nice chocolate up front but quickly goes into a helluva habenero pepper hotness. It completly takes over the flavor. It does mask the booze as well
M. Smpoth medium body quickly transforms into a sharp biting heat that mimics biterness.
O. Would be better with a less intense hot pepper quality. Otherwise it has a great chocolatey flavor and aroma. Good potential but just falls short from the over intensity.
★
756 characters
3.7
/5
rDev
-4.9%
look: 3.75 | smell: 4.25 | taste: 3.5 | feel: 3.5 | overall: 3.5
Poured from the bright blue bottle into a pint glass.
Pours a mahogany with som red notes. Hardly any head. The smell is sweet and warming. Mild peppers with nice chocolate and dark fruit. The taste reminds me of fire. There is some chocolate as well. Abv is super hidden. Finish burns.
★
288 characters
3.74
/5
rDev
-3.9%
look: 3.75 | smell: 4 | taste: 3.5 | feel: 4 | overall: 3.75
Pouring this cellar temp bottle into my snifter. The beer pours a deep rich chocolate brown hue with frothy tan head of 1 cm that dissipates to nothing very rapidly after the pour. The aroma is cocoa notes and some brown sugar mixing with a bit of booze and some dark fruit.
First sip reveals a smooth silky texture with very fine and tingly carbonation.
Flavor is sweet malt with chocolate and some dark fruit that then rolls to big chilli pepper hits and a burning finish. The burn is not from alcohol but is from pure pepper heat. it isnt sweaty cheek and burn my palate kind of heat, but is definitely spicy.
The beer does have a bit of booze in it and that is apparent by the end of the bottle.
An interesting brew, I wish the pepper wasnt so dominant on the finish and that I could get a little more malt in the flavor. It is still an interesting beer and if you like spicy stuff this is worth a shot.
★
913 characters
4.18
/5
rDev
+7.5%
look: 4 | smell: 3.5 | taste: 4.5 | feel: 4 | overall: 4.5
Served this at The Mews last night for their customer appreciation night in Wakefield RI. From a bottle into a glass. Nice nice bubbles, very dark (couldn't tell clarity...)
It was explained as "a sacrificial beer to the Mayan Gods": a beer brewed in Jan of 2012 and released in Nov 2012. Smell was a bit intriguing---like green peppers mixed with chocolate? Hops not evident. Aromas dominated by something else, something I have not smelled in beer before, hence a rather mild rating in the "smell category".
Taste. Upfront we are talking cocoa, chocolate, bbq stickiness. The slick feeling flows to the back of the tongue and then the POW!!!! HOLY COW--that's got some steam on it. A really nice layered mild burn on the back of the throat and tongue Habarneros! Just a really really interesting beer. Not too spicy that you don't want more, but spicy enough to let you know its there. I would want to share a full bottle of this 750 mL bottle with friends for sure! This is indeed a rare unique beer worthy of seeking out!
★
1,027 characters
4.18
/5
rDev
+7.5%
look: 4.25 | smell: 3.75 | taste: 4.25 | feel: 4.25 | overall: 4.5
Shared with rudzud
Nice looking foamy almost 1 finger head that fades at a med pace, decent lacing, nice legs, very dark beer faint hint of ruby light sneaking through.
Nose big sweet malts, light weird yeasty thing, brown sugar and syrup, earthy root like, hint if smoke and syrupy weirdness, little soy?, little dried unsoaked beans, gotta be the agave. Some light pepper, faint smoked chipotle, little habanero, touch of raw cocoa bean fresh fruit the fruit.
Taste big syrupy malts at first, brown sugar molasses almost soy, then layers of chocolate, cocoa nibs, etc. Lots of nice great, a peppery habanero flavor as well as light Smokey chile chipotle pepper, with a nice heat that lingers and increases a bit. Light warning estery booze, adds to the heat of the peppers. I get a faint sweet earthy fruity flavor again probably the agave but hard to tell. Finish is nice, long pepper heat, little booze, light cocoa and molasses like syrup, somewhat dry nice finish. Also light cinnamon like and bit of dark fruits.
Mouth is fuller bodied, nice tons of carb, good pepper heat, decent booze smoothness, little syrupy but not bad in that department either.
Overall impressed. Very nice pepper heat you can actually pick out the different peppers, nice malts and cocoa, nose had some weird stuff going on but nothing bad and quite interesting.
★
1,349 characters
4.21
/5
rDev
+8.2%
look: 4.25 | smell: 3.75 | taste: 4.25 | feel: 4.5 | overall: 4.5
Thanks to JLindros for sharing this bottle.
A - Poured into a Kate the Great tulip a dark brown hue with a one finger head that faded to leave nice thin blanket and a light halo.
S - Aromas of light chipotle smokey pepper and super faint heat from habaneros. Fair amount sweetness here thanks to that blue agave.
T - Taste is surprisingly good. Nice heat both chipotle and habanero with light smoke, nice chocolate notes too and more of the agave sweetness. Its a lingering heat too which is incredibly nice.
M - Mouthfeel is surprisingly good for the ABV, sharp carbonation makes the 11.1% almost completely hidden.
O - Overall I was very impressed by how good this beer is. Super drinkable, spicy, and just well different. Really fun beer. Got to pick up a bottle for myself.
★
783 characters
4.26
/5
rDev
+9.5%
look: 4 | smell: 4.25 | taste: 4.25 | feel: 4.5 | overall: 4.25
Appearance - This pours dark brown in the glass and maintains a thin yellowish-white head with an average carbonation level.
Smell - The spicy smell of Chipotle chilies and Habaneros are apparent and complimented by the subtle cocoa aroma from the addition of Cocoa Nibs. Because the heat rings so prominently in your nostrils, the hops only make a faint appearance as they are out-classed by the unique combination of ingredients.
Taste - The Cocoa Nibs initially start to prep your mouth for the spicy Chipotle chillies and Habaneros you're going to taste on the way down. Clean finish with the right amount of carbonation and sweetness from the Blue Agave.
Mouthfeel - Not too heavy for a sweet brew. The spicy after taste makes it a great sipper.
Overall - This is an annual beer, which probably means that we won't see it much after 2012 and the first quarter of 2013, and as the brewers have stated, there were only 3,000 bottles produced for public consumption. My suggestion would be to go out and get a bottle of this unique, flavorful brew before it's too late. Seriously, you're going to kick yourself if you don't let this beer kick your taste buds up a few notches!
★
1,186 characters
4.7
/5
rDev
+20.8%
look: 4.25 | smell: 4.25 | taste: 5 | feel: 4.75 | overall: 4.75
Poured this one into a snifter. The thick tan head indicates a bit more carbonation on this one than other limited release beers from Newport Storm. The aroma is roasted with sweet malt and chocolate. No sign of the chipotle that the description indicates. The first sip matches the aroma with chocolate, roast, and a bit of smoke. Then it hits, the finish has the spicy chipotle that lingers subtly in the back of the throat. It was surprisingly easy to drink this beer considering the spicy character. Certainly the most interesting beer I've had, and a good one as well.
★
575 characters
Newport Storm '12 from Coastal Extreme Brewing Co.
3.89
out of
5
based on
28
ratings.