The More The Merrier
| Two Brothers Brewing Company
BA SCORE
79
okay
10
Reviews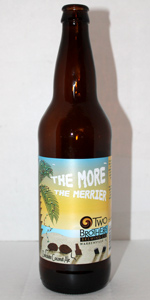 BEER INFO
Brewed by:
Two Brothers Brewing Company
Illinois
,
United States
twobrothersbrewing.com
Style:
Fruit / Vegetable Beer
Alcohol by volume (ABV):
6.90%
Availability:
Winter
Notes / Commercial Description:
No notes at this time.
Added by IPAdams on 11-22-2013
Reviews: 10 | Ratings: 64
2.85
/5
rDev
-11.5%
look: 3 | smell: 3 | taste: 3 | feel: 2.5 | overall: 2.5
Oh hey, new Two Brothers beer. Random impulse buy activated.
Going along with the "crudely labeled bomber trend" I see... guess that's a local thing now.
Make sure you stick a big awkward brewery logo right in the middle of it!
Is the actual beer any good? No.
Pours an odd pale brown out of the bottle like a dirty lager. Copperish brown in the glass, weird sediment suspended in the glass is just not at all appetizing. Creamy parchment colored foam laces nicely in the glass, settling to a broken skim and collar around the sides.
Odd smell of overcooked grain and faint cocoa.
Watery and thin, dull brown ale flavors of toasted malt and faint, chalky b-grade instant cocoa. No coconut to speak of... Meh. Dry aftertaste, slightly bitter. Just lacking all around. Watery, bland, and lacking any advertised chocolate or coconut flavors. Not worth the effort at all.
Waste of $8.29, should have known better.
916 characters
3.53
/5
rDev
+9.6%
look: 3.75 | smell: 3.75 | taste: 3.5 | feel: 3 | overall: 3.5
The second beer of Christmas was More the Merrier from Two Bros. The beer a dark hazy amber with slightly off-white head that is leaving a spotty lace. The scent carries a little coconut and milk chocolate. The taste is a little funky....almost like a watery version of bailey's irish cream...perhaps. I am not getting much coconut...but there is certainly milk chocolate. The mouthfeel is medium in body with subtle carbonation. Overall this beer is ok,....glad I have the chance to try it....but I don't think I would get another bomber of it.
545 characters

2.74
/5
rDev
-14.9%
look: 3.5 | smell: 2 | taste: 3 | feel: 3.5 | overall: 2.5
A - copper-brown ale, for some reason I was expecting stout; it's topped with a thinner but creamy beige head
S - not much of a nose, slightly metallic, very faint cocoa and coconut but barely anything at all for aroma
T - toasted grain, brown sugar, bread crust, caramel, slightly nutty, metallic, earthy, herbal, faint cocoa and coconut on the finish but not much
M - light-medium body, lower carbonation, earthy hops on a semi-dry finish
O - really a disappointment here. This did not work for me at all. I don't know why I was expecting a chocolaty stout with some coconut flavor, but maybe that wouldn't have been a bad idea. Not that my preconceptions change my thoughts on this beer; this just wasn't that good at all.
725 characters
3.75
/5
rDev
+16.5%
look: 3.75 | smell: 3.75 | taste: 3.75 | feel: 3.75 | overall: 3.75
The aroma is fruit, chocolate, dry malts, slight nutty notes and a hint of coffee. The flavor is fruit/berries, light tropical fruit, malts and long and tart finish. Of the coconut ales I've had, none of them have had much coconut to them and this one didn't either, although it was pretty good on its own.
306 characters

3.16
/5
rDev
-1.9%
look: 3.5 | smell: 2.5 | taste: 3.5 | feel: 3.5 | overall: 3
22 oz. bottle, with no apparent bottled on date present. Another new beer to me from Two Brothers, acquired at the local beer store. "Chocolate coconut ale" classified here on BeerAdvocate as a fruit / vegetable beer. I have no idea what to expect.
Poured into a clear balloon snifter.
A - Pours a coppery dark ruby colored body with some orange highlights when held to the light, and lots of fine dark sediment floating in the glass. One finger of thin off-white head. Fat rings of lacing.
S - Smell is of grains, musty yeast presence, slight nuttiness, apple & other assorted indistinct herbal / grassy fruitiness, and a faint hint of powdery cocoa. Pretty unappealing aroma.
T - Taste is of dried bready malt, sugary powdered cocoa, grain / corn, crisp yeast, herbal earthiness, and some nuttiness. The taste is definitely better than the aroma, but seriously, where is the chocolate and the coconut in this thing?
M - Feel is crisp, smooth, and clean, with minimal stickiness & bitterness on the palate. Faint cocoa aftertaste. Medium bodied with good carbonation.
Overall, this thing should have been a stout and it wasn't, and I don't exactly know what the hell it is trying to be. As it was, the beer itself wasn't bad, but it advertised itself as a "chocolate coconut ale" and failed to deliver any coconut, and barely any chocolate. Not bad by any means, but based on what they were going for, I'd say this was a fail.
Two Brothers The More The Merrier ---3/5.
1,476 characters

2.92
/5
rDev
-9.3%
look: 3.25 | smell: 2.5 | taste: 3 | feel: 3.25 | overall: 3
Appearance is a golden hue with white head and nice lace. Nose has notes of dry lager yeast, dry grain notes, light chocolate. The nose is rather muted. Taste starts with non descript malt character followed by some roast, toasted nut, and a touch of cocoa on the finish. Mouthfeel is fizzy and light bodied. Not too impressed by this one.
339 characters

3
/5
rDev
-6.8%
look: 4.5 | smell: 2 | taste: 3 | feel: 4 | overall: 3.25
The Two Brothers Brewery is just a few miles from my house, so I went there to see what was new and I found this 1 pint 6 oz. bottle of chocolate/coconut ale. Couldn't wait to get it home and try it. No freshness date.
The beer poured a clear caramel color with a big creamy 3-finger head that lasted several minutes and left an incredible amount of lacing.
Very weak nose. Where's the chocolate and coconut?
This beer actually tastes good... BUT... it's not what it's supposed to be. It has a slight caramel sweetness to it, some bready malt, a little nuttiness, and a dash of cocoa powder. Hops are earthy and mild at just 18.1 IBU's. What it doesn't have is any coconut flavor whatsoever and the chocolate isn't very pronounced either. It still tastes good, but as a chocolate.coconut ale it's disappointing.
Light bodied with moderate carbonation.
Nice, easy drinking beer, but disappointing as a chocolate/coconut ale.
929 characters
3.57
/5
rDev
+10.9%
look: 3.75 | smell: 3.5 | taste: 3.5 | feel: 4 | overall: 3.5
From: Binny's, Schaumburg, IL
Date: None on bottle, 12/2013 release
Glass: Founders snifter
Two Brothers plays on expectations with a "chocolate coconut ale," that seems to suggest a seasonal stout, but what is presented is an amber ale with little chocolate and no coconut. With sweetness as its defining character, the beer brings in comparisons to caramel, toasted bread and nuts, slightly woodsy hops, ethanol and just a dash of cocoa. In all, this comes across as a fairly agreeable dark amber ale, just don't expect chocolate or coconut. My only complaint is that the beer is about 2% higher in ethanol than it needs to be: a malt profile like this can be had at around 5%, and in the case of this beer, the excess begins to poke through the other, more desirable flavors. Not a bad beer (and I would rate this higher if it didn't profess to have chocolate and coconut in it), but can see how others are disappointed if they were expecting a truly chocolate and coconut-like ale.
Pours a 2cm tall head of off-white colored foam, made up of small-sized bubbles, creating a frothy appearance. Retention is above average at around 1.5 minutes, the foam fading to a thin ring around the perimeter of the glass and a medium-sized island of lacy foam atop the body of the beer. Lacing is good, with some large patterns and medium numbers of dots clinging to the sides of the glass. Body is a dark amber brown color, with light bringing out mineral-like chestnut brown hues. Carbonation visible through the transparent body, moderate in number, high in activity.
Aroma is mild, but present/pleasant, of medium-dark caramel, a bit of toasted bread, and light cocoa.
Overall flavors of light to medium-dark caramel-like sweetness, toasted nuts and bread, very light cocoa and woodsy hop character, and modest ethanol behind all else. Front of palate tastes sweetness from light to medium-dark caramel, a bit of toasted bread, and very light cocoa and woodsy hop character. Mid-palate tastes quite sweet, as from medium-dark caramel, a bit of toasted bread and nuts, light cocoa, slight woodsy hop bitterness, and mild ethanol (particularly as the beer warms). Back of palate is still sweet with medium-dark caramel and a bit of toasted bread, but there's also a modest increase in the woodsy hop bitterness and a touch of spicy, anise-like ethanol. Aftertaste of sweetness as from light caramel, toasted bread and nuts, a bit of woodsy hop bitterness, and faint cocoa.
Beer is medium to medium-light in body, with carbonation of medium to medium-low intensity, resulting in a foamy (3/5) and underlying smooth (2/5) mouthfeel. This feels fine for the beer, heavy enough to sip or light enough to drink more aggressively if desired. Closes dry, with substantial stickiness clinging to the palate and lips.
2,806 characters
3.48
/5
rDev
+8.1%
look: 4 | smell: 3.5 | taste: 3.25 | feel: 4 | overall: 3.5
Pours light brown and clear for the most part. Head is thin and about a quarter if a finger.
Smell is good. Caramel malt is forward and lasts in the nose. Faints hints of Cocoa along with nearly undetectable hints of coconut. Some slight crisp apple like esters are also near the end.
Taste follows the nose. Light caramel and slightly nutty malt are forward in the taste. There is a crisp clean pear like yeasty ester.
Mouthfeel is good medium to light body and moderate carbonation gives this a light soft feel
Overall slightly light and a little watery. No coconut. Some good flavors but not what I was expecting.
621 characters
3.18
/5
rDev
-1.2%
look: 3.5 | smell: 3 | taste: 3.25 | feel: 3 | overall: 3.25
A: This brew has a rich caramel appearance when poured from my 22oz bomber. Looks like a solid beer from my first impression.
S: Smells of sour caramel malt and sweet burnt sugar. No coconut on the nose?
T: Eh tastes like a well balanced ale whit a hint of chocolate. Something is missing though. Wait, it's the fuckin' coconut. There is absolutely no coconut; I feel shafted. Love two brothers, yet i am feeling let down on this effort.
M: Light bodied medium carbonation, what i expected.
O: Is there coconut? no. Is it good beer? Is a frogs butt-hole water tight?
570 characters
The More The Merrier from Two Brothers Brewing Company
3.22
out of
5
based on
64
ratings.