Heliocentric Bragot
| Two Brothers Brewing Company
BA SCORE
79
okay
39
Reviews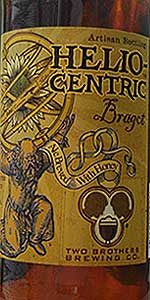 BEER INFO
Brewed by:
Two Brothers Brewing Company
Illinois
,
United States
twobrothersbrewing.com
Style:
Braggot
Alcohol by volume (ABV):
7.50%
Availability:
Limited (brewed once)
Notes / Commercial Description:
No notes at this time.
Added by emerge077 on 08-02-2007
This beer is retired; no longer brewed.
Reviews: 39 | Ratings: 55
2.98
/5
rDev
-11.8%
look: 3.5 | smell: 3 | taste: 3 | feel: 3.5 | overall: 2.5
(Served in a dimple mug)
A- This beer has a crystal clear light amber body with a strong carbonation of big bubbles. There is a snow white head that disappears soon after the beer is poured.
S- The note of light pale malt has a cider smell that is a little tangy. The smell is pretty clean overall.
T- The taste of pale malt and field corn comes through with a dry honey note and finishes with a light sweetness. As the beer warms the notes of biscuit malt and white wine come through along with a slight metallic taste.
M- This beer has a light and airy mouthfeel with a watery texture in the finish.
D- The flavors of beer are not very interesting and the mead flavors are very faint and not that interesting. So when they are blended it still tastes rather bland and uneventful. I like this style and this beer didn't have the qualities that I look for or much taste at all.
893 characters
2.48
/5
rDev
-26.6%
look: 3.5 | smell: 3 | taste: 2.5 | feel: 2.5 | overall: 1.5
Pours a clear dark yellow, almost liquid honey color with a thin and short lived white head. Sweet malty aroma similar to the "blonde ale" found in almost every average to sub-par brew pub in America. Biscuits and damp grains with just an idea of honey. Flavor is initially sweet, malty, and not very pleasing. Rather one dimensional and leaning too much towards a regular and terribly average blonde ale. The finish on the other hand is quite pleasing, spicy, honey sweet, and much more interesting. It just doesn't last long enough to make up for the other problems. Body is light and not very carbonated. Drinkability is low. I don't find this beer interesting or enjoyable. It's too sweet and simple and the sweetness seems to come from malt rather than honey.
768 characters
4
/5
rDev
+18.3%
look: 4 | smell: 4 | taste: 4 | feel: 4 | overall: 4
22 oz bottle pours a mostly clear peach body with a tiny offwhite cap for a head. Only a few flecks of lace. Aroma is subtle, with honey and rosewater notes. Surprisingly light bodied with restrained carbonation. Taste has a floral hops bitterness that seems lavender. Honey and a subdued caramel malt sweetness balance well. Very easy to sip. This is a style I look forward to sampling again.
393 characters
2.88
/5
rDev
-14.8%
look: 4 | smell: 3.5 | taste: 2.5 | feel: 3 | overall: 2.5
22oz. bottle
My first braggot, so take this review as my opinion of the beer without much understanding of the style.
Clear, honey colored liquid. Small, off-white head. No lacing, some legs.
Aroma was sweet and fruity, cherries came to mind. Honey. A bit malty, reminds me a little of a dopplebock in smell (sweet & fruity aspect).
Taste was sweet, and increasingly so as it warms. Alcohol. Honey. Strong herbal notes at finish.
Light to medium body - seems like it should be heavier. Medium + carbonation. Dry, but refreshing.
Very different, an herbal mead which is light on the honey. Not to my taste, as it doesn't appeal to me as a beer or a mead. This could be very well done, but it doesn't do it for me.
718 characters
3.95
/5
rDev
+16.9%
look: 4 | smell: 4 | taste: 4 | feel: 3.5 | overall: 4
22oz Bomber
$5.99
Binny's Orland
Only my second Braggot so bear with me on this review. Heliocentric pours a deep dark clear crystal golden. Tiny carbonation bubbles rise to the surface from the middle of the glass. A half finger head ormed on an aggressive pour that fell to a skeleton of a skimming with a solid ring. The body really looks nice.
Unique aroma. Smells of dark honey right up front along with some dampness (wet straw, although pretty weak). Mild toasted white bread is the ale backbone of this braggot. Flower petals as well, hints of lavender. Subtle but good. The last braggot I sampled I remember similiar aromas that were subtle as well.
The flavor is quite a bit different than expected. Somewhat caramel backbone on the flavor, some of that white bread is present but the caramel takes the cake. The dark honey comes through mid-palate with mild lavander. Really softens on the swallow. Nice.
The mouthfeel is the weak point of this braggot. Body is on the lighter side of medium without much activity or smoothness.
This is a libation I could see myself drinking quite a bit of while I lounge around getting fanned by my maidens and hand fed grapes. That's how I imagine it anyways (good luck, right?).
A quality braggot that you have to let warm to catch the nuances. Interesting flavors that I will buy again, if I see more around. Definately a good summer sipper. Thanks again Two Brothers.
1,437 characters
3.41
/5
rDev
+0.9%
look: 4.5 | smell: 3.5 | taste: 3 | feel: 4 | overall: 3.5
A - Pours a brilliantly clear golden orange, honey like, with a thin head that disappeared immediately.
S - Honey with a touch grain.
T - Sweet honey with a grainy malt taste and hints of apple in the background. Having brewed a honey pale ale myself it tastes like honey is the dominant flavor in this one.
M - Light and slightly sticky on the teeth. Very easy to drink.
D - A nice take on a not so common style. I hope 2 Bros continues to keep the Artisan collection interesting.
493 characters
2.84
/5
rDev
-16%
look: 4.5 | smell: 3 | taste: 2.5 | feel: 3.5 | overall: 2.5
this was easy on the eyes, a beautiful clear deep copper with decent lacing. not much head to speak of but i don't care as much about head on a beer as i do other things. i expected a powerful and complex nose but this failed to deliver. perhaps i should have let it warm more? i got just a hint of honey in the nose and not much else. taste was dry and tart with the alcohol presence noticeable. medium-bodied with an appropriate level of carbonation. drinkability suffers due to the relatively high abv and lack of complexity, balance, and flavor.
549 characters
4.03
/5
rDev
+19.2%
look: 4.5 | smell: 4 | taste: 4 | feel: 4 | overall: 4
Poured from a 22 oz. bomber. Leaves less than one finger of a pure white head that becomes long lasting surface skim, and leaves a small amount of spotty lacing. Body is an orange tinted golden amber.
Smell - toasty maltbread biscuits, tiny hint of citrus, and a tiny hint of honey.
Taste - more honey shows up on the tongue than the nose indicates, and it washes through the toasty maltbread biscuits.
Mouthfeel - medium bodied, a little syrupy.
Drinkability - this is very good, and it is possibly sessionable.
524 characters
3.43
/5
rDev
+1.5%
look: 4 | smell: 3.5 | taste: 3.5 | feel: 3.5 | overall: 3
Named after the 1st modern astronomer Nicolaus Copernicus, and his heliocentric model of the solar system.
Poured into a snifter, it reflects a deep amber jewel tone. Two fingers of foam at first, but it soon fades to a bare skim. Spotty lacing eventually forms. Aroma is grainy, very mildly phenolic.
Buttered popcorn, sunflower seeds, and a vague notion of honey all settle into a tacky, malty profile. Thin in mouthfeel, seedy aftertaste.
A bomber can be finished solo, but it leaves something to be desired. Points for creativity...
Brewer's Notes: It is half mead (fermented honey) and half beer. We used all locally produced Sunflower honey from the Naperville area.
686 characters
Heliocentric Bragot from Two Brothers Brewing Company
3.38
out of
5
based on
55
ratings.