Pillar Of Salt White Rye Ale
| Two Brothers Brewing Company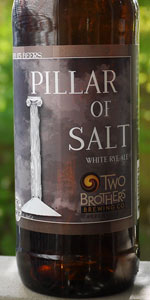 BEER INFO
Brewed by:
Two Brothers Brewing Company
Illinois
,
United States
twobrothersbrewing.com
Style:
Rye Beer
Alcohol by volume (ABV):
6.80%
Availability:
Limited (brewed once)
Notes / Commercial Description:
Originally brewed as "White Rye" in 2007.
Added by BeerAdvocate on 06-06-2008
This beer is retired; no longer brewed.
Reviews: 32 | Ratings: 94
3.85
/5
rDev
-0.3%
look: 4 | smell: 4 | taste: 4 | feel: 3.5 | overall: 3.5
Pours a beautiful light pale golden orange color, letting just a bit of light through from the other side. Glowing golden orange, with a light off white head, leaves fine sophisticated lacing. Aroma has spicy rye notes with hints of citrus and earthy notes. More clean yeast spice to go with the spicy rye, no caramel or toasted malts this was specialty rye malts with light toasted 2 row. Bitterness sits at 68 IBUs and abv at 6.8%, go figure a big beer bred from Cane and Ebel. Super sweet rye/malt layer that is backed by a nice citrus/zest, floral hop flavor, and it has an ample hop bitterness to stand up to it all. Mouthfeel is lightly resinous bigger bodied due to the rye additions, even flowing carbonation pretty soft in that regards. Overall impression is one that this beer is nice big and hoppy but lacks the finesse and mixture of flavors that Cane and Ebel provides.
882 characters

3.88
/5
rDev
+0.5%
look: 4 | smell: 3.5 | taste: 4 | feel: 4 | overall: 4
Poured from a 22oz bottle into a pilsner glass.
A: Pours a clear light brass with a spongy white head. Nice lacing.
S: Soapy yeast and malt, citrus peel, sweet alcohol, pale malt, grapefruit.
T: Clear, mild, sweet rye malt shot through with citrusy hops. Squeezed orange, vanilla, doughy pale malt grain, floral esters, mild alcohol, hint of sweetly spicy white rye.
M: Medium carbonation and body.
O: Pretty interesting rye beer. I enjoyed this one.
455 characters

3.67
/5
rDev
-4.9%
look: 3.5 | smell: 4 | taste: 3.5 | feel: 4 | overall: 3.5
Served in a Chicago Bears shaker pint glass.
I feel a bit awkward drinking some dude's doomed wife... It pours a clear brass topped by a couple o' fingers o' white foam. The nose comprises very light orange peel, lightly buttery biscuit, mild grapefruit zest, and a hint of some vague spiciness that I just can't put my finger on, but I can say that it's both intriguing and pleasant. The taste holds notes of grapefruit rind, stiff caramel, spicy rye bread, light biscuit, orange peel, a pinch of cardamom, and a squeeze of lemon. The body is a light medium, with a light moderate carbonation and a fairly dry finish. Overall, a nice, hop-forward rye beer, one that does indeed satisfy, but also one that doesn't blow me away.
728 characters

4.32
/5
rDev
+11.9%
look: 4 | smell: 4.5 | taste: 4.5 | feel: 4 | overall: 4
Pillar of Salt 2012
Poured from a 22 oz bottle into a Half Acre tulip.
A- pours a cloudy golden with a big 3" white head. Thick things and speckled lacing remains on the glass.
S- very different. Real big spicy, citrus aromas. Some sweetness also but that spicy, citrus is just really different.
T- citrus and sweet caramel followed by spicy bitterness.
M- medium body and carbonation. Creamy with a dry bitterness aftertaste.
O- had this on-tap a couple months ago at the Two Brothers 15th anniversary party and liked it a lot then, and still like it a lot. Different flavors and aromas, and just a really tasty beer.
623 characters
3.73
/5
rDev
-3.4%
look: 4 | smell: 3.5 | taste: 4 | feel: 3.5 | overall: 3.5
On tap at Blind Tiger. Pours a cloudy orange/red with a thick white head. Aroma of sweet malt and apple. Flavor of caramel malt, apple, fruity light hops, citrus, and maybe a touch of coffee grounds/roasted malt. One of my favorite Two Brothers beers.
251 characters
4.12
/5
rDev
+6.7%
look: 4 | smell: 4.5 | taste: 4 | feel: 4 | overall: 4
(From notes)
A - Poured with a decent sized eggshell colored head; decent retention, but didn't get much lacing; hazy orange gold color
S - Light fruitiness that made way to a more aggressive hop tone; hay and grass; lightly sweet
T - Fruity and a little bit of sweet maltiness at first; then really drying hoppiness; rye bitternss comes through at the end
M - Medium to thinner MF; very subtle but present carbonation
D - Nice drinking; interesting and tasty. Pretty different as well.
Overall, a neat brew to try, but it's hard for me to not compare it to Cane and Ebel, which is one of my favorites in the style, even though the white rye is a distinct and unique brew. Definitely worth checking out, though.
718 characters

4.03
/5
rDev
+4.4%
look: 4.5 | smell: 4 | taste: 4 | feel: 4 | overall: 4
On tap at The Blind Tiger, NYC.
Poured a medium copper hue with a one and a half finger frothy white head. There was very good retention and lacing.
The smell featured a resinous citrus hop and a light caramel.
The taste was upfront oily hops with a sweet caramel and a rye bite at the finish.
The mouthfeel was typical of the style.
Overall a tasty hop forward rye beer. Hefty.
387 characters
Pillar Of Salt White Rye Ale from Two Brothers Brewing Company
3.86
out of
5
based on
94
ratings.