Long Haul Session Ale
| Two Brothers Brewing Company
BA SCORE
82
good
83
Reviews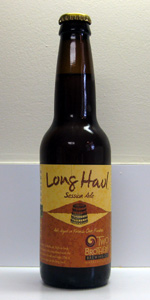 BEER INFO
Brewed by:
Two Brothers Brewing Company
Illinois
,
United States
twobrosbrew.com
Style:
English Bitter
Alcohol by volume (ABV):
4.20%
Availability:
Year-round
Notes / Commercial Description:
"Ale aged a minimum of 4 weeks in French Oak Foudres."
Added by marcobrau on 03-21-2010
Reviews: 83 | Ratings: 216
3.71
/5
rDev
+3.1%
look: 4.5 | smell: 3.5 | taste: 3.5 | feel: 3 | overall: 4.5
Long Haul Session Ale delivers precisely as advertised. This is a nice mellow brown ale with a little bit of that oak finish. Its got a light alcohol content and indeed a long haul session beer.
This poured a rich brown, with a nice head and plenty of lacing. This is malt and barley, and the barrel aging only adds a bit of finishing rather than taking center stage. This is a very tasty beer considering how light it really is.
This pared real well with a cheddar burger. This beer won't be one of the bold and brawny standouts, but that isn't what its designed to do, so don't be put off by its rating.
★
607 characters
3.33
/5
rDev
-7.5%
look: 4 | smell: 3.5 | taste: 3 | feel: 3.5 | overall: 3.5
Pours dark copper with a thick fluffy head.
Aroma is minerally caramel malt and a mild earthy, yeasty character.
Taste is grainy malt, a bit of citrus, and an odd metallic sourness. Finishes nutty, with some light earthy hop.
Mouthfeel is light-medium bodied.
Overall...drinkable, but not memorable. Could do without the metallic quality.
★
343 characters
3.85
/5
rDev
+6.9%
look: 3.5 | smell: 3.5 | taste: 4 | feel: 4 | overall: 4
Medium brown look, clear, with a decent head, looks like a american brown ale, but with more heft.
Deep malt nose, nothing stands out, but solid. Roasty, with notes of bread and earthiness, some notes of wood.
Taste is very deep for the abv, with a solid backbone and a nice balanced finish. Nothing great, but good complex tastes between the malt, some hops, and the French Oak. I can see this as a session beer to keep around, rivals their Domain Dupage which I like as well. Nice keeper for the abv.
Medium heft in the mouth, lightly carbonated, just a decent drinker for the seasons between summer and winter. Very drinkable, one to keep around as a regular. A very decent Bitter from this side of the pond.
★
714 characters
4.12
/5
rDev
+14.4%
look: 4 | smell: 4.5 | taste: 4 | feel: 4 | overall: 4
I've been knocking these out at an insane pace for a time now and thought it might be time to get moving on reviewing this beer finally.
12oz bottle goes into the New Belgium tulip.
A: Pretty beer, great color. A dark and clear maple wood brown, like this beer looks like it took its inspiration from a fancy, big city lawyer's desk. Head fades into a quarter inch cap in a minute or two. Leaves behind lots of sandy white lace.
S: Very doughy and rich, I believe the barrel aging lends some of this character to this beer. Lots of dough, light caramel, but big on sweet, doughy breadiness, maybe a little bit of a vanilla/nutty barrel character, but sweetness leads the aroma followed a little way behind by a light and crisp apple.
T/MF: This bottle is a bit different than I remember it from the tap and in past bottles, little bit of a washed out/slight watery flavor mixed in the with what is described in the aroma. A few more sips and I am getting more out of this beer. The barrel character comes out a bit more, slightly woody and a bit of vanilla/caramel sweetness. The driving force behind this beer however is that big (for a beer this size) sweet, doughy hammer. The feel reveals a bit more than the taste does in that it leaves a slight dryness behind on the tongue. From beginning to end though it is solid. Full feeling upfront and all the way to the finish. Carbonation is light and feels cask-like, pretty good all around.
D: An interesting beer to end up in a barrel considering the hyped up beers being put in them today, but I really like what the barrel has done to this beer and think that subsequent versions of this beer could get even better. There are some weaker points to this beer where it seems things tend to wash together midway though the drinking session, but otherwise this beer adds up to a fine session beer.
★
1,852 characters
3.6
/5
rDev 0%
look: 3.5 | smell: 3.5 | taste: 3.5 | feel: 3.5 | overall: 4
Poured from a 12oz bottle into a 20oz imperial pint.
Best By 8/13/10
A: Pours a crystal clear, tarnished copper color. One finger of off white foam sat on top for about a minute before melting down to a whisp of a skim and thin ring. No lace was left behind.
S: Hard to get much of a nose out of this. Toasted malt, caramel, red apple, and a touch of honey.
T: Exactly as above.
M: Pleasantly dry and bitter.
D: A decent session bitter that comes off as uncluttered, unfussy, and well, uninspiring. I'll revisit this as the weather gets warmer.
★
551 characters
3.42
/5
rDev
-5%
look: 3 | smell: 3.5 | taste: 3 | feel: 4 | overall: 4
Decent cap and lacing, nice light oaky nose, creamy mouthfeel, light carbination, smooth could be repeated a few times. the flavor is light, with yeasty notes,light crisp pilsner tasting hops, and a backbone melded together of malt and Oak.
This is a decent beer, more of one i'm buying to give a bottle to alot of my BMC drinking friends as a gateway beer, as its great as a gateway beer. It's very interesting to have for the Beer geek because of the Oak presence in this style of beer, but not enough for a whole six pack.
★
526 characters
3.63
/5
rDev
+0.8%
look: 4 | smell: 3.5 | taste: 3.5 | feel: 3.5 | overall: 4
On tap at Four Moon Tavern.
Tawny copper pint, some eggshell foam that laced nicely in concentric rings. Visible ascending carb trails.
Fairly nondescript toasted malt aroma, almost lagerish in a way. Not getting any oak here. Flavor is malt dominated, maybe a kiss of fruit from the yeast. Somewhat dry finish with mild bitterness. Easy going, light bodied, even carbonation. Searching for any oak character and coming up short. Fits the bill for a warm weather session beer, but not especially complex or memorable.
★
521 characters
3.19
/5
rDev
-11.4%
look: 4 | smell: 2.5 | taste: 3.5 | feel: 3.5 | overall: 3
best by 8/13/10
pours copper amber with a 1/2 finger off white head that fades and left some spotted lacing
smell - just not much to it - some malts?
taste is better - but this is a session pounder - some nutty pale malts very little hops - good flavor for a beer that is only 4.2%abv
mouthfeel is light and crisp
drinkability is good - yes i could drink this beer all day but just not at 9.99 a sixer
★
406 characters
4.07
/5
rDev
+13.1%
look: 3.5 | smell: 4 | taste: 4 | feel: 4 | overall: 4.5
An oakey copper amber color with good bubbling for a bitter, shows itself after the pour. Pretty quick head though.
As the beer warms, the oak barrel lets you know it had a part to play in this beers aroma and flavor. But first, the aroma, with its oak breads and mild grass roots hops nose. This smells like an old school pub classic.
The taste has that oak character permating throughout the whole flavor profile, start to finish. Woody bread dough and faintly bitter hops. Hops that give the balance more so than adding a bitter flavor to the beer.
This a malty smooth, and faintly grainy feeling beer. A very flavorful and unique session ale that I would love to have on tap.
★
685 characters
4.03
/5
rDev
+11.9%
look: 4 | smell: 3.5 | taste: 4 | feel: 3.5 | overall: 5
This session ale is a light golden brown with a nice white head. The aroma is of slight citrus and caramel with enough oak to keep you intrigued. The flavor is crisp and clean with good oak character and fruity citrus highlights.
The label on this one tells it all, this is the session beer.
★
292 characters
4.1
/5
rDev
+13.9%
look: 4 | smell: 4 | taste: 4 | feel: 4 | overall: 4.5
A hearty pour into an Imperial pint glass gives me three fingers of eggshell head that keeps it's form through most of the glass. The beer is a wonderful clear, golden brown color.
The nose is great. I'm picking out some rounded out bready malts and subtle grassy hops and maybe some brown spices. It's softened by the oaky notes that are present as well.
The taste is close to the nose, but is far more doughy. Very bready with light hits of herbal and grassy hops. It's also a little nutty. It finishes somewhat bitter and leaves me wanting more.
The mouthfeel is a little thin and soft with a medium level of carbonation that gives me the slightest bubble bite.
This is my second six pack of this stuff and it won't be my last. I'd love to try this on a hand pull.
★
772 characters

3.09
/5
rDev
-14.2%
look: 4 | smell: 2.5 | taste: 3 | feel: 3.5 | overall: 3.5
12oz. bottle (best by August 13th, 2010) poured into my Piece pint glass...
Pours a nice dark amber color with great clarity. An abundance of soft white head forms and leaves a lot of lacing and a cap of white haze on top of the beer...
Almost a rotten wood smell, something I can't quite distinguish but is pretty off-putting. Biscuity and caramel like malt aromas are somewhat subtle, mostly just getting a lot of weird woody character...
Bready, biscuit, somewhat chewy sweet malts, a slight hop bitterness, but really not much. Some wood character is there as well and dries the drink out a bit...
Medium bodied with appropriate carbonation, more chewy than expected from a 4.2% beer...
Not really working for me, smell is a bit off and taste is mediocre at best...the Resistance IPA is a much better offering if you want to try the new Two Bros oaked beers...
★
869 characters

3.41
/5
rDev
-5.3%
look: 4 | smell: 3 | taste: 3.5 | feel: 3.5 | overall: 3.5
Pours amber with a moderate amount of carbonation. Some lace sticks to the side of the glass. Smells a bit musty, which is interesting, but not entirely pleasant. Tastes a bit "tawny" with lots of caramel malt and a bit of oak fading into a moderate bitterness. It's just the right amount of woody character that mixes with caramel malts and hops in this session ale, although I think I'm drinking this a bit too cold. I think if it warmed up a bit the flavors would open up a bit. My guess is that I'm drinking this right out of the fridge at about 40 degrees. Going to let this warm up a bit.
Warmed up and the oak seems to express itself a little more with a very woody character, as opposed to the vanilla which it can sometimes contribute to beer. Overall, pretty tasty, and much bolder than it's alcohol content would suggest. Perhaps it could have a bit more body, at least up front, but I would drink this one again.
★
927 characters
Long Haul Session Ale from Two Brothers Brewing Company
3.6
out of
5
based on
216
ratings.