Askew
| Two Brothers Brewing Company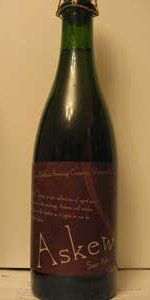 BEER INFO
Brewed by:
Two Brothers Brewing Company
Illinois
,
United States
twobrosbrew.com
Style:
American Wild Ale
Alcohol by volume (ABV):
6.50%
Availability:
Limited (brewed once)
Notes / Commercial Description:
Ale brewed with Saccharomyces cerevisae and Brettanomyces. Transferred to oak foudre after initial fermentation. Foudre has previously gone through a spontaneous fermentation.
Added by ChugginOil on 05-16-2011
This beer is retired; no longer brewed.
Reviews: 87 | Ratings: 168
3.65
/5
rDev
-9%
look: 4 | smell: 4 | taste: 3.5 | feel: 3.5 | overall: 3.5
Been meaning to try this one after hearing good things.
A- a very nice yellow-orange without a whole lot of head. As I often say, the more orange the better - and this has a very nice amber hue indeed.
S- vinegar, florist foam (yup, that's right), definite unripe apple or persimmon. Somewhat astringent.
T- there is an earthiness that I didn't expect, given the aroma. It sort of reigns in the tartness of the beer toward the back of each sip. Not so much hay, wood, or dirt, nor am I sure that it's the brett. It almost seems like a buttery or nutty flavor but it is so odd within the overal profile that I'm really stuck on exactly what it is, or if I like it. It is also maltier than a lot of sour ales. In any case, there is lemon, tart apple, and a nice vinegar finish to it.
M- Very light but not crisp. Light on carbonation compared to a lot of similar ales. I expected it to be drier from the nose.
O- Glad I tried it. I've only had a few offerings by Two Brothers that I have genuinely enjoyed but this one is among their best. We would be lucky if this hinted at bigger and better things to come.
★
1,113 characters

3.92
/5
rDev
-2.2%
look: 3.5 | smell: 4 | taste: 4 | feel: 3.5 | overall: 4
This pours a hazy golden amber with a small hint of a white head dying down to a small ring with no lace. On the nose there are vinegar-soaked green apples. I looked up acetone based on other reviews and there is a something here resembling that, exceedingly dry. In the mouth there is a lot more of the sour green apple coming out, with some sweeter amber malt behind that. The body is quite light, without the carbonation I would've liked to drive those sour flavors a bit deeper into the palate, because right now they just kind of slide oil-like over the top of it. It's a strange combination of light feel with an oily body. The finish is long with those tart apples hanging on for a long while.
Overall, this is a decent sour that could have been a bit better for me with a different carbonation style and perhaps reigning in the acetone just a bit.
★
856 characters

4
/5
rDev
-0.2%
look: 4 | smell: 4 | taste: 4 | feel: 4 | overall: 4
A: deep cider tan/orange body, 1 finger head, patchy lacing
S: big sour green/granny apple aroma, hint of lemon, maybe pine
T: woodsy, floral front, malt middle, then PUCKER time, bitter STICKY long finish!
M: med/light, big carbonation, big sticky mouth
O: FASCINATING BEER! I will be checking this style out more in
the future. I was very hesitant to pick this up,
but love supporting our local breweries here
in the Chicago area. Not claiming to be an
expert on the style, but this was just good to drink.
I'm shocked how refreshing the flavors were, will seek it and
other out more in the future.
DELICIOUS, SEEK THIS OUT!
★
636 characters
4.27
/5
rDev
+6.5%
look: 4 | smell: 4.5 | taste: 4 | feel: 4.5 | overall: 4.5
Poured into a tulip, straight down the middle. Half an inch of crackling white foam rose up and receded after a few minutes, soon resembling filtered cider in the glass. Some irregular bits of spotty lace clung to the sides here and there. Sunset orange tone, good clarity with a very slight haze. It glints gold when it catches the light.
Lightly acetic cider nose, white wine vinegar, funky apple orchard, lemon and lime zest. Fruit forward and with a sharp hint of acidity.
Fruity taste with a moderately sour, acetic bite. Juicy apple, lemon, sour grape, some crabapple sharpness. Clean and effervescent, it dries up quickly, with a hint of Brett, crackery malt, and wet barrel oak in the dry aftertaste. Flavor is fruity and fairly complex, the woody hint in the aftertaste is pleasant too. Carbonation is light, and it has a fairly vinous character to it. Quenching and tasty.
Great to finally see Two Brothers bottle a sour ale from their foudres. Askew was even more enjoyable than previous wild ales Opus 10 and Philosophers Stone (though all were different stylistically). Hope this is a sign of more sour things to come...
★
1,138 characters
3.87
/5
rDev
-3.5%
look: 4 | smell: 4.5 | taste: 3.5 | feel: 3.5 | overall: 4
I'm very late to the sour game so this is my first one ever. 350ml caged and corked bottle, poured into my Founders tulip snifter.
A: Pours a nice deep amber with a thin white head that comes and goes very quickly, almost like a soda.
S: Very pungent right from the word go, rice wine vinegar, unripened grapes, light citrus (lemons and limes). Creates a slight twinge to the nose.
T: Light malty vinegar with very young, immature grapes. Bitter green apples that continue on to a flat bitter jump with a little wood finish on the back end.
M: Very light and airy body. Incredible carbonation. Leaves a slight sour taste that doesn't have much staying power at the end.
O: I think my first sour went with some success. It is definitely a style that has to grow on me. Since I'm used to the full bodied stouts I think that my review my be slightly skewed, but I definitely can see myself purchasing and enjoying more American wild ales in the future.
★
954 characters
4.47
/5
rDev
+11.5%
look: 4.5 | smell: 5 | taste: 4.5 | feel: 3 | overall: 4.5
I thought I had missed out on this beer but got lucky to hear Two Brothers had it on tap at Small Bar during Chicago's craft beer week. Really glad I made the drive now.
It came out with a thin head and beautiful copper red body. The smell and aroma from the beer was amazing; I picked up strong scents of green apple and lemon. The flavor was just as wonderful with a powerful, tart flavor balanced with a light, sweet finish. The complexity of sourness seemed to change and become more interesting the further I got into the glass, going from a slight vinegar finish after each sip to almost a floral flavor all around at the end of the glass. The only thing I felt was it could use a little more carbonation to balance the tart flavor and make it more perky.
Overall it was like a delicious whiskey sour in the form of a complex, well made wild ale. I have to say I am more than impressed with this offering by Two Brothers and almost upset with them that this is a one time brew. If I could buy this year round it would always be stocked in my refrigerator.
★
1,063 characters
3.68
/5
rDev
-8.2%
look: 4 | smell: 3.5 | taste: 4 | feel: 3 | overall: 3.5
very excited to try a new offering from the brewery in my own backyard. 375ml corked and caged bottle drank out of my russian river "tion" glass. this is my first beer in the opus series from two brothers.
A- the beer pours out a somewhat hazy apple juice colored body with a little bright white head on top. the head is fast to fade, and leaves behind small spots of lacing.
S- this beer is definitely wild (unlike motan). the first thing i pick up on is acetone, but its not overpowering. there are also vinegar like notes and a little bit of green apple skin wafting from my glass. the nose is pretty subdued.
T- the taste starts out with some of the acetone that i could smell. its still not overpowering. then comes some lightly toasted malts. lemon, green apple, and a hint of cherry follow. slightly funky. the taste isnt as big and bold as i would have liked.
M- the body is on the lighter side. the carbonation isnt as high as i would have liked either. there is a nice dry aftertaste.
D- this is the best new beer two brothers has released since red eye coffee porter a few years ago. i stand by my decision to pick up a few more of these for aging and sending out in trades. not the best example of the style, but its a solid start. keep it up ebels.
★
1,268 characters

4.59
/5
rDev
+14.5%
look: 3.5 | smell: 4.5 | taste: 5 | feel: 4 | overall: 4.5
Aroma:There's a little bit of balsamic vinegar along with other sour aromas. I also get some apple and grape skin. It's got a lot of complexity for a sour beer.
Appearance:Honey colored, low amount of head that quickly dissipates. Good lacing.
Taste:Great mild sour flavors on the foretaste of this beer. I taste grapeskin, red currant, rhubarb, apple or kumquat. This beer is a little strange for me because it actually gets more sour the more I drink. Also, depending on where it hits your tongue, some sweet apple flavors shine through more. The aftertaste has a strong nutty flavor, which is also odd in a sour beer.
Mouthfeel:The body on this beer is light to medium. It has some harsh astringency throughout, peaking on the aftertaste in the back of my throat.
Overall:Overall this is a wonderful easy-drinking sour beer with a lot of complexity. The mildness of it's sour flavors really lets the base beer grains show through as well.
★
945 characters

3.35
/5
rDev
-16.5%
look: 3.5 | smell: 3.5 | taste: 3.5 | feel: 2 | overall: 3.5
Consumed at Half Acre/Two Brothers Firkin Night at SmallBar Logan Square in Chicago during Chicago Craft Beer Week 2011.
Appearance -- Pours a medium amber hue, slightly rosy at the heart of the flute, with a slim, creamy creme-colored head.
Smell -- Bright and mildly acidic: cider vinegar, lemon, gently caramelized amber malt, and a hint of wet oak. Pleasant enough, but not terribly vibrant or dynamic.
Taste -- Amber malt backbone, a dab of sweetness, buttered whole-grain toast, soft oak-derived vanillin (very out of place), cider vinegar, faint under-ripened berry sour, subtle acetic tartness. However, the acetic character seems to sharpen the more one drinks.
Mouthfeel -- The Achilles' Heel of this beer for certain. Light-bodied with incredibly fluffy carbonation. Can you imagine a pillow-fight in your mouth? Tighter, spritzy carbonation would've done this beer wonders.
Overall -- This was a very good showing for Two Brothers in the Wild Ale department, though I wouldn't consider this to be exceptional for its style. With any luck Askew is a portent of sour things to come from Warrenville.
While not remotely bad, Askew is a far cry from the top-tier sour ales of the world.
★
1,201 characters
3.92
/5
rDev
-2.2%
look: 3.5 | smell: 4 | taste: 4 | feel: 3.5 | overall: 4
Poured from a corked+caged 375ml into a wine glass.
A- Huge pop off of the cork...what is living in here? Pours a golden amber with a small amount of receding white head that doesn't hang around all that long. Carbonation starts off streaming, but dies off relatively quickly as well.
S- Tart Granny Smith apples, acidic vinegar, and very trace amounts of sweetness/breadiness/booze.
T- Follows the nose with ripe sour Granny apples on the front paired with the under-ripened mulberries I used to pick when I was little. Flows into an earthy tone with a buttery sweetness that dances around the mouth. Acidic sourness hangs around jussst a touch too long.
M- Medium bodied with a smooth and creamy texture. As the carb dies away it loses some of its appeal.
O- Really glad I picked this one up. I've tried hard to support 2Bros since I found them out over a year ago, but Bare Tree was the only other brew I could really get behind. He now has a fine tasting sour-brother.
★
977 characters

4.16
/5
rDev
+3.7%
look: 2.5 | smell: 4 | taste: 4.5 | feel: 3.5 | overall: 4.5
A - Looks like barely carbonated apple juice - Off orange with red and green tints. Pours with a super tiny head, then almost no bubbles for the duration of the beer. Somewhat boring.
S - Tart and sweet apples, peach, hints of caramel and bread, a tiny bit of vinegar and nail polish remover in the end.
T - Sweet and tart green apple, red apple, hint of berries, sour patch kids, soft caramel and butter, more of that peach found in the smell and some mouth puckering apple cider vinegar and lemon/orange zest. Some vinegar sticking in the back of the my throat is the only really criticism here.
M - Medium bodied, but it's syrupy with a fairly low level of carbonation. It hangs around in your mouth for a bit and leaves the ol' mouth dry.
O - I was pretty happy with this - I enjoyed the mix of sweet, tart and sour. I'm interested to see what some age would do to it, hopefully mellow out some of that vinegar harshness. In my opinion, this is the best thing that two brothers has put out in the 375 format thus far.
★
1,029 characters

4.35
/5
rDev
+8.5%
look: 4 | smell: 4 | taste: 4.5 | feel: 4.5 | overall: 4.5
First one off the tap at Two Brothers in Warrenville
This beautiful sour settles a hazy copper orange with an inch of whitle fluffy head that dissipates quickly, leaving spotted lacing throughout.
The nose is full of vinager with quite a bit of sweet and earhty notes. Smells quite sour and I preparing myself for a tart beverage.
The taste is a tart, earhty, barely sweet, and quite the experience. The tartness subsides and opens up to some nutty flavors that reside on my palate for quite some time.
The mouthfeel is quite tart up front, lip smackingly so, and then dry on the finish. Very tart
Overall, quite the treat to say the least. I'm very thankful to have been able to try this very limited release sour (10 cases). Very tasty and tart. Everything I want in a sour.
★
781 characters
Askew from Two Brothers Brewing Company
4.01
out of
5
based on
168
ratings.