91 Shilling
| Two Brothers Brewing Company
BA SCORE
83
good
13
Reviews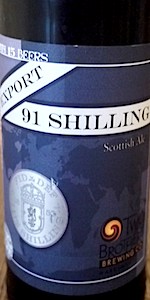 BEER INFO
Brewed by:
Two Brothers Brewing Company
Illinois
,
United States
twobrothersbrewing.com
Style:
Scotch Ale / Wee Heavy
Alcohol by volume (ABV):
6.20%
Availability:
Limited (brewed once)
Notes / Commercial Description:
No notes at this time.
Added by TMoney2591 on 10-17-2012
This beer is retired; no longer brewed.
Reviews: 13 | Ratings: 37
4.25
/5
rDev
+16.1%
look: 4.25 | smell: 4.25 | taste: 4.25 | feel: 4.25 | overall: 4.25
From tasting notes. 22 oz. bomber poured into a thistle. L: A brilliant chestnut pour produces a 1" tan foam collar with a very fine bead and produces intricate lace. S: Rich malt aromas. T: Rich malts with dark caramel, dark sugars, malt spiciness, some dryness from unmalted barley, and a light hop bitterness. F: Very creamy smooth O: A very easy to drink Wee Heavy.
371 characters

3.5
/5
rDev
-4.4%
Darker caramels in the nose along with traces of smoke from charred wood.
Malts are darker and more roasted than typically found in a Wee Heavy. Traces of smoke in the taste are more charred than peaty. Good caramels on the tongue that carry through to the finish, but they also get taken over in the middle by the darker components. Bits of chocolate turn up. There's also enough bittering hops present in the taste profile to be noticed they're there.
Body is on the light side and is moderately thin without appearing watery.
A tad too roasted, a tad too charred smokey, and a tad too many hops to match up well against traditional Scotch Wee Heavies. It's a profile that might appeal to stout drinkers who find most Scotch ales too malty sweet.
756 characters
3.9
/5
rDev
+6.6%
look: 4 | smell: 4 | taste: 3.75 | feel: 4 | overall: 4
This red-hued medium-dark brown beer, with moderate opacity and a bit of a haze, grows a well-sustained and sizeable tan head that develops a creaminess to it both in look and in feel, which translates essentially to plenty of stick and a mixture of webbing and legging on the glass in plenty.
Malts are steady and produce a firm foundation for a sweetness of toffee, caramel and raisin-like dark fruits to set on a toasty note and balance against a peaty earthiness and a hint of an herbal note. A light, unoffensive metallic note, a staple of varietals, both malt and hops, that are English in origin, is present throughout. ThiDespite its listing, as I understand it the intent is a traditional Socttish ale rather than a Wee Heavy, whereas that is the Old 1713 (in the same anniversary line). It doesn't posess the strength required of a Wee Heavy, but I'll grade to the brewer's intenet rather than the inaccuracy provided.
The body is medium, on par for the style. Semi-dry, the slightly chalkier dryness plays into the feel as it tends to with traditional rather than American styles. It has a firm but soft crispness that rides out the full session and a steady smoothness as well.
1,189 characters
3.72
/5
rDev
+1.6%
look: 4.25 | smell: 3.5 | taste: 3.75 | feel: 3.75 | overall: 3.75
Capturing the essence of Scottish Ales isn't easy- make it malty, but not sweet. Earthy, but not smoky. Dark, but not roasty. There's a lot of finesse in making these bold flavored beers, and Two Brothers pulls it off effortlessly.
91 Shilling pours with a masculine medium-dark brown hue. Hazy, the beer seems to put up a wall to protect it from what's outside. But a glimmer of light at the edge of the glass reveals a tawny bronze coloration that's a little more forgiving. Releasing a thick blanket of foam, once again, the beer seems to put up a shield of off-white foam between the beer and the mouth. Well defined rings of lace trail the beer with each sip. It's simply a manly looking ale.
Medium-toast aromas shy away from roasted notions but play on the malt backbone of deeply caramelized toffee, light coffee, earthy cocoa, slight peat and campfire. Mild alcohol notes wrap around fruit esters of grape, almost-cherry, and almost licorice for added depth in its overall scent.
Where the aroma is a bit modest, the flavors share no such thing in common- dense and robust flavors of overcooked grain sweetness and the body to boot gives the impression of a full flavored dark ale. But the sultry taste turns toasty, nutty, and lightly woodish to finish- giving a slim glimpse into the hops that aid in balance. Again, the dark fruit esters add complexity to the beer's finish but remain understated in its complementary role.
Medium-full in body, the beer's early but subtle carbonation quivers incrementally as the beer traverses across the palate and leads to a remarkably dry beer in finish despit its richer upstart. Surprisingly refreshing and drinkable even for a "Wee Heavy", the beer flirts with grainy and watery textures as the carbonation has dissipated in those last few drinks.
91 Shilling has all the pieces and parts that are needed to make a proper Scottish Ale, but the depth and complexity of those pieces are simplistic in their portrayal and keeps me wanting more from the ale as well. Authentic versions would have pushed the malty-dry finish, peated character, burnt sugar, and fruit components a bit further.
2,146 characters

3.99
/5
rDev
+9%
look: 3.75 | smell: 4 | taste: 4 | feel: 4 | overall: 4
Appearance: Pours a dark brown with some mahogany hues along the edge of the glass…tons of light khaki head formed and a pinky finger width layer remains…dark, dense and only really transparent along the edges…does thin out a bit over time…(3.85/5)
Smell: Chocolate malts up front…smells almost like a porter combined with a brown ale…toffee, caramel, brown sugar, dark fruit sweetness, breadiness, and a touch of toasted malt…it's complex while being pretty simple…it's nice…as it warms, the sweet caramel side of the malts begin to show strong…(4/5)
Taste: Nutty, caramel, brown sugar, toasted malts, brown malts and a bit breadiness…flavor stays pretty consistent from start to finish with a hint of sweetness that shows up towards the end…mild lemony/citrus hops appears the more I drink and rounds out the malt flavor nicely…fairly straight forward, this has good taste…(4/5)
Mouthfeel: Medium body, light to medium carbonation…it does fluff up a bit and brings with it some lemony bitterness…finishes with a light bitterness and fairly dry…(4/5)
Overall: I haven't had a Scottish ale in quite sometime, for some reason I always figured I wasn't gonna like it…boy was I wrong…I'm not sure how indicative of the style this is, but I'm definitely gonna have to try another…Two Brothers is one of my favorite breweries and they've done a nice job here…I'm thankful that I have a bomber of this one, as I will be enjoying the rest of this while I watch some hockey on this bitter cold afternoon…Two Bros bombers are becoming harder to find but I have seen this one still around town…if you happen to stumble upon it at your local beverage depot, it's worth picking up, especially for the price ($5.99)…(4/5)
1,779 characters
3.93
/5
rDev
+7.4%
look: 4.5 | smell: 3.25 | taste: 4.25 | feel: 3.75 | overall: 4
I like the 91 Schilling...its not an overthetop scotch ale. Its a nice smooth easy drinking beer. It pours an nice rich mohagony with thin offwhite creamy head that is leaving a nice lace. The smell is weaker than most scotch ales, but there is definitely hinst of malt and earth. The taste starts slightly bitter then the caramel/peat malts kick in to balance the pallet leaving a very nice taste. The mouthfeel is a lighter medium body with smooth carbonation. Overall I think this is a good beer and would have it again if offered.
534 characters
3.28
/5
rDev
-10.4%
look: 4 | smell: 3.5 | taste: 3 | feel: 3 | overall: 3.5
Number 13 of 15 in the Retro Release Series.
A: Pours a dark brown color. Two finger rocky and pitted beige head forms and gently recedes to a ring. A filmy lace is left behind.
S: Bready and caramel malt. Some fruity esters. Kind of dank and metallic.
T: Again, bready and caramel malts. Lightly toasted grains and some fruity peppery spice from the yeast.
M/D: A medium body with a bit higher carbonation that I was expecting. Fairly watery though. Not hard to drink. The bottle will be gone in no time, but probably not something I am coming back to often.
Pretty average example. A simple bread and caramel malt component, not overly sweet though. Which can be a problem, especially with many American made versions. Though still, just not a lot here that keeps me coming back.
784 characters
3.11
/5
rDev
-15%
look: 4 | smell: 3 | taste: 3 | feel: 3.5 | overall: 3
From: Binny's, Champaign, IL
Date: None, released in November 2012
Glass: New Belgium globe glass
Two Brothers' 91 Shilling is a fairly average Scotch ale: identifiable malt components of caramel and bread overwhelming a minor amount of bittering hops. The flavor, despite its freshness, is underwhelming: the malts just don't express much, and the creation comes across as rather boring. One they should have left retired.
Pours a 2cm tall head, composed of small to medium-sized bubbles, tan in color. Head retention is about average, lasting a minute or two as it sinks to a 0.5cm cap atop the body of the beer. Modest lacing is present as the head recedes, leaving a few washes of lace and spotty blobs on the glass' sides. Beer's body is a very dark brown to nearly black, opaque, with light bringing out virtually no changes in color: this is dark. Carbonation is not visible through the body.
Aroma is rather subdued, of caramel sweetness, brown to dark colored malt sugars, and slight cumin. There's not much depth or complexity from the malt usage here.
Taste is of brown bread, minor caramelized sugars, papery cardboard, mild European hop bitterness, and an underlying sweetness. Opens with caramelized sugar sweetness, brown bread crumbs, and a bit of generic grain and cardboard flavor. Mid-palate of brown bread, modest caramelized sugar sweetness, paper/cardboard, and European hop bitterness. Back of palate finds modest bread and caramel sweetness and greater emphasis on the mild bitterness. Aftertaste of caramelized, slightly charred sugars and residual hop bitterness.
Beer is medium bodied with apparently low carbonation levels. The resulting mouthfeel is smooth with minor fizziness. Unfortunately, as what carbonation there is wears off quickly, this becomes a bit stagnant on the palate. Closes dryly, with some modest stickiness across the palate. Above average, but plenty of room for improvement.
1,930 characters
3.11
/5
rDev
-15%
look: 4 | smell: 3 | taste: 3 | feel: 3.5 | overall: 3
(Served in a Nonic)
A- This beer pours a jet black body with a light beige sticky head that last as a thin film. There are a few random bubbles slowly gliding up the sides of the glass
S- The clean brown malt aroma is dry and a hint mealy but otherwise doesn't have a lot of dimension.
T- The taste of stale toasted malt with some soft brown malt flavor blends with a cola note and some faint pot caramel/ cardboard hint in the finish. There is a hint of sweetness in the finish but it is otherwise pretty clean.
M- The medium light mouthfeel has a gentle fizz and no alcohol heat.
O- This beer has a nice but soft malt flavor but it is a bit dull and doesn't have a lot of character to it. I just got tired of drinking it after the first glass.
751 characters
3.9
/5
rDev
+6.6%
look: 4 | smell: 4 | taste: 4 | feel: 4 | overall: 3.5
22oz. A dark brown/mohoghanny pour, thin layer of off white on top. Some minimal lacing.
Aroma, Caramel, toffee, leather and some toasted malt.
Taste, very peaty, leathery. Toasted malt, burnt brown sugar, walnut. Some herbally tea. Sweetness is pretty subdued. Maybe just a tad much on the herbal notes. Maybe not though, just favors the nutty, leathery, peaty side of the style.
Heavier side of light body, good carbonation. About right here, drinks well, would have like a richer sweet side though. Still certainly worth a try.
533 characters
3.93
/5
rDev
+7.4%
look: 4 | smell: 3.5 | taste: 4 | feel: 4.5 | overall: 4
Tawny light brown pour, dark brown in the glass, tan foam on the surface. Texture is on the creamy side, with minimal spotty lacing in the glass.
Nutty and woody aroma, malty and possibly peated but no actual smoke resent. Dry, not sweet.
Flavors follow suit, malty and smooth, creamy with a nicely full feel, though it's actually fairly light on the palate. Lightly toasty and bready with a vague dried dark fruit note and a dry bitter finish. pretty smooth and drinkable, would pick this up again before it's gone for another decade...
540 characters

3.6
/5
rDev
-1.6%
look: 3.5 | smell: 3.5 | taste: 3.5 | feel: 4.5 | overall: 3.5
#13 of 15 Beers for 15 Years Series - had on tap at Two Brothers Tap House - Warrenville, IL
Poured a deep chestnut color with some ruby hues, topped with a thin, beige head, decent retention and leaves some lacing on the glass. Aromas are earthy, peat, woodsy, malty. Tastes are earthy and malty, peat, woody, brown sugar, nutty, caramel, toffee, raisin. High point of this ale is the mouth-feel: medium-to-full bodied, creamy, and smooth. Finishes a bit spicy with a tingle on the tongue. Overall, nice representation of the style.
534 characters

3.53
/5
rDev
-3.6%
look: 4 | smell: 3.5 | taste: 3.5 | feel: 3.5 | overall: 3.5
Served in a Duvel tulip glass.
Part 13 in the Brothers' 15-part anniversary series. This stuff pours a clear deep ruby-brown topped by a finger of ashen khaki foam. The nose comprises lightly-roasted caramel, buttery toffee, a few pinches of cocoa powder, and a vague sense of earthiness. The taste brings in more of the same, with a touch more cocoa, a slight nuttiness, and a tiny oak component. The body is a light medium, with a light moderate carbonation and a sorta/kinda grainy feel. Overall, a solid, unassuming Scotch ale, one that, though technically proficient, doesn't wanna make things swing.
608 characters
91 Shilling from Two Brothers Brewing Company
3.66
out of
5
based on
37
ratings.