Revelry
| Two Brothers Brewing Company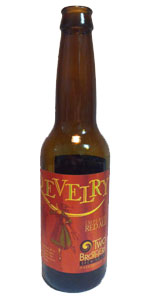 BEER INFO
Brewed by:
Two Brothers Brewing Company
Illinois
,
United States
twobrothersbrewing.com
Style:
American Amber / Red Ale
Alcohol by volume (ABV):
9.50%
Availability:
Fall
Notes / Commercial Description:
No notes at this time.
Added by kawilliams81 on 11-20-2012
Reviews: 59 | Ratings: 366
3.87
/5
rDev
-4.9%
look: 3.75 | smell: 3.5 | taste: 4 | feel: 4 | overall: 4
Pours a red amber color with white head and plenty of lacing. Caramel in the nose with rye like grain and citrusy hop profile.
Taste has caramel, grains, spice, and citrus. Balancing bitterness cuts all sweetness and leaves the beer slightly bitter. Full body and good medium high carbonation. An enjoyable brew that is drinkable and flavorful. Just found out its 9.5%, drinks like a much lighter beer.
408 characters

3.83
/5
rDev
-5.9%
look: 4.5 | smell: 4 | taste: 3.5 | feel: 4 | overall: 4
Poured into Bruery snifter. Appearance is a clear crimson with 1 finger of tan head, nice retention, and heavy lacing. Nose features heavy caramel malt character up front with toasted bread in the middle. Resinous hops cut through towards the end, but are surprisingly tame for the high IBU content. The taste features assertive hoppy bitterness, now I am getting the 126 IBUs which is not necessarily a good thing. The bitterness remains on the palate as a touch of the caramel malt sneaks through. The 9.5% is very apparent on the end. I was hoping for a beefed up Cane and Ebel, but this one doesn't have the same level of finesse. This is definitely a step in the right direction for Two Bros. Mouthfeel is moderate with moderate to high carbonation. Overall worth a try, but the 15.99 price tag is a bit steep for the sixer.
829 characters
3.83
/5
rDev
-5.9%
look: 4 | smell: 3.5 | taste: 4 | feel: 3.5 | overall: 4
Bottle poured into a Duvel tulip. Code on bottle reads "3132", assuming day 313 of 2012 (bottled 11/11?). Consumed & reviewed on 12/11/12.
This beer pours a nice deep amber color with 1/2 inch of cream-colored head. Nice aroma on this one: spicy hops, a bit of citrus fruit, and cereal-like malt presence. This offers a lot of balance on the palate: a bit of alcohol heat, along with significant hop presence (simcoe?), and an equally strong malt presence.
Good, but not great, offering from 2 Bros. It has echoes of HopSlam with the balance & relatively low heat, but not as complex. The mouthfeel could use a bit more bulk.
628 characters

3.76
/5
rDev
-7.6%
look: 4.5 | smell: 4 | taste: 3.5 | feel: 3.75 | overall: 3.75
Pours a translucent copper with ruby highlights. One inch white dense bouncy head. Spider lacing throughout.
Dank. Picking up on pineapple, mango, papaya, caramel malt and pine.
Bitter brew laden with with alcohol. Very sweet upfront also. Fruit getting lost in the resinous hop. Deep malt backbone and pine.
Medium mouthfeel that is creamy. Hops and alcohol dominating.
We Americans sure crave a high ABV and for me it's getting a bit tiring. This is sure a sipper that gains a locomotive alcohol as it warms-not necessary. Why is this so expensive?-anywhoooo, big on sweetness, hops, complex malt and alcohol. Aging this will produce a Barleywine. May be better on tap.
675 characters
3.36
/5
rDev
-17.4%
look: 4.5 | smell: 3.5 | taste: 3.5 | feel: 2.5 | overall: 3
From: Binny's, Schaumburg, IL
Date: None, released late November 2012
Glass: Standard US pint glass
Based upon the earlier reviews of this beer, I was excited to try this as soon as it was released. After trying half of the six-pack over the past two weeks, my opinion is that those other reviews are substantially unaware or discounting the hot mess of ethanol that this beer has going on. While there are good malt and hop flavors, they are constantly fighting against an overly-aggressive ethanol presence that takes a substantial amount of enjoyment out of the flavor of this beer. The hops also gravitate more towards generic bitterness than specific fruit, herb, flower, or wood smells/tastes (perhaps the alcohol assists in this occurring). In general, this recipe is a mess: it needs to tone down the ethanol in a big way, or otherwise surpass it with malt and hop flavor. This could be interesting to age and see what develops, but is otherwise a very slow sipper, and I will probably age my two remaining bottles.
Pours a tall, 2cm head of beige foam that has above average retention (especially for the ethanol content) and is composed of small and some medium-sized bubbles. The head slowly descends to a thin ring around the glass with some islands of foam atop the body, leaving decent lacing along the sides of the glass, a few large shapes and spiderwebs clinging indefinitely. Body is a deep amber read color, with light bringing out orange and light red hues.
Smells of very deep caramel malts, pine resin and grapefruit rind-like hops, slight smoked or roasted malt character, and substantial ethanol.
Tasting opens with a fairly excellent, deep, caramel malt sweetness tempered by pine resin and mild grapefruit rind, all of which occurs on the front of the palate. Mid-palate of high-intensity bitterness that's substantially balanced by the deep caramel malt sweetness and ethanol. Back of palate picks up more modest bitterness and roasted/smoky malt characters, which are quickly subsumed by substantial ethanol flavor. Lingering aftertaste of ethanol (big), hop bitterness, and caramel and minor roasted malt. At 9.5%, this doesn't hide the ethanol very well, as opposed to Oskar Blues' "G'Knight." A bit disappointing in that regard, but the flavors besides the ethanol are still very nice (though the hops come across a bit generic after a time, tasting more "bitter" than anything else).
Beer is medium-heavy to heavy bodied, with fairly minor carbonation for the heaviness, resulting in a slightly turbid feel, though the hop resins and oils present also make this oily and slick. Ethanol is easily felt on tongue, back of throat, within nostrils, and lingers long after each sip: fairly disappointing. Substantial stickiness remains on palate and lips after each sip.
2,803 characters

3.31
/5
rDev
-18.7%
look: 4.25 | smell: 3.75 | taste: 3 | feel: 3 | overall: 3.25
Revelry Imperial Red Ale is brewed in the style of an American Imperial Red Ale. Available in 12 oz. bottled 6 packs and on draft. Released as a fall seasonal.
Poured from a 12 oz. bottle to a pint glass. Served above 55 degrees Fahrenheit.
(Appearance) Pours a creamy caramel-white head over a maple-amber body with a modest sedimentary haze and moderate relaxed carbonation. Retention is very good, lacing is medium and spotty. 4.25
(Smell) Toasted grain malt, light caramel syrup and a hoppy nose of pithy citrus, lemongrass and pine. Potency is moderate. 3.75
(Taste) The flavor expounds on the graininess of the malt bill, quite edgy and sharp with a light sweetness and an otherwise simple body. The hop notes are faint resins, muted pine and spicy hops. Overall, it's just not as enjoyable as the aroma suggested, and a bit harsh all around. 3
(Mouthfeel) The texture is silky, lightly chewy, slick and moderately dry. Carbonation generates a soft frothiness for a smooth, mellow mouthfeel. Body is medium for the style, medium/heavy overall. The balance is slightly bitter and grainy over sweet. The alcohol presence is medium-high, and off characters are noted as a stronger than expected grain ethanol and mild oxidation. 3
(Overall) A very less-than-stellar imperial red with too much harshness in the flavor to come out as enjoyable. Potentially this is an old bottle, but I only had a Lot # to go by and no other point of reference to compare to. Approach with caution. 3.25
Two Brothers Brewing Co.'s
Revelry Imperial Red Ale
3.26/5.00
1,560 characters
3.07
/5
rDev
-24.6%
look: 3 | smell: 3.5 | taste: 2.75 | feel: 3 | overall: 3.25
This beer was lucky to get a 3 from me........just way too bitter for a red beer. Smells malty and sweet so I was a bit excited, but just couldn't get past all the bitterness in this beer. Disappointed.
204 characters
2.95
/5
rDev
-27.5%
look: 3.75 | smell: 3 | taste: 2.75 | feel: 3 | overall: 3
Poured from a 12 oz bottle into a pint glass. "Lot 2946" FWIW. I have had this in years past, but this is my first time rating it. Head disappears quickly. Color is a warm amber. Smell is part malt, part dirty socks. Taste is alternately boozy, amber ale, and dishwater. Don't know if it's this batch or I've never really paid attention before, but wouldn't pick this up again.
377 characters

2.45
/5
rDev
-39.8%
look: 3.75 | smell: 3.75 | taste: 2 | feel: 3.25 | overall: 1
Appearance - cherry hues amber, nice top of manila foam, laces well.
Aroma - caramel and orange, reminds me of an aged dipa.
Taste - sweet up front, followed by a very harsh bitterness. Kind of makes me think this is infected, but there is still plenty of sweetness here. Very strange. Swallow is very bitter, dry, harsh, but with a backdrop of sweetness. Finishes warm with alcohol.
Mouthfeel - decent body, crisp.
Overall - bad flavor after the initial sweetness has me considering the drain on this one, a rarity in this house. Maybe a fresher sample would fare better, I'll keep my eyes open and re-evaluate if I get a chance.
634 characters
Revelry from Two Brothers Brewing Company
4.07
out of
5
based on
366
ratings.