Revelry
| Two Brothers Brewing Company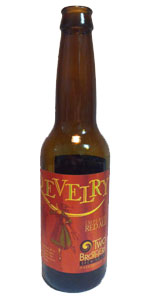 BEER INFO
Brewed by:
Two Brothers Brewing Company
Illinois
,
United States
twobrothersbrewing.com
Style:
American Amber / Red Ale
Alcohol by volume (ABV):
9.50%
Availability:
Fall
Notes / Commercial Description:
No notes at this time.
Added by kawilliams81 on 11-20-2012
Reviews: 59 | Ratings: 366

4.45
/5
rDev
+9.3%
look: 4.5 | smell: 4.5 | taste: 4.5 | feel: 4 | overall: 4.5
A: Poured from the bottle into a Piraat tulip/snifter-type glass. Body is ruby/mahogany-amber with a small off-white head. Some legs of lace on the way down.
S: Very nice - citrus and pine over toffee and caramel malt. Perfect balance for this style - i.e., American Imperial Red Ale.
T: Sweet toasty malt, caramel malt, toffee & brown sugar provide the malty foundation. Follows at the back end with a good amount of grapefruity citrus and resiny pine bitterness. Finishes with lingering pine needle bitterness and a touch of ABV heat. That alcohol (9.5%, so no surprise) is felt down the gulley and as heat in the belly.
M: Call it medium-to-full in heft. Carbonation is fairly light, but enough to keep it from becoming thick or syrupy in feel.
O: Impressed with this one more so than I have been with other Two Brothers releases. Very nice balance of sweet (brown sugar, toffee, caramel malt) and bitter (citrus, pine and resiny pine). Good version of an Imperial Red; I'd have this again.
1,002 characters

4.46
/5
rDev
+9.6%
look: 4.25 | smell: 4.5 | taste: 4.5 | feel: 4.25 | overall: 4.5
I've been waiting to get my hands on this one from my local brewery.
12oz bottle, pours a nice rusty, reddish-copper color, excellent clarity, foamy beige head stands tall & holds, gradually leaving thick chunky lacing at the top of the glass. Nose is fresh citric hops, sweet grapefruit, tropical, fresh pineapple and mango, bready, malty caramel present as well. Tastes are sweet and malty up front, loads of caramel, with brown sugar, honey, toasty grain; tropical fruit in the middle with notes of juicy pineapple and mango, transferring to pine and pungent grapefruit coating the palate & lingering for a bitter, semi-dry yet still sweet finish. Nice balance & complexity. Alcohol is very well concealed. Body is syrupy, medium-to-full bodied, very smooth, hop resins stick around. What? Just read the label - 124ibu? Sweetness actually balances this pretty well. 124? Never would have guessed. Easily a new favorite of mine from Two Brothers. Well done!
959 characters

4.47
/5
rDev
+9.8%
look: 4.25 | smell: 4 | taste: 4.75 | feel: 4.5 | overall: 4.5
Quickly becoming a favorite.
A lovely red imperial ipa. Love the hops but the balance of malt keeps them in check. Abv is high and can be tasted. But not a kick in the gut. It'll creep up on you. 22$ for a six pack is salty and why it's not my top beer. But within the top 5. Go! Get some!
298 characters

4.53
/5
rDev
+11.3%
look: 5 | smell: 4.5 | taste: 4.5 | feel: 4.5 | overall: 4.5
Pours a HUGE, dense, resiny, off-white head that has insane persistence and lots of great lacing. Grapefruit in the nose, with a touch of pine. STUNNING red-amber color (I'm a sucker for red biers). Starts with a nice, deep grapefruit and pine-resin hop flavor. Builds into a citrus rind bitterness into the middle. Finish has warming alcohol and a nice grapefruit flavor which sits atop a slight sweet maltiness.
This is really, really nice. It's similar to Cane & Ebel; high IBU's, excellent hop flavor, but so smooth and balanced, you'd swear it was 1/3 the IBU's it is. Just great.
586 characters

4.54
/5
rDev
+11.5%
look: 5 | smell: 4 | taste: 4.5 | feel: 4.75 | overall: 5
Appearance - 5.00 perfect , ruby red
Smell - 4.00 Outstanding
Taste - 4.75 , What a good red ale should be
mouthfeel - 4.75 , good pallet of flavors
overall - 5.00
---
I am continually surprised at the brew quality of two bros, if you are a fan of their atom smasher beer / red ales in general you will enjoy this beer
324 characters

4.56
/5
rDev
+12%
look: 4.5 | smell: 4.75 | taste: 4.5 | feel: 4.5 | overall: 4.5
A- Pours a crystal clear maroon/amber into my Ithaca Excelsior tulip. A thin bubbly head floats atop and fades away leaving a nice bit of sticky lacing clinging to the sides of the glass. Not much in the way of carbonation.
S- Sweet caramel, mango, grapefruit, and huge doses of pine sap/needles/bark. The alcohol shows it's head, but is pretty much covered up by pineapple and citrus. It has a touch of burnt sugar, green tea and spicy rye as well. I could sit and smell this all day.
T- Pineapple covered in caramel and rolled in pine needles and weed. Pungent Florida citrus blends well with the tropical fruit sweetness and piney hops. The alcohol is present, but not dominant. Nice notes of mild tea.
M- Pungent and dank but with a nice sweetness and caramel thickness. Glides down your throat and hangs onto your tongue nicely.
O- This is really fantastic! I'd been waiting and wanting to grab this since it came to my area a couple of weeks ago. Not sure it'll make my regular rotation at $16.99/6, but I'll be happy to grab this a few times a year. I can see drinking this next to my fire place as I am now, or out at my grill with some chicken and shrimp this summer.
1,181 characters

4.72
/5
rDev
+16%
look: 4.25 | smell: 4.75 | taste: 4.75 | feel: 4.75 | overall: 4.75
Poured into an Olde Hickory glass on 1/17/13
Lot 3132
Nice-looking tobacco brown of medium depth. The head has loose bubbles but they hold for a while at the one and a half finger mark before dropping down. Circles of lace remain that make the inside of the glass look like a golf ball.
Hops aplenty come bursting out of the aroma, equally oily and resinous. There is a strong, bright citrus presence: peach, tangerine, grapefruit and such. It smells very juicy at first, bringing to mind marmalade and fruit jam as it opens up. Touches of pine. Biscuit dust hangs in the air as pastry-like malts lay underneath. I'm not getting any caramel.
Breakfast and beer are almost always brought together some combination of coffee, oatmeal, maple and, perhaps, bacon. But this; this, my friends, finds the oft overlook sweet side of breakfast - biscuits lathered in jam and jelly, and fruit pasties to spare.
The flavors develop in a much different manner: Toasted grains and bread come first, though both are soon awash in a swell of hop oils. Here, the hops exhibit much more pine; lots of sticky resin. Citric zest peppers the mid-section. Indeed, the hops are worthy of revelry As the oils carry the beer on, a smooth alcohol heat moves across the palate. More hop flavor than bitterness.
The feel is resinous enough that the body might as well be called full. Carbonation is taxed heavily by the oils which means it falls comfortably within my preferential range. The finish is zesty, dry and the alcohol is less appreciable over time.
I'm a sucker for a good imperial red ale, but have been disappointed many times by Two Brothers. When I came across a chilled single, I had to give it a try. They knocked it outta the park with this one. An easy recommendation.
1,767 characters
4.84
/5
rDev
+18.9%
look: 4 | smell: 5 | taste: 5 | feel: 5 | overall: 4.5
The revelry imperial red is amazing and is in competition with cane and ebel as my favorite beer from two bros! The beer pours a clear rich amber with a thin frothy head that is lacing like a Vicky secret catalog. The smell is powered with piney citrus hops. The taste is a beautifully balanced beer of caramel malt with California hops. The mouthfeel is full body with smooth carbonation. Overall the beer is awesome...only problem is that I want to drink a ton of it but it is loaded with abv!!!
497 characters
5
/5
rDev
+22.9%
look: 5 | smell: 5 | taste: 5 | feel: 5 | overall: 5
This was the best beer I rang in the New Year with!
Three finger off white head
Dark amber in color!
Smells of pine and malt, plus aromatic resins
Tastes: PIne, warming malt, and hops!
Mouthfeel: Smooth, sharp, and refreshing!
Overall, this is a beer that I could drink for a good long time! I want to try more of this style, and I'd have a six pack or a on-draught in no time! Gorgeous beer! I've always liked Redheads!
427 characters
Revelry from Two Brothers Brewing Company
4.07
out of
5
based on
366
ratings.