Revelry
| Two Brothers Brewing Company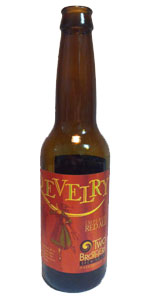 BEER INFO
Brewed by:
Two Brothers Brewing Company
Illinois
,
United States
twobrothersbrewing.com
Style:
American Amber / Red Ale
Alcohol by volume (ABV):
9.50%
Availability:
Fall
Notes / Commercial Description:
No notes at this time.
Added by kawilliams81 on 11-20-2012
Reviews: 59 | Ratings: 367

4.02
/5
rDev
-1.2%
look: 4 | smell: 4.5 | taste: 4 | feel: 3 | overall: 4
Appearance: a very nice looking, clear, ruby red beer with slick hoppy bubbles hanging around the rim of the glass at the top of the beer.
Smell: very nice. Citrus, pine, resiny hops with a bit of bready malt in there as well. All subtle and not very strong but well integrated together.
Taste:a nice mix of the citrus and pine/resin aspects of the smell with a nice "red" malt flavor as the base. A dry, resin and spicy finish that lasts for awhile.
Mouthfeel: nothing special here, medium body, slighty syrupy and astringent.
Overall: a very nice beer. I love the smell- great aspects that mix well and are subtle and not overpowering. A great mix of hop flavors over a good base of malt. When i started drinking this i was assuming 7-8%abv, was somewhat surprised to find it was almost 9:5%. As i drink more of it the abv becomes more apparent but not in a bad way. I only bought two singles but hope to pick up a few more or maybe a 6 pack before it disappears. Hope the they make this regular or at least seasonal offering.
1,033 characters

4.33
/5
rDev
+6.4%
look: 4.5 | smell: 4 | taste: 4.5 | feel: 4 | overall: 4.5
Serving Type - Bottle
Appearance - Dark copper tan, ruby red. Nice 1 inch foamy thick head and tons of lacing.
Smell - Rye, wet danky hops, pine, lemon, grapefruit, orange, some hops, added sugars, some spices.
Taste - Huge rye/hop bite. Really nice grapefruit/orange bite with the rye as a backbone. Malts are caramel and toffee flavored and add some bold sweetness to counter the sweet acidic and citric flavors. Alcohol is present and adds warmth to each drink.
Mouthfeel - Huge rye/hop kick nails tounge with citric fruits. ALcohol warms tounge and palate. More hops and some malts coat palate with bold sweetness, and citric fruits. Aftertaste is maly, dry and bittered.
Overall - Awesome, very tasty, tons of flavors, and balanced. Each aspect adds more flavor and works together to give this a mountain of flavor. Its not to sweet, hoppy or bitter, simply balanced perfectly. Excellent beer, another winner from this great brewery. Why aint this brewery more well known? There making craft beers that are better then some of the top brewies out there.
1,065 characters

3.95
/5
rDev
-2.9%
look: 4 | smell: 4 | taste: 3.75 | feel: 4 | overall: 4.25
12oz bottle poured into a pint glass. Pours a transparent burnt orange, small off-white head which sticks around and leaves nice lacing along with great retention. The aromas are pretty nice. Lots of grapefruit, orange peel, grass, and pine resin. There's a subtle amount of caramel malts in the mix, but the hops seem to shine in the nose. The flavors are nice, but there's some heat going on, and it's slightly boozy, which is really the only downfall. Lots of pine needles and citrus. This beer is bitter as hell. There's some rye and black pepper in the mix, giving it a spiciness. There's a subtle sweetness. Very oily, slick, and resiny. Mouthfeel is very nice. It's on the lighter side of full-bodied. Carbonation is moderate and smooth; slightly syrupy. Despite the alcohol being noticeable, this is still an easy and fun drinking beer.
This is a nice Imperial Red Ale. My only beef is that it's slightly hot and boozy, but it's not overboard. This just missed being something great, but it's still really good and worth seeking out. I enjoyed my time with Revelry.
1,074 characters

3.83
/5
rDev
-5.9%
look: 4.5 | smell: 4 | taste: 3.5 | feel: 4 | overall: 4
Poured into Bruery snifter. Appearance is a clear crimson with 1 finger of tan head, nice retention, and heavy lacing. Nose features heavy caramel malt character up front with toasted bread in the middle. Resinous hops cut through towards the end, but are surprisingly tame for the high IBU content. The taste features assertive hoppy bitterness, now I am getting the 126 IBUs which is not necessarily a good thing. The bitterness remains on the palate as a touch of the caramel malt sneaks through. The 9.5% is very apparent on the end. I was hoping for a beefed up Cane and Ebel, but this one doesn't have the same level of finesse. This is definitely a step in the right direction for Two Bros. Mouthfeel is moderate with moderate to high carbonation. Overall worth a try, but the 15.99 price tag is a bit steep for the sixer.
829 characters

4.25
/5
rDev
+4.4%
look: 4.5 | smell: 4.5 | taste: 4 | feel: 4 | overall: 4.5
Pours an amber, reddish hue, indicative of the style. Head is an inch thick and retains well, leaving average lacing.
Immediate smell is of caramel and bubblegum, with a strong lemon/orange citrus behind it. Candy-like combination of the citrus and malt is very, very pleasant on the nose.
Taste follows the aroma: caramel, brown sugar front, quickly followed by a tasty orange center. The orange is sweetened, not sour, and normally I'd prefer the latter, but here it works. Alcohol offers a bit of a harsh sweetness. Finish is bitter and a bit acrid.
Mouthfeel is harsh compared to the rest of the package, with the bitterness very strong (in a good way) for the style. Alcohol offers that warmth found in big stouts but not usually in red ales. Drinkability helped by the bitterness, hindered by the alcohol, but for a 9.5% abv beer this is incredibly easy to down. Overall a great red ale, and I'm happy to see it bottled in six packs.
943 characters
3.92
/5
rDev
-3.7%
look: 3.5 | smell: 4 | taste: 4 | feel: 3.5 | overall: 4
Bottle into imperial nonic.
Looks ok-- dark reddish brown. Clear. It looks like it *should* be murky but it isn't. One finger of ecru head settled to a nice thin cap of frothy foam.
Smells richly malty-- sweet caramel and toffee. A big hoppiness is present here, and it is extremely bitter. The flavors of the hops don't hold a candle to the bitterness... But there are some floral and citrus notes.
Feels oily and surypy. Big hop oil coating my teeth after each sip, but it's a sugary kind of gritty oiliness/suryp feel.
Overall-- this really isn't a bad beer. It's not the best imperial red I've had, but it's closer to the top than to the bottom.
Totally worth a drink.
681 characters

4.46
/5
rDev
+9.6%
look: 4.25 | smell: 4.5 | taste: 4.5 | feel: 4.25 | overall: 4.5
I've been waiting to get my hands on this one from my local brewery.
12oz bottle, pours a nice rusty, reddish-copper color, excellent clarity, foamy beige head stands tall & holds, gradually leaving thick chunky lacing at the top of the glass. Nose is fresh citric hops, sweet grapefruit, tropical, fresh pineapple and mango, bready, malty caramel present as well. Tastes are sweet and malty up front, loads of caramel, with brown sugar, honey, toasty grain; tropical fruit in the middle with notes of juicy pineapple and mango, transferring to pine and pungent grapefruit coating the palate & lingering for a bitter, semi-dry yet still sweet finish. Nice balance & complexity. Alcohol is very well concealed. Body is syrupy, medium-to-full bodied, very smooth, hop resins stick around. What? Just read the label - 124ibu? Sweetness actually balances this pretty well. 124? Never would have guessed. Easily a new favorite of mine from Two Brothers. Well done!
959 characters

4
/5
rDev
-1.7%
look: 4 | smell: 4 | taste: 4 | feel: 4 | overall: 4
Served in a Lagunitas mason jar.
And here ends the 15-part celebration of the brewery's fifteenth anniversary, complete with no obvious mention of the fact. Nice. Anyway, this stuff pours a clear blood-garnet topped by a finger of glowing off-white foam. The nose comprises grapefruit zest, toasted biscuit, light rye bread, mandarin orange, and a touch of leek in the background. The taste brings in more of the same, along with a healthy dose of fruit rind and a decent addition of pine resin. The body is a light-leaning medium, with a light moderate carbonation and a fairly dry finish. Overall, a very nice imperial red, one gushing with hops without burning the tongue, and one brimming with booze without forcing a cringe or grimace. Not a bad capstone, really.
769 characters

4.2
/5
rDev
+3.2%
look: 4 | smell: 4 | taste: 4.5 | feel: 4 | overall: 4
Two Brothers No. 15 beer of 15 beers for 15 years. Poured from a 12 oz bottle into a Half Acre snifter.
A- Pours a clear dark copper with a 2 finger light tan head. Small blotches and bubbles linger on the glass.
S- Caramel, brown sugar, citrus, dark fruits, and pine.
T- Sweet toasted malts, caramel, toffee, pineapple and citrus, brown sugar, with big pungent citrus and pine bitterness.
M- Medium body and carbonation. Has a nice creaminess.
O- 2 Bros. got this one right at least! Very nice balance of sweet and bitter citrus along with some brown sugar. It lists the beer at 24 ibu's, although it has a nice bitter punch it is no palate wrecker (not the beer) by any means.
693 characters
Revelry from Two Brothers Brewing Company
4.07
out of
5
based on
367
ratings.