Off The Cuff
| Two Brothers Brewing Company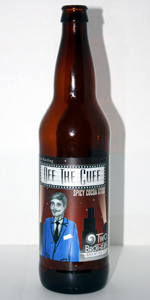 BEER INFO
Brewed by:
Two Brothers Brewing Company
Illinois
,
United States
twobrothersbrewing.com
Style:
American Stout
Alcohol by volume (ABV):
7.20%
Availability:
Limited (brewed once)
Notes / Commercial Description:
No notes at this time.
Added by TMoney2591 on 02-26-2013
This beer is retired; no longer brewed.
Reviews: 14 | Ratings: 58

4.78
/5
rDev
+25.8%
look: 5 | smell: 5 | taste: 4.5 | feel: 4.75 | overall: 5
Poured into my trusty pint glass. Poured color of cocoa. Thick 2 1/2 finger head. The taste of cocoa and a hint of a pepper taste with it as well. The pepper was a great addition to this stout. Could have had a more peppery taste if it truly wanted to. Overall very satisfied with this beer. The beer went down smooth and overall a great stout to enjoy during the day.
368 characters
4.15
/5
rDev
+9.2%
look: 4.75 | smell: 4 | taste: 4.25 | feel: 4 | overall: 4
Stumbled acrossed this guy at a local liquor store and thought I'd give it a try!
Pours thick and black with a light brown milk chocolate two finger head. Leaves a decent lace trail.
Smells of chocolate and coffee.
Taste of milk chocolate maltiness and a toffee/ coffee hint to it. Has a slight spiciness to it, nothing what I thought but still really good!
This beer coats the mouth evenly with a nice sweet dessert like feel. Drinks really smooth and has hardly any bitterness to it.
Overall this was a pretty good stout. Wish it had more intense, stand out flavors like I thought. Definitely worth a try!
613 characters
4.15
/5
rDev
+9.2%
look: 4.5 | smell: 3.75 | taste: 4.25 | feel: 4.25 | overall: 4.25
Poured from a "bomber" bottle into a standard pint glass
Dark, inky pour, with a big, thick head of chocolate milk foam.
Aroma-Roasty, with subtle chili spice
Taste-Roasted malts,coffee, cocoa, and a subtle warming spiciness. Nicely balanced with great flavor. A "tingly" spiciness that is not overdone. An excellent match for tacos or BBQ ribs.
345 characters

4
/5
rDev
+5.3%
look: 3.75 | smell: 3.75 | taste: 4.25 | feel: 3.75 | overall: 4
Appearance: Pours a dense black with a nice layer of mocha colored head…really straight forward looking stout…head does thin a bit after a few minutes…(3.75/5)
Smell: Very similar aroma to their Northwinds Imperial Stout…milk chocolate, roasted malts, sweetness (raisin, fig), creaminess and toffee…no surprise, this is very malt driven with subtle hops presence and a touch of alcohol heat…there's also a warming spiciness to it…it's nice, but I feel like it could be more and is too reminiscent of Northwinds for me (which is one of my favorite brews right now)…roasted coffee bitterness comes out more as it warms…(3.8/5)
Taste: Roasted malts galore…there is a noticeable smokiness in the initial flavor bringing a more "Imperial" taste…while the beer is on the palate, there is really only a rich, roasted malt taste that dominates leaving most of the flavor to come in the after taste…milk chocolate, some slight coffee bitterness (very mild) and creaminess all hit the palate after I swallow…a good amount of warming spices also come out bringing that expected spiciness that really adds a bit of kick to the robustness brought by all those roasted malts…solid…(4.25/5)
Mouthfeel: Light to medium body, it feels light for the color and style…carbonation is light to medium fluffs up bringing roasted malt and warming spices to the palate…wet, rich and mildly smooth, this brew hits the palate and works well through the after taste…overall though, it feels a bit light…(3.75/5)
Overall: This is a solid brew, full of flavor and vigor and life…it seems like Two Brothers may have added a few ingredients to their already successful Northwinds Imperial Stout and re-released it as a Off the Cuff …this new formula comes closer to a more robust RIS, though the mouthfeel is still a bit watery to be considered exemplary…as it stands, this is a solid brew with great flavor and an easy drinkability that makes it perfect for sitting on the couch with a good book or say that new episode of Parks and Rec…easy to recommend, pick one of these up at your nearest craft beer store and enjoy! (4/5)
2,153 characters
3.87
/5
rDev
+1.8%
look: 3.5 | smell: 4 | taste: 3.75 | feel: 4 | overall: 4
Off the Cuff is a nice play on some of the recent chili porter and stout type beers. The beer pours an opaque black with tan head that is not leaving much of a lace. The scent carries milk chocolate. The taste is a interesting combo of chocolate and chili type spice with hints of roast and peat. The mouthfeel is fuller in body with smooth carbonation. Overall this is a nice beer and glad to have the chance to part take.
423 characters

3.74
/5
rDev
-1.6%
look: 3.25 | smell: 3.5 | taste: 4 | feel: 3.5 | overall: 3.75
Poured into a snifter.
3.25 A: Black color. About one finger of fizzy brown head that falls quickly and leaves no lacing.
3.5 S: Bold aroma, yet very clean. Moderate roastiness, just enough caramel and neutral malt sweetness to balance. Cocoa with some depth. Mild peppery spiciness to add a little bit more.
4.0 T: The taste takes the nose and amplifies the intensity. Clean caramel and neutral malt sweetness. Moderate roast, chocolate, cocoa powder, and just enough heat from the peppers to make you know they are there. Not a lot of complexity or depth, but what is there flows really nicely together.
3.5 M: Medium body. Good moderate carbonation with a nice creaminess. Super smooth.
3.75 D: Very drinkable with a great flavor blend. Pick this up.
759 characters

3.72
/5
rDev
-2.1%
look: 3.25 | smell: 4.25 | taste: 3.5 | feel: 4 | overall: 3.5
22oz bottle poured into a 25oz snifter, pours opaque black with a thin, tan head. Aromas are rich, dark chocolate, wow chocolate! Maybe a hint of peppery heat in the background but it's faint. Tastes are sweet, dark chocolate, nice amount of spiciness in the form of heat. The heat & chocolate meld & linger a bit, nice balance. Feel is creamy & smooth, medium body. Overall, it's a little one-note with little complexity, but it is well crafted.
446 characters

3.71
/5
rDev
-2.4%
look: 4 | smell: 3 | taste: 4 | feel: 3.5 | overall: 4
22 oz. bottle, with no apparent bottled on date present. Copyright 2013 printed on the label. Grabbed one of the last remaining bottles of this from the local beer store. I'm expecting it to have mellowed a bit during it's time in the bottle.
Poured into a clear balloon snifter.
A - Pours a dark chocolate brown with three big fingers of fluffy creamy mocha head. Some nice spotty lacing left on the glass. Well carbonated, I'd say, even after a year in the bottle. Looks very nice.
S - The smell is kind of subdued, but nice - mild dark coffee / barley roast, cream, lactose, milk chocolate, & maybe just the slightest bit of vegetal chiles, but there is no noticeable heat present on the nose.
T - Taste follows the nose - chocolate, cocoa, coffee, barley roast, mild lactose / creaminess, but again no real noticeable chiles, heat, or spice is noticeable for me. I'm guessing the time spent in the bottle has just mellowed the spice, and I'm not disappointed. Very mild warmth is noticeable in there on end, but the cocoa is dominant.
M - The feel is creamy, smooth, and medium bodied. Good solid carbonation. Coffee bean / chocolate roastiness leftover on the palate.
Overall, a lovely stout from Two Brothers, even if it isn't the first thing I'd think of when I hear the words "spicy cocoa stout". Still going strong even a year later, but I don't recommended holding down bottles of this much longer.
Two Brothers Off The Cuff ---4/5.
1,449 characters

3.71
/5
rDev
-2.4%
look: 4.25 | smell: 3.75 | taste: 3.5 | feel: 4 | overall: 3.75
22 oz bottle poured into Two Brothers tulip glass. Appearance is dark and opaque with cocoa colored head which dissipates quickly and leaves decent lacing. The nose is intensely roasts with heavy cocoa character and some ancho chili adding a savory component at the end. The taste is chocolatey up front followed by a bit of a metallic taste which I presume is from the influence of the peppers. There is a mild heat at the very back that builds ever so gradually. Mouthfeel is moderate to heavy with medium carbonation. Overall, this isn't the best chocolate/pepper beer that I've tasted as it lacks that marriage between the two components. It is however a tasty product nonetheless and worth a try.
701 characters
3.68
/5
rDev
-3.2%
look: 3.5 | smell: 3.5 | taste: 3.75 | feel: 3.75 | overall: 3.75
From: Binny's, Champaign, IL
Date: None, arrived in late spring 2013
Glass: Tulip
Off the Cuff is a stout of minor interest due to the addition of some slightly spicy, roasted pepper-like additions to the beer. The base is of cocoa, mild roasted barley, and some caramelized sugar sweetness, added onto by pepper-like elements. Above mediocre, but not excellent, this was a pleasant stout for a fairly chilly late spring evening, one I'd check out again if it were released in a year or so.
Pours a 2cm tall head of light brown to dark tan-colored foam, made up of small bubbles, quite dense-looking in appearance. Retention is about average, the head lasting slighty over one minute. Residual lacing is quite good, a mix of spiderweb-like motifs and large, irregularly-shaped blotches and dots, cling to the insides of the glass. Body is a very dark brown to black color, with light bringing out dark amber-brown hues. Carbonation is not visible through the opaque body.
Aroma is of roasted peppers with a hint of light smoke, burnt bread, and milk chocolate. Generally, a light stout aroma that reminds me more of baked pizza crust with peppers than of a black beer. Not unappetizing, but also not exactly what I think of when hearing the words "pepper stout."
Overall flavor is of roasted, slightly smoky, low-heat peppers tempered by sweet-smooth pale and roasted malt mixture that accentuates coffee-with-cream and milk chocolate flavors. Front of palate picks up cocoa powder, light roastiness from small amounts of chocolate malt, a subtle caramel sweetness, and light roasted pepper flavors. Mid-palate of roasted, slightly smoky peppers with a mild level of spice, mixed with a lightly roasted, semi-sweet and slightly caramel-influenced malt base that's not so heavy on blackened malts that the peppers are unable to show through. Back of palate is of dark caramel malt, roasted peppers, chocolate malt with a touch of cocoa, and mild ethanol. Aftertaste is mostly of cocoa and slighty spicy roasted peppers, but includes light coffee-with-cream and caramel notes.
Beer is medium-bodied, with medium-low levels of carbonation. The result is a lightly foamy, mostly smooth beer that moves across the palate slowly, but steadily. Closes dry, with substantial levels of stickiness lingering across the palate and lips.
2,330 characters

3.64
/5
rDev
-4.2%
look: 4 | smell: 3.75 | taste: 3.5 | feel: 4 | overall: 3.5
Served in a Lagunitas mason jar.
Described as a spicy cocoa stout. Right on. It pours an excessively dark black-brown topped by a finger of tan foam. The nose comprises sweet cocoa (really goddamn sweet, we're talking perfume-y, for gods' sakes), light roasted malts, a hint of coffee, and a pinch of brown sugar. The taste brings in more of the same, with a very mild hint of some sort of meek pepper peeking in from the deep background. The body is a straight medium (in the process of bulking up for next week's big meet), with a light moderate carbonation and a nigh-chewy feel. Overall, a solid chocolate-ful stout, though "spicy" is almost completely absent. A bit of a disappointment for those, like me, who seek a bit of a mole-like stout, but still tasty enough for what it actually is.
798 characters

3.58
/5
rDev
-5.8%
look: 3.75 | smell: 3.75 | taste: 3.5 | feel: 3.5 | overall: 3.5
From a bottle, pours jet black with a wispy and bubbly off white head.
The smell is mostly coffee, bitter dark chocolate, green peppers and roast. The green peppers gives a vegetal indication that doesn't necessarily fit. The flavor is cocoa, green peppers, dry chocolate powder. Overall, this is good, but the ingredients aren't complementing each other, but rather fighting for attention.
394 characters

3.53
/5
rDev
-7.1%
look: 3.5 | smell: 3 | taste: 3.75 | feel: 4 | overall: 3.5
Pours a HUGE, dense head; impressive persistence. Bright, tart aromas of floral hops and coffee-like malt. Black. Starts bright with notes of coffee; acidic. Low hop bitterness is pushed aside by toasted malt, fruity peppercorn comes through. Chocolate comes out in the finish.
Overall, not a bad stout. Spicy? Peppery, for sure. GREAT, silky mouthfeel, though!
362 characters
3.3
/5
rDev
-13.2%
look: 3.5 | smell: 3.5 | taste: 3 | feel: 3.5 | overall: 3.5
22 oz bomber purchased from Two Brothers Roundhouse in Aurora, IL.
What stuck out to me was the spicy notes and the coffee flavor. I really did not taste much cocoa flavor, even though Two Bros. calls it a "spicy cocoa" beer. It definitely had the spicy notes though. Overall it wasn't much to my liking, as I was hoping for more of a cocoa taste (I LOVE Southern Tier's Choklat). But it isn't bad and I recommend people try it, since there aren't many beers out there that have the spicy characteristics, so you may enjoy it.
527 characters
Off The Cuff from Two Brothers Brewing Company
3.8
out of
5
based on
58
ratings.